Your Online Brand: The Key to Long-Term Search Visibility
A Howitzer cannon packs a punch. The most recent version used in the UK military is the L118; a 105mm cannon with a range of up to 20km and the ability to fire explosive shells. It's an impressive weapon and you have a similarly impactful weapon at your disposal in your own battle with your competitive set – your brand.
Brand = time + reach + trust
In these online times, a brand can be built in a matter of months, or even weeks, but the brands with lasting impact and visibility are those with history; built over years, with trust as their foundation. These brands have established themselves in their industries by building trust with audiences and generating reach for their message.
Of course, a brand does not just imply the public-facing side of the company, it encompasses everything about an organisation – its people, its ethics, its goals – and it's essential to consider this when looking at how a brand can become successful online. A brand can even be just you. A person.
"Brand equity is the sum of all the hearts and minds of every single person that comes into contact with your company." - Christopher Betzter, brand strategist
WHOLE > SUM OF PARTS
(Your brand > Everything and everyone in your company)
With this in mind, to really ensure brand success you need to be very clear about what your brand wants to achieve and how you're going to do it. The following things can help achieve this:
-       SMART Objectives
-       Mission Statement
-       Values
-       Strategy
These factors are what will define your brand, not your logo or slogan.
We can look at Zappos here as a great example of how a strategic decision can be brilliantly effective when building a brand.
Zappos.com, an online footwear business, was founded in 1998 and quickly established some very clear strategic policies upon which the brand would be built:
-       Free shipping both ways
-       365-day returns policy
-       24/7 call centre
These service-focused policies, sitting at the top of the purchase funnel, shaped the business and provided the USP with which Zappos could set themselves apart from the competition. Zappos influenced what potential customers thought of them before they had even considered buying from Zappos. This of course had long-term benefits when those customers next needed to buy shoes.
In the age of the web this point of difference was soon highlighted via word of mouth and the company's reputation grew and grew.
I'm sure you'll agree their logo isn't that spectacular, and their brand colours of blue and white don't exactly make Zappos unique. In fact it is the trust the company has built with its audience (75% of orders are repeat business) that has established Zappos as a bonafide online brand.

So be sure to set your policies in stone so you always go "back to brief" when making decisions about your approach. Creating USPs and focusing on the customer are surefire ways to help generate that hallowed online wildfire we all crave. After all, Zappos are now owned by Amazon following a $1bn acquisition in 2009. $1bn? Not bad for 10 years work. Those strategic brand policies really worked!
Protect your brand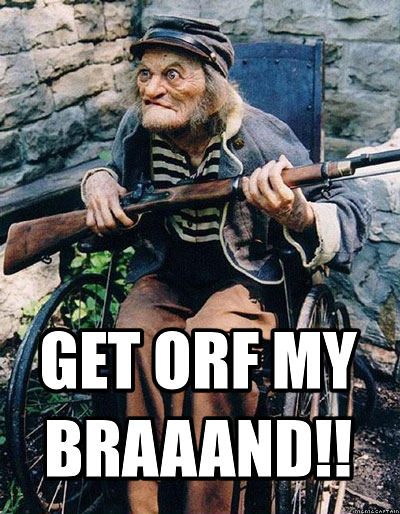 During your branding process (which should never end) it's also imperative that the brand you've invested so heavily in is protected. I'm not referring to TMs etc here, it's your brand reputation that needs the protection. The best way to do this is by ensuring you dictate how your brand is perceived online, mainly through customer service and social media. Give the best service you can, deal with issues efficiently and engage with your audience on social platforms. Don't give people a reason to talk negatively about your brand and you'll have the most control over the sentiment of customer opinion.
"A brand for a company is like a reputation for a person. You earn reputation by trying to do hard things well." - Jeff Bezos , Founder & CEO of Amazon.com
Taking a look at the majority of brands' analytics will show that organic and PPC performance is driven by brand keywords. The likelihood is that brand keywords will drive the biggest share of traffic, conversion and click-through rate across your search marketing, whilst also delivering the best ROI and CPC/CPA. This is due to both lack of competition on your brand term and the high conversion/interaction propensity of a user searching for your brand.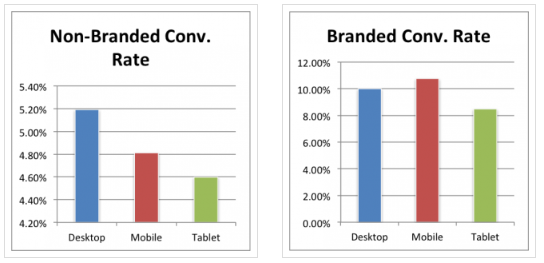 Source: Your Search Advisor
The control a good online brand strategy brings is invaluable in order to  protect, maintain and grow the performance of your search-led activities. This really reinforces the need to protect your brand online; negative talk surrounding your brand can easily find its way on to page 1 of your brand SERPs, so make the effort to minimise the risk of this happening.
Speaking of search specifically, Google's views on brands and how they are ranked is a real hot topic at the moment, with many arguing that brand authority is the key to receiving a natural push up the rankings. The key here is content of course – the mortar for the brand values and objectives set on day 1.
So, it makes sense…
We've established above that online branding has it's benefits in terms of giving you a better platform upon which to do business online and we've also seen an example of this in action with Zappos, but now let's look at some facts from a more technical point of view, which make things add up even more…
Google's had its eye on brands for a while…
Google's Vince update from 2009 gave brands a real push on SERPs with Google citing Vince as a 'trust' update, rewarding sites that generated trust with searchers via the strength of their brand.
Google also introduced the Social Signals update in 2010 which implied an added weight to a brand's social presence – Likes, followers, +1s, engagement rates, influence – in SERPs, meaning that brands now have to ensure their presence is strong to really get the desired online brand benefit in search. This is a really grey area unfortunately, with many arguing that social signals are correlated with better rankings but do not cause them. I think this is fair reasoning, as with many things on the web it's the consideration of many rather than one. It's fair to say that social signals can contribute to better rankings.
And of course, Google's 2012 Exact Match Domain update made it harder for sites without an established brand to rank by slightly penalising sites which are hijacking generic keywords as their brand names and using them in their domains.
Thankfully, Bing is a little clearer than Google when it comes to explaining the impact of social signals on rankings. When Bing recently updated their Webmaster Guidelines to assist site owners, they included a list of factors which will help a publisher get his/her site ranked well. Social is explicitly included in this list as a tangible ranking factor:
"Social media plays a role in today's effort to rank well in search results.  The most obvious part it plays is via influence.  If you are influential socially, this leads to your followers sharing your information widely, which in turn results in Bing seeing these positive signals.  These positive signals can have an impact on how you rank organically in the long run." - Bing Webmaster Guidelines
So there it is, in black and white.
There's also Google+ to consider, and more importantly Google's Social Search update from January this year, otherwise known as "Search + Your World". Whilst there have been questions recently regarding the longevity of Social Search and its integration into SERPs, it's still around and as Google+ grows, it's influence on search remains.
Social Search began integrating Google+ interactions into signed-in SERPs, if someone in your G+ circles has +1′d a page, then that would show up by the rich snippet in the SERP.

Whether this update was a thinly veiled attempt by Google to push and grow G+ or not, the clear link between social and search that the update creates is an indicator that Google continues to consider social factors in rankings.
This also brings other Google+ based tricks into play, such as rel=author schema, where authorship of content is linked to a G+ profile and generates authority for the author rather than the site. So not only can a site improve rankings via their brand, but an individual can too.
OK, now I know online branding is important and why… but how do I do it?
So the foundations of your brand are built – your business is set up in such a way that clear goals and objectives are driving the brand forward online – now you need to go out and promote your brand in a way which builds authority and trust, with both users and the search engines themselves.
We're talking about improving rankings here but using your brand to avoid penalties is just as important:
To avoid EMD, ensure your brand name is unique and reflected in your domain.
To avoid an over-optimisation penalty, ensure your anchor text profile has your brand name at number 1, anything generic or non-brand could lead to a rankings drop.
Content and social are key:
Use rel=author for all your onsite content, i.e. your blog, and ensure that the blog is on your main domain
Create and distribute content to build trust and authority
Create a balanced brand-led anchor text profile
Place content on authoritative sites – their authority will pass on to you via the link
Build your social presence and engage with your audience – be an influencer by becoming a reference hub for your niche
Build positive sentiment to generate trust via customer service, positive reviews and fostering advocacy
Know your audience (have you created your audience 'personas'?) – understanding who they are will help you generate engagement and therefore influence
Ensure your site has a good standard of social integration to maximise the social signals you send to search engines
And not forgetting those brand basics which well help form a base to build from:
Believe in your brand and its value to your business
Be clear in what your business is trying to achieve and how – goals and objectives
Build your brand foundations and have protection measures in place
There's a cycle of benefit which brands can get into… Building your brand will give you a bigger social presence which in turn can increase your position as a brand in search. With better rankings (and therefore traffic) your brand weight will increase, starting the cycle again. The icing on the cake is that the strength of your brand will potentially also influence your search performance for non-brand generic keywords too; a "halo effect" as a result of the overall authority and trust you've generated with search engines and customers via brand marketing.
Written by Mark Leech