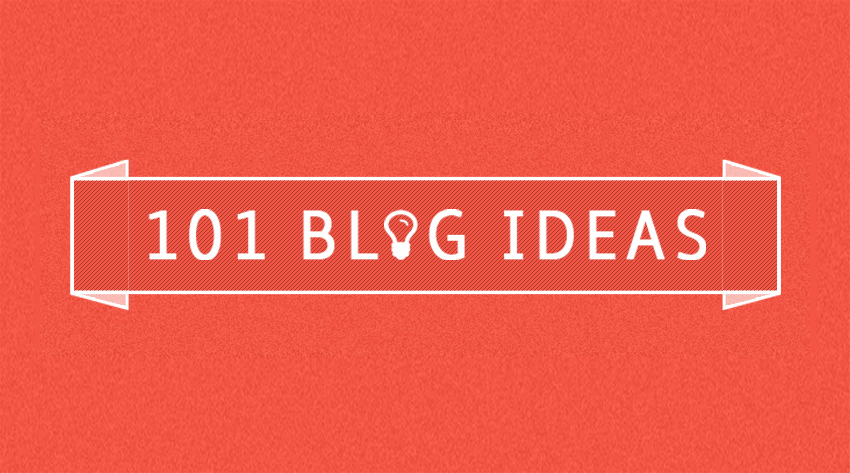 101 Ideas For Your Blog
Every business needs a blog. It is crucial to remember that content rules SEO, and without amazing content on your site, you won't be on top of the rest!
Blogging drives traffic to your site, as you're creating more pages which will be indexed by Google, which gives you more opportunity to show up in search engines, and drive traffic to your website through organic search. Blogging also improves your social presence, as you will share your blog posts on all your social channels.
When you blog, it opens up a whole new world for your social and allows you to share your posts through all social platforms – Facebook, Twitter, LinkedIn, Google+, etc! Your followers will be able to see your posts, and take more of an interest in your blog. Your followers will then begin to share, and engage with your blog, spreading awareness of you, and boosting your brand awareness.
Google Authorship is great for blogging – that's what it's designed for! It allows you to connect your Google+ profile to the content you produce. Authorship changes the way your post will show in search engines, and puts a name to the content. It shows that you have written the post, and will help build your portfolio. Not only this, but it has been known to boost clickthrough rates of up to 150%. A definite must to help drive traffic to your blog!
However, none of this matters if your content isn't up to scratch!
This is where some blogging can fall short. A reader might still read your blog if you post similar articles each week, with a slight hint of change; however they'll be a lot more interested, and will want to read your blog if it's different, interesting, and bursting with innovative new content!
Coming up with new content ideas shouldn't be a struggle; it should be enjoyable. Many bloggers say that they, 'Don't have time' to come up with new ideas, or that they 'Have no idea what to write about!' So, to assist all you bloggers out there, I've compiled a list of 101 blog post ideas that I believe almost anyone could use…
Trends – Your predictions for trends in the year to come within your industry, or maybe over a longer period?
Hold a competition– This will showcase your products, and help drive new traffic to your blog.
FAQ – What questions do you frequently get asked by your customers? Write one, or even a couple of posts answering the common questions you get asked. Posts such as this will also boost your rankings with Hummingbird.
Webinar – Hosting a webinar will drive traffic to your site, it is also quite obvious that by holding a love event on your site, people will be online, watching.
Good Things! – Tell your readers about the fun things you do in your business, it's not all work, work, work…
Share your Challenges – Everyone faces challenges. You talking about them and sharing your own experiences will not only let your readers know more about how the business is trying to proceed, it may help you think of how you can overcome them.
News – Write about news within your industry. You can even set up a Google Alert which will help you find topics and stories to write about.
Blog Series – This could be monthly, weekly, or even daily! Writing a series of blog posts will keep your readers coming back for more.
Music – Record yourself, or a group of people, and upload it to your site. This can be an audio of an article you have written, or you can get creative with it, and record a song, interview, etc! Learn how to do this here.
Events – If you have sponsored, attending or are interested in an event that relates to your industry, talk about it! Chances are your readers will be too.
Your Vision – What's the aim of the business, what do you want to achieve?
Goals & Objectives – How will you reach your 'vision' – what do you need to do?
How To… – A step-by-step guide to something relating to your businesses' industry. This teaches readers, and will encourage social sharing.
Common Mistakes – Errors that yourself & others face, and how you have recognised these, and how to avoid them.
Define Success – A business determines success differently; what's your definition? How have you succeeded already? If not, how will you reach it?
Training – This can be what you've received personally, or training your colleagues have embraced.
5 Years Time – Where do you see your business in five years? Don't make it too promotional, but talk of plans and ideas, what you want, and how it's achievable.
Talk About a Colleague – Give one of your staff members the limelight. Interview them, or maybe just talk of their successes, and how they contribute to the business. This will allow readers to get to know the people behind the business.
Showcase a Customer – Talk about your typical customer, and how you try to target them. You might find you're doing something wrong. Use everything as a learning experience. With your readers, honesty is best.
Competition – Talk about the competition, why are they good? When I say competition, I mean the market leaders – what do they do to stay on top? Talk about how they've influenced you. If done correctly, this can be a great post for your blog; it shows that you have respect for those who have succeeded, and the ambition to do the same!
Misconceptions – What do customers think about before they speak to you; are they confused about anything in your industry?
Habits – Both good & bad about the business. Use the post to learn how to change your bad habits – turn them into positives… nobody is perfect!
Review a Book/Movie/Product – Reviewing something on your blog is great for your readers; everyone is looking for an honest review, and by giving your opinion, you are allowing the reader to learn about you, and possibly even trust you more as a blogger!
Infographics – Have you designed a fantastic infographic? Share it! This will also encourage others to share.
Blueprints – Let your readers in on your 'secrets'. Give them hints and snippets of what you have to come over the next few months. This will keep your readers interested in your blog.
Pie Charts & Graphs – Utilise different types of content. Try to include pie charts and graphs when explaining anything to do with figures, trends, etc.
Resources – Share your resources with your readers, pass on amazing sources you've found useful, which will hopefully help them too.
Photos – Create a post full of images, perhaps you've just had an office makeover? Share it with your readers.
Gifs – Verifying content is the way forward, and always make use of gifs! "If a picture is worth a thousand words, a GIF is worth 10,000. GIFs are a mini-vehicle for storytelling, capturing emotions and communicating them in a concise way that words and pictures alone cannot." -Joe Puglisi, Senior Creative Strategist, Buzzfeed
E-Books – Being the expert, you will want to share your knowledge. This can take time, but will be so worth it! You can measure success through the number of downloads, and if you think you can, you could even charge for it!
Make a Game – Creating a game will bring new readers to your blog. This also has the potential to do well though your social channels. Make sure it's fun, interesting, and of course… addictive! Think Candy Crush & Flappy Bird. Simple, but effective!
Three wishes – Possibly for your blog, work, or personal wishes.
CV – Show your readers who you are, publish your CV online. This will allow your readers to get to know you and your background.
Admit Faults – If something you've done hasn't worked – why? Look into how you can change current practises you do, learn from your mistakes, and help others along the way.
YOU! – Who are you, why did you start the business? What inspired you? Let your readers learn who's behind the business.
Your Portfolio – Be proud of what you've achieved, and showcase it on your blog!
Start Again – What would you change if you could start all over again?
A Day In The Life – What do you do on a daily basis?
Downfalls – What is the hardest part of your job, and why? Does this change the way you feel about the business/industry?
Job Role – Talk of new job roles you have opening up within the business. This shows how the business is growing, and will get people talking about your business. This provides the high possibility of social shares.
Heroes – Who inspires you? Has this reflected your life and the choices you make?
Have You Reached your 10,000 Hours? – This 'rule' states that in anything you want to achieve, by practising the task for 10,000 hours, you will be successful. How close to this are you?
Tell A Story – Do you have a funny or interesting story for how you came up with your business, products, or even your name? Let your readers get to know the business.
How To Blog – Create a post about how you blog, why, and what helps you come up with content ideas.
Regulations – This can be current regulations, or something you wish was real. This could be to assist your business, and customers, either making yours and their lives easier, or maybe even making your industry safer, i.e. from scammers.
Advice – You could aim this at your competitors, what can you give to them?
Your Blog – What you aim to achieve with the blog. For both you, and your readers.
Lessons Learned – What have you learnt in the past year? You could also allow your readers to add what they've learnt, and how it's changed them, their business, etc, for the better.
Complaints – How you deal with complaints – give advice on the best way to repair a sensitive situation.
The Best Advice – Possibly from a customer, former boss, etc, what is the best advice you have ever received? Has this changed you or your business?
Regret – Is there anything you regret doing/not doing? However big or small, passing on knowledge and advice is always good.
Motivation – Posts which motivate others can be done in a variety of ways. This can include famous quotes, tips, inspirational stories, etc!
Top Lists – Writing lists (a lot like this one) can be great for 'lazy' readers. Some people see a bulk of text and panic! Lists are a great way to shorten, and break down, information.
Write a Story – It doesn't matter if you're an excellent fiction writer or not, creating a short story that is somehow related to your industry, business, or yourself, in a humorous way, can be quite successful! See here for ways to write engaging stories.
About You – Extend your 'about you' section. You can also open the post up to discussion, and allow others to ask questions about yourself and your business.
Location – Does your industry change across the world, why?
Case Study – This will reveal what and how you've done something, and what the results were. Many readers will find it interesting to see from start to finish what has happened.
Research & Analyse – Choose a topic within your industry and see what you come up with!
Guest Posts – Invite people to guest post on your blog, this could be anyone form a newbie wanting to join the industry, to a leading expert.
Start a Poll – This can be about your industry, topics your readers like, etc. Anything you think your readers will enjoy, and want to take part in! It can be serious, or something fun! Why not do two?
Myths – Industry myths… What really happens, and what's all lies?
Write a Poem – What it says on the tin – this can be a poem or a song. No one expects you to be an expert, but it'll be something very different for your blog!
Comments  – A compilation of the best comments you've ever received on your blog.
Turn Comments 'Do-Follow' ­– Announce that you're changing your comments to do-follow, this will encourage readers to comment on your blog. However there is the possibility that you may be spammed with links! You could choose to moderate comments to stop this from happening.
Facts – Write a post consisting only of interesting or strange facts. This could be for fun, or industry related.
Life Lessons – Is there anything you were told when you were younger that has stuck with you? Or maybe lessons that you would like to pass on to others to help them?
Q & A – Offering free help to your readers can boost your reputation and brand. This will also increase social sharing.
Post About Your Posts – Write a post about all the most interesting, successful, or even failed posts that you have. Explain why they were so good/bad.
Blog Security – Help others with a blog to keep theirs safe. What do you do to protect your blog?
Social Media – How does your blog/business use social media, and why? What could you do differently?
Successful Social – What is your best experience with social media? For example your most favourite tweet, most shared Facebook link – why? What was the impact for you?
Manifesto – Post your manifesto on your blog, and make it free to download. This will increase traffic, and social sharing, especially if it's for free!
Reaction Post – Write your views on new and popular posts relating to your industry. Do you agree, disagree?
Headline Challenge – Write 50 story headlines as quickly as you can. This will also aid you in coming up with new content ideas!
One Hour Challenge – Write a whole blog post within an hour, and see what you can achieve when you put your mind to it! You could make this a regular thing on your blog for yourself, or with other members of staff.
Make A Quiz – Develop a quiz for your readers, and make sure they can share their results! This will increase social sharing of your blog.
Address Your Audience – Thank them for reading; after all without them you would have no blog!
Suggestions – Don't be afraid to admit you're stuck for ideas! Jot down some potential blog ideas and ask your readers what they want to read! This will not only give you a new piece of content to write, but learn more about what your audience want, which will help you with future posts.
Favourites – Create a post about your favourite people to follow. Give examples of their tweets, and say why you follow them. This could be from a variety of different perspectives. For example humorous, informative, motivational, etc!
Screenr – Create a Screencast for your readers. This could be a very educational post, and could be an add on for a 'how to' post.
RANT! – Has something really got to you? Let out your anger! Show your readers what you really feel, while also calming yourself down in the process.
Collate Trending News – Gather articles, tweets, etc about anything trending and important to you and your readers. The post would be informative, and talk about the various sources you have chosen.
Workload – How do you manage your time and workload? For many this can be a difficult task; maybe you don't have the best organisation skills yourself. Learn from the post, what can you do to improve?
Back To Basics – Reminders of some of the basic processes in your industry, that many businesses forget about!
Dealing With a Tricky Situation – How would you approach a difficult situation? For example you may have been lumbered with tasks no one wants (including you) – write about how to overcome it, and make the most of a bad situation.
Handwritten Post – Try a more traditional method of publishing; write down your blog post, take a picture of it, and upload it to your site.
Stuffed Animals – Write as if you're talking to a toy; it may sound crazy, but it really works! It allows your ideas to flow, and sound natural & relaxed.
Comparison – Write about two conflicting views within your industry. Don't be afraid to give your opinion! This will also open up discussion within your readers and social sharing.
Cartoons – Use your imagination and create a cartoon or comic strip post. This can be as simple or in-depth as you want to make it!
Challenge Your Readers – Give your readers a challenge. This could be anything from asking them to leave comments on something you have posted, to asking them to make a video with their thoughts and upload it on the site! This could also become a regular thing for your blog, and gets your readers involved with your site.
Write About Another Niche – Don't be afraid to talk about something different (as long as it related to your audience) – you might even learn something new!
Feedback – Ask for your readers' opinions! What would they like to see on your blog? What do they like, and dislike? What would they like to see more of?
What if…? – Create an entirely hypothetical post – question the ordinary.
Best Buys – Compare things you need to buy for your niche. For example, is it better to buy old or used items? Where is the best place to buy said items? Etc.
Dear Future Self… – Make a note to your future self. It may be interesting to re-read the post a year or two afterwards, and see if you still agree with or follow the note.
History – This history of… (Something within your industry).
Conference Takeaways – If you have recently attended an event, your readers will want to know what happened, and what you viewed to be the most important takeaway info.
Seasonal Post – Close to a holiday? Write about it!
Bucket List – What's on your list? What do you want to do in your lifetime?
Satire – Add a bit of excitement to your blog, but remember not to go too overboard. You still want your readers to read your blog! Humour is key.
101 Post – Write a post about the 101 reasons why you have a blog, or ideas for content… J
There you have it! 101 content ideas for your blog. I hope I've given you a few new ideas to try out and experiment with on your site. Hopefully you will now have some inspiration to write a couple of blog posts, to enlighten your readers and make them (and Google) love your blog!