7 Top Tips for Conversion Success in 2014
Conversion rate optimisation has been around for many years, and while it may have been overlooked to a degree in the past, 2014 is when it's importance will really come home to roost. With audience tougher to come across due to ever changing landscapes in social and search making the most of the people you do have is now an imperative.
With that in mind we wanted to round up our top simple tips for those wishing to make more of their conversion rate over the next 12 months…
Tip #1: Become a Google Analytics Expert
You need to become a master of Google Analytics. Understanding your data is crucial to making the best decisions on what areas you need to test and how to test it.
You need to keep up to date with all the latest features and understand how they can benefit your business. For example, have you implemented the new Content Groupings feature or what's the difference between Universal and classic Analytics, or when was the last time you visited the Analytics Academy?
Tip #2: Carry Out An Google Analytics Audit
You need to make sure you have your Google Analytics setup correctly. We would always recommend running an audit every 6 to 9 months to check everything is working. In an audit it basically makes sure that:
You are using Google Analytics profiles correctly
The tracking code is listed on every page on the site
That the tracking code is located in the correct part of your web page code
Check all sub and cross domain tracking is setup
That Macro and Micro Conversions have been setup
That internal site searches are being carried out
You need a solid foundation and understanding of your visitors and your CRO campaigns will fail if your Analytics isn't setup correctly.
Tip #3: Wireframes are so 2013
Creating mock up wireframes are time consuming and then often leave clients not being able to understand what the finished site will look like. Often they do not fully understand what you are presenting because they can't see the finished result.
Instead use the Devtools feature in Google Chrome that allows you to directly edit the existing site quickly and easily from your Google Chrome Browser. You can design and edit pages live in your browser, then once you are happy with the design you can just export the changes you have made and then send them over to the developers.
It will allow your clients to see exactly want you propose to change as well as speed up the time it takes to implement.
Tip #4: Use the correct landing pages
Recently I was looking for a way to watch Boardwalk Empire online. I did a quick search and found an advert for Boardwalk Empire at LoveFilm with a 30 day free trial.
When clicking on the advert it took me to a landing page with a character from The Office.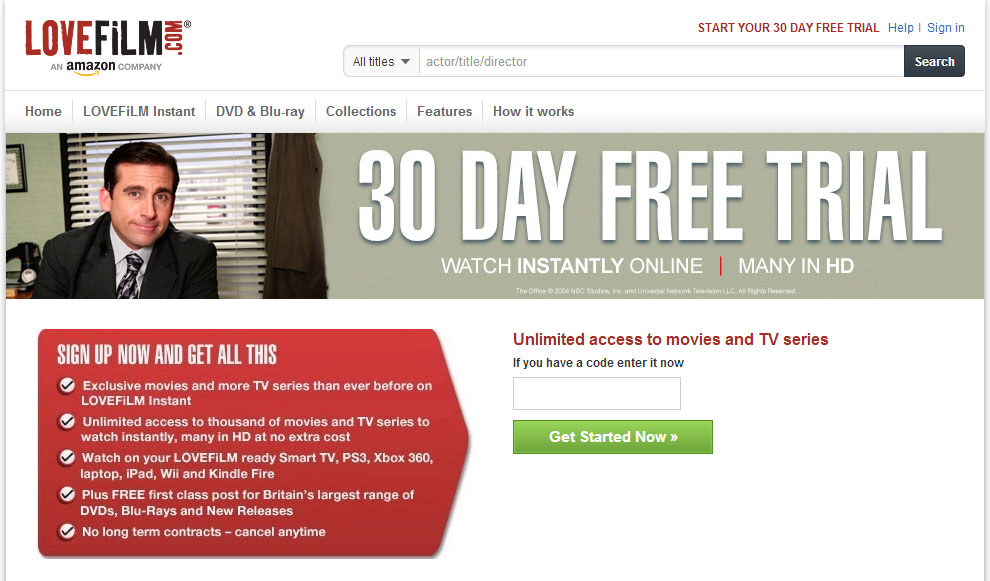 I then had to leave the landing page and actively confirm if my series I was looking for was available. As it turned out you can't stream the program and it was only available via the post – and I wanted to watch it there and then, so I didn't sign up for an account.
The truth is, that if that landing page confirmed that they offered Boardwalk Empire I would of signed up there and then. I would have later realised that it was only available by post which would have been a little disappointing. However, on the plus side it was a free trial and the DVD would have dispatched in the next day or so.
The moral of the story is if LoveFilm had used targeted images on their landing page, they would now have me as a customer. I would have found it easier to make an impulse purchase.
Tip #5: Long Copy vs Short Copy
This is the most common question I get asked all the time and the answer is simple; write enough high quality content that is required to sell the product. Customers purchasing higher priced products are going to need more convincing before they buy a product compared to a cheap product. For example, take a look at Apple's website. Compare the size of the sales page for IPod shuffle against the new Mac Pro.
The more expensive the product the more it's going to take to sell it.
Tip #6: Focus your visitors attention
Visit Dropbox.com homepage and you soon understand what they want you to do: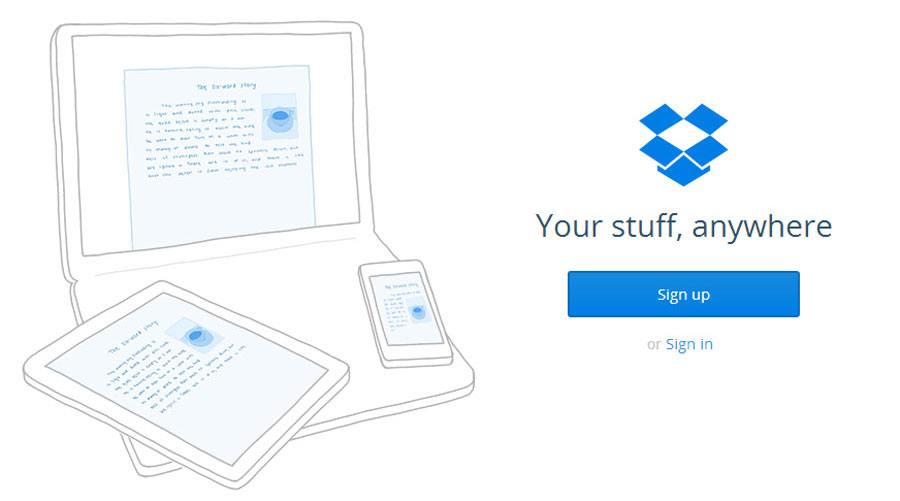 There are just a few options but one stands out more than anything else – the sign up button. Every other element is purposely lighter to make the important elements stand out and draw the users attention to it.
Tip #7 Speed is Still Everything
Visitors will soon get frustrated with your website if it takes too long to load. A few years ago, Amazon took a closer look and compared page loading speed against earnings. It calculated that for every 100ms increase in load time, it would decrease sales by 1%. The same has to be said for Google as it's no coincidence that they show only 10 results and not 20.
You should be reviewing you page load speed on a regular basis. Use tools like YSlow or the inbuilt tools in Google Chrome. Once you have set a benchmark do the following:
Minify all JavaScript, CSS and HTML – This is when you remove all spacing and comments from the files which reduces the file size.
Enable compression file compression with gzip – Contact your hosting provider to find out how to do this.
Optimize Images – properly formatting images to the required size needed as well as reducing the quality slightly will make a massive impact on load time.
Create sprite files – This is where you combined a collection of images into a single image. It reduces the amount of server requests needed.
Get a faster server – slow will soon tell you if your server is too slow. Talk to your hosting provider about ways to fix this.
Conclusion
The internet is more competitive than ever. Making sure you converting as many customers as possible could make the difference between success and failure. No business can afford not to implement these tips if they want to grow in 2014.