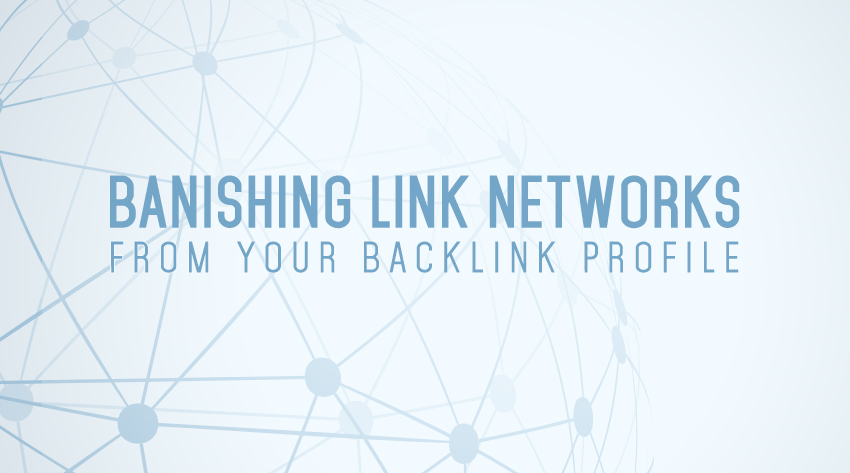 Banishing Link Networks from your Backlink Profile
Before the inevitable eye rolling and sighing takes place at the sight of yet another debate about guest posting, this blog post is not designed to reiterate the rules of content marketing. Nor is it meant to be another show of support for Matt Cutts and his strong views, although most of us within the world of SEO will appreciate his opinions in even the smallest of forms.
Instead, this blog post is designed to simply serve as an actionable piece of information that can stop your link profile from turning your site into an unprofitable, unloved mess.
Throughout the great guest posting debate, one thing has become clear; as much as Google hates it people are continuing to do it and there are a few very clever people out there who are making money out of people's laziness and ignorance.
Relevant and expert content placed on high quality sites can easily create natural links encouraging the reader to visit a mentioned website or become affiliated with a brand and increasing the level of traffic to the site. This is at the very heart of content marketing.
If we know how to do it the right way, why are so many people getting it wrong?
There are two answers to this question, it is either due to laziness and the desperation to 'just get it done', OR it is due to ignorance. Both answers are pretty inexcusable. There is no room for laziness or ignorance when it comes to SEO and your marketing strategy. This can jeopardise the future of your business or your client's livelihood, neither of which can be taken lightly.
Link networks fall under the bracket of 'content marketing: the wrong way' and form the basis of Google's issue surrounding guest posting. It is essential to explore and understand a link network, what it is and how seriously it can negatively impact your link profile and your site.
Let's assume for a second that most people are completely unaware of a network and that posting on these sites can be detrimental. That said, let's take the time now to pull apart the idea of a network and define what it actually is:
"Simply, a link (or site/blog/article) network is a group of sites that are connected. They can be owned by one person or multiple people, their connections can be as obvious as a badge displayed that proudly identifies the site as a member of X network, or as covert as a footprint uncovered by lots of digging."
This explanation perfectly sums up what a link network is. Now we have that we can move forward with how they can be identified and later the serious implications they can have.
Typical traits of a network
The sites will have the same or a similar design template regardless of the niche, or metrics.
The Google analytics number and AdSense number will all be the same.
One site owner will claim ownership of multiple sites (could be 10, could be 100).
The sites will all have the same IP address.
The site owner will send you a vast list of the sites he has access to without you requesting it.
The site will be of low quality.
Will have phrases such as 'guest post' or 'submit your guest post' or will label content as such somewhere on the site.
Duplicate content is commonplace.
Articles will not be relevant to the site's theme; a 'we will publish anything' approach.
User interactions are limited or non existent and the facility to comment on articles is closed.
All posts will be labelled as the 'admin' being the author.
Articles will be between 4-500 words and will contain 2-3 links within each post that hold little relevance to the topic of the article.
There will be no 'about' section, contact information or author name.
Exact match anchor text pointing to sites at random.
Excessive cross linking between the sites will be apparent in the backlink profile.
Social signals will often be duplicated in the attempt to make the site seem legitimate.
If a site owner asks for payment to post on the site, chances are it is a network. Paid for links are frowned upon by Google and is deemed as 'black hat' SEO.
As I've said before, building a high quality link profile is not simple, nor is it always straightforward, and this same theory applies to identifying a site that is part of a link network. The typical traits, as mentioned above, are common of networks yet sometimes a poorly designed site, or one that isn't necessarily cared for in the right way, doesn't automatically make it part of a network. In this instance, a little more digging is always required. As much as you should avoid posting on a network, you also want to avoid a site that is actually okay simply because you have suspicions…
How Can We Be Sure We are using a Network?
It is important to be sure that the site(s) you wish to use are in fact a network and often this will require a little more investigation.
General overview of the site
You need to conduct a thorough breakdown of a site, exploring all possible avenues to ensure you are not being fooled into using a site which is part of a link network. The areas to consider are listed below…
Social traffic
Do sites have social media pages and are they updated regularly?
Do they have true followers and likers?
Is there any genuine social interaction and engagement?
Page Rank
A low PR is usually a sign that a site has been penalised, as it has lost its rankings. Networked sites are regularly hit with penalties.
Domain Authority
Domain Authority is a way of seeing how well a domain can be expected to perform in Google search results. As you are analysing a website's performance and rankings, Domain Authority is a good indicator of how well the entire domain will perform.
A networked site may have a reasonable DA yet this could be a false figure as the intentions of the site are unclear until a better overview is established.
Typically, however, guest posting sites will have a relatively low DA as the site is overlooked during search engine results.
Trust and Citation
The citation figure is the amount and value of the links which point to a site and the trust is essentially that – the level of trust a site has in terms of its backlink portfolio and the way in which it operates.
A good quality site will boast high figures in terms of both.
Anchor Text
You need to review the backlink portfolio of a site before you establish a relationship, or at the very least before publishing content.
Is the anchor text on the site over optimised?
Is the AdSense spammy?
Does it point to or contain spammy links? Such as casino, porn, gambling and medicinal drugs.
The Look
Does the site look plain and standard, possibly using a template?
Content
Are there duplications?
Have you seen the same article on a different site?
Are phrases from articles repeated elsewhere?
Is the content low value?
Tools for Investigation
To really fine tune your investigation into a potential network, you often can't rely on observation alone. You may need to thoroughly look into a site and although this will take a significant period of time, it could mean the difference between a high value natural link and a Google penalty.
Spy On Web
This tool will allow you to input the URL of the site you are suspicious of and will show you how many domains are on the same IP address. This can establish whether the sites are legitimate and are simply involved in shared hosting, or whether the IP address is the home of multiple guest posting or sales based websites.

One site, as this image shows, shares the same IP address with a large number of other sites. A quick look into the sites on the list is proof that this is a large guest posting network due to the look and nature of the sites, and the varied themes they cover.
Search Metrics
This will show a site's visibility within different countries. Looking in the hosting country will establish the amount of traffic the site has and whether or not it has been penalised.

The blue line on the chart above relates to the SEO visibility of the site. The dramatic falls indicate that the site has been penalised and the traffic to the site has dropped considerably.
Way back Machine
The history of a domain will give a good indication of the nature of the site.
You will be able to identify if the site has been purchased and the domain repurposed specifically for guest posting.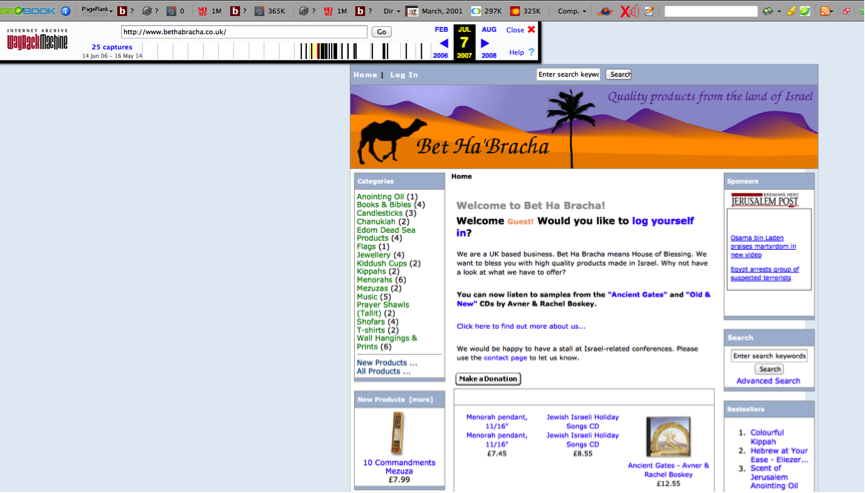 http://www.bethabracha.co.uk/ currently serves as a technology blog covering all aspects and information of the modern technology era, yet the above screenshot shows the origins of the site. It is clear that the site was originally created to sell Israeli souvenirs and has been purchased in 2012 for guest posting purposes.
What are the implications of using a network?
Networks can be de-indexed or have their links devalued by Google. This WILL apply to any links you have built through any of these sites.
It is unnatural to use networks to link build, which can result in penalties to your site.
The links will have little value to your site and won't generate as much traffic as networked sites do not receive the attention a high profile website would.
Network is penalised.
Your links are not considered to be natural and your links are devalued.
Your site will be penalised and traffic to your site will drop considerably.
Page Rank will drop considerably.
All paid for and spammy links will be lost and rankings will fall.
All links will need to be removed.
A reconsideration request will need to be submitted to allow your site to once again be indexed by Google.
The link building campaign will need to be started from scratch using a legitimate method.
Now we have established what a link network is and how it can be the worst thing to ever happen to your link profile, what are the actionable takeaways from this article?
If a link is easy to get then it probably isn't worth getting. A high quality backlink portfolio takes time and effort.
Google hates link networks, so try to avoid them or you will feel their wrath.
Investigation is the key. If you are unsure then do some research using common sense and SEO tools to either calm or confirm your suspicions.
Curiosity may have killed the cat but it could save your link profile and the future of your site, so make sure you follow your suspicions and prevent a penalty from being incurred.