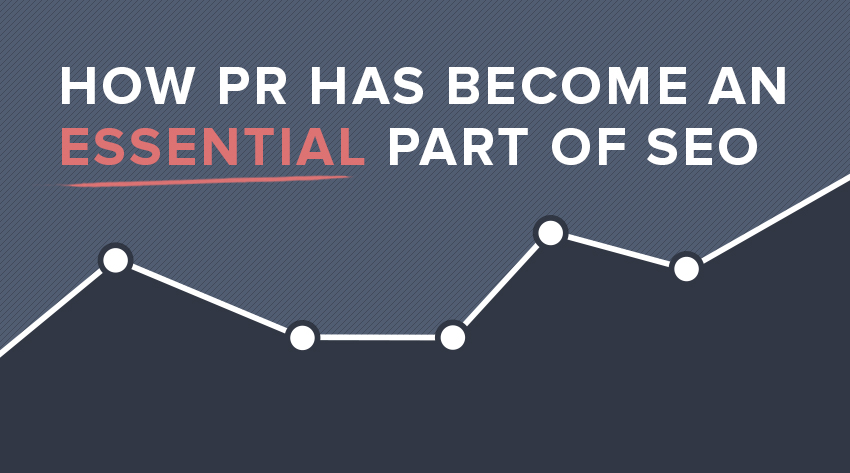 The Beginner's Guide to Digital PR for Search Benefit
Mention PR and what immediately springs to mind? Press releases sent out en masse to journalists working on newspapers and magazines, perhaps? This is certainly the view most people have of the profession, which harks back to the more traditional form of the trade. The aim of PR is simple – to gain positive exposure for your clients. To do this in the past meant securing coverage across the three primary mediums: print, radio and television.
Over the past decade the Internet has experienced exponential growth in both popularity and importance as to how the world conducts its business. In 2014, print, radio and TV are dwarfed by the phenomenon that is the Internet, meaning PR has a new partner in crime.
That said, PR and the Internet had a stumbling start to its relationship. SEO has been the buzzword for businesses looking to get online exposure with digital PR being almost an afterthought, and definitely so for smaller businesses. Only the major players were afforded the luxury of resource in this department. However, as Google's algorithms evolve and we learn more about the intricate details of these patents, those reluctant to invest in PR may find themselves at a disadvantage.
So why is this exactly? As we know a healthy link profile is more than just a bundle of high PR back-links. They're still an important part, but by and large, a page's authority is judged on much more than this.
Along with the revelation that the infamous no-follow link has a much bigger part to play than first thought, it has been revealed that brand mentions are also viewed as 'implied links'. Just to clarify, Google's panda patent has confirmed; "Google defines non-linking citations as implied links". This is where it gets very interesting, and our Managing Director Simon penned a post on Moz explaining what this means and why it is such a revelation:
"This is black-and-white evidence that Google is looking at mentions as a measure of authority.
It is logical after all; that a popular brand would have more people talking about it online than one that is simply good at manipulating the algorithm and has invested heavily in link building to that end. The results from our sample research also support this, with larger, better-known brands generally attracting greater numbers of mentions than others."
"This could be especially important where lots of links from the same company (or "group") point at a site, as the search engine could discount those from the true overall picture. It then also gives engineers the ability to look at "quality" as a measure of the overall relevance to the queried subject matter."
This could have massive implications for how companies approach their SEO needs in future. Google is forever hitting home that quality is king and will punish anyone they think is trying to game the system. It's an exciting time for SEO and PR agencies alike. The rewards for professional, quality content are enormous.
For too long it's been the case that a link in any post, regardless of the quality of the content, has been enormously valuable for websites, therefore prioritising the need for a link over the need for useful content.
This is all about to change.
STEP FORWARD DIGITAL PR, YOUR TIME IS NOW.
Sarah Skerik put it best in one of her recent blogs that "Google is emphasizing the value of authentic earned media", and who can deliver this better than those working in PR? To me it seems that a marriage between the two professions is in order. A strategy that ensures clients get content on a site, which has both a high page rank and high circulation and readership, appears to be the ideal.
For those unfamiliar with the term digital PR, it's the process of utilising traditional PR techniques combined with modern data-led resources to boost content marketing campaigns and gain online exposure, therefore boosting brand awareness and search.
Getting started in digital PR can be tricky. It takes time and perseverance before results start coming in. So how can we start getting links from editorial institutions and not just bloggers?
Firstly, concentrate on creating the best content you can. Something thought provoking, funny and timely; something in tune with a major conversation that is going on across the web.
Once we have our content it's time to get our PR hats on. Who would want to host this on their site? Who has an audience that will get the most benefit out of reading this? A lot of this comes down to general knowledge about the major publications. For example, The Guardian is a politically left paper, so a piece on how great Margaret Thatcher was during her reign as Prime Minister will have almost no chance of being featured. Of course this base knowledge is just for starters.
Approaching individual journalists/influencers is the key to getting a great link. After all, emailing the news desk of a national paper/magazine and competing against the piles upon piles of press releases submitted daily is a sure fire way to get your content overlooked. Because of the paper they write for we already have an idea of the type of content they are likely to accept, but every journalist is different and will favour certain topics over others.
Topsy is a tool that can tell you which influencers are talking about the topic your content focuses on.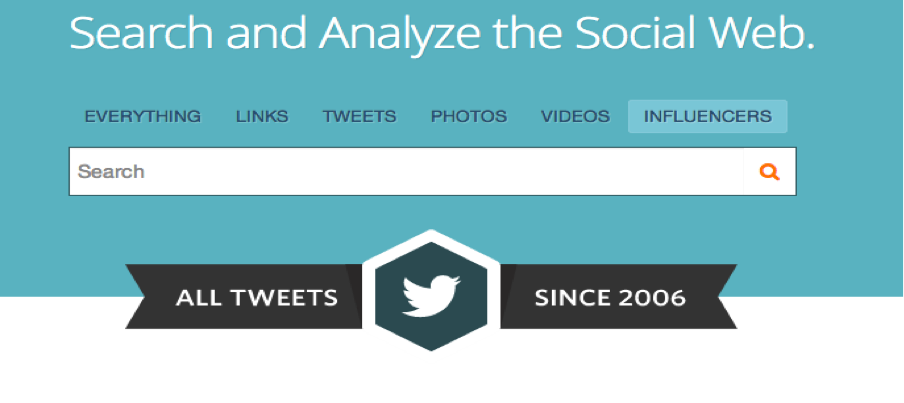 Simply type in a keyword that your content focuses on, select the influencers tab and voila! For the below example I used the key phrase "climate change', and the top 5 results were as follows…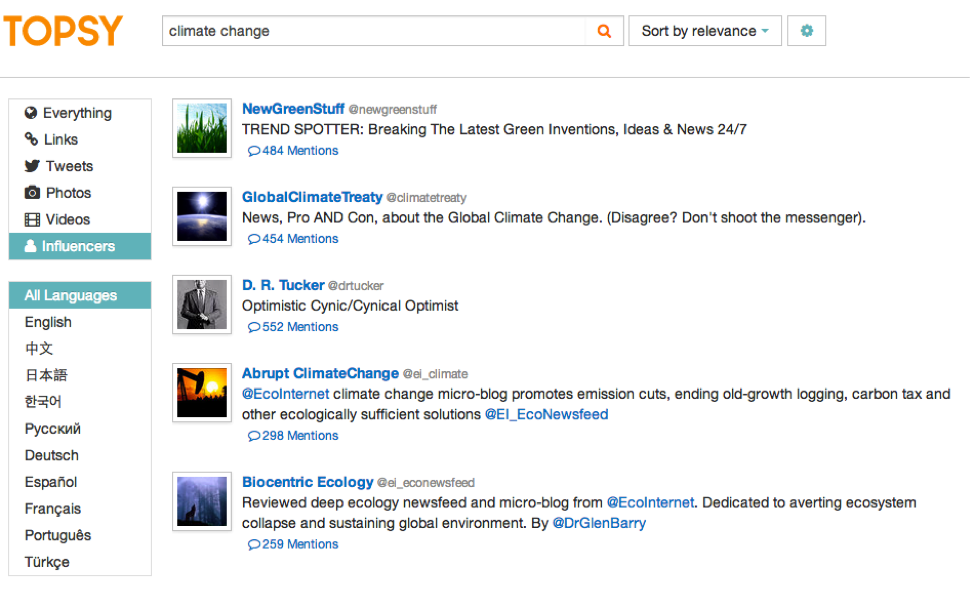 We can see that four blogs/websites and one individual have been highlighted, all of whom mention climate change a lot. As you can see, the top result 'NewGreenStuff' mentioned the phrase 484 times.
So let's now focus our attention on the one individual who popped up in that search, D.R. Tucker. A quick search of Mr. Tucker reveals that he has written for Washington Monthly, his works have been mentioned on climatecrocks.com, he is a contributor to the Huffington Post and writes his own blog. We can also tell from reading his articles that he is a fan of citation links in his articles, and as a PR it is our job to give him something to cite!
We now have an influencer who has access to several high profile platforms and is interested in the type of content we have to offer. It's time to pitch.
MAKING THE PITCH
One of the most important parts of any pitch is the headline. It needs to be clear, concise and interesting. Posing questions is one technique, and using the title of your content as the title of an email is another. Short and sweet is the rule to follow, but if this isn't possible don't fret too much. Once they've actually opened the email it's time to turn up the charm.
Making the influencer aware that you have read their articles and are interested in their work is important. A sentence or two on this is all that's required but it's something that should not be overlooked. An example…
Hi D.R,
I hope you're well.
I've just finished reading your latest article in the Washington Monthly about the ongoing debate on climate change. First off I wanted to congratulate you on the article, the way in which you described the debate as a war against polluters really highlighted the magnitude of the crisis we face.
Compliments cost nothing so dish them out!
Now we have established our familiarity with D.R's work, it's time to get to our content. We need to establish why it's relevant, why it would be a good resource to include and why his audience need to see it.
Whilst reading the article I noticed there were several parallels in the topics you were covering with a piece of content I'm currently helping to promote and I was wondering whether you'd be interested in taking a look?
After we have established the link of relevancy it's time to sell! The bottom line is that no matter how relevant you believe it to be, or how perfectly suited the potential website is, the content needs to do the talking.
So, we've looked into finding influencers and how to approach them, and that's enough for your first foray into PR activity. If you're thirsty for more I previously wrote a post which features another 50 tips and tricks to get started in digital PR.
Guest-posting outreach may be more fruitful in terms of quantity but there is no substitute for digital PR when it comes to quality.