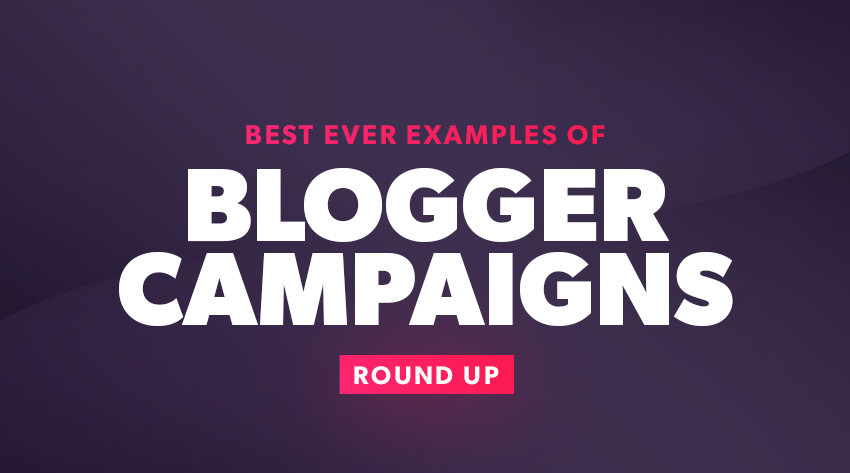 The Best Blogger Tips & Tricks from 2015 – 2016
Blogger outreach, also referred to as Blogger relations is one of the single most important tools to use as part of your marketing campaign. If used correctly, it can also be one of the most successful.
In the digital world, bloggers are becoming more and more influential. While this is nothing new, did you know that over 80% of all consumers will make a purchase after reading about the product on a blog? Or, that 18-34 year olds ranked bloggers as their most valued and important source of information? The stats don't lie, and brands are quickly realising the impact bloggers are having on their consumers.
Bloggers allow brands to connect with their audience in a way they have never done before. They can help you expand into social media, and get in touch with an audience you didn't even know you had! As well as drive traffic, trust & SEO juice to your brand.
While blogger outreach is one of the most useful tools for your brand, and can be used as a single method to help drive traffic and influence, it's important to remember that it can also be used as part of a wider marketing campaign. It all depends on your brand, your product, and what you want to achieve.
Questions to Ask Yourself Before Starting Your Campaign
Before you dive in and start outreaching, there are certain questions you need to ask, in order to be successful:
'Why am I doing this?'
This may sound silly, but it's crucial that you understand what you want to achieve. So many brands will think of a brilliant idea in terms of content, and start to outreach it, without thinking of the audience behind it, or what the benefit to the brand is. Don't be too quick to 'get stuck in' – make sure you do your research!
'What do I want to achieve?'
What is the main reason for this campaign? Do you want to spread awareness of a new product? Are you looking to create an amazing piece of content for bloggers to link back to you? Or is this just a small part of a much larger marketing campaign? Once you can single out the main reason for why you are doing this and what you want to achieve, you will be able to define your goals and objectives.
I think it's always important to remember that 'going viral' with a marketing campaign should never be a goal. All brands are striving for this, however it's rare. If you set yourself goals that are too high, you will never have measurable success. I'm not saying don't strive for the best, but don't belittle your own accomplishments.
'Who is my audience & how will I reach them?'
Discovering your audience can simultaneously be one of the easiest and most difficult tasks for a brand. If you have no information to start with, then the first port of call is to try and create your brand's personas. This will allow you to dive into your audience and see who they are, and what they are really about.
Your niche will determine which bloggers you should engage with, and on what platforms (YouTube, Instagram, Twitter, Personal blogs, etc). Take a beauty brand for example.  Over the past few years beauty bloggers have exploded on YouTube, with Vloggers dominating the beauty industry and covering over 97% of all beauty content. This would make YouTube the perfect platform for a beauty brand wanting to work with bloggers.
What Makes the 'Perfect Blogger'?
There are so many different factors we look at when selecting bloggers for a campaign. When we're at the initial 'ideas' stage brainstorming campaign ideas, at the back of my mind I'll always be thinking of bloggers that could be interested. This is due to the years of relationship building we as a business have built, which will only keep expanding!
What we specifically look for in a blogger will really depend on the goals of the campaign, and what the brand want to achieve.
Below are the main aspects of a blogger we consider:
Good Trust & Citation Flow on their website – This will help show that the blog has a healthy backlink profile
Lots of search visibility – We use a few different tools to measure this, all of which show different result, but ultimately we want to be targeting bloggers who have plenty of visibility in the targeted location to ensure the campaign will be seen
Good social following – What we define as 'good' will depend on the niche in terms of numbers. However we want to work with bloggers who are engaging with their audience, are very active on all or most of their social media platforms, and are getting 'real' likes, comments, shares, subscribers, etc!
Get to know the bloggers you want to target, see what they post & what they're interested in to see if they will be a good fit for your brand, and more importantly if they'll want to collaborate with you.
It's very important to remember that bloggers talk to each other! If you find one very influential blogger and build a good relationship, there's a high chance they will also be friends with other very influential bloggers who may be interested in working with you. Never burn your bridges, and never be afraid to speak – if you've done your research, the blogger you're contacting will most likely be relevant to your brand. Not all will want to work with you, but how will you know if you never ask?
'Best' Blogger Campaigns of 2015/16
Trying to narrow down the best blogger campaigns over the past year was not an easy task. SO many brands are doing it right. Below are what I believe to be the best examples of the year so far:
'Urban Decay #lipstickismyvice'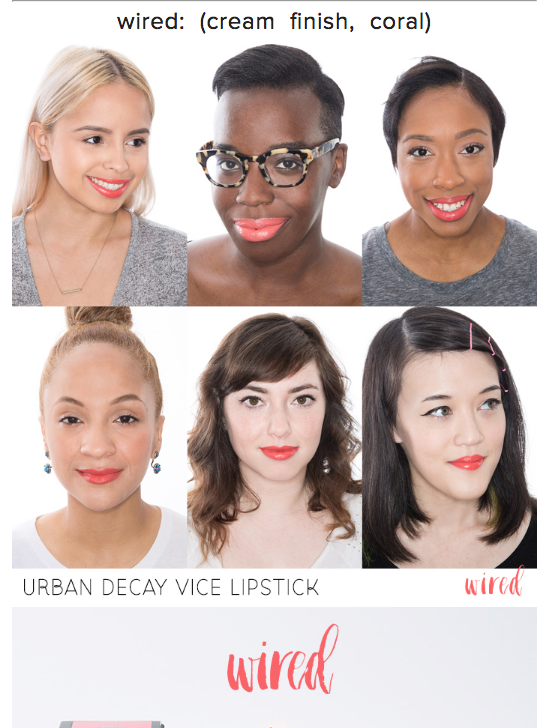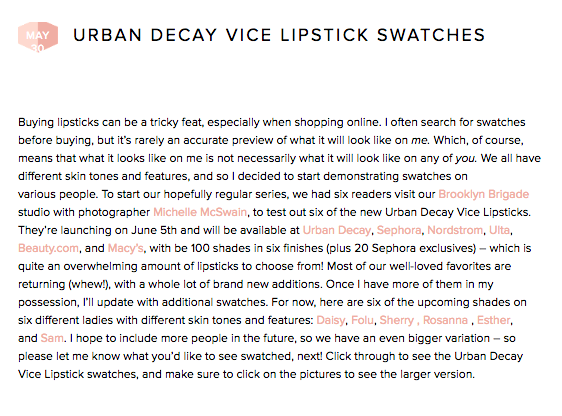 Main platforms – Instagram, YouTube Vloggers, Media coverage
What's the message?
Urban Decay decided to completely change their lipstick collection by removing and re-launching ALL of their lipstick products. They decided to create one big range of 100 lipsticks. They kept some old favourites, but also improved formulas, packaging, as well as quality.
With any product re-branding/launching it's important to increase a 'buzz' around the new products. You want your consumers to feel excited, and that's exactly what they did.
Why is it good?
Instead of giving away a few select lipsticks, Urban Decay are giving away the WHOLE collection to bloggers. This campaign works due to the scale of what they are giving to bloggers. What beauty blogger doesn't want 100 brand new lipsticks to add to their collection? While this isn't an option for all brands, it has worked very well for them.
What are they trying achieve?
As beauty blogging is such a large niche within the blogger world, the amount of bloggers Urban Decay can work with is huge. They have collaborated with a mixture of high influential bloggers, to lower level (but still very important) bloggers.  People are talking about the campaign on Instagram, Twitter, YouTube, Blogs – e v e r y w h e r e.
You only have to search #lipstickismyvice on Instagram to see almost 20,000 images. While this doesn't sound as impressive as it could be, they only came out in JUNE 2016.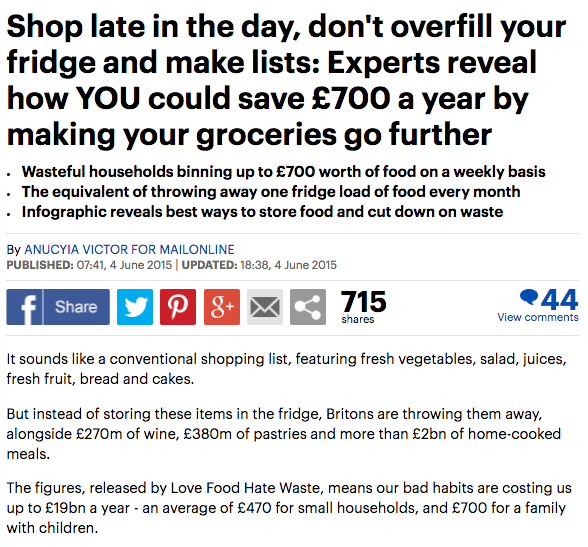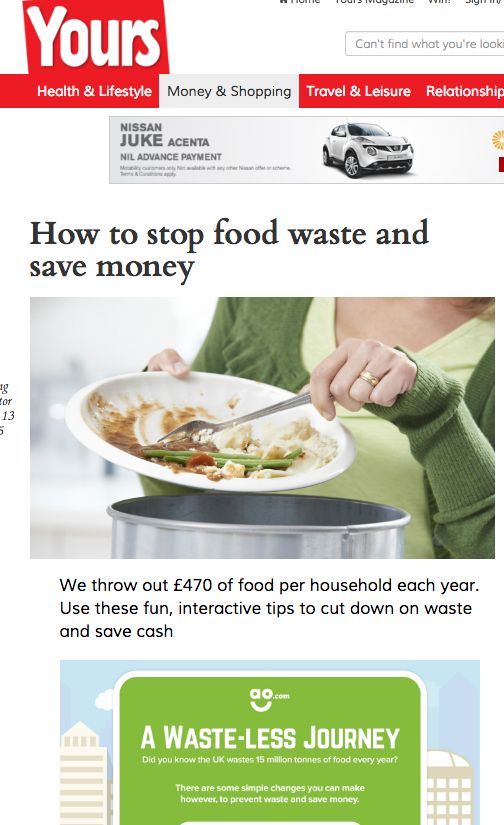 Main platforms – Personal blogs, Media coverage
What's the message?
AO wanted to help reduce food waste across the country, and spread awareness of this, and their brand. They created an interactive piece of content that shows stats and facts about food waste in the UK. The campaign itself tried to explore food waste in more detail through various different avenues and with varying content.
Why is it good?
The content itself has so much information within for the user, and can be applied to almost everyone. It's interactive, displays a clear message, and leads you to other informative relating content at the end. It takes the audience through the whole process of their food shop, from buying, where to store, cooking, and then how to manage leftovers.
The reason this works so well is because of how informative it is. It's an educational piece for the reader, but with a clear and very feel message. We waste too much, and this piece puts that into perspective.
What are they trying achieve?
AO collaborated with a wide variety of bloggers in many different ways. They ran competitions giving away appliances, worked with bloggers to produce collaborating content, and well as speaking to the press and gaining media coverage on websites such as The Daily Mail.
AO created one amazing piece of content, as well as supporting content such as the infographic linked above. If you want to achieve the type of coverage that the Waste Less Journey campaign has, you need to think of different avenues where content can be created, and not be scared of venturing into something you've never tried before. As we say time and time again, content really is king. If you create a brilliant piece of content and take time to think about and produce it, the coverage is so much simpler.
'Benefit's Brow Bar Bold Is Beautiful/Brow Arch March'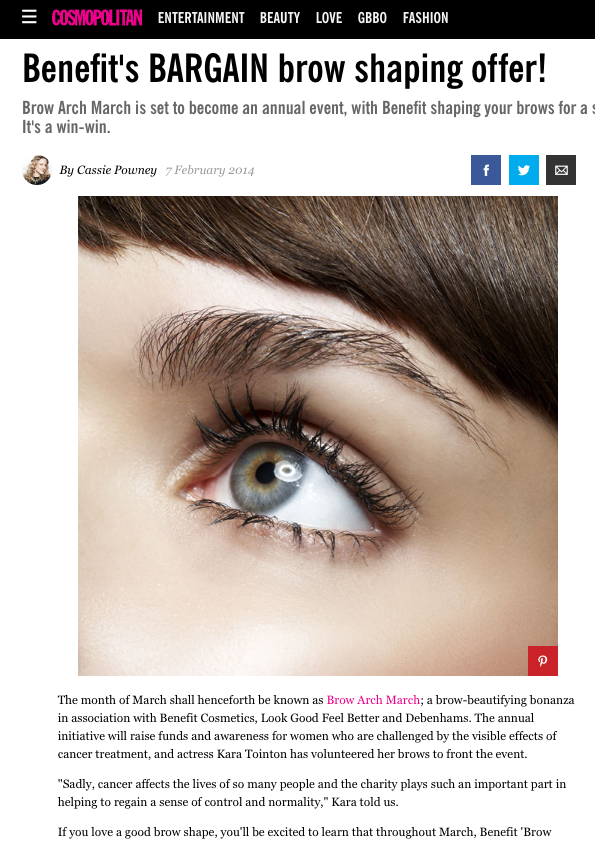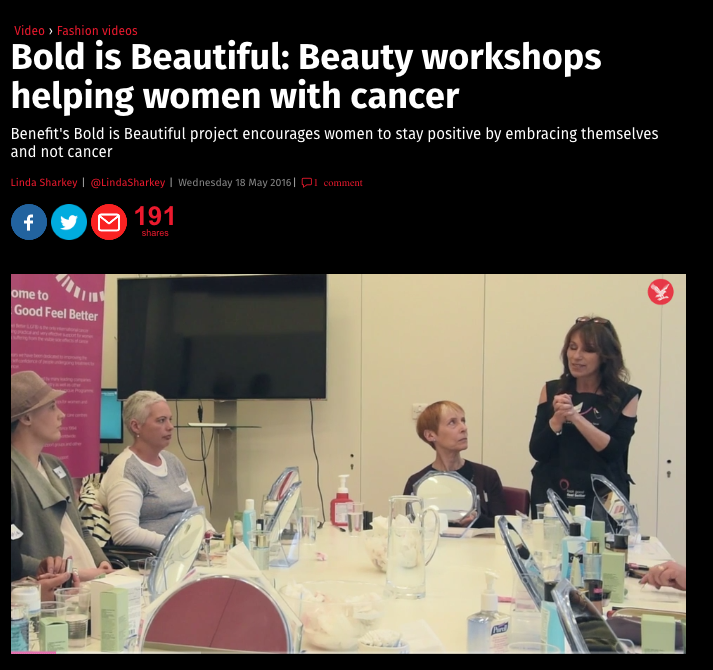 Main platforms – Personal blogs, Social Media
What's the message?
Benefit wanted to give back, and started the 'Bold Is Beautiful' campaign for the second year running.  Throughout the whole of May you could go into any Benefit Brow Bar for waxing treatments, and all profits went to 'Look Good Feel Good' and 'Refuge'.  They also arrange a 'march' around London to raise money for the charities.
Why is it good?
With the fast majority of their customers being women, the two charities they are supporting are perfectly matched to what their audience can connect with. Either with themselves or someone they know. By working with charities, the brand is building trust, and ethics. Speaking from a PR perspective, this is a brilliant form of publicity for them.
The initial buzz was started on social media, and then followed up by bloggers themselves who have wanted to endorse the brand, and the campaign. They can see what positive impact it can have. They've created online content and continuing to communicate what Benefit were doing throughout the project.
What are they trying achieve?
Benefit wanted to raise money for charity, whilst building a reputable, ethical & trusting brand. So many beauty brands are creating new and different creative campaigns every day. However Benefit have worked with bloggers in a slightly different way as it has been all based around charities, which is one reason why I think it's been one of the best this year. It shows innovation, creativity, and ultimately that their care about their customers.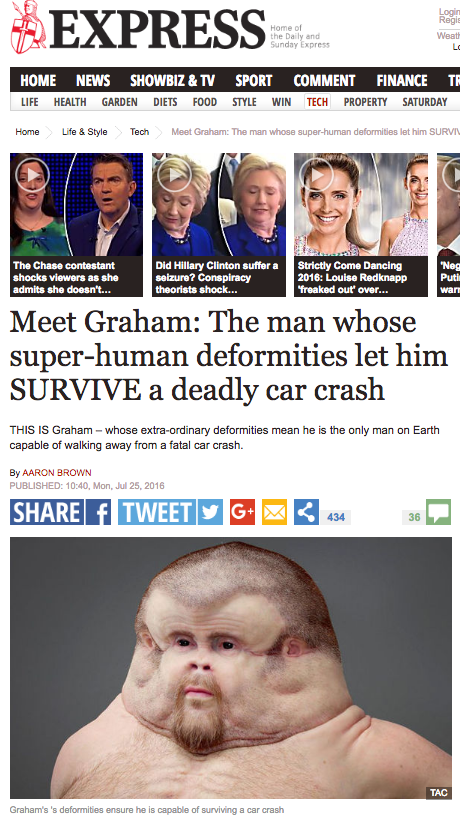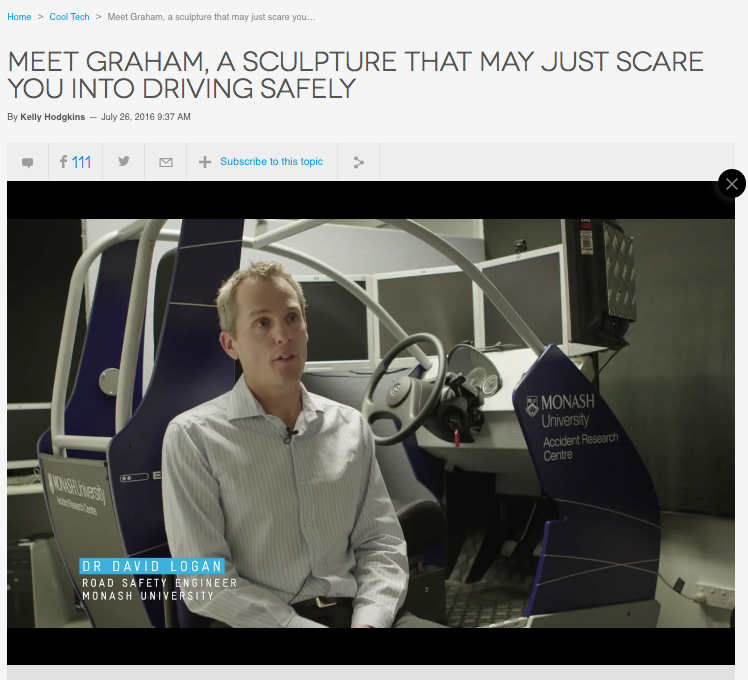 Main platforms –  Media coverage, Personal Blogs, Social Media
What's the message?
This has to be one of my favourite campaigns I've seen in a long while, and it's because it's so real! When you see 'Graham' you do stop, and double take, as the image is so astounding. But that's exactly what it's meant to do. The piece has been created to inform, and educate, on a very scary but real subject.
Victoria Road Safety has stated that they want to reduce the accident and fatality rate road accidents have on all of us. They understand that through education and technology vehicle safety is so much better than it was, but it's still not good enough.
Why is it good?
The piece has been very well designed, and researched. Victoria Road Safety collaborated with medical experts, as well as artists, and various other experts to cover all basis. There are images, videos, as well as so much information around why each body part has been modified to the way it is, and how we as humans would need to evolve to survive.
What are they trying achieve?
It's shocking, and puts into perspective the real message behind the campaign. What I find the most interesting is just how much detail the piece goes into. There are accompanying videos for each body part which then go further into detail about why 'Graham' has been created in this way.
Victoria Road Safety wanted to spread awareness, and that's exactly what they did. It didn't take very long at all for people across the globe talking about 'Graham'. For example, on YouTube some of the short videos now have over 3 million views.
There are so many brands out their producing and executing brilliant content, but not everyone is doing it right.
To be on top, you need to:
Be aware of your audience – Get to know them, understand what they like, where they are online
Take the time to research your idea and never be afraid of trying something new
Keep your idea simple, and don't over complicate things
Research into where you want your content to go, keeping this in mind through your content creation process
Aim for your content to hit one of these goals: Persuasive, Educational, Entertaining, or to Convert