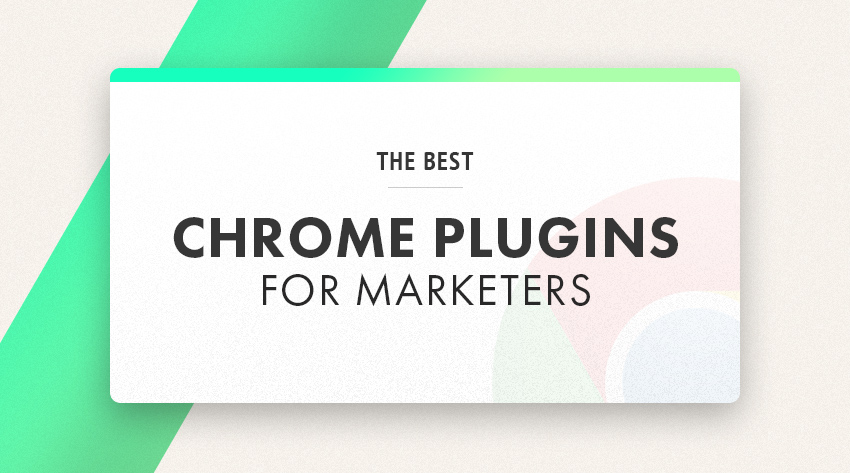 The Ultimate List of Chrome Plugins for Marketers
If you're involved in the world of digital marketing, you know there are many tools out there that can make the day to day activities much easier and faster.
So in order to help, we created the ultimate marketer's plugin list, these incredible extensions have emerged over the years and can drastically change the day-to-day task for Social Media, SEO, Design and Business Development.
­Best Plugins for SEO
Category: Search Tool
Users: 305,989

When it comes to the world of SEO, Moz are one of the industry's thought leaders and you can make use of Moz's free plugin. This plugin lets you create custom searches, compare link metrics, highlight links and keywords, quickly expose page elements, and access other powerful SEO tools—all in-line with your browser.
Category: Search Tool
Users: 75,318 users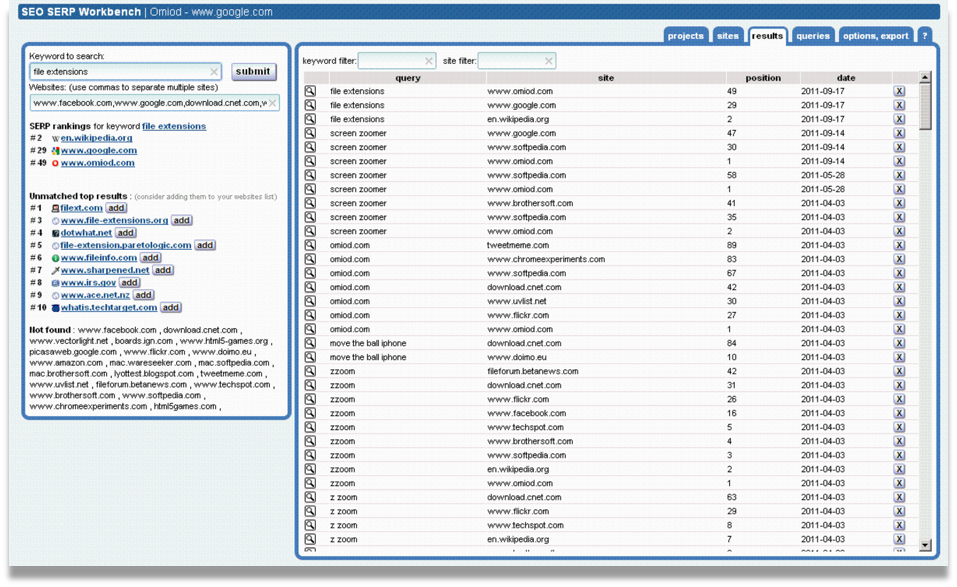 SEO SERP Workbench is perfect for quickly checking your position in Google.  Just type in the keyword, the website, and see where you're ranking. The tool also lists the top 10 websites for the search query.
Category: Search Tool
Users: 7,695 users

Fat Rank is a keyword rank checker tool. It's a simple light weight tool designed to do one thing very well. Checking the ranking position of the website you're on for any entered keyword or phrase.  It is very practical and usable for both competitor research, prospecting and even simple ranking reports for your clients.
Category: Search Tool
Users: 276,049 users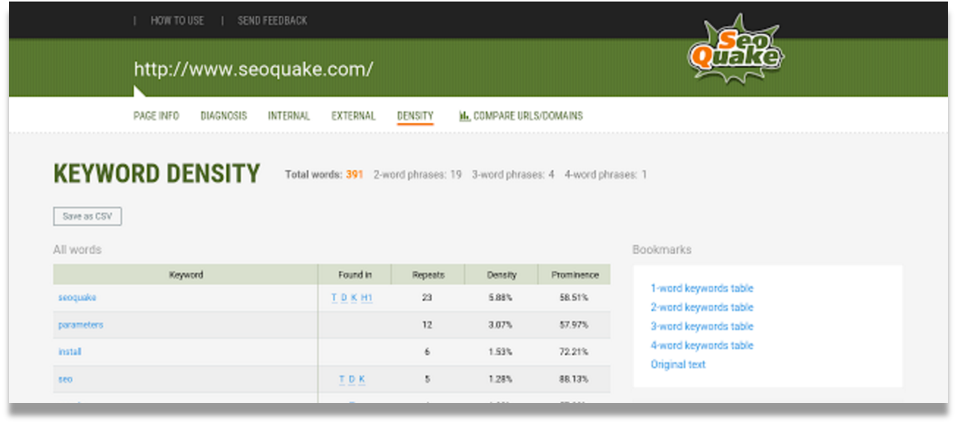 ­­SEOquake is a SEO extension, it Displays the Google PageRank, Alexa rank and other SEO parameters of any webpage, highlights nofollow links, text density, check and compare urls.
Category: Developer Tools
Users: 1,164 users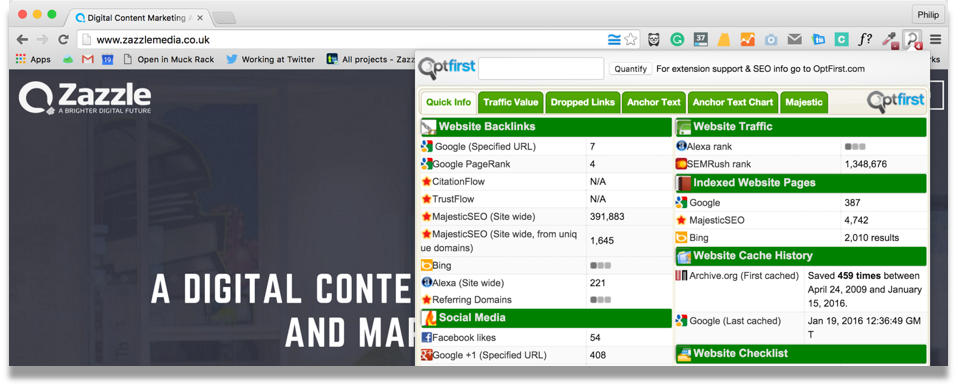 OptFirst is a professional SEO check tool where you can track website traffic, website back link, and also learn about the valuable information about a website's SEO, Search Engine Marketing, Website metrics and more. So, this extension is also a nice option for tracking and monitoring SEO.
Category: Developer Tools
Users: 123,546 users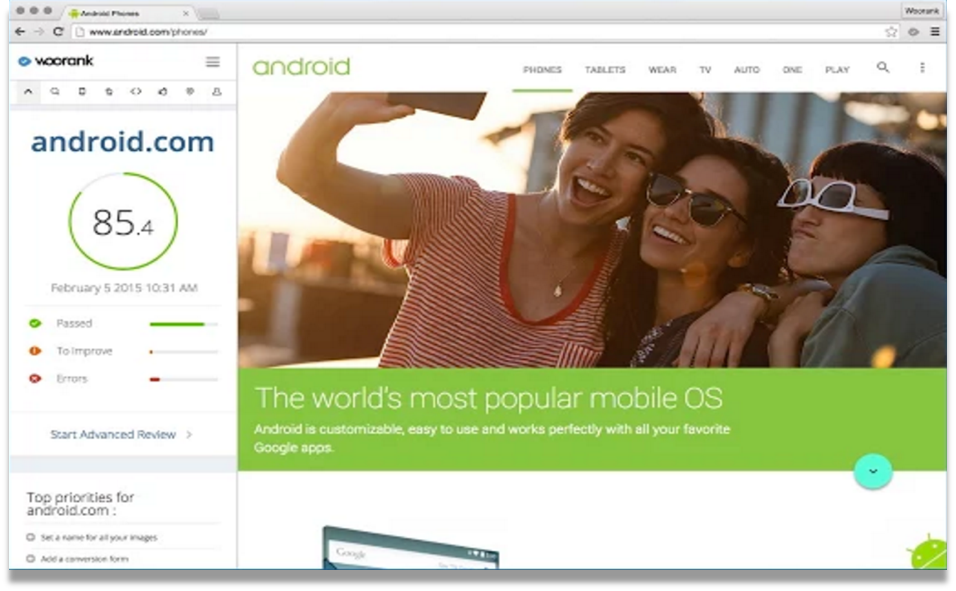 Seo & Website Analysis by Woorank get your SEO report in just a second by using this SEO tool you get a lot of advantage, where you can check SEO authority, SEO links, SEO content and many more. It is known as SEO check tools ­powered by the Woorank.
Category: Search Tool
Users: 1,330 users
This handy tool filters out domains to meet your specific criteria. Sometime you only wish to see the .com domains in the list full of .net, .org, .info .biz .us. It can filter out domain length, exclude numbers, dashes and more.
Category: Developer Tools
Users: 20,628 users

Seoptimer analyzes your website by checking the most important on page SEO factors. In result you get a clear SEO report with best optimization tips. Using this plugin is simple. When you click on the Seoptimer's icon, you will immediately get SEO report of your website.
Category: Search Tool
Users: 19,470 users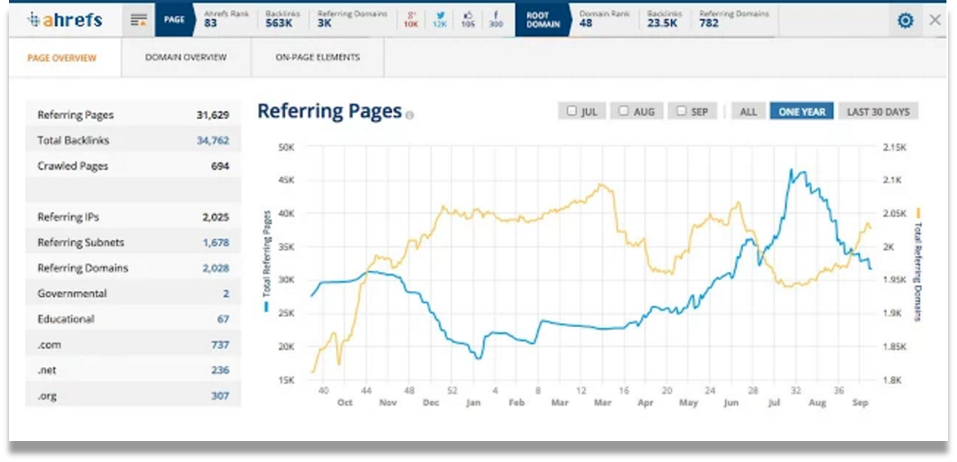 Ahrefs SEO Toolbar Monitors key SEO metrics for individual pages, domains and inside SERPs. Ahrefs SEO Toolbar lets monitor key SEO metrics for individual pages, domains and inside SERPs.
Ahrefs SEO Toolbar lets you immediately assess:
Ahrefs Rank and Ahrefs Domain Rank
Number of Backlinks
Number of Referring Domains
Social metrics
Detailed information with charts for pages and domains.
Category: Marketing @ Analytics
Users: 8,590 users
The SEO Webpage Analysis tool is designed to review your website on-page SEO elements by providing a breakdown of all the SEO on-page factors.  Simply provide your website's URL, the tool will provide an SEO Webpage analysis report that includes what on-page SEO elements are present for the given web page, as well as recommendations for these factors that can affect your ranking in natural search results
Category: Developer Tools
Users: 114,899 users
Check My Links is an extension developed primarily for web designers, developers and content editors, but is a useful tool for SEO and link analysis. When you're editing a web page that has lots of links, wouldn't it be handy to be able to quickly check that all the links on the page are working ok? That's where 'Check My Links' comes in. 'Check My Links' quickly finds all the links on a web page, and checks each one for you. It highlights which ones are valid and which ones are broken, simple as that.
Category: Search Tool
Users: 4,738 users
This extension can also be used to identify broken links. It's very simple to use. Go to a high authority page with a lot of links, and click on the extension's icon to scan the page. It will find all the broken links on the page and show them to you in its little panel.
Category: Developer Tools
Users: 77,311 users
This extension is mainly aimed at web developers that need to verify the HTML of their site to follow the Webmasters' Google Guidelines, but even to who is curious about any page contents that are usually not visible, but can reveal interesting site properties.
Category: Developer Tools
Users: 58,027 users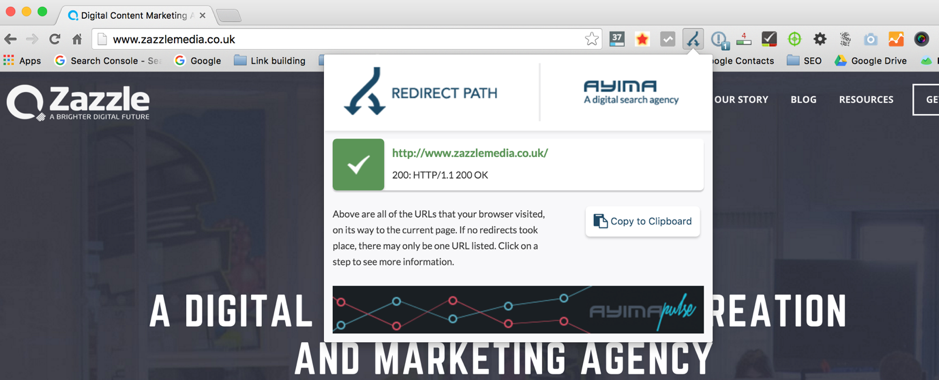 As well as flagging up redirects and errors, the plugin also displays other HTTP Headers such as server types and caching header and the server IP Address at the click of a button.
Category: Developer Tools
Users: 139,662 users
BuiltWith is a web site profiler tool. Upon looking up a page, it returns all the technologies it can find on the page. Their goal is to help developers, researchers and designers find out what technologies pages are using which may help them to decide what technologies to implement themselves.
Category: Productivity
Users: 593,497 users
Similar to the MozBar for SEO, Page Analytics by Google is great for people who are just starting to track the performance of their blogs or websites. The insights it provides offer a valuable analytics snapshot that can help guide your website layout and user experience. Plus, information on active page visitors, pageviews, bounce rate and more can help you shape your editorial strategy and social media promotion. This extension brings some of the best features of Google Analytics right onto the page for you.
Best Plugins for Bloggers and Outreach
Category: Productivity
Users: 32,930 users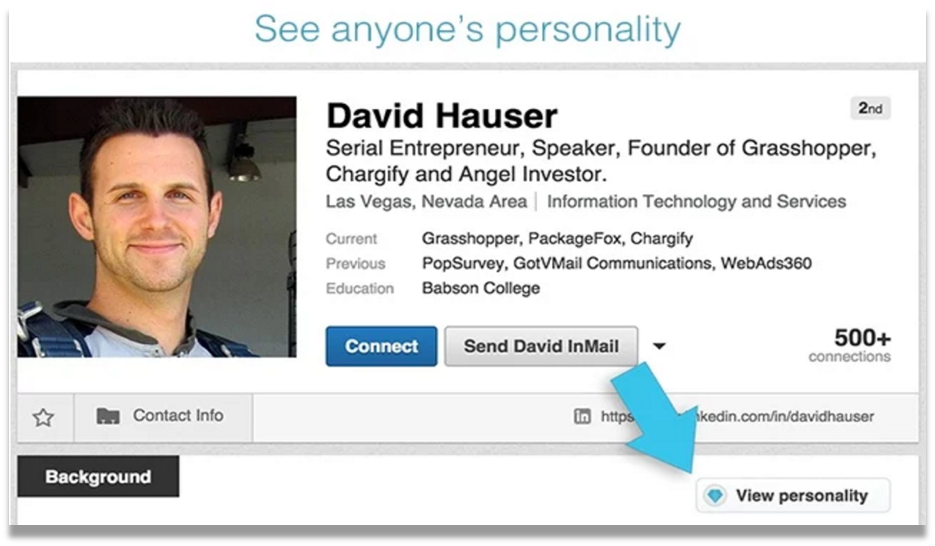 Crystal analyzes public data to detect the personality of anyone with an online presence.  With this powerful data, Crystal can tell you what to write and what not to write in an email, just as if you had the recipient's friend looking over your shoulder.
Category: Productivity
Users: 25,850 users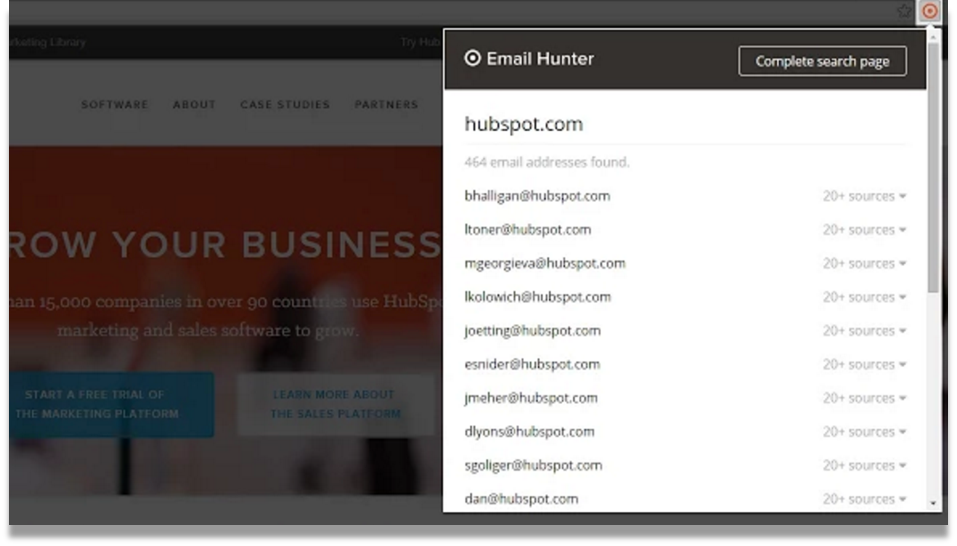 Email Hunter is the easiest way to find email addresses from anywhere on the web, with just one click. Get email addresses from any website: when you are on a website, click on Email Hunter button in your browser to get every email addresses we found related to the website. This is the perfect plugin if your continently search blogs and website for contact information.
Category: Productivity
Users: 1,467,673 users
With Pocket, all of your content goes to one place, so you can view it anytime, on any device. You don't even need an Internet connection. Don't lose track of the interesting things you find by emailing yourself links or letting tabs pile up in your browser. Just save them to Pocket.
Category: Blogging
Users: 14,150 users
As a blog writer, you are most likely using Google Docs for most of your writing process. After hours of writing and reviewing, you finally have a completed blog post that you are ready to show the world.This Google Drive app is designed make your publishing process as fast and efficient as possible.
Category: Search Tool
Users: 2,556,219 users

The free Spell Checker & Grammar Checker by Grammarly helps you write clearly and confidently on Gmail, Facebook, Twitter, Linkedin, Tumblr, and nearly anywhere else on the Web. With Grammarly, you can always be sure that your words are mistake-free and say what you mean.
Category: Email & Contacts
Users: 5,059,368 users
Gmail Offline beta is a Gmail app built to support offline access, allowing mail to be read, responded to, searched and archived without network access. After first start-up, Gmail Offline will automatically synchronize messages and queued actions anytime Chrome is running and an Internet connection is available.
Category: Productivity
Users: 1,450,343 users
With one click, Clearly makes blog posts and articles clean and easy to read. Clearly eliminates all distractions from your online reading experience, and even allows you to browse multi-page articles in one, seamless view.
Best Plugins for Social Media
Category: Productivity
Users: 903,705 users
Many social media professionals and marketers spend a lot of time scouring the web for great content, and even more time slowly reading through it.
Whenever you find yourself with too many tabs, click the OneTab icon to convert all of your tabs into a list. When you need to access the tabs again, you can either restore them individually or all at once.
Category: Social Networking
Users: 417,217 users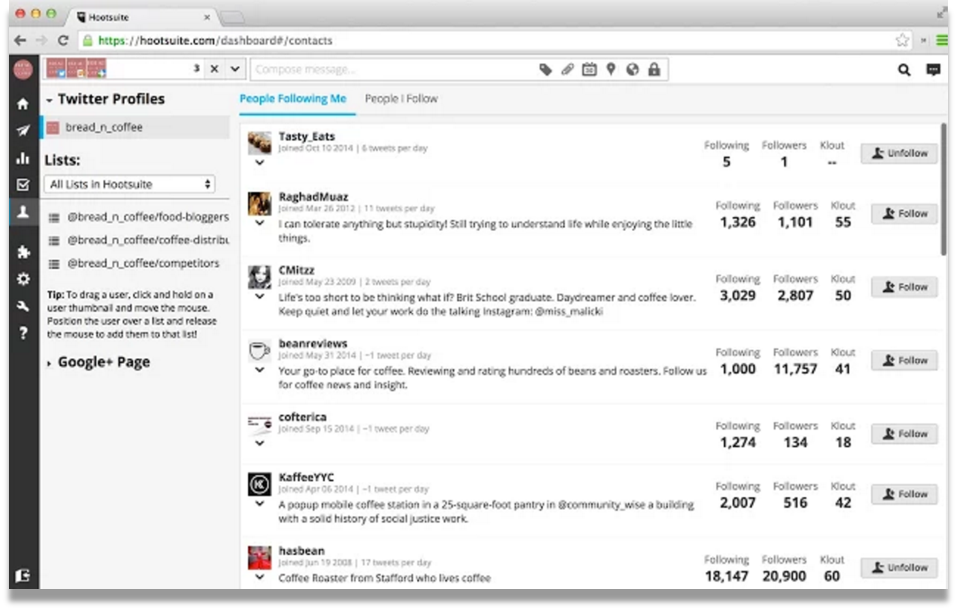 Access and share content from anywhere on the web. Find photos, videos, blog posts and quotes. Find Tweets by location and share through Facebook, LinkedIn and Twitter with one click. Hootlet is a free extension to the Chrome browser that brings the power of Hootsuite natively into the browser experience.
Category: Productivity
Users: 9,801,314 users
Save creative ideas from around the web with the official Pinterest browser button for Chrome. Just click the Pinterest button next time you find something interesting that you want to save for laterLinks get saved as visual bookmarks, which are way easier to recognize and organize than the the same old text bookmarks your browser gives you.
Category: Social & Communication
Users: 20,416 users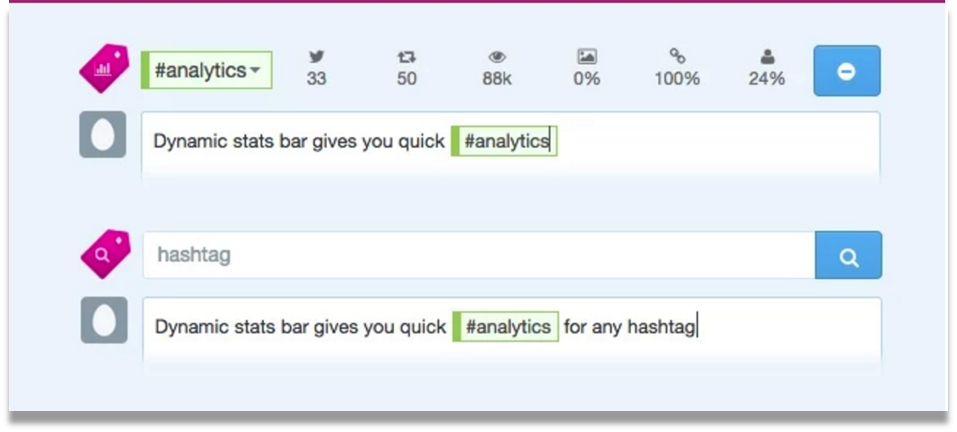 The RiteTag Extension provides analytics on the hashtags you use as your write your social media messaging. The six analytics categories appear right within your compose box, offering real-time insight into the hashtag's usage within Tweets, the number of times it has been retweeted, its reach, and more.
Category: Photos
Users: 1,482,879 users
The Instagram extension brings out an easy-to-access stream of Instagram's directly from the right side of your browser bar.
You can like, comment, view videos, get desktop notifications and see what filters were used for each photo—all without picking up your phone or opening up another tab. It's great for cutting out all the stress of managing your brand's feed.
Category: Social & Communication
Users: 12,860 users
Riffle is a super-smart Twitter dashboard that helps you develop more meaningful relationships with your community.
Get real-time engagement and activity stats, along with interests, top URLs, mentions, hashtags shared and other social accounts with a single click of the Riffle icon next to a user's name.
You can even right-click a Twitter handle wherever you see it, no matter what website you're on.
Best Plugins for Design & Development
Category: Developer Tools
Users: 22,298 users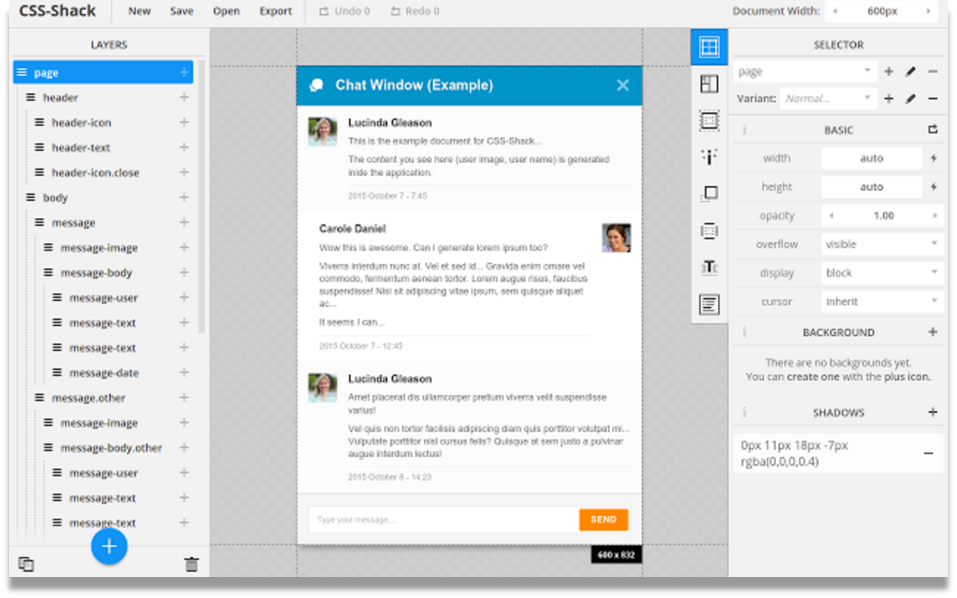 CSS-Shack is a web and desktop application, which allows you to create layers styles and export them into a single CSS file. You can create web site designs, mock ups or just simple button, it's up to your imagination and creativity. It can be used for experimentation or for creating and maintaining a style guide for a web site.
Category: Developer Tools
Users: 10,552 users
Font Playground lets you experiment with the local fonts and the entire library of Google fonts on a live webpage without making any actual changes. The beauty of this extension is that it includes all the different font weights, styles and text effects so that you can visualise your webpage before you implement the changes.
Category: Developer Tools
Users: 496,019 users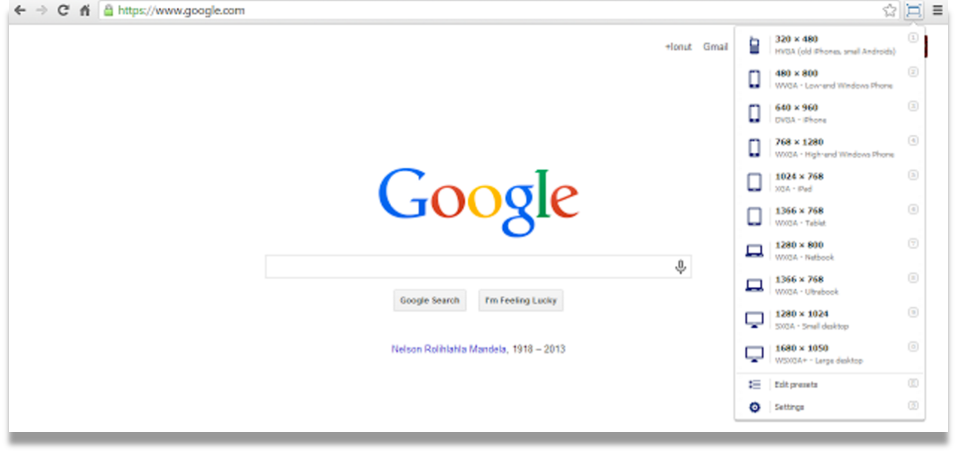 This extension re-sizes the browser's window in order to emulate various resolutions. It is particularly useful for web designers and developers by helping them test their layouts on different browser resolutions.
Category: Developer Tools
Users: 495,043 users
With this extension, you could inspect web fonts by just hovering on them. It is that simple and elegant. It also detects the services used for serving the web fonts. Supports Typekit and Google Font API.
Category: Developer Tools
Users: 40,051 users
Analyses any web page for violations of best practices
For web developers who wants to make sure they follow best practices. This extension allows you to very easily discover problem areas in your website.
Category: Developer Tools
Users: 9,709 users
Turn any web page into a wireframe with just one click. This Google Chrome extension helps web developers and designers view web pages, whether local or live on the web, with a wireframe overlay.
Category: Developer Tools
Users: 828,298 users
The ColorZilla Chrome extension is an advanced eyedropper, colour picker, gradient generator and more useful colour tools that will help you in your design – right there in your browser window.
Category: Photos
Users: 2,992,953 users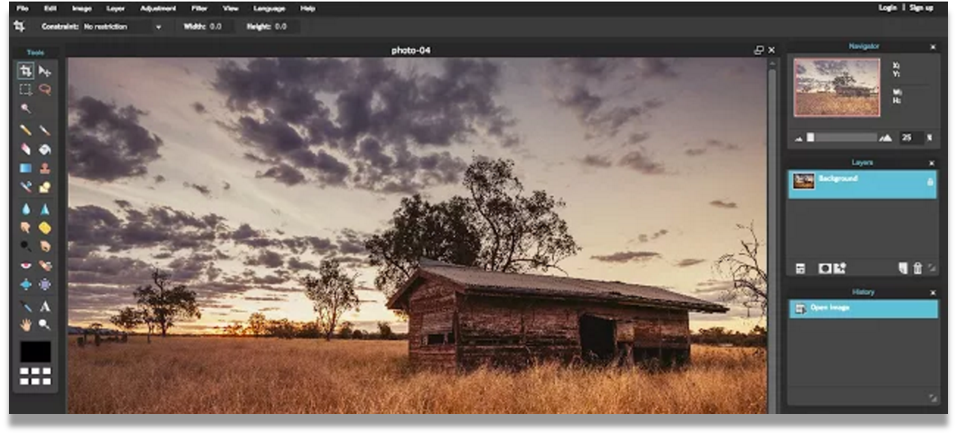 Pixlr Editor is a browser photo editor for all your editing needs. Have full control over your images, including layers and effects. If you're used to working with Gimp, PaintShop Pro, or Photoshop you will feel right at home with this online image editor. It contains a lot of the features that you normally see in desktop graphic design applications.
Category: Developer Tools
Users: 64,569 users
Do you want to create a color palette that matches an image from your website? Or maybe you just want to grab some colors for inspiration, well then Palette is the perfect plugin for you.
Best Plugins for Business Development
Category: Social & communication
Users: 305,989
Allows you to schedule messages to be sent or returned at a later date.
Boomerang allows you to schedule messages to be sent or returned at a later date. Write a message now, send it whenever, even if you're not online. Track messages to make sure you hear back, and schedule reminders right inside Gmail.
Category: Productivity
Users: 244,819 users
See who opens your emails and clicks on your links, with email tracking analytics and templates for Gmail.
Yesware takes the guesswork out of email by instantly showing you when and how often your emails are opened.
Category: Productivity
Users: 23,667 users
Similar to Yesware, ToutApp offers email tracking, but also lets you know when prospects have clicked a link in an email or opened an attachment you've sent to them. The tool integrates with Gmail, Outlook as well as Salesforce and offers automated follow-up emails, a meeting scheduler, and analytics and reports to show you which emails are the most effective in reeling in prospects.
Category: Office Application
Users: undefined
Never forget about a single meeting or miss a call with a prospect again. Use the Google Calendar extension in Chrome and your calendar will be constantly at your fingertips and easy to see.
This extension adds a small button to the top of your browser so you can click to see upcoming events without leaving the tab you already have open. You can also easily add upcoming events to your calendar without leaving the page you're on. This makes it incredibly easy to add a new meeting to your calendar while you're still in Salesforce.
Salesforce sales process tool Brisk
Category: Productivity
Users: 2,498 users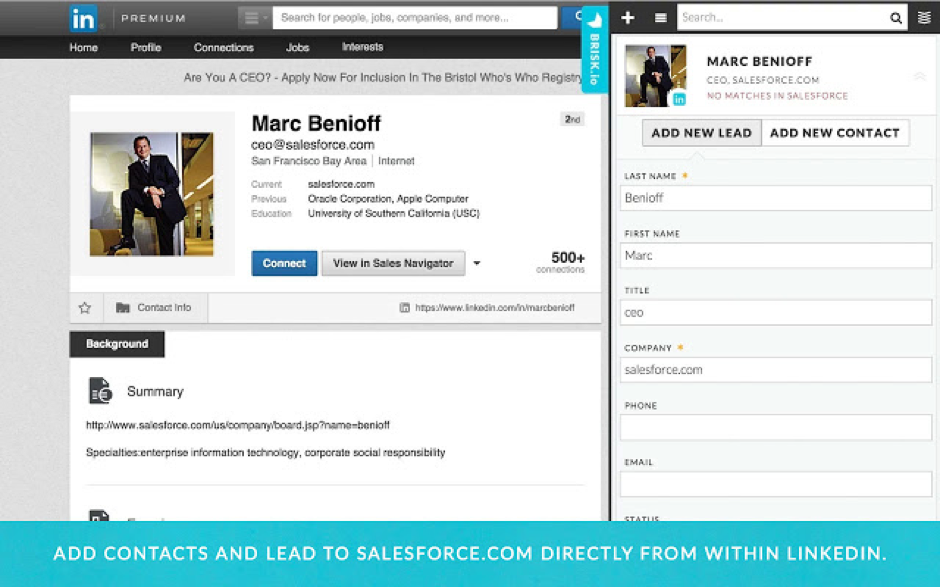 Do you have too many leads and opportunities to manage? Brisk shows you the fastest paths to sales by telling you which leads to follow and the next steps to take. Brisk provides fast track tools to automate logging of sales activities and add contact data from pages like LinkedIn.
Category: Search Tool
Users: 761 users
SalesIntelligent saves you time searching for prospects contact information and manually entering prospect data into your CRM.  It pulls key prospect data from LinkedIn then automatically discovers prospects email addresses, phone numbers, and social media accounts and imports their data into your CRM.