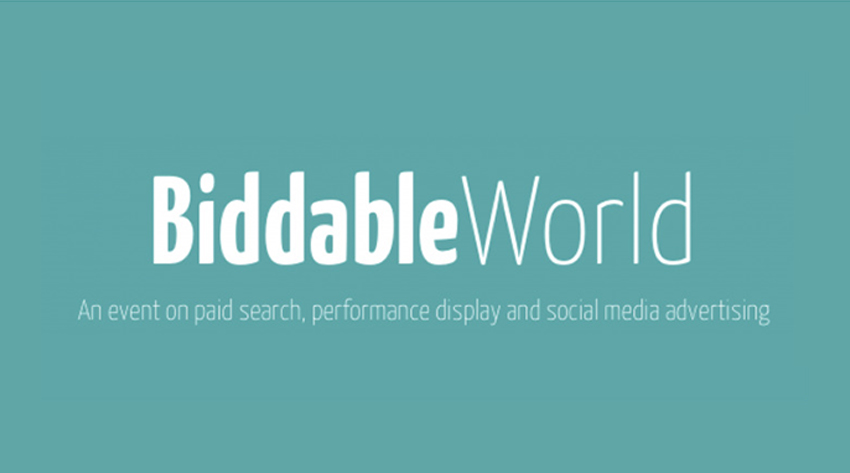 Biddable World 2014 Top Takeaways
Biddable World is the conference those working in the Paid Media space had been waiting for: a dedicated event focused entirely on the ever growing paid space. Zazzle was there to capture the top takeaways so you don't miss the very latest advice in the space.
Our very own paid media expert Adam Brown takes us through the most actionable and impactful pieces of advice live from the show right here:
Jon Myers – Navigating the Biddable Landscape
In 2013 BING and Yahoo are doing well, they are increasingly offering a higher click through rate in comparison to Google and a constant CPC.
As we knew mobile is continually growing so this means advertisement revenue is going up and up. This can be good and bad as costs will be increasing but at the same time the reach/target audiences will be growing.
The behemoth that is Facebook continues to grow there is a much lower growth when it comes to European countries but overall it keeps growing.
Custom audiences are the way forward by using a custom audience CPA will be drastically lower on average around 64% this includes using age and gender, also exclusion not always inclusion.
The future of biddable media: Jon can see that most advertising will be biddable for example TV- Sky adsmart is starting this as they are running tailored advertising while watching TV. You can see that here: Sky Adsmart. Billboards and other media could be biddable such as when a person is next to the board or who is in that area could be bid on.
Heather Robinson – Tentative Steps into Twitter Advertising
Different types of twitter advertising:
Promoted tweets – great for reach, engagement and awareness
Promoted accounts – great for followers, the account appears in 'who to follow'
Promoted trends – appear in twitter trends great for maximum exposure but are very expensive.
One of the big things  to remember is that your AdWords campaigns will not run as well in social, in most cases.
With each campaign you need to have a clear goal, so what do you want to get out of this? Engagement or followers?
When targeting on Facebook there is a variety of different options such as: Interests, device and gender. Twitter has said that these are 90% accurate.
One big tip that Hannah gave was that tweets which answer a question are going to get a higher interaction as well as images. Images need to be used now as the effect of them will wear off when all paid advertising on the Twitter feed are using them.
Reporting on twitter looks really good and also shows tweets that could be added to the paid campaign for example if the tweet organically got a lot more engagement that normal tweets do it will suggest to add this to the campaign.
5 Takeaways:
1. Forget your AdWords strategy.
2. Be clear on your goals.
3.Target the right people.
4. Create and promote great content
5. Run, report, improve, repeat.
Nick Christian – Black Hat PPC
"Less about search and more about marketing"
The difference between search and advertising, with search they are already expressing interest.
Search and look at click and conversion and see numbers. With paid advertising is not always the case such as the bear and the hare advert from john Lewis cost 101 million but could not actually give any numbers on how much of an effect this had on sales.  There can be some correlations but no definite numbers.
Online advertising can be moved around and budgets changed oppose to printed media.
Three Main Takeaways:
1 There is no such things as irrelevant traffic
2. Everything has a conversion rate
3 There is nothing you can't afford to buy if the price is low enough.
You can influence conversion rate to a certain extent but the only one we really have control over is CPC if no other changes can be made.
What does that mean in reality?
You may think you are bidding on everything you can but there is always more such as other languages and locations and targeting different devices.
If you're still looking at campaigns and ad groups you need to start looking at the broader picture.
"You can bid on most things so you need a reason why not, not a reason why."
Using this approach you need to be accept that a lot will go wrong but in the end you will be surprised with what works and what is profitable to bid on.
Aim to target everyone so you don't start small and end up staying small, so you can in turn test a lot more.
Richard Fergie – Is eBay Wrong About Paid Search?
Every advertisement if it stays the same will gradually decrease in profitability once the audience has depleted.
Correctly positioning yourself on the spend:profit curve. Can you target the right people with right spend to in turn get the right profits?
It's hard to measure the value of PPC when we don't know what other channels influence the end result.
To see the true impact we can switch a channel off but the problem with that is "seasonality can make it difficult to compare before/after"
Rather than stopping all of the account you can stop sections of them. You can then minimise losses in the tests and get high value from the testing.
What doesn't work: Pausing certain keywords or campaigns Google will match queries elsewhere in the account to match what was in the paused parts.
An easier alternative to this is to use the paid/organic report that Google can give you but the only problem with this is that the traffic figures given from webmaster tools are not very accurate but this is really easy to do and can give some insightful information.
Time slicing:
1.       Turn adverts off for sort periods of time
2.      2. Pick similar time slots to compare:

a.       1400-1500; no ads
b.      1500-1600; ads
Time slicing doesn't work when buying cycles are long so would need to risk stopping ads for a longer period of time.
Ebay tested this using Geo slicing.
1.       Divide the target area into regions
2.      Group the regions into threes- the regions within each triple should be as similar as possible
3.      Randomly select one region out of each triple to be in the test group.
4.      Stop activity in the test group and see what happens.
The only thing that is hard about this is the regions. How do you find similar geographies to group them?
Ebay use Nielsen areas which are expensive and also based on the whole population and can be issues with the accuracy in the UK due to IP targeting.
How to group UK towns and Cities
 Ignore London – too much difference with IP's servers and population difference.
 Look at monthly performance by town for last X months
 Normalize for population size
 Discard small towns where you will be unable to detect a change
Dendrogram which is explained more here: http://en.wikipedia.org/wiki/Dendrogram

 

The dendrogram allows you to visually see how large groups are.
Risk control can be dealt with by increasing the size of the control groups so within an experiment there would be a lot less traffic lost.
Compare the drops with what you think PPC is currently worth. 
Final summary
Think about positioning on the curve as well as changing the shape
Dont be afraid – being correct is important
It is possible to control risk.
May be easier with debating with display team about what atribution model to use.
Tara West – Inside AdWords Quality Score: Different Types of Quality Score & How To Optimise For Them
Why do we bother with quality score?
Lowers CPC's, Better ad positions and Revenue is paramount.
"Quality Score is an estimate of how relevant your ads, keywords and landing page are to a person seeing your ad. Having a high Quality Score means that our systems think your ad, keyword and landing page are all relevant and useful to someone looking at your ad. You can find out your Quality Score for any of your keywords."
Primary quality score factors:
–          Click through rate – people are clicking
–          Relevancy – do Google think the ad is relevant
–          Landing page relevancy

 
Keyword level quality score
–          Based on historic CTW
–          Based on industry average
–          There is an impression threshold – dependent on industry.
–          Calculated on exact match search queries
–          Average position is normalised
Keyword level quality score:
–          QS based on historic CTR so aim for a strong CTR from day one.
–          Use modified broad match to boost initial impressions
–          If possible bid up to get to the top positions
–          Add easy win keyword first to help QS before adding new ones
–          Use some exact match keywords as its easier to build up QS
–          Audit tools can give average quality scores.
Advert level quality score
Use ad extensions
Ditch low quality ads
split test regularly
use a variation in advert body
use dynamic keyword insertion
Account level quality score
This takes time
set a brand campaign first
location – if its the same as billing can increase quality score
create new campaigns with new keywords
Landing page quality score
Doesn't effect overall quality score much
does not effect ad positions but can effect eligibility to show
match users expectations
Reviewed by humans as well as algorithms
Quick Fixes
Optimize page speed
Content needs to be unique even when blocked by robots
get someone outside the company to review the pages
All contact details on the site
Link to privacy policy
Device Quality Score
Same factors as all of the above but a separate calculation
Location is more important
test mobile user journey
Segment performance by ad
Sarah Conway – Biddable Media & Online Shopping – Are You Being Left on the Shelf?
In 2013;
 All product listings are now paid – no free clicks
PLA'S are generating more and more clicks
Spend on PLA is up 200% and revenue up 400%
Google is changing the way it displays PLA's for example it is rolling out a carousel style ad at the top of search results and is also adding more rows to this so search results will not show as much for product searches.
Why use them? they are constantly growing and becoming more useful.
There are three main areas to cover
Feed – This is basics such as categories and classes.
Structure- looks at the campaign such how products are shown and what hero products work for your brand for example if a product works well and also works better at a certain time of the year make sure you are promoting these above all of the other products if the ROI is good.
Data/optimization – When looking at data it gives you an insight into what products to target and also look at what keywords are being targeted and remove ones which will be increasing costs.
Tips:
Upping budget can be something you do if you are impatient to get the ball rolling but it can also give you a lot of data to look at so things certain areas can be optimized.
use labels in accounts
The break out best sellers need to be promoted even more.
use the accelerate option every so often
Jim Banks – Every Picture Tells A Story – The Role Of Display Ads In The Biddable Media Mix
"Just because you can do something doesn't mean you should."
Why graphical ads work
They can sometimes not look like ads
The ability to tell stories
Resonate with the user
Can be shocking
They are different to text ads
They zig when everyone zags
Why they don't
Bore the user
Get in the way of what you are doing
very you-centric so they are directed at you in some cases
They can be blocked by 'ad-blockers' a way around this is to change the dimensions of the advert if you can if you are promoting this yourself.
Some tests you can do:
Trust signals such as we have worked with 'XXX'
Future or past
Shapes – Weird unusual shapes in comparison to squares or usual shapes
Familiar trusted look – need to be careful with brands and plagiarism
Buttons or text buttons
Straight images or angled images – slightly skewing an image can have a slight affect
Stock photos or natural looking ones
Fake interaction look but will all lead to the same place
Beauty or the beast images
Sharp or blurry
The bottom line  is to test what works as we have said before test test and test. Decide if the ads are for a direct response such as a sale or lead or if they are for brand awareness. Looks at different network restrictions to see if your ad will be allowed.
Some resources that may help with display advertising
Fiverr.com
4mads
Sitescout
whatrunswhere
Nathan Wood – View Through Conversions – Not Worth The Paper They Aren't Printed On?
" Advertising is everywhere!"
We like things that are cool and exiting which ads are increasingly starting to do so in turn our acceptance of adverts is growing without us even knowing.
Advertisers seem happy to spend money and run PR, print and TV with assumed brand awareness but not paid digital media.
This is where View through conversions comes into the equation:
Not to be mistaken with assisted clicks
Mainly display but can be used with adword
Explosive increase affinity :
More exposure effect – repeated exposure to something leads to more favorable reaction when they see the advert.
A study tested reader reactions when banner ads were inserted into a 5 page article and found that when the advert was outside the focal area readers were able to identify the brand easier.
it also gave them a positive evaluation of the brand
VTC allows you to see outside the areas of just conversions so you can make correlations between the advertisements being run and sales/traffic but not directly.
Forecasting VTC is impossible as there are many different factors that go into it.
Print would love VTC as they can see what their paid advertising is doing.
Takeaways
keep an open mind as you may go down a path and think that an advert is in correlation with a spike in traffic of leads but it may not be.
Dont knee-jerk so keep testing and testing
test your display platform to see if you are getting the most out of it

 
John Were – Performance Display – Best Practices
The first and biggest thing to takeaway from Johns talk was that you need to make sure you know what your client wants. This can be in regards to spend or even things such as numbers on leads or sales. making sure you have this right in the beginning is the first step to building a solid foundation.
Tagging- The management of tags needs to be taken seriously as if you start with no tags and then suddenly need to pull the data you will have no idea what the specific data is. This can be an issue if you want to increase budget or continued optimization.
Campaign structure needs to be simple so that it can be built upon.
Re targeting existing users can work in some circumstances but this is a matter of testing. Showing your brand to these people again by using a promotion or discount could introduce them to your brand all over again.
The Plan:
Target
Ad Format
Cost
Start and finish – dates and goals
Buying metrics – CPM, CPA or CPC?
Objectives so timely goals?
Martyn Bentley – Programatic Predictions for 2014
Top ten programmatic predictions:
Audience and device fragmentation will only increase
flow advertising will emerge – following users from device to device
Marketing silos will continue to disappear
Native advertising will not scale very well
Mobile advertising will get better and better – sales up 44% this year
Content marketing will go mainstream
corporate marketing will embrace networked innovation
The cookie will not die. Yet.
Marketers will get cosy with their CFO's and CIO's
Video will explode
Nandita Patkar – International Campaigns – Why Biddable Media is the Answer
Biddable media can be used to create a digital strategy to grow different areas of a business.
When biddable media is backed by data it can create huge advantages so by doing research and having an understanding of your target audience biddable media can help you increase your influence.
Different ad themes and customisation will greatly improve the effectiveness of biddable media, themes such as humor, real life and emotion.
Ali White – How Profitable is Google AdWords for You?
Using  Google Adwords with eCommerce you can clearly see what you are generating from campaigns in regards to sales.
When your looking at anything other than eCommerce you need to look at conversions but this is not always the best as different goals have different values so this is where you have to make sure everything is tagged correctly.