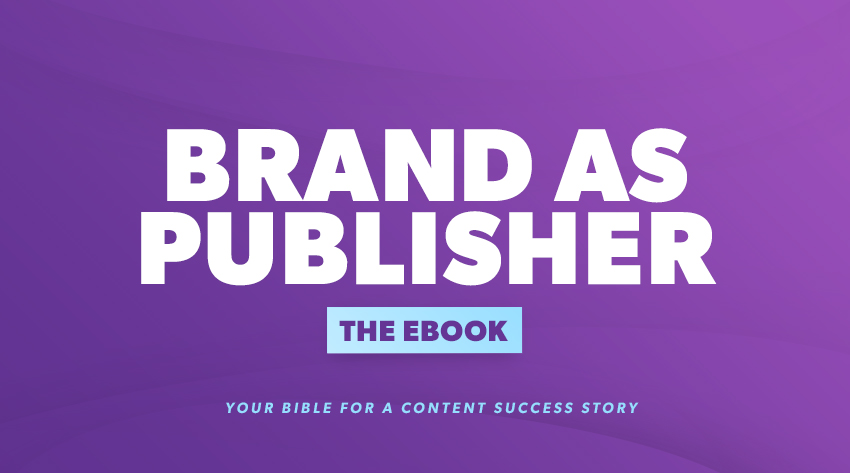 Brand as Publisher eBook: Reinventing Content Marketing for the Next Decade
Content marketing has an image problem.
Like all potentially transformational opportunities, the world sees something glistening and jumps in head first to claim a piece of the next "goldmine."
The ensuing digital gold rush that follows often creates a stampede to be first, rather than best, and normally strategic thinking is usurped and instead replaced with a brain-out approach to delivery.
And in the case of the content marketing revolution, the result has been an outpouring of disconnected content that adds little value and serves very few, leaving many with nothing more than a handful of "failed" content campaigns to show for the effort.
It's something we see every day, and it is incredibly saddening.
Content marketing, you see, is not the answer to those prayers. It's simply part of a much broader strategic picture that we call the "Brand as Publisher" play; a reset of the core principles behind the content marketing charge.
Our latest Brand as Publisher eBook is designed to explain precisely how you can take the "Brand as Publisher" approach, what it is, and how it can help your business succeed with content.
You can download by clicking the banner below (or alternatively at the bottom of the post).

Defining the opportunity
So, what exactly is "Brand as Publisher?" Put simply, it's changing your mindset to put content at the forefront of your business, almost before the products or services that you sell.
As controversial as that may seem, the idea is that you're able to build an engaged, loyal audience of value for your brand… an audience you can then monetise later.
It's a long-term play, without doubt, and one that requires consistent investment in both time, resources, and cold hard cash — but it creates "cast-in-granite" value that your competitors will find impossible to steal away from you.
Those who take the time and effort to do it will beat you in the long run, and there will be little you can do about it!
Changing mindsets
Now, before you close your browser, let me add a dose of reality. The suggestion is NOT that you start a magazine or newspaper for a living, but instead take the value from that business model and leverage it for your gain.
In many ways, you must start to…
---
"Imagine yourself as THE leading consumer magazine for your market."
---
The easiest way to do that is to imagine your business as a magazine, as the leading publication for your specialist market and THE place anyone with even the slightest interest in your area of expertise goes to expand their knowledge.
Think about it for a second. In the same way that newspapers and magazines create "value" by sharing quality content on their specialist area and then building an audience around it, so can you.
Where they then monetise that audience by selling ad space, you may do the same by selling related products or services, or capturing leads.
The ability to create what we call "target audiences of value" in this way is how value has always been created. And with those eyeballs now focused online more than ever before, there has never been a better time to capture it.
The challenge is that few understand how to make content work long-term. While many brands (and agencies, for that matter) make a song and dance about delivering amazing campaigns, there is a very real need to get back to the basics and build, not just a campaign plan, but a longer-term brand content plan.
This excellent piece for Adage does a great job of arguing why we really do now need to focus on "proper content strategy" and not just on delivering content, particularly from agencies.
Recreating it online
Our Brand as Publisher eBook is designed to share the secrets honed by the magazine industry over the last six decades; to share the principles that will maximise your chance of success with a content-led strategy.
To make that more digestible, the approach is broken down into a series of integral "pillars" the first of which focuses on audience insight.
Click the banner below to fill in your details and receive our content marketing insights which will get your strategy ahead for the next decade.