.co Domain Optimisation (an experiment)
Since its (re)launch in 2009 as a global TLD the .co has taken up more than its fair share of blog space and sat at the other end of endless numbers of Twitter links.
Domainers and 'online entrepreneurs' fell over themselves to get hold of the best exact match and brand .cos when they first launched but very few have made it to the highest echelons of search. And that got us thinking…..does Google like the .co and see it as a true competitor to the all-conquering .com or country-specific TLDs?
The only way to find out for real if the .co was anything more than a country specific Ltd dressed up as a .com killer was to purchase some and experiment 'in the wild'…
The Background
Before we begin to share the conclusion our experience of optimising .co domains it is useful, for those that don't know, to run through a short domain history and how the .co extension came to be of interest to the average online entrepreneur and business owner.
As is common knowledge the original 'TLDs' (.com, .org and .net) have been highly prized assets for many years, with many trading ownership for millions of pounds. Valuation of such domains is often led by perceived value BUT things such as domain age and exact match keyword richness can significantly reduce potential marketing spends for owners, creating very real value.
Of course supply dictates value also and the limited nature of the original domains have pushed prices up further still, leaving many either priced out of the market or uncontainable for other reasons.
Those that control domains saw an opportunity therefore to reinvigorate the market and rebrand what was originally the regional Ltd for Columbia, or all places, as 'the new .com'. Investors flocked but so far we have seen very few sat within those prized top five positions in Google. Which got us thinking…why is that and are they really as good as a .com or .co.uk?
The Experiment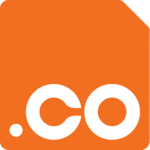 The key to discovering if they work was finding a juicy exact match .co that had not been purchased and that meant brainstorming and keyword research.
Eventually we found a domain in the outdoor sector with 8,100 exact UK matches and enough competition to be a stern test of the .co's metal.
Said domain was purchased and quickly set up as a WordPress Blog with on very simple on page optimisation done.
We then waited. And waited. And waited some more (insert ticking clock noise somewhere around this point) but nothing happened.
We weren't expecting miracles and page one position but something in the top 100 would have been nice. But nothing.
Zazzle's @james_perrott and I scratched our heads and decided that some low level link building was required and so we set off completing a ten guest post content marketing campaign for the site using aggressive exact match anchor text 'just to see' if it appeared at all.
Still nothing.
So we went hunting.
The penny dropped the moment we found the site ranking page three on google.com.
It told us one thing – that in the eyes of Google at least the .co was not a global domain but was still being seen as a country-specific tld as it was originally intended – for Columbia.
The Fix
The fix was then relatively simple. In connecting Webmaster Tools and setting the geography to UK we saw an improvement within days.
The next question to answer was how easy are they to optimise as an exact match. The answer was to aggressively link build over the next four weeks.
The initial work suggested we had hit a gold mine as our competitive exact match term flew through the rankings, hitting page one in a little under four weeks.
A combination of basic on page work and regular blog additions and some off page content marketing to DIY-related blogs made this happen fast and we thought we were onto a winner. Then the progress stalled.
During the past four weeks the site has moved only one place and given the work completed we know that with the equivalent exact match .com would be at least four places better.
This is speculation at this stage of course and so the next stage of the experiment will include running a .com and .co side by side to see if one is preferred over the other.
What is clear though is that with the right treatment the .co is actually worth considering when purchasing domains.
Matt Cutts himself made clear on his own Google + page only last week that the new TLDs have 'absolutely no competitive advantage' over .com and hit out at any registrars attempting to suggest otherwise.
He is quoted as saying: ' Google has a lot of experience in returning relevant web pages, regardless of the top-level domain (TLD).
'We will attempt to rank new TLDs appropriately, but I don't expect a new TLD to get any kind of initial preference over .com, and I wouldn't bet on that happening in the long-term either. If you want to register an entirely new TLD for other reasons, that's your choice, but you shouldn't register a TLD in the mistaken belief that you'll get some sort of boost in search engine rankings.'
He was of course talking about the plans to create hundreds of thousands of new top level domain names but it is clear no help is being given to any pre-existing domains.
Do you have any experiences with .co optimisation? If so we'd love to hear about them. Please add your comments below.
We hope you enjoyed reading this blog, it was written by Simon Penson, Founder and Managing Director of Zazzle Media.