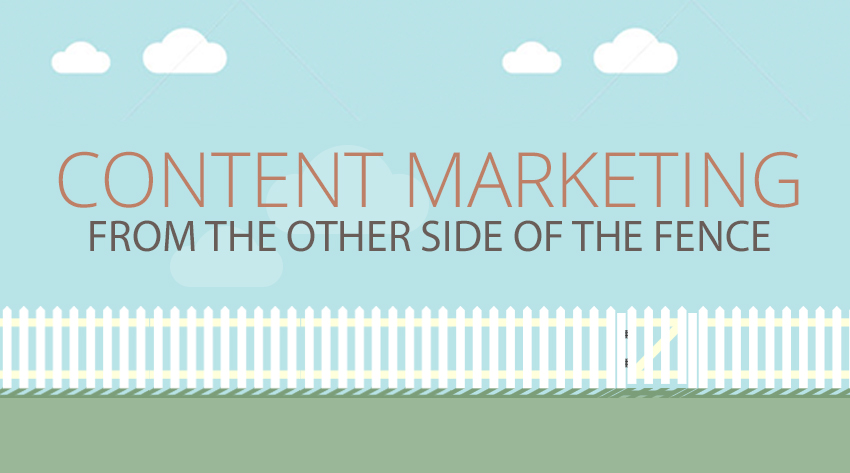 Content Marketing From the Other Side of the Fence
With the world of blogging absolutely blowing up in the last few years, it's no wonder that many of us are looking to expand and turn it into a business. Fashion bloggers, in particular, have taken this on board with the likes of Lily of llymlrs.com and Victoria at vipxo.co.uk making blogging their livelihood.
What's more important though, is improving not only the quality of your blog but the way it's seen in Google's eyes, and us – the content marketers!
I run a blog, tami-bee.com, and a reasonably successful one at that, but my dedication to it has decreased over the past couple of months, meaning living off it is just not possible. Although I receive a few emails on a daily basis regarding press releases, infographics and items for review, I now have the advantage of having the knowledge behind content marketing as well as having a blog.
Nowadays, bloggers are more aware of the advantages and rules surrounding content marketing, and generally play the 'what's in it for me?' card regarding the content they place on their site, depending on their niche.  As a blogger, I completely understand the need to make money when it is your only source of income; however, when there is an invaluable piece of content out there that you find interesting, or believe others will find interesting, why not share it free of charge?
A gripe I do have with blogging is just that – the money making side of things. I truly believe the millions of blogs that have popped up in the last few years are because of the belief that they'll get free things, when the true reason it was made for has been blindsided. Equally however – and I openly admit that I have been guilty of this myself – is the assumption that bloggers will post anything for free. Going back to my statement before, it's very important to remember that many individuals live through their blog and to put any old content on it could ruin their personal style guide. For bloggers who have been in the game for a very long time, such as Gemma at Gemsmaquillage, this is particularly true. Self-written content that their audience enjoys… why fix what isn't broke?
Personally, the content I post on my blog is something that I treasure. If someone is looking to guest post or feature a certain item, it really does need to fit the style of my blog. Over the past few years, I have built relationships with brands that reflect my style and in turn, I am more than happy to talk about them on my blog.
Audience

In the fashion niche of blogging, in particular, the same content is often published over and over again. Yes, a Sunday Summary is good but what is going to make you stand out to those reading your blog, and what is going to be more of a help than hindrance to your readers? Questions like this are often missed in an attempt to get a quick post out but there are only so many 'What I've Been Loving' posts you can do.
It's all very well ensuring that the content is decent, but it's so important to remember those reading your blog. Your audience is vital, and their interest in what you write must always be considered.
Of course, not everything you write about is going to inspire but that's exactly why you should focus on a particular niche to maintain your readers. Yes, fashion is pretty clear, but start going off on a tangent and having an unclear understanding of what you want out of your content and you'll lose that connection with your audience. It's often overlooked but your content is central in building up the brand you want for yourself and your blog.
Social Media

Increasing your digital presence through social channels is an absolute must if you want to make it big in the blogging world. It's not said very often but blogging, particularly about fashion, is competitive and there's absolutely no denying that. To make it seriously in the blogging world, it's so important to up your social media game.
According to JeffBullas, 72% of all internet users are now active on social media, and with that statistic alone, it should amplify how important it is to get yourself on Twitter, Facebook, and something we're certainly not taking more advantage of, Google+.
Setting this up and connecting with like-minded individuals in your niche allows you to receive their posts automatically, much like your Facebook feed. If you're truly looking to increase your online presence, blogging consistently with the content you're truly wanting to write about (totally original of course) and interacting by sharing content that truly interests you, you will boost your audience and in turn, your content's coverage.
The blogging world is a competitive place but I know there are friendships and relationships lurking in there too. Some of my best friends are bloggers and we do our very best to help each other improve. Google+ is imperative when it comes to increasing interaction with your target audience, as well as allowing you to link with them; the benefits of social media in the world of blogging are endless.
It would be extremely useful to note the importance of Google+ authorship when it comes to your content. In a simple sentence, it enables you to connect your writing to you, the creator, adding value to what the audience searches for in Google. Demian Farnworth explained the influence of Google+ authorship in an article on Copyblogger by stating,
"Google+ is the identity platform (which is why your Google+ ID is a long string of numbers, not unlike your Social Security or driver's license number) … and now authorship markup is the digital signature.
In essence, Google is saying … we want to make sure that you are a real human being … we want to stamp out anonymity and spam … we want to regard you as someone who is willing to put your name on the line for the content you create and share."
Metrics and Increasing Them

Let's put this bluntly; good content brings in the links. There's no two ways about that. As I've said before, if you write something that everyone is interested in, the shareability of the piece will sky rocket.
The metrics associated with your blog are extremely significant when it comes to content marketing. PageRank and DA are numbers that can easily be influenced by a little bit of work from your side so that others will work with you. Gaining links from good sites is something we should all be doing. Obviously, it's not the be all and end all for your blog – but it's extremely helpful.
There are a variety of ways that links could benefit your blog – one way is bringing in organic traffic via search engines. Google uses links as one of its main sources to rank websites, making it crucial for you to have good, high authority links to your site. Referring domains are another way of bringing in traffic to your blog, increasing the readership, which is ultimately what you're looking to do.
Google are hot on penalties for the sites which are increasingly guilty of using spammy links within their content. Just to clarify, if a site's PR shows up to be -1 or 0, that could be a sign of a penalty and should be avoided. Having any relation with these sites could hinder your blog and at the end of the day, moving down is not what you're looking to do.
Installing a Page Rank checker to Google Chrome is extremely simple, and will help you to avoid those unwanted, spam sites. MOZ gives you the advantage of a DA add-on to ensure that the site you want a link from is decent – be sure to stay above DA25 for quality. Signing up to MOZ will also allow you to use Open Site Explorer to discover new harmful links coming into your site.
Compiling a list of influential bloggers and websites is a great way to start. If you're going to be picky, a simple spreadsheet purely for organisation is perfect to sort this.
To look natural to Google, a variation of links from differently ranked websites is good. When sourcing the sites you'd like your link to be placed on, search for higher ranking and lower ranking.  Branded anchor text is hugely important to avoid looking like a spam website and doing this will only hinder the work that you have put so much effort into writing!
The email you construct is vital in your outreach process. As painful as this may be, tailoring your email to your recipients will add a lot more value to what you're saying to them. Ensuring that they feel appreciated and that you're actually interested in their site could have a huge impact in their replies.
Links
There has been a lot of debate surrounding paid links in not only the blogging world, but the YouTube world as well. Again, Google takes the issue of paid links quite seriously, as highlighted by Matt Cutts earlier this month. Let's keep this short and simple and say that extremely obvious gifts sent to you by PR companies and the asterisk * or 'C/O' to state that you were gifted an item, could burden your blog. This ultimately means that if Google picks up on this pattern (removal of the asterisk will help you in this instance), your site is in risk of a penalty.
Tips for Content Marketers

As for the content marketers on the other side of the fence, here are my three important rules when outreaching to blogs and websites.
TAILOR – You could scour the whole of the Internet, and this will always come up to be a fundamental rule when building relationships with bloggers. Tailor your emails to the particular site you're looking to outreach to. Take the time to read their blog, and mention something you think will immediately gain their attention.
Below is an example, of what not to do: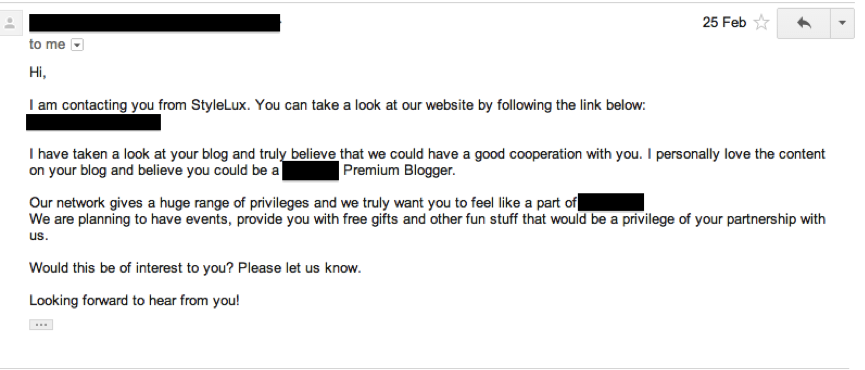 A general hi and a 'we love your blog' will just not cut it, delve deep into the blog you're looking to build a relationship with and focus on their interests to capture their attention.
TAKE YOUR TIME – When outreaching, don't rush when it comes to emailing a blogger. Take the time to explain what you want, how and why it would be a benefit to them. Pitching the reasons as to why it may help you in the long run will never go down well, bloggers will want to hear the advantages for them.
A good example of this is shown below: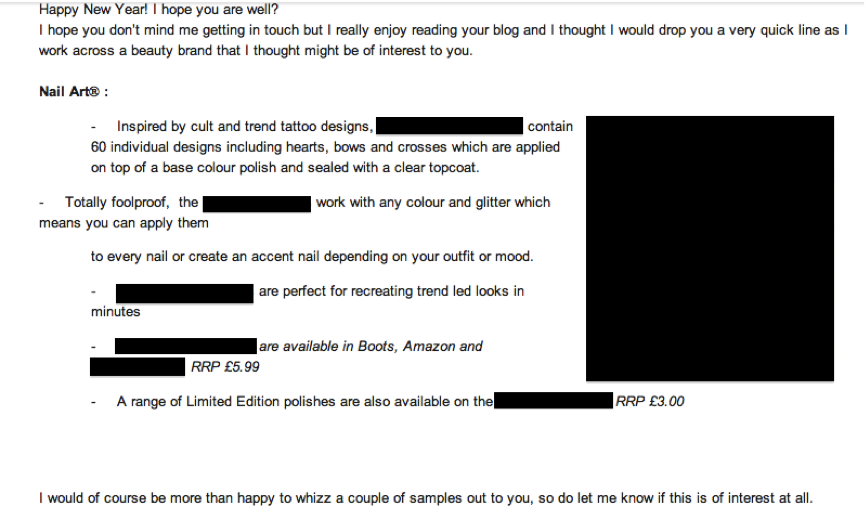 Having emailed with a compliment to start off with, the outreacher believes that what she is selling would be of interest. She also provides a brief history of the product as well as assuring she is more than happy to send a sample for review. Laying everything on the table and allowing the ball to be in the blogger's court does work well.
MAINTAIN – After building the relationship you may have spent a good few weeks to develop, and you have achieved what you set out to… don't stop there. For a genuine relationship to flourish between an outreacher and a blogger, you need to ensure that you help each other. A quick email to ask how they are won't take longer than a minute and won't hurt.I recently received an email, out of the blue from a blogger:

It may have been completely unexpected, but it was very nice and encouraging in relation to business. It's reassuring to know that some bloggers are more than happy to maintain the relationship you have worked to build with them.
Conclusion
Emailing shouldn't be the only part of your practice, utilise social media and interact with the bloggers and websites you would like to link on through your Twitter and Facebook.
Share content you think these sites would genuinely be interested in – you never know, there could be a big retweet in it for you. I can't stress how much power a series of great relationships with high-ranking sites could have on the content you produce and the metrics of your own blog.