Content Strategy > Make Data your Friend > Content Marketing Show 2013
The below is a transcript from Zazzle founder Simon Penson's talk at this year's Content Marketing Show. The subject matter revolved around how to best utilize data from search and social to create data-led content strategies…
"Hello. For those that don't know me I'm Simon Penson, founder of Zazzle Media and today I want to talk about something that is very close to my heart at present – the amalgamation of two disparate elements – creative content strategy and 'data'.
The digital era has offered unprecedented access to huge amounts of useful data and as a result we are all privy to an inordinate amount of information that can tell us everything we need to know about our audience.
That's really exciting.
The problem for a creative sole like me is that data is boring and as I have delved deeper I've also discovered it has a somewhat twisted perception that it's not.
You see, data thinks it is cool. Data thinks it's a social butterfly. The chicks dig it.
The reality is very different. Data is this guy. There's not a drop of cool about it.
BUT. Data is incredibly useful and that means that irrespective of who you are and what you do, Data should be befriended. Loved as one of your own because with it your content strategy becomes super powered.
Data is incredibly useful and I want to explore that in a little more detail now.
So, how can it help shape content strategy? Let's look at a few examples now of how you can use it to inform your own content production and planning process.
Social Data
And let's begin that journey with a dive into what I believe is the de facto data pot – the social graph.
And if we're looking into this space then there is only one place to really start looking and all that is thanks to this guy… Zuckerberg. Perhaps the ONLY man that has Google afraid…very afraid.
Why?
Quite simply because social data is better. It's richer in a qualitative sense and gives us more information about people as opposed to plain information.
While search data has been powering online strategies for several years now to some degree it has always lacked the richness required to steer great content creation.
So how do we access this wealth of information?
One of the best ways at present is via Facebook. If you are lucky enough to have access to its API then there is a myriad of options but for the sake of this example I want to presume you haven't, as it's as rare as rocking horse!
The Power Editor
For those not blessed with a pipe direct into Pal Alto the next best thing is Facebook's little publicized Power Editor. You can find it easily by searching for it and you'll then have an option to download it via Chrome into your Facebook profile.
From there you can use it to investigate data, bundling data sets together in a relatively easy to use interface that allows you to analyze your Likes or those of other Pages against general Facebook stats so you can discover correlations and more about what else your audience is into.  We'll now look at that in more detail.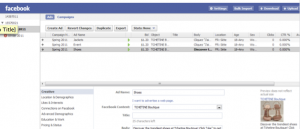 To illustrate this I have picked out a brand I believe may be in attendance today.
Here we can see a cross section of the Phone 4 U Facebook audience broken down by age. As you would perhaps expect to see its audience is younger than the average Facebook Page profile by some margin. This would suggest the brand has its content strategy at least close to being aligned to their core market and brand values.
If not it should be creating content more aligned to that demographic to improve engagement.
Where it starts to get really interesting however is when we start to look at what else the audience is into. All of this data is from the Power Editor remember.
Here we can begin to paint a true picture of the people following the brand. There is a huge affinity with TV shows, popular music, movies, R and B, interestingly and several other 'popular culture' areas. This starts to become really useful in defining the type of content they may want to interact with.
Zazzle Content Index
We can then dive even deeper and we then use our own Content Index to score and rank the individual pages/brands they like to create a list of interests.
As you can see here Jersey Shore is by far and away the most Liked age here and that creates huge opportunity for things such as programming sponsorship and partnerships outside of the simple benefits of knowing what to write about!
There are other benefits to social data too. Not only does it tell you what may work but you can also use it to track effectiveness of the content you produce.
We have created an internal tool called Trackr to monitor engagement rates over time against competitors so we can see if our content is working and what else may be getting people excited in the space.
Here you can see an example of that over a four-week period for Phones4U. Generally their engagement is good but it does peak and trough. Understanding those peaks and troughs is key to iterating your strategy based on user feedback.
Other Tools
It's not just about Facebook though of course. Social data has a myriad of other uses and applications.
Cognitive Social Visibility
Cognitiveseo, which is really a link analysis tool has a new section that allows you to see clearly which content is most shared across websites, much in the same way at Social Crawlytics does.
This allows you to be guided by social data to those subjects that are of most interest to your audience.
SEOMoz Fresh Web Index
Moz's latest team member is the fresh index and while it has still got a little way to go to be truly useful it can really help when brainstorming around news-led content and where you want to throw relevant content into an existing conversation in order to maximize the chances of it going 'viral'.
Pinalytics
Pinterest is a really interesting space and one I really hope develops further so we can really get a handle on the data there. One tool that helps a little is Pinalytics. You can use it to find the most shared imagery around specific topics to again help in the idea creation process.
Search Data
Search data still very much has a place in informing content strategy though of course. And while it's not just about keyword data anymore it still helps.
Tools such as Ubersuggest help in mining ideas from Google's Suggest function, giving you ideas to capture long tail traffic.
Semantics
As we know Google is also looking to make its search results more understanding of user intent to enrich results pages. Mining semantic, or associated phrases, such as 'The White House' and 'Barack Obama' for instance, can help add breadth to your ideas and ensure you stay relevant for key searches in the future.
Ad Planner
Google is very aware of course of the power of social data, hence the launch of Plus and a number of new resources to help the marketer. One way it is looking to improve on its own data is with the organization of it into audience relevant siloes. The ad planner tool does this beautifully and can help you understand relationships between interests in a similar way to Facebook.
Surveys
Surveys have been a source of good data for decades. Google has jumped on the bandwagon recently with a great free tool to help create and distribute them for Free.
Public Data
If you are looking into something with a bigger data angle then Google's Public Data resource is a real treasure trove of info. It's easily searchable and you can pull out data such as
Zanran.com does a similar thing in a not-so-polished and Google-biased kind of way. It's a search engine for data and stats.
Finding the right tool
The problem with Google's productivity is almost an embarrassment of riches. Finding the right tool for the job is becoming harder. Thankfully they have thought of that too with a cool tool called the Insights finder – an interactive graphic that steers you towards the right resources based on what you need them for. Find the, by searching for 'Real Time Insights Finder'.
Pulling it together
What you should be left with is a mountain of data to help generate ideas from and while I certainly don't have time today to talk through how you then format that data the key is to pull it into an editorial calendar to ensure consistent delivery.
So what's our opinion on data now? It really is the life and soul of the party!
The Content Marketing Show took place in London on May 31st 2013.