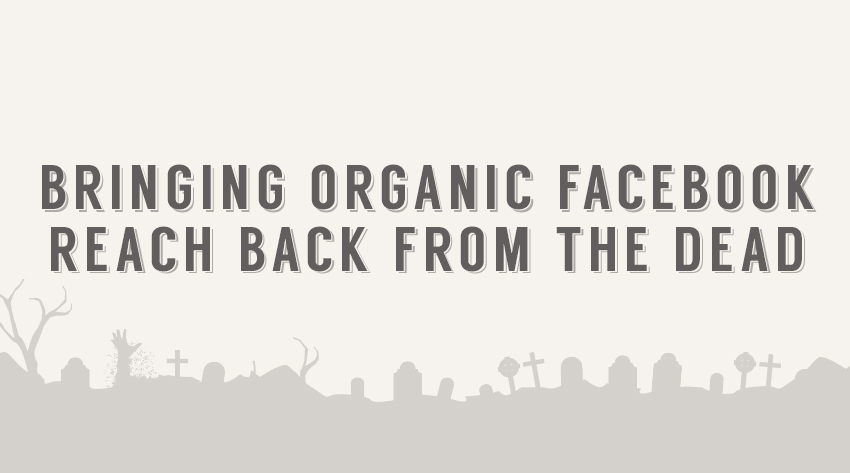 Bringing Facebook Organic Reach Back from the Dead
We're almost a month into 2014 and the web is littered with countless obituaries for organic reach on Facebook. While it is certainly not what it used to be, it isn't dead. As much as we all hope for it to revert back to how it once was – it won't. So we can all just sit around in the dumps, grieve and mourn or do something about it.
Reach isn't the be all and end all of social media campaigns as engagement is a more important metric of success. However, if no one is seeing your posts then ultimately your engagement rate will be affected.
Since the change has happened it has put more onus on to whomever heads up a social media campaign to find really good quality content. No longer will the latest Breaking Bad meme make you feel like a viral super star.
Good Quality Content
The question, then is: 'What is good quality content?' When announcing the algorithmic change Facebook said people want to see more high quality articles with links to external media sites. Facebook are taking "newsfeed" back to a more literal meaning of the word.
So, I listened to Zuckerberg's merry men and started testing these "good quality articles".  However hardly any of them broke the fabled 3% reach barrier.
This left me with one more thought; never mind what Facebook wants to see, what does your audience want to see? By referring back to original content plans and our own social data insight (which we explain more about here and also here), we soon had a pretty good idea of what generated engagement and what didn't on our page. It can also be a great idea to track engagement across key competitor pages. We have our own tool to do that but you can buy 'off the shelf' solutions from the likes of Social Bakers to do this and it will help you understand what content is getting more traction across a broader data landscape.
Low and behold, organic reach was up and the conclusion is actually head-smackingly obvious and good news for real content creators:. Facebook want to see more posts that people actually care about. They want people to think about what and why they're posting – not just because you've seen something similar with 5,000 likes elsewhere.
Be resourceful
If you're managing a page on Facebook for a brand with a particular area of expertise you should share your knowledge. Take advantage of what the company knows best and produce resources such as ebooks or a "top tips" blog post. Your fan base will be grateful for the help and will reward you with engagement.
Now obviously, particularly if your brand is relatively small, you wont be able to churn out these resources everyday so try adding this as a weekly or bi-weekly feature.
A picture (or link) is worth a thousand words
Facebook have just announced that users weren't as engaged with the service when shown more text updates from Pages. So they are now telling Page owners that if they want their posts to appear in newsfeeds, they ought to feature photos or links.
Even since the algorithm change, pictures are so much more valuable than links. We are not saying to completely discount links as you can have some success. But if you want to consistently achieve good reach, as well as good engagement, images are still the way forward.
Now here's a trick. If you have a really good quality link but are sceptical as to how well it will do on it's own, you should structure your post to include a link whilst still posting a photo. This way you will still have a link but also high quality content that will increase engagement. This is a good shortcut to post high quality articles as well as meeting the needs of your audience.
Timing is key
Now this one is pretty obvious but it is still should be at the forefront of your social content strategy. If only a third of your audience is active at the time you're posting, you've already hindered your chance of maximum reach.
If you don't know when the peak times that your fan base is online – find out. You can easily extract this information from Facebook via the insights section of your page.  This will give you a weekly average of when your fans are active on Facebook.
However, you can break this data down so you can see when your fans are most active each day. This can really help when devising content strategies or deciding when to schedule your posts.
By ticking these boxes and familiarising yourself with this insight you will have a much better chance of increasing reach, and engagement, all down to the fact there is more people online to see it.
Keep them guessing
It is important not to rest on your laurels if you've found a nice mix on content that seems to getting good engagement and reach across the board. Predictable content will eventually turn your page stale and reach will reflect that.
To avoid this try not to get too specific in your strategic plan. Give yourself enough room to work in different types of content that still fall into your defined theme so that you can keep on top of your content sourcing.
Try and test rather than tired and tested!
When running Facebook ads it is important to test out different tactics to make sure you are getting the best value. You should apply this method to organic posting, as well, because this will give you confidence when sourcing and posting content.
Knowing what types of content work on your page and what doesn't is half the battle. Do this test at least bi-monthly, or whenever you have had a significant influx of new likes, because what worked before may not necessarily be successful with your new fan base.
Know your enemy
This one doesn't directly affect your reach but will help your posting strategy. It is always a good idea to keep an eye on what your competitors are doing. However, defining social competitors is slightly different to defining competitors from a more traditional area of marketing.
Firstly, you will want to highlight your pages direct competitors. These will be pages or business that offer the same service as you – the traditional competitors. But also it will be beneficial to include pages that share similar content to you because you will be able to see the effect of the slight differences in your strategies.
To compare your engagement rates with your competitors you will need to know your own. You can do this easily by visiting Facebook Insights. It is trickier to find out your competitors engagement rates. To do this you will need to use a paid analytics tool. Here is a handy guide comparing different tools.
Once you have these figures you will have a clear understanding of how your page measures up against your competitors. Depending on the outcome will determine whether you should stick to your current plan or reevaluate your strategy. Not directly linked to reach – but always handy to know.
You will make the difference
This is perhaps our biggest tip to increase organic reach is by engaging with your engagement. We all know that social media has been so successful for brands because it can provide two-way conversations that traditional marketing outlets can't – But how many of you have been as conversational as you could be?
If you actively reply to as many comments on my posts as possible reach will increase. This is because, more often than not, a conversation will ensue between the people you have replied to. If you conduct this conversation in a friendly manner it will demonstrate good customer service and will encourage others to do the same. Also, don't over complicate your posts. Don't go reaching for the thesaurus – Make sure you audience will actually understand what it is you're saying.
By having more people actively engage with your posts it will improve the chances of your posts being seen by others, as Facebook will recognise this post as particularly engaging. Facebook want to see people actively engage, all these changes are to ensure that it remains a community rather than a suppository.
Conclusion
So here's my top ten tactics to improve reach:
Source good quality content
Know what your audience wants to see
Share valuable resources
Use photos
Know you optimum posting times
Avoid being predictable
Test different types and topics of content
Know your enemy
Engage with your engagement
10. Be friendly!
By following these suggestions, you will be able to resurrect your organic reach and start to see an improvement to engagement rates. However,  the main lesson that Facebook page managers need to take away from this is that you need to put a lot more thought into what you are doing. The more time, effort and commitment you put in will determine whether your page has an organic future.