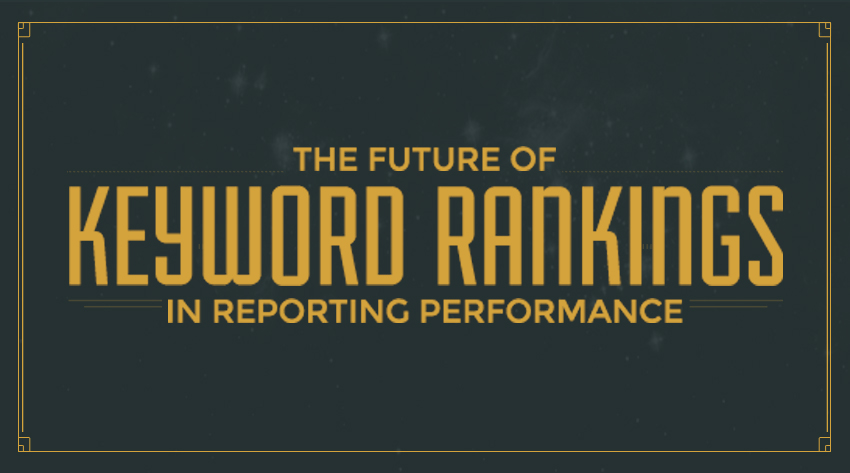 The Future of Rankings in Performance Reporting
Before I begin, let me start by asking you one simple question; "what is the most important metric in SEO?"
Now, if you're a digital marketing professional then it's likely you'll be thinking, "most important metric in SEO? Are you mad, Lauren? They are all important!"
However before you dismiss my post and click back to your Twitter newsfeed open in the previous tab of your browser, let me ask you that question again. But this time I want you to take your digital expertise out of the equation. In fact, let me set the scene…
You're a client. You own a business and you want to excel your online profile -you want to improve your visibility, drive more people to your site, and out-do your competitors. So to help you on your quest of achieving all of these things, you've turned to a digital marketing agency.
Okay, so now I've transported you from the mind-set of SEO-expert to client, let me ask you the question again: "What is the most important metric of SEO?" Ah, so now my previously simple question has been turned on its head slightly, right? This question takes on a whole new meaning when looked at from the client's perspective.
As agency people, we're no strangers to our clients wanting to see results in a key area of their online marketing profile; keyword rankings. After all, they want every single search term that's relevant to their industry to be on Page 1, if not P1, whenever a user punches it into that Google search bar. Apart from organic traffic, keyword rankings are seen as the only other measure of performance success.
But is this really the case?
The Problem
Google Analytics
Whilst keyword rankings used to be a reliable and worthy metric to report to our clients on a regular basis, Google has thrown a few spanners in the works that has hindered the effectiveness of us continuing to do so.
Lets start by looking at Google Analytics – those that use it to monitor, report and review movements a client's site's traffic, will already be aware of the changes that have begun to be rolled out within Acquisition > Keywords > Organic.
The trusty section that used to help us deliver information on which keywords were sending organic traffic to a website no longer does so. Over the last few months, large volumes of raw data on the matter have been lumped into the super-secret category "(not provided)", in a bid to improve secure search.
As a result, Google is now making performance reporting a little more difficult for all of us managers needing to report solid figures to the people interested in seeing results in these areas. The data is now quite simply, inaccurate.
Google Updates
As well as Analytics rolling out changes to hide away keyword data, the wider updates from Google are also impacting the success of keyword ranking reporting.
Updates such as Hummingbird have meant that Google is now also beginning to return search results that differ from those originally typed in by the user.
Why? Well, as my colleague Jessie previously highlighted, it's all down to Hummingbird helping Google to understand semantic connection better.
So, as well as not being able to see which keywords are the most effective in driving traffic, now search results aren't even bringing up what we think they should be to our online user.
Google is now in it's final transition phase of completely obscuring the data that we so previously heavily relied on, and keyword rankings as we knew them are beginning to fade away completely.
Universal Search
To confuse matters even further, Google has continued the implementation of universal search, whereby other pieces of digital content – from videos, news stories, images and blogs – are incorporated into the main Google web search rather than showing up separately at the top of the results page.
A study from Google themselves highlighted that if a listing contains an author photo and is in P4, for example, thanks to the characteristics of universal search, it could in fact have a more successful click-through rate than that of a P1 ranking.
So it doesn't take a genius to work out that your traditional keyword rankings are becoming skewed even further.
Shifting Focus
The professionals amongst us know that the world of SEO is fast-paced, ever changing and completely unpredictable, but as we work in the industry day-in-day-out, we've become pretty equip in knowing how to deal with it.
But shift back to imagining you're the client; what you once believed to be best SEO practice to ensure success changes from one month to the next, and each time it does you're completely confused and let's face it, a little frustrated.
So as the professionals, not only is it our jobs to help our clients reach their goals, but it is also our duty to educate them on how best to get there and guide them through how we prove what we're doing is working.
We know that there are multitudes of other metrics available to help us with showing performance success, but the simple fact of the matter is, our clients don't – they see keyword rankings as the main measure of success because they aren't aware of the others that are out there.
So, it's time to get educating!
Organic Traffic – Landing Pages
As I highlighted above, as well as keyword rankings, the next most important metric to our clients is their organic traffic.
We may not be able to see which keywords are driving the most traffic, but we are still able to see which landing pages are – and this data is proving to be just as valuable when it comes to performance reporting. You just have to change your thinking with it.
Taking a look at the top 5 best performing pages for your site will help you to determine which terms are working as the most successful, by correlating these pages with SERP data and the terms pages are being optimised for.
And with exact match now being far from best SEO practice, continuing the success of these pages lies in continuing to promote these internal pages in order to influence the rankings of specific keywords.
Reports should therefore be adapted to incorporate this information and communicated to clients that they are a valuable metric to review performance on.
Search Visibility
We all know that with SEO it's important to take a look at the overall picture and not take one individual metric as gospel.
And search visibility is certainly one metric that helps us to look at the bigger picture.
Search visibility monitors the overall search performance of your website by looking at key elements of organic performance index (OPI). These elements focus on search volumes for key terms, how often and which position a domain/web site appears, whether keywords are navigational or informational and the value of traffic distribution.
If your search visibility is on an upward trend, then it's likely that your rankings, on the whole, and performing positively, too.
So if your client is worried about one single term dropping a few places, then use search visibility to highlight and open up the bigger picture.
Social Referrals, Referral Traffic and Total Traffic
Now, as SEO-ers, we prefer to report on organic traffic – after all, that's what we've been employed to do and the area that we know we're most capable of impacting.
As soon as you start talking about 'other' traffic, we tend to underestimate and shy away from it.
But it's time to face it head on because at the end of the day, if your content is getting shared out on the big wide web, then it's likely to be impacting areas in these fields.
For example, we cannot deny the power of social these days – everyone's on it, everyone uses it and everyone takes an interest in it.
So as well as generating links, your content is also likely to be gaining shares, mentions and likes as well as links, and by doing so, is all contributing positively to performance. The same goes for referrals, too.
After all, as the experts of all-things digital, why disregard all-things related to digital traffic?
It's important to dive into these channels a little deeper and discover how they can assist in communicating online performance to your client.
Continuing to Extract Keyword Data
With keyword rankings being obscured by all of the factors mentioned above, if you still want to report on the success of them, then there are a range of other handy tools you can deploy to help you.
Anon Proxies

Anon proxies work to hide your IP address, so when you search for a particular term in a browser, the proxy removes any predispositions attached to your search, which could potentially distort the results you receive.
Searching manually via an anon proxy allows you to check the position of keyword at a single point in time, and by removing any bias that may have been present in a normal search, allows you to report performance accurately. And what's more, your client can easily use an anon proxy too, allowing them to see the results for themselves first hand.
Google Webmaster Tools
By providing information on impression versus click data, Webmaster Tools is a useful way of gaining referral data from main keywords – it simply provides information on the keywords people are typing in and where in these results, your client's site got an impression.
Look at Past Trends
Information from Google trends can help to give you an idea of what main terms will be driving traffic to your client's site.
Furthermore, legacy data from keyword rankings prior to changes in "(not provided)" and universal search are good indicators of terms that have previously performed well, and that are likely to continue doing well. Yes, that's right, it's time to dig out all of your client's past reports!
By taking a look at these trends, you should be able to see whether on the whole, brand or non-brand terms performed better, as well as pick out any patterns relative to specific times of year that may impact the success of particular key terms.
These factors can then be talked through with your clients to help them understand any fluctuations that may have occurred when reporting on performance.
Key Takeaways
1. Keyword ranking reports are becoming an increasingly inaccurate tool to solely report on performance.
2. As a result, the key to reporting performance lies with looking at the bigger picture.
3. Educate your clients with your knowledge – yes, you've been employed to help them reach their goals, but it's important to guide them too.