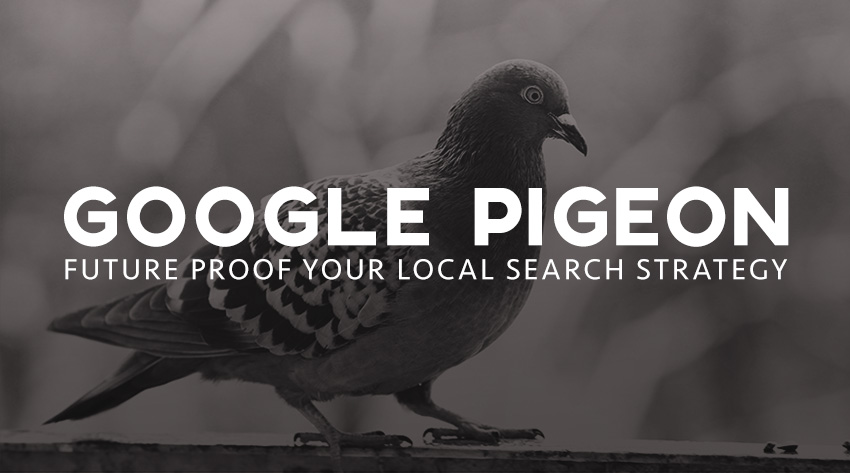 Google Pigeon – How to Future-Proof your Local Search Strategy
Unless you've had your head under a stone the past couple of weeks, you'll be aware that Google has been causing some fairly significant waves once again with the launch of its latest algorithmic rewrite – this time affecting search results with implicit or explicit local intent.
The so-called Pigeon update is currently only affecting US search results but is expected to roll out globally within the next few weeks as the search giant attempts to simplify its user interface to improve the overall mobile search experience.
With more traffic than ever coming from mobile devices, Google is keen to make the experience as clean as possible and it looks like part of that plan will involved 'integrating local search results into the main algorithm'.
This means you are likely to see fewer searches with the 'six pack' of separate local results going forwards and rankings will take into account the wider set of ranking factors applied to the main results.
As with any significant update though there are still issues to iron out before it is rolled out globally but when it does it is critical that there is a plan in place to ensure visibility is maintained, especially if you are a business dependent upon local traffic.
Be proactive
It's all about local with this new algorithm, so how does that impact what you need to do or are already doing?
Local directories are a must, but stay away from the low quality bulk submissions please!
Find the most influential relevant directories in your niche and get in contact.
Check out this post by Sameer Panjwani for a list of directories you should be in.
Continue building good content and make sure your site is on-point with your competitors.
Improve your overall web presence and don't simply concentrate on polishing Place pages.
It's really all about getting your site ready for continuous Google updates, so if you relied heavily on rankings for traffic the Pigeon update could mean a massive drop in organic, especially if there was minimal adverts or no local results. If you don't have local listings/places set up, now is the time to do so.
And to help brands with that transition Google has also rolled out improved business verification processes. It only affects a small number of categories at the moment, but will be available for all. Google business listings can now be also verified with Webmaster Tools. No more waiting two weeks for a postcard that a client will throw away anyway. Further info on specifically how that works can be found under instant verification. It's really easy to set up, even if the instant verification isn't available yet for you. And remember, you can easily set up a Google Places page here,
Wider signals
According to insiders the view is that while certain local factors will still be measured the weight of those signals will diminish and will lean less towards Place page quality and review sentiment etc. Instead the entire 200+ main algorithm factors will come into play again. This does seem to help larger brands over local businesses, which could be a frustration going forwards BUT is a real incentive to build overall domain and brand equity through wider digital strategy.
US businesses are reporting an overall increase in organic traffic to local terms, so the change does appear, at least, to be attracting a greater share of the overall search volume. The concern is that there are still a great many inconsistencies in what appears for some terms, doesn't for others but this will be ironed out.
For those with weak websites but strong local presence the Pigeon update may have a negative overall impact but no one can argue that Google is not being consistent with its message about working hard to add value to your overall web presence and not to simply 'game' the system!
Authorship
The Google clean up doesn't stop here though. Alongside the simplification of local searches comes the removal of author images in search. Just months after revealing Authorship to the world search engineers have decided to remove one of the key benefits to implementing the mark up, much to the dismay of many industry leaders.
Our view is that Authorship is still very much worthwhile as the true benefits are not in getting your photo in the results, but in the build up of author authority around certain subject matters. It will only become more important as the month and years go by as the search engines move towards semantic search. As it gets smarter it will start making connections between content, authors and the search strings; the sites will start to matter less.
We would suggest adding local schema, as well as authorship, if you haven't already. Adding local schema is easy, especially if your site is running on a simple to use CMS. Schema makes it easier for search engines to work out what information is, which with local its even more important right now.
Here is what our address would look like without schema:
The Gridiron Building
One Pancras Square
London, N1C 4AG
This is with local schema mark-up – it's that simple!
<div itemscope itemtype="http://schema.org/LocalBusiness">
<a itemprop="url" href="http://www.zazzlemedia.co.uk"><div itemprop="name"><strong>Zazzle Media</strong></div>
</a>
<div itemprop="description">Zazzle Media is a digital content marketing agency with a BIG reputation for creating award winning strategies. We have offices in London and Peterborough.</div>
<div itemprop="address" itemscope itemtype="http://schema.org/PostalAddress">
<span itemprop="streetAddress">The Gridiron Building , One Pancras Square</span><br>
<span itemprop="addressLocality">London</span><br>
<span itemprop="postalCode"> N1C 4AG </span><br>
<span itemprop="addressCountry">United Kingdom</span><br>
</div>
This is easy to create by using a service such as Schema Creator.
The removal of authorship images aren't the end of it and there will be continued changes with what data Google wants and doesn't. It needs to continually test what the user wants to see and how to display it to them, this is why your website really has to be ready for everything! Here is my checklist on how you can be ready for the next six months.
Make the content on your site answer questions. Google is scraping this information and in turn means you'll be number one!

Continue to mark data and information up with schema even if some of it stops being used. After all data is what Google wants, so make it as easy as you can.
Set up local listings with Google Places and also submit your site to local directories such as Yelp. Don't buy a Fiver gig for 7,500 directories as they will be placed on sites.
Include your business address on your site to make sure it is easy enough to be picked up when crawled; the easiest place to put this is in the site footer.
Links will still be important with any algorithm changes so don't forget about them. Google is not going to start ranking purely on social signals.
Don't just concentrate on rankings or positions, make sure your site is as good as it can be to enable the user to find exactly what they want.
Changes are part and parcel of working with Google. The key is to embrace them and understand the long term goal – to surface sites that are knowledge centres within their niche. The 'brand as publisher' model will always win out in the end if invested in correctly!