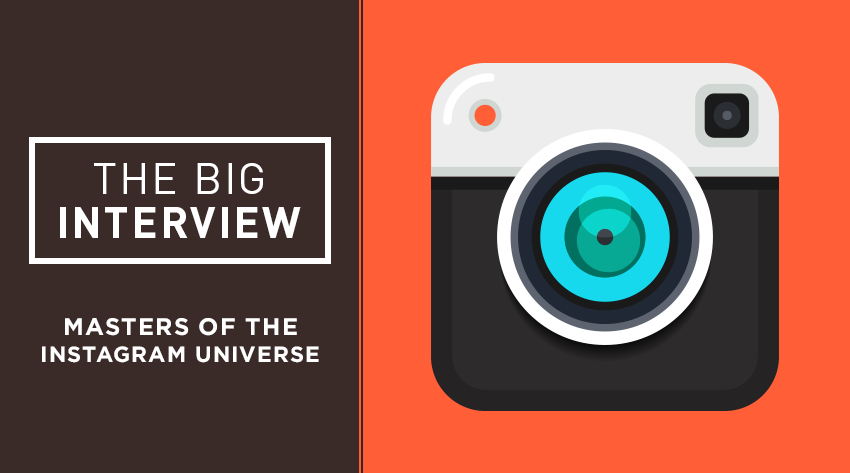 The Big Interview > Masters of the Instagram Universe
There are now 300 million monthly users of Instagram, and 20% of all Internet users have an account. The social media app is free, easy-to-use and instant, portraying everything from craft and holiday pictures to pets and humour. But how do you pick up more followers? Zazzle Media contacted three account holders with a combined 3.6m followers to find out more.
Name: Tal Peleg
Instagram feed: Tal_peleg
Number of followers: 183k
Israeli artist Tal Peleg says that make-up 'is not just the ability to make a woman more beautiful, but in general its ability to transform'. Her Facebook account has more than 266,000 likes, and her art creates scenes from fairy tales and classic novels, and even uses them as platforms for anti-bullying campaigns.
Name: Darryll Jones
Instagram feed: Haveyouseeneric
Number of followers: 90.2k
Eric is a little Stormtrooper who finds himself in some unusual everyday situations; from watching a movie to creating fruit desserts, there's no telling what he might do next. His creator and helper Darryll Jones, (whose middle name is Eric) from London, uses a combination of DSLR techniques and Instagram to let followers keep tabs on Eric and his numerous friends.
Name: Murad Osmann
Instagram feed: muradosmann
Number of followers: 3.3m
#followmeto is a simple and beautifully expressed idea that will captivate those with wanderlust. Russian photographer Murad Osmann and then-girlfriend Nataly started the journey four years ago and have since taken glorious snapshots of Moscow, Hong Kong, Maldives, USA and many more on their travels. A front view of his now-wife Nataly was taken when the feed became viral, which has led to a book deal and numerous magazine appearances.
When did you first discover that you could use social media to your advantage? 
Tal: "A long time ago! Even before social media like Facebook and Instagram became popular, I used to share my works online in forums and art sites (like DeviantArt, for example). I always thought that the Internet is a great place to get as many people to see my works and to get exposure to my art."
Darryll: "I used to be an avid member of DeviantArt, and the feedback I was getting on there was fantastic, but slowly it started getting very diluted and filled with kids drawing manga, and I guess I got a little fed up with it. That was around the time Instagram was just launching, and I joined just out of interest; only to post 'snap-shot' images on my phone – as it was intended for really – but the response was phenomenal, and I found that within a few days, I had grown a small following. That really inspired me to do more and more, and then it kind of naturally switched over to my finished images taking preference over the snaps, and the story about each figure started to evolve too.
The thing that impressed me about Instagram, was the instant feedback and this helped me really shape what I was doing. Right away I could gauge what was working and what was not. I'd say Instagram really changed my whole outlook on photography, and helped me to be more creative."
Murad: "It's really hard to remember the exact moment, but after about a year of running the project, we've found out that we can explore the world, discover new collaborations, visit new countries and share our experience with a large amount of audience. I would say this is the advantage we were looking for."
When did you come up with the single idea that defines your photography, if there is one?
Tal: "I create eye-art. I use my eye as canvas for all sorts of mini-illustrations on the eye and use the eye shape in a creative way as part of the illustration, and then of course I take a good photo of it. The idea didn't just come up one day – it developed over time. Painting and makeup were always my passions and eye-art was my way of mixing them both together."
Darryll: "The idea of shooting Stormtroopers, or even toys for that matter, is hardly new. There are, and have been, amazing photographers doing it for ages, and for me, it was a happy little accident really, having moved from South Africa to England with my little family six years back.
I was wandering around, doing landscape photography, and generally just trying to grow my portfolio, hoping to get into the graphic design or photographic industry.
I'd give myself a topic for the week, (like lines, or yellow) and I would shoot to that topic. Then one day, I took a little Lego Stormtrooper down, used my 105mm Macro Sigma lens, and started taking a few shots of him. Instantly I was hooked. His little emotionless face lent itself beautifully to little stories I had in my head… I started making little movie posters and intricate setups that won a few daily deviation awards on DeviantArt, and from there it just took off really.
I have never wanted to copy what others are doing, and I always look for a different angle or story to tell; as far as I knew, there were no stories or names to the toys people were shooting, and it all came together with each post on Instagram. My single intention with everything I photograph is to make myself laugh, I am doing this for fun, and that seemed to resonate through the feedback I started getting."
Murad: "It all started in 2011 in Barcelona, really occasionally. We made a photo accidentally, but really liked it later. Posted it on Instagram, created a hashtag. And started to post more of these kind of photos later under the same hashtag – so that's how the series began."
In your opinion, what makes a great photograph?
Tal: "A work that moves people's emotions, that makes them feel something.
It can be happiness, sadness, nostalgia, but it has to affect the viewer's emotions somehow."
Darryll: "One that makes you stop and stare, and think. Something that challenges you. There are no rules; sure there are guidelines to make an image more appealing, but art is challenging. It has to have meaning for me, which is probably why I found more enjoyment shooting toys over the landscapes.
Landscapes and scenery are beautiful, and I still do that from time to time, but at the end of the day, they are a dime a dozen, and only a handful truly impress. Content is powerful, pictures of people, character, struggle, emotion, humour… those are the pictures that move me and keep me fascinated in photography."
Murad: "I can only talk for myself. Of course, every picture depends on weather conditions, wind, sunlight, time of the day, people or things around, wardrobe, etc etc…
At the same time the way we both feel the location and the experience we have in the country or the culture really influences a lot on the result."
If you had to choose one Instagram photograph that best sums you up, what would it be?
Tal: "My image of a black cat playing with yarn. I used the eyelid as the black cat's body and the eyebrow as his tail, and he's playing with a purple yarn… It turned out very cute and creative, and I think it really sum up my style. Also, I really love black cats and it's my thing. This cat was inspired by my cat, Louis, who passed away last year so it's also very sentimental work for me."
Darryll: "I think I have yet to create that, but I know what it is.
Since I was a child, I have always felt like a little kid standing on a huge highway, middle lane, with traffic whizzing by. These are the thoughts in my head, and they change constantly, I think/know I have ADHD, I find it so hard to concentrate, and I jump from one thing to the next…
My Instagram is a fine example of someone suffering from this. I paint shoes, I do sculptures out of cans and junk, I photograph, (my story lines are all over the place and constantly changing), I now do coffee paintings of Star Wars characters, plus I have a full time job and two beautiful daughters, play baseball, have two drum sets. The list just goes on and on. So yeah, absolute mayhem really…. and one day I will make that image."
Murad: "Of course what sums me up is my own Instagram, but my favorite photographer for now is Steve McCurry."
What are your tips for young aspiring photographers who want to make an impression in social media?
Tal: "To think outside the box, and try to create something new… don't compare yourself to another artist, don't try to imitate them, but try to find your own style that will define you and will make you and your works stand out."
Darryll: "Do what you love. Don't try to copy others, find something that truly excites you, and look at it from every angle possible, don't be scared to get dirty, or to look like an idiot, (lying on your belly in chicken s**t to get the shot!)
Don't care what others think, do it purely because you want to, and most importantly, never do it for the money, or the numbers of followers…. It's great to amass a huge following, but don't let that drive your art."
Murad: "Find your field of comfort, keep in mind what exactly you would like to share, think about your audience but stay true to your principles and ideas."
Tell us about another photography app that you use that we might not have heard of, and another Instagram account that you follow.
Tal: "I really admire the photography of Zhang Jingna; I think she's a super talented photographer and I have followed her for many years now."
Darryll: "I use LensLight a lot, I use it to turn on the headlights of the cars or motorbikes mostly, but sometimes, just to add a little sparkle or sunlight in what might be drab images. It's a great piece of software.
Another Instagram account, I really love illustration, and someone I truly admire, is @godmachine. I wish I could have a fraction of that guy's artistic talent! And I also love @ma_aris – coffee and watercolour inspired art."
Murad: "Never was an app-fan, so Instagram is the only one for now. Regarding the account – check our backstage @followmetraveller and my beautiful wife here."