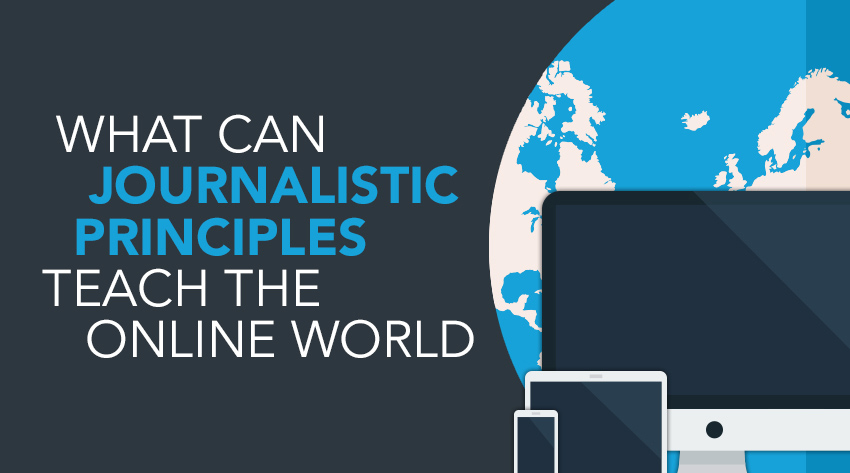 What Can Journalistic Principles Teach the Online World?
Let's be honest, the Internet has billions and billions and billions of pages containing poorly written, uninformed, unimaginative and monotonous detritus.
Historically, this is because businesses were told, in order to raise their Google presence, all the content on their website – be it a blog, product description or the about us section – needed to contain key words about what their business did and its brand name, over and over again.
Consequently, even if the content was written by someone who could actually write, the flow was stilted and repetitive.
Fortunately, Google soon put a stop to this tactic by penalising those who practiced it, causing their page rankings to plummet and making it nigh on impossible for their websites to be found. Now, businesses can increase their Google search visibility through the number of high quality pieces of content that link to their website from elsewhere and by relevant, informative on-page content people actually want to read.
But how do you make sure the content on your site is of value to your current and potential customers? After all writing is a skill, that many people think they have, but few actually do.
It is hard to teach people how to write well; it's either something you can or can't do, but there are some simple tips, I was taught as a trainee journalist, which have stayed with me to this day. I would like to share them with you:
1: The intro to every article needs to hook the reader and make them want to read on . . . always start with the most important facts to grab their attention.
2: The first few sentences need to include the "who, what, where, when, why, how". Most people will not read more than 250 words, so you should give them all the information they need as quickly as possible. The Sun newspaper is an excellent example of short, sharp, sassy writing which gives you a snapshot of all the salient facts, if you want more in-depth articles pick up The Times, Guardian or Telegraph.
3: Think about what's new or different. Why would the reader care about what you have to say? Why is it relevant to them? Is there a trend happening in pop culture or the world that you can relate to? What are people talking about right now and how does this tie in with what you do?
4: ALWAYS consider the human-interest angle. While people may be interested in the latest political polls, a new cancer treatment, a food or product recall, or what the weather will be like tomorrow; if you can put a human face to the story, you will create an emotional tie that will draw a reader in and keep them engaged.
For example, hiring a new employee may not be the most earth-shattering piece of news, but it's something new you want to inform your readers about. So why not write about what makes that new person qualified for the position, their special talents or knowledge they bring to your business and perhaps even a few fun tid-bits (Who is their hero? What five things do they want to do before they die?) to add some more personality to the piece.
5: Avoid jargon. Every industry has it, even journalism. For example, do you know what a byline is? (The name of the author included in a box at the beginning of a story.) How about a NIB? (News in brief – short snippets of news which run down the outer edge of a newspaper page.) Or a splash? (The lead story). Think about the language you use – keep it clear, concise and to the point. Write acronyms out in full in the first reference.
6: Use quotes. Putting important thoughts in the words of someone else can be powerful. However, when you quote others, make sure to get it right. If you carry out an "interview" by email, correct any of the interviewee's grammatical errors.
7. Read your own work first, then, always get it proofed by someone else. Very few people can spot their own mistakes, so it is best to get a colleague to double-check your work before you publish.
8. Don't over complicate. Journalists are trained to take a difficult subject matter and write it in a way that the average man or woman on the street can understand. I was told to write as I would talk to a friend in the pub. The art is to not be too clever, there is nothing more off-putting than having to re-read an article because you didn't understand it the first time.
9. Variety is the spice of life. When producing a newspaper it is imperative to provide the reader with a variety of content including short down page articles, picture captions, lead stories, feature articles, competitions, letters and personality profiles. The same variety needs to be applied to online content. Here, at Zazzle we can provide our clients with guest post articles for blogger sites, in-depth features for high metric sites, infographics and interactive games to be promoted off-page and through social media, and eBooks to be hosted on a client's website and downloaded by interested customers.
10. Write for your audience. Journalists are taught to write in a way that a nine-year-old or 90-year-old can understand, but most businesses do not have to worry about writing for such a wide demographic. It is important that you tailor your online content for your customers.