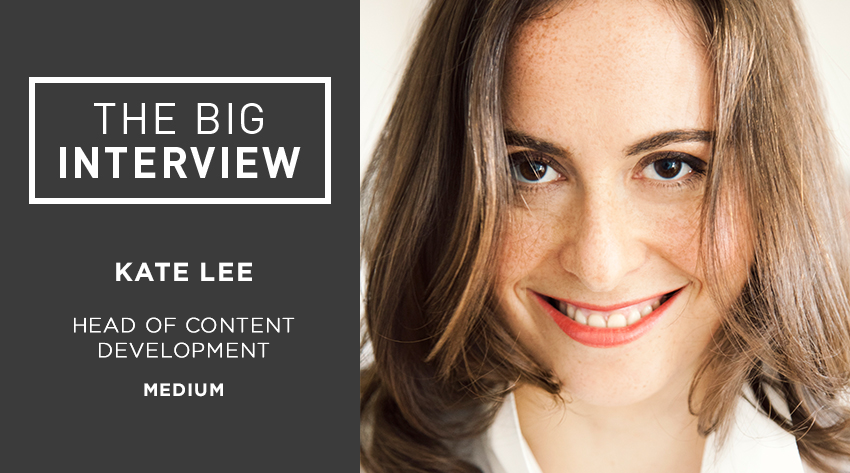 The Big Interview > Kate Lee, Head of Content Development at Medium
The latest installment of our ongoing Big Interview series is a rather special one; a look inside one of the web's hottest content properties: Medium. Grab a coffee and find out exactly what has made the blogging platform such a big hit…

Blogging platform Medium was launched in 2012, by Evan Williams – one of the co-founders, along with Biz Stone and Jack Dorsey – of Twitter. Just a few months later, things got really interesting with the recruitment of Kate Lee, described by the New York Observer as a 'publishing prodigy'. It was a significant stride forward for Medium.
"Kate's job is to help get great stuff onto Medium," said Williams. "She'll do this in a variety of ways – by discovering, encouraging, soliciting, commissioning and contextualizing interesting ideas, authors, and institutions. She'll do this from New York – home of so many of the world's best storytellers. And she'll be building a small team to help her."
Fast forward to 2016, and it's fair to say Kate has pretty much nailed it. Medium has developed a huge community of readers and writers, publishing stories and a wide range of subjects. The content it hosts is vast: "There are currently over 75,000 posts per week published on Medium, on every single topic imaginable," she says.
It's also a free and open platform where any writer can contribute and express themselves. Perhaps uniquely, Medium publishes stories from anyone – a browse of the home page at the time of writing reveals articles from movie director Oliver Stone and US Vice President Joe Biden. "We've heard people say that they are thrilled to publish in the same space as President Obama," agrees Kate. "It truly does level the playing field…"
Quite a journey so far – best told, obviously, by Medium's Head of Content Development herself.
When you joined Medium (in 2012) it was still in beta, a project in development. What was it about the project which convinced you to join the team?
"Like many people, I was compelled by Ev's vision for Medium, as a place where anyone could share their story online, for knowledge sharing and high-quality discourse among people of all stripes, and as the most beautiful, elegant, easy-to-use writing tool on the web. Coming from the world of book publishing, I could immediately see how authors, for one, could use it to spread their ideas."
Can you describe the last three to four years in terms of growth, fulfilment, fun? How quickly has Medium progressed?
"Working at Medium with a world-class team has been my most rewarding professional experience. We started with a small office in San Francisco and one person in New York to a growing presence in the latter, Washington, D.C., and now Los Angeles. While Ev's vision for what Medium could be has been consistent, we've moved quickly to experiment, see what works, and invest in success."
You had a brief upon joining to 'help get great stuff into Medium' – the words of Evan Williams. In your own view, have you done that (we're guessing yes!) but more importantly, how have you done that?
"I'd like to think that we've made headway in that direction, but we're constantly looking to do more and better. We use a combination of strategies: outreach to people whom we think have something meaningful to say, and whose words will have an impact; creating programs and features that will engage users around topics of import; executing partnerships with organizations that align with our goals; identifying and working with Medium-native stars; coaching and explaining best practices so that people will use Medium to its best effect; and maximizing strategic opportunities that come our way."
What are the most common/popular post topics on Medium and what lessons can writers learn from that?
"There are currently over 75,000 posts per week published on Medium, on every single topic imaginable. Popular stories tend to come from an authentic perspective and a place of genuine expertise, share something unexpected, provide an inside look at a process or an experience previously hidden, advance an argument, break news, and/or offer tangible advice. Writers should write something that people want to read and share, and use Medium's tools to their fullest extent to take advantage of the platform."
How do you develop a content strategy when you've so many contributors publishing work on whatever subject strikes their fancy? How do you keep on top of it all?
"It would be a fool's errand to try to stay on top of the thousands of posts published every day. Instead of quantity, we aim for quality – to do the kinds of things that will make an impact on the platform and serve as a role model for users. That could be a certain user profile, a type of story, an innovative way of using features, or an ambitious new content form, to name a few examples. We also use various data-driven tools to help us identify posts, writers, and publications we might not otherwise see."
Why do you think a platform such as Medium is so important for both content and writers?
"Medium is completely open – anyone can sign up to write a story, share a perspective, advance an idea, respond to someone else. There are no barriers to entry or approval process, and the writing tools are frictionless. We've heard people say that they are thrilled to publish in the same space as President Obama. It truly does level the playing field.
Public discourse on Medium is also democratized. From a product perspective, a response is the same unit as a post. This means that the feedback on and commentary around a story can be as important – and get as much attention – as the original story itself. Medium has become the place to talk and read about not just what happened, but what it means.
Lastly, Medium widens the conception of who is a writer. There are many professional and/or gifted writers in the world whom we hope Medium can serve, but there are many more people than that who would not identify as writers but who have expertise, a story, a perspective, or an idea to share."
In a world awash with blogs and content, how do brands ensure theirs stands out from the crowd and are seen as 'quality work'? What lessons can they learn from Medium?
"There are many brands publishing successfully on Medium, and the best brand content takes advantage of the platform's features and norms. They publish from an authentic point of view: People want to read stories by other people, which means that an individual publishes instead of a brand account. They use storytelling and narrative to tell stories that people genuinely want to read. And they engage with users who interact with them."
Is there such a person as an average Medium user? Can you describe him/her?
"There really isn't. Our users span all ages and backgrounds and write in nearly every language in the world."
Medium has a list of the 100 most recommended stories each month –  what do you look for in content when choosing what to include in this list?
"We do not curate that list ourselves. The top 100 stories of each month are those that are most recommended by our users."
Medium is a global platform. How is the platform used differently over the world and what content do you think crosses borders best?
"Medium users around the world tend to use the platform for the same kinds of things as in the US – personal essays, going behind the scenes, long-form journalism, commentary on politics and technology, and more. We're seeing more government agencies abroad and multinational brands using it, and open letters are big, too.
Content that crosses borders well are deeply personal essays on topics like loss and life and career hacks. First-person accounts of major events –– like surviving the Paris terrorist attacks, for example –– also get traction across languages."
What are Medium's ambitions?
"We'd like Medium to be one of the platforms that matter. To be a place where real people write smart content that you can't find anywhere else, on all the topics the world is talking about and that matter to you, every day."
What content tags do you personally follow and why? Who is your favourite writer?
"I follow a wide range of tags, including tech, media, news, politics, books, humour, entrepreneurship, diversity, and more, but I follow too many great writers on Medium to name just one."