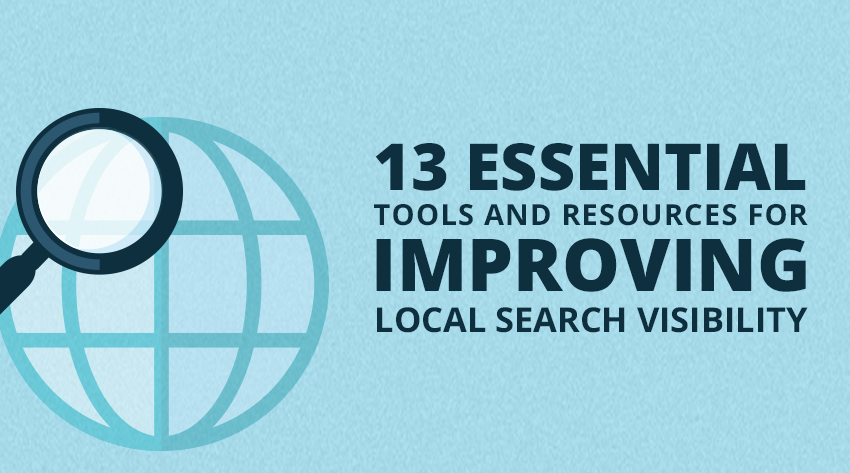 13 Essential Tools and Resources for Improving Local Search Visibility
As a business owner, it is important you are able to reach the area you operate in with your services to help increase your brand exposure, which will evidently lead to future conversions by locals. As we all know, most businesses start out small and grow over time, so starting off by focusing locally is an ideal way to launch your business. Throughout this article we will be providing you with a comprehensive list of tools and resources on how to succeed at local search and beat your competitors.
Despite its constant name change, Google Places for Business (formally Google Local) is still an essential part of the online marketing arsenal for any small, medium or large business. With local searches accounting for as much as 29% of all of the searches** carried out using search engines it can be crucial to any businesses' success with multiple locations.
Google is very focused on the local market and is constantly making changes to their algorithm, so it sometimes is a job to stay up to date. However, with this list of unforgettable resources, it will help your business achieve the best possible rankings.
Tools
There are some tools out there that make the job easier.
This tool from Bright Local allows you to see the citations that your business has, as well as spying on your competitors. It also allows you to find old or incorrect citations so that you can correct them. With packages starting from just $19.99 a month however, this tool is still only available for US sites. This can be a really valuable tool for business owners, because you can see who is talking about your business and build upon the citation and form some good business relationships in future.
Moz Local
Formally called getlisted.org it's a similar tool to Bright Local's Citation tracker. It allows you to fill in your details once and the tool will do all the rest. It saves a lot of time and takes the hassle out of filling in all of your details and submits it to several top tier online directories. Moz Local is available for US, Canada and the UK.
Location Citation Finder
This was one of the first tools that checked local citations and still is held in high regard. All you need to do is sign up for an account, enter the search phrase you want to rank for and it will not only tell you which citations to sign up for, but help you track your progress boasting an average of 545 citation sources per key phrase.
The Local SEO Checklist
The local SEO checklist is a complete list for you to follow when optimising your business on local search. It is a simple tick list that makes sure that you do not miss anything. Once you complete each task you can give it a tick and it shows your overall process. It takes it from a basic level and makes sure you create social profiles; however, it's a great resource and best of all – it's free.
Google Places for Business Support
Google has never really been renowned for their great support but recently they have provided a support facility for Google Places for Business. Simply fill in a contact form and someone from their support team should get in contact to help you with any queries. This is useful when accounts get closed without prior warning or you're simply stuck and just need a little help. Although I'm yet to hear amazing things it is still worth perusing if you're in need of help and hopefully it will develop over time.
Learning Resources & Blogs
Moz Local Learning Center
Moz, formally known as SEO Moz, has always been the go-to place for all SEO and they have created a dedicated learning centre to get you up to speed with local search. It covers different marketing strategies and setting priorities as well as providing lots of helpful resources, as is expected from Moz.
40 Important Local Search Questions Answered
Mike Ramsey wrote one of the best posts on local search. It covers 40 of the most important questions and proposes answers. The post was a follow up to his Mozinar, which you can watch if have a paid Moz membership. If you don't the post is just as informative and definitely worth a read.
Where Do You See Local Search in 2014?
Joel Popoff wrote a really good article back in November asking 26 experts their views on where they see local search heading in 2014. What's interesting about this article is that it isn't written by the usual big names in the SEO industry but instead by smaller agency owners who have more on the ground experience, especially with their knowledge of local search.
Local Visibility System Blog
Phil Rozek has long been known as a local search expert and over the years he has shared his knowledge within the community via his blog. Not only does he provide useful guides he also provides training materials and courses.
The Definitive List of Local Search Citations
Further to Phil Rozek's blog he has created an amazing resource of the definitive list of local search citations. Similar to the tools already shared in this article, this shares a list of citation locations that you can use to get your business listed without the need to use paid tools, and shows how you can do it yourself manually.
Using Video for local SEO
This is a simple article sharing how you can get more traffic via local search using videos. It's a step by step approach of what to do and how to attract maximum visibility by using the power of localised search results.
Max Impact Local SEO Edition
Check out episode 27 of Max Impact, which is all about local SEO. It's a google hangout, sharing the latest tips and tricks in terms of SEO. Lasting over and hour and 20 minutes it's certainly enjoyable viewing if you're interested in improving your local visibility.
Extras
We couldn't create the ultimate resource of Google Places for Business tools list for you without sharing this amazing little gem. I have dealt with so many businesses that have signed up for a Gmail account just so they can get their business listed but Google allows you to create an account without the need to sign up for a Gmail account. Simply head over to https://accounts.google.com/SignUpWithoutGmail and follow the onscreen instructions and claim your listing today.
We hope you have found this list of resources helpful. However if you have any other useful tools you would like to add to this list or you have any questions then please let me know in the comments box below.
** http://searchengineland.com/chitika-we-got-googles-local-search-number-wrong-135965
Conclusion
Although it isn't necessary to use these tools within your local search campaign it can make the job easier. Local search is only set to increase in the future as internet usages increases. It's also worth noting that Bing also has its own local search functionality. The market share is nowhere near the same as Google's but it's worth considering.