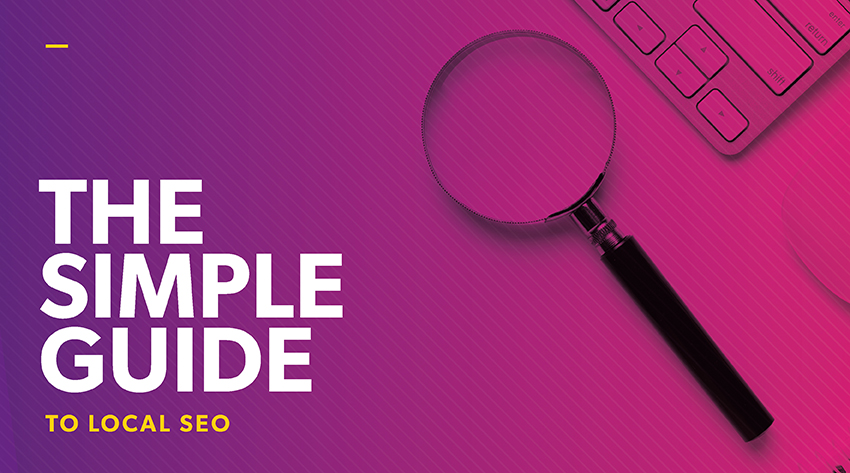 The Simple Guide to Local SEO
As a business owner you know how important it is to get the local audience to interact with your brand, not only online, but getting people to physically walk into your stores.
Local search results are changing constantly and can be unique per user depending on location & personalisation of their browsers, which leaves business owners scratching their heads on how to go about improving their local visibility for their brand.
This guide will provide you with a clear strategy & understanding on how to appear more prominently for your brand within Google search.
First of all, we need to analyse what specific ranking signals are more important for Local SEO. Moz conducted a study in 2015 asking industry experts to rank the individual ranking factors that they felt impacted local SEO the most, the results were as follows:

As you can see the general agreed consensus was mainly on-site factors & the quality of links pointing into the domain, which took up 40.3% of the poll. These sections are the fundamentals of organic search and what ranks a web page in general.
The more interesting signals that have been proven to work for local SEO were my business signals (Google Local), review signals & external local signals.
Then the more controversial signals that many SEO's debate if they really do have an impact were social signals, behavioural signals.
Luckily for you, Zazzle has created a step-by-step guide on how to go about improving your local SEO for your website, which could be just across the UK or internationally depending on your situation.
First of all, before you even consider local SEO, you need to have a physical location (at least a PO Box). Once you have that, you can start to look to optimise your brand for the specified location. It is very important you use NAP consistency. Which basically means having the same Name, Address & Phone number (NAP) across all the platforms you advertise on.
Step 1: On-Site Optimisation
The first step to take is to ensure you have a solid on-site strategy displaying all of your locations. Many businesses choose to have a store locator section, a great example I've found that does this well is Dunelm: http://www.dunelm.com/stores/atoz

When creating a similar section on your website, here are some best practices to follow to ensure you don't run into any trouble with Google about orphan pages or thin content.
Link the "Store Locator" landing page in the navigation of your website (main navigation or footer navigation) so you are not sectioning this part of the website out of sight from users and Google, an example URL could be as follows: www.yourbrand.com/store/
Create separate landing pages for each location, link to these pages from the "Store Locator" landing page mentioned previously. This creates a clear hierarchy for Google to crawl and for link equity to be passed throughout the pages easily, for example use the linking structure: yourbrand.com/store/location/. Create a separate XML sitemap for all your locations.
Each landing page needs to have the name, address and phone number (NAP) ideally along with the store opening times clearly displayed. Then for maximum organic benefit, you would want to include unique content about the location and If possible, add a visual aid or directions for users to follow.
Next you need to optimise each landing page to target the location effectively. We would recommend keeping it simple and optimising the meta data and content to include the brand then location (YourBrand Location)
After you have created all your locational pages and they are optimised correctly, you can then move onto the next step.
Step 2: Google My Business
Having the above landing pages on your website is all well and good for organic visibility for your brand, but to get the maximum local visibility benefit & reach within Google, you need to sign up all of the locations on Google My Business: https://www.google.com/business/
What this does is add all of your locations to Google maps and once verified you will start to show up for locational boxes directly within SERPS, for example: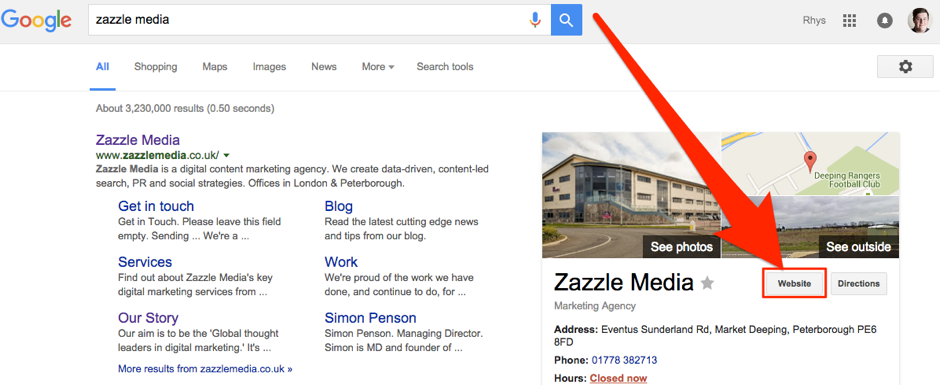 Doing this also puts your brand to compete with other brands for more general terms, the positing on this table is due to many factors such as user location and reviews, for example searching for a general term such as "hairdressers" displays a number of different options.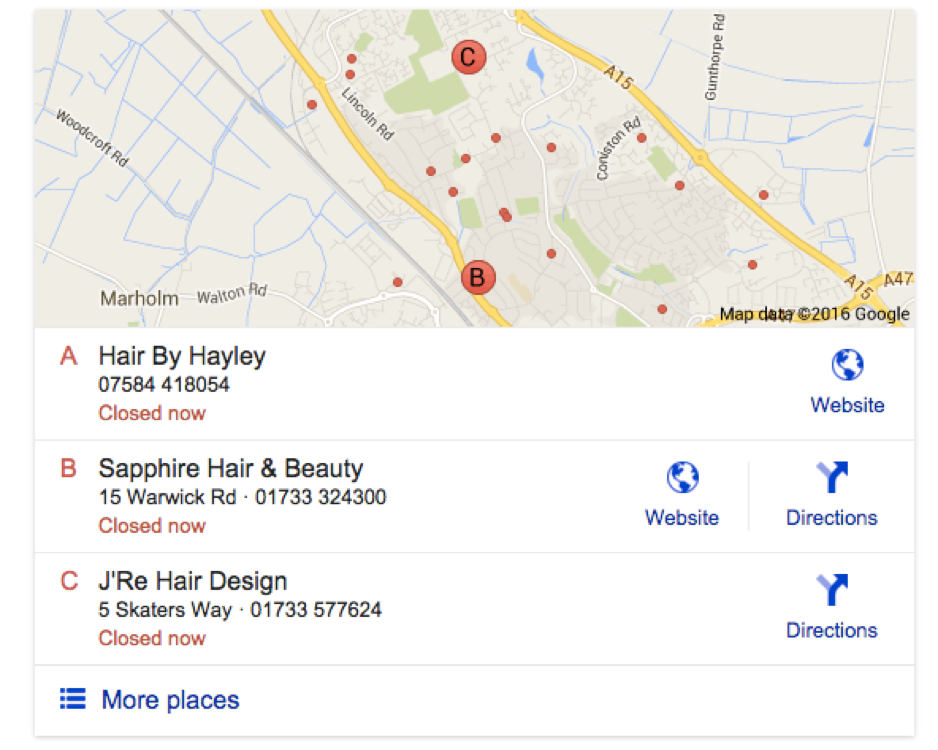 When signing up for Google My Business with multiple locations (ideally more than 10), you don't want to be adding each location manually. Here are some tips to speed up the process.
Once you have created your account, click on import locations in the side navigation.

Then download Google's My Business template, where you can easily add in all of your business location information, try and add as much information as possible. Find support for each section here. Ideally when filling out the template, in the website section, link to the relevant location page you created in the previous section.
Now go back to the import location tab, upload the file you have filled out with all of your locations and details.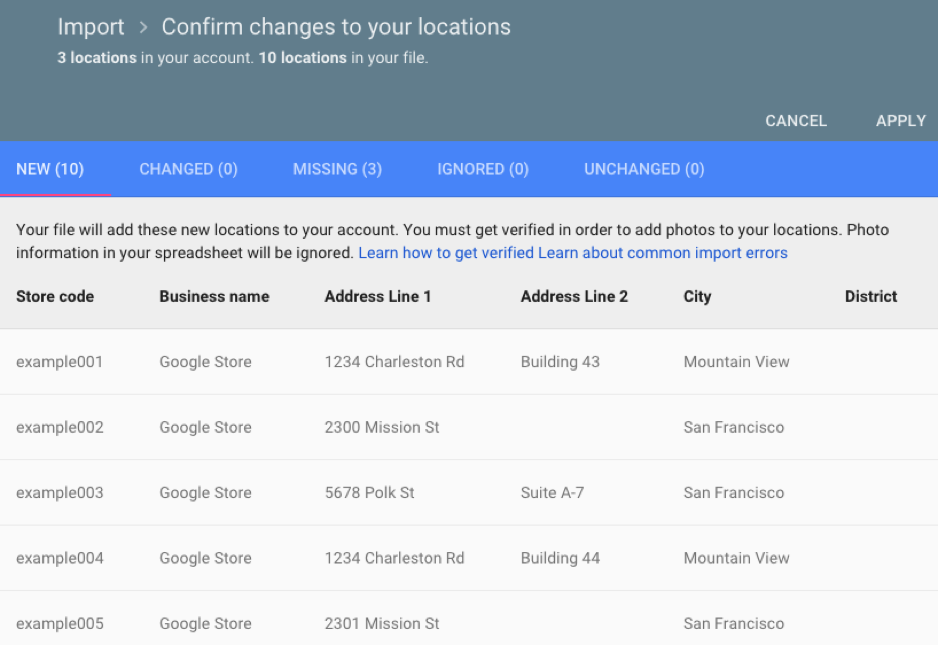 Click apply, then to get verified for all the locations click the following button:

Choose the option valid to your business, then fill out form provided, to get your business verified. It takes up to a week for it to be processed by Google depending on how many locations.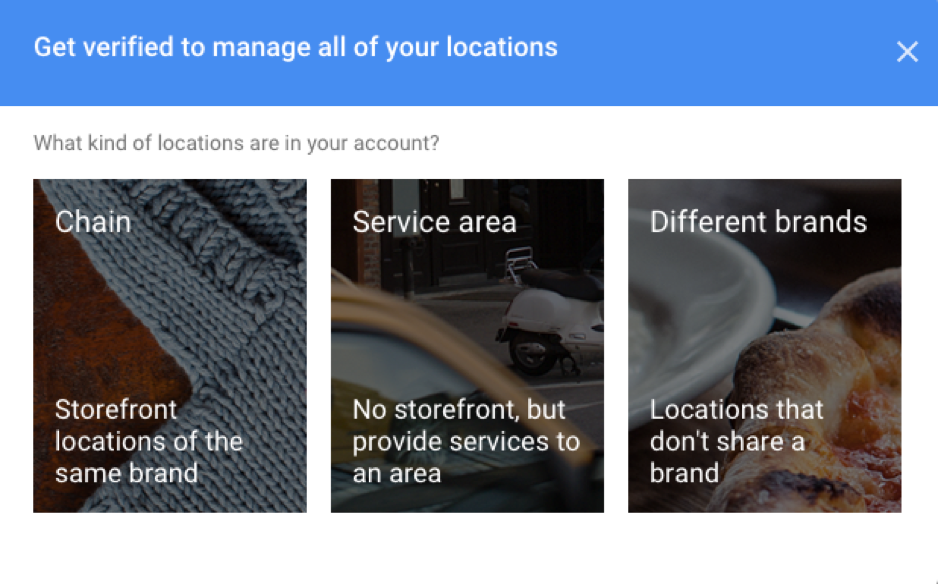 A Google representative will contact you via email if there are any issues or they need further proof of your businesses existence.
Recently Google added a new verify method. You can now click "verify" if the Search Console account is linked up to your account and that business web site URL. Read more here.
Once all the locations are verified and start to appear on Google, move onto the next step.
Step 3: Reviews
To gain maximum visibility across Google My Business and to appear above your competitors for general terms, we recommend trying to get as many genuine reviews as possible from your customers.
To leave a review your customers will need a Google account, here are some tips on how to get more reviews to your businesses, you need to make it as easy as possible.
On Page Option – Link to the relevant location directly from your websites locational pages you have created previously. For example, create a strong call to action button, linking to "Write A Review" for the current locational page that user is looking at.
Email Marketing – Get a lot of orders online? Create a check box at checkout to see if your users would like to be included in your email marketing efforts. Then once you have the user's information, such as email & locational address, you can separate out your users into lists for each nearest store. Then send them an email to review their recent purchase from your website.
Social Media – Does your business do a lot of customer service replies on social media? Why not ask users you have helped out to leave a review on Google?
In Store Review Centre – Set up a review centre in store, so users can sign in and leave a review on Google for that specific business location.
Create Flyers – Bit out dated method of marketing, but can very effective for local reviews. Create flyers with simple step by step guide on how to leave a Google review for the store. Leave them on the counter or include them within customer's shopping bags.
Now, you may come across negative reviews as any business does, but to turn these into a positive, you need to reply to them in a friendly, helpful manor. So potential users can see you care about your online reputation and you try to resolve any issues as quickly as possible.
Once you have amassed reviews, we would recommend moving onto the next step.
Step 4: External Local Signals
External Local Signals basically mean "citations". A citation is an online reference to your either your business name, address or phone number (NAP). The main difference between links and citations is that citations don't have to include a hyperlink.
Citations are a factor that Google uses when deciding on which order to rank businesses, especially within their local search results. To Google, it makes sense that a business that is mentioned a lot online deserves a higher ranking than business that are not being talked about online.
The quickest way to get citations for your local stores is to use authoritative local directories such as:
freeindex.co.uk
yell.com
yelp.co.uk
192.com
scoot.co.uk
thomsonlocal.com
hotfrog.co.uk
Sign up for the free listings, ensuring you use consistent NAP. Free listing don't usually link back to your website, which is not the purpose of being listed on these directories anyway, the aim is to gain citations. We would recommend using a separate email for these listings as you will get a lot of marketing emails.
Citations can be attained by the other sources, such as:
Press Releases
Profile Pages
Q&A Sites
Image and Video Descriptions
A great tip for spying on your competitor citations is as follows.
Google the below query, but with your competitor's info included, then you should be able to see any websites they have gained citations off, which you could replicate for your own brand if possible.
"Competitor's Name" AND "Competitor's Postcode" -site:http://www.competitorswebsite.com
Gaining more citations will give your local listings a better chance to appear higher within local search against your competitors, but we recommend you have the first 3 steps completed to the best of your ability before you move onto this step.
Overview
Hopefully after reading all of this information, you have gained a better knowledge on how to perform better for local SEO.
As you can see it can be a very big task, especially if you have 100's of locations to manage. Below is a quick overview on the main steps you need to focus on when creating a local SEO strategy. Please remember to use NAP consistency across all the steps.
Step 1: Fully optimise your website to include a landing page for each physical location.
Step 2: Sign up and verify all of the locations in Google My Business.
Step 3: Get as many genuine reviews as possible. Integrate it within your business marketing strategy.
Step 4: Gain citations from directories and press releases, amongst other sources.
Doing all of the above will set you a road to success with Local SEO.
Thank you for reading, if you have any questions regarding this blog post, please leave a comment below.