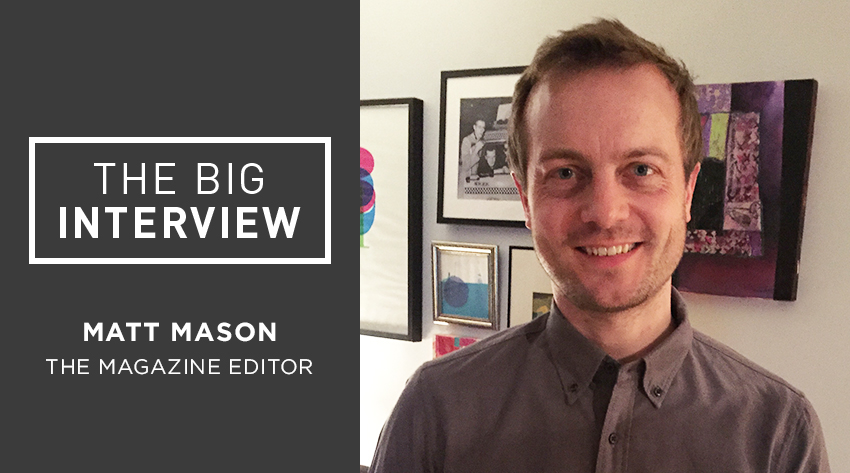 The Big Interview > Matt Mason, Q Magazine Editor
As the digital industry thrives and develops, another fights challenges on a regular basis. Print magazines have been compromised for the best part of two decades, struggling to compete with the global, 24/7 reach of online material – so much of it free – and unsure, in many cases, of how to embrace digital and make it work for its brand. Every year, news of another high-profile print magazine – or newspaper – closure hits home, and hurts: Zoo, Company, Nuts, FHM, Loaded and others have all fallen recently. Earlier this year, The Independent printed its last edition after 30 years in circulation.
Times are tough – for the companies seeing once lucrative and successful magazines experiencing declining copy sales and advertising revenue, and also for the journalists and editors working amid gloomy forecasts for the future of the industry. 'Print is dead' is an obituary penned a thousand times over. But there are success stories, and there are magazines which continue to find a way of maximising the multiple opportunities digital technology offers. Done properly, with a clear-thinking strategy and an enhancement of the reader experience, the relationship between print and online can be harmonious and happy.
In the latest in our Big Interview series, we spoke to Matt Mason to reflect on his 15 years at Bauer Media and primarily his role as Senior Editor at Q Magazine. As one of the flagship titles at Bauer, Q has been one of the most influential voices in music media since its launch in 1986; this October marks the magazine's 30th anniversary. Matt gave us a fascinating insight into the life of a modern day journalist and editor, and how a monthly print magazine has had to adapt to remain a viable brand in 2016.
Matt, you have a long – and very successful career in journalism – to date. How much has the profession changed since you entered the industry?
"Digital innovations have transformed everything. The biggest change has been the choice available to the consumer – it's not just that the number media outlets has increased with the internet, it's also that so much is available for free without having to leave your computer screen. To tempt someone to go to the newsstand and pay for a print product is harder than it's ever been. Your product has to be absolutely unique and high quality – a compelling package that you just can't get elsewhere.
On the other hand, social media is an incredibly cheap and easy to use marketing tool and it allows us to converse directly with our readers, which is invaluable in shaping the magazine. And the constant flow of information and ideas online makes generating stories and ideas easier."
Are journalistic skills still the same as ever before? What does the Perfect Journalist 2016 model look like?
"I think the core of putting together a good feature or story is still the same – write the truth, know your reader and what will interest them, deliver something they can't get elsewhere –  but now you have to be social media-savvy. You can promote your stories and make contacts on there but it's also important to remember that readers follow you and what you put out on social media has to reflect – or at the very least not undermine – the authority and expertise that makes them read your journalism. When I see some journalists, particularly football writers, getting into petty spats with people on Twitter I do wonder what effect it has on their readership."
You'll remember (as do I) a publishing industry before websites really had such a huge influence and now… what was the better time? The good old days or today's fast-paced environment?
"There's no denying websites have had a damaging effect on print sales but I still think this is the better time – just for the wealth of information and ideas out there. I remember a time when researching a feature meant ringing down to a cuttings department and waiting, sometimes days, for a thick folder full of print-outs and photocopies to appear on your desk. Now it's all instantly available online. Print publishing made life difficult for itself when the web first really took by thinking magazines and newspapers had to compete directly with websites by doing the same things – and never doing them as well. How can a magazine page about the best YouTube videos of the week, featuring still screengrabs and lengthy URLs to type in, compete with the experience of actually being on YouTube?
Now there's a better understanding of – and focus on – what print's strengths and unique selling points are. In Q's case, that was access to music's biggest names, the authority of our writers, long-form journalism that really puts readers in the room with their favourite artists, production values, iconic photography, considered in-depth reviews – as opposed to the knee-jerk insta-reviews that appear online within 20 minutes of Radiohead surprise releasing their new album…"
Many brands now offer their own 'content' via blogs and on-page articles. Which ones do you think do a good job of this?
"I think it's the ones that behave like 'proper' journalism outlets. Red Bull is one that stands out for me. They identify interesting stories and people as any mag/website would and deliver well-crafted content, keeping what the reader wants in mind. A brand that invests in doing that sticks with me longer than one that's ham-fistedly trying warp content towards an explicit message."
Let's reflect on your time at Q. How did you plan its content? What was the editorial team structure like?
"The mag had three section heads – one responsible for features, one for reviews and one for the front section and regulars. Each worked to the same basic aim – identify the best music, the best stories and the best characters and deliver them to the reader. We covered the whole waterfront of modern music tried to ensure a balance and spread of all genres and styles in any one issue – but as long as the music's good, it always had a chance of being covered.
We weren't constantly in meetings. We were a small team and most things got worked through just by talking to each other across desks. We had a separate section head in charge of online and social and his remit was very similar – point the reader towards great music and great characters, and remind them that there's a monthly magazine doing all this stuff in-depth.
When you planned for features, for example, how many elements were taken into consideration (print piece, social media promotion, instagram coverage, web/digital extras, exclusives)?
"We'd work in as many extras as we could. Q has a great reputation among labels and
artists, which means we were given good, lengthy access for words and pictures. So there were often words we didn't have room for and unused pictures that we could then put up online. We were very strict about our Instagram account – all the pictures were extras from our professional shoots or behind-the-scenes shots taken by pros. No shaky camera phone pics taken by writers – the mag prides itself in the iconography and romance of its photography and we believed our online presence had to reflect that too.
"We also tried to work with the artists we interviewed, by asking them to promote the features on their social channels. Ed Sheeran was on the cover at the end of 2014 and he put up a very nice Instagram post and Tweet about it being a dream come true – which got millions of likes and favourites and ended up being our best-selling issue of the year. It's hard to quantify how much his posts helped that but it can't have hurt. Of course, you can't always do this with bands – our job was to serve the reader with objective, honest journalism and no-one's going to tweet about a one-star album review."
Amid all the flexibility and reach of digital technology, how did you protect the central product, the monthly magazine? How important were special editions (for example Q's May issue, 1975 collector's edition)?
"The content in the mag is exclusive, nothing but small extracts or single images were made available online. The 1975 collector's edition was a success for us and special editions is something we constantly looked at – having an exclusive 7-inch single as part of the package reflected the fact that there's been a vinyl revival recently. A lot of the talk was focused on LPs but this was a chance for us to do something for the 7-inch format while also offering something exclusive for the most important people – the fans. It's about keeping track of the way people are consuming music and what Q, as tangible print product, could add to that a website or blog couldn't."
Like publishing, the music industry has also shifted from physical to digital, how much did this affect Q's content? 
"It's something that all quarters of the music industry are still working their way through. At Q, the most immediate change was in the way the brand's readers consumed music. More was available to them and available instantly. So a lot of the features had playlists as box-outs – music by, or inspired by, the artists they were reading about, or tracks they were inspired by. You could log on and listen to anything in seconds – so the message was 'here's what we recommend you listen to'.
Q are one of Apple Music's curators so readers can log on and instantly listen to its playlists.
It's easier than ever to go and explore and discover great music you haven't heard before. But there's so much available now, it can be intimidating. Q's role has to be a filter for all that noise – distilling it into the good stuff and offering the readers starting points to create their own musical journeys. What I hope Q can achieve is for every reader to discover at least one record they love every month simply by reading the magazine."
You're obviously a big music fan. Do you think it's important that those working in publishing are passionate about their content topic? 
"Absolutely. Your content has to reflect the passions and interests of your reader and the easiest way of understanding those motivations is to be the reader yourself – though it often helps to have a more dispassionate eye to occasionally stop getting carried away with that passion."
Is it still accurate to describe magazines like Q as simply a 'magazine' or has the emergence of different platforms changed the definition of it and similar brands?
"Q is a magazine at heart – but one that extends its authority and passion onto other platforms. As well as online channels and a tablet edition but there's also the annual Q Awards, which always attracts the biggest names and makes headline news. And a growing partnership with Absolute Radio meant Q had a daily news bulletin on the station and co-hosted the four-hour Sunday Night Music Club In Association with Q every week, which recently got a bronze award at the Arqivas (the Arqiva Commercial Radio Awards) and was nominated for a Music Week Award. All these things meant that, as a brand, Q reached around two million passionate music fans every month."
Does print work best when covering a particular niche/industry/sector?
"I think if you're asking people to pay money for your product, then it helps to engage with a specific passion, employing genuine experts and unrivalled access in that field to produce your content. You look at some freemium models and they seem to be stretching themselves thinly across a breadth of subjects in order to appeal to more advertisers – losing the depth and insight that passionate readers want from a magazine."
If you could have dinner with any three people in history, who would they be?
"Arsene Wenger, Chuck D and the sportswriter Gary Smith. They're icons in their individual fields, fascinating thinkers and they all like sport so we'd all have some common ground."
Is there a difference between listening to music for pleasure or work?
"Not when it's something good. Music journalists are only ever serving the reader who's a music fan like you so you're listening to it in the same way you would as a fan. So reviewing something good is always a pleasure. Obviously, part of the job for any music journalist is that sometimes you have to review records that aren't that good and it's important that you listen to those plenty of times to be able to present a fair and solid case in the review."
What's the greatest ever year for music?
"I could make a case for most years but 1989 is hard to beat. Three of my all-time favourite records came out – New Order's Technique, The Stone Roses' debut and De La Soul's Three Feet High And Rising. More than simply being great records, they helped changed the musical landscape. They were gateways for so many people to get into new forms of music. On a personal level, they became the soundtrack to so many brilliant memories for me – turning 16, Arsenal winning the league title, brief romances…"
What does music mean to you?
"It's been a constant companion, soundtracking the good times and the bad. A really great lyric can be like a brilliant story or novel, transporting you to new places and changing the way you think or view the world, or evoking buried memories from your own life. There's no better way to take the edge of a bad day by sticking a favourite album on and sinking into it."
Which gig or record changed your life?
"New Order's True Faith single. I was 13 when it came out and I was fascinated by how such a melodic pop song could also be dark and slightly discomfiting. It opened my ears to 'alternative' music, which ultimately lead me to the job at Q."