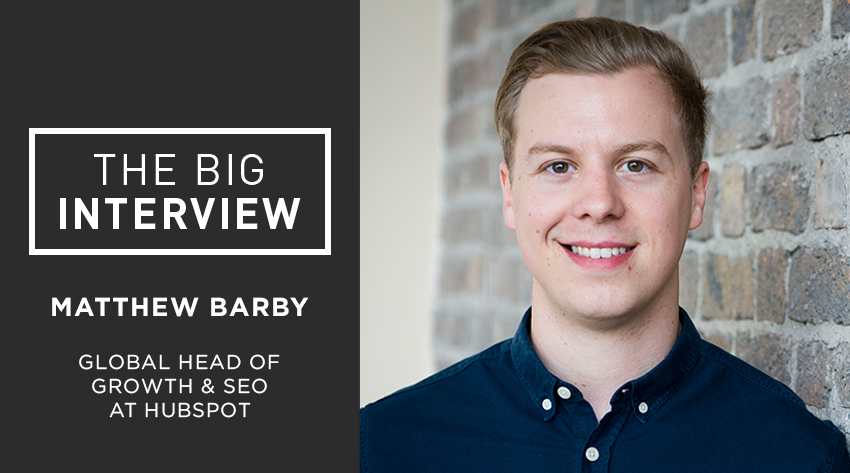 The Big Interview > Matthew Barby, Global Head of Growth & SEO at HubSpot
When I canvassed Zazzle Media's in-house SEO team for nominations regarding the subject for this interview, replies were unanimous: Matthew Barby, they recommended instantly and with conviction. It's a sign of the respect and esteem he is held in that Barby is considered one of the most powerful influencers, mentors and speakers in the world of SEO and digital content marketing today.
Barby's career path has been impressive and incisive, swiftly progressing from graduating at Aston University to developing a fascination and interest in SEO which then became his profession and notable area of expertise. He built up his reputation as a thought leader, writer and lecturer – he was offered his current role after a blog he had written was published on HubSpot and subsequently read by the company's CEO and co-founder.
He was appointed Global Head of Growth & SEO at HubSpot in July 2015.
As you might expect, his schedule is crammed and he's a busy man. But he's also generous with his time when available – Zazzle spoke to him at HubSpot's Dublin office, where he is primarily based, to pick his brains on SEO, strategy, digital marketing tools and what he likes to read on his morning commute…
What area of marketing interests you the most?
"I would say that one of the main areas I'm really interested in is very much large scale optimisation projects, in particular focusing on conversion optimisation. Secondly, SEO, and then finally, developing acquisition strategies from the ground-up."
If you could only use three digital marketing tools, what would you choose & why?
"The first one I use the most is Ahrefs. The main reason is that it delivers really accurate data, it's excellent at tracking how competitors are performing; it's the major day to day tool I go to. Secondly, and this is linking through to SEO, is something called AccuRanker – this tracks keyword rankings. The third is Lumanu, which is a hugely intelligent content engagement tool; you can search for popular content and the more you search, the more it drives down deeper – it can search by writer and a lot of other factors. That's one to keep an eye on, I'd say."
How did you build up your reputation within the industry? How did you first get into SEO?
"I suppose I've carved out a reputation within SEO. I was reasonably fortuitous in that I got into SEO at a time before a lot of the major algorithms were coming and when people still saw a disconnection between SEO and content… now they go hand in hand. So I got involved before things shifted and changed, and that's worked out very well for me.
I started with a smaller agency straight from University and I may as well have worked for free, the amount I was getting paid! When I say 'agency', that's perhaps a bit generous – there were three of us when I first started, so it could hardly be termed an agency in the true sense of the word. Within 18 months we had grown to 15 people and we were working with partner agencies that were ten times our size. One of those agencies (Wyatt International) then poached me, and I started working with them; I was involved with large businesses at an international level."
I was involved in a lot of SEO campaigns and strategy, and I did a lot of blogging. Generally, I tried to be someone who did things first within the industry, who tried something different.
My role at HubSpot came about when I published a blog on their website, and Brian Halligan, our CEO read the blog post and the then VP of Content, Joe Chernov, got in touch with me to come over and join the team."
How do you see the future of SEO developing?
"This is something I think about – a lot. The reality is, if you look back at the past ten years, SEO hasn't really changed a hell of a lot. It's more about the way people sell in SEO but fundamentally search engines haven't changed all that much. The same ranking terms have been around a long time.
In terms of the future, what is changing and will continue to change, I think, is how people understand how to interact with and use search. Again, go back ten years. If you wanted to buy a new pair of denim jeans you might have typed in 'where can I buy the best pair of dark blue denim jeans?' or something like that – but who actually talks like that? You're more likely now to just enter 'blue jeans' and the intelligence of search engines has developed now so that they can function with a more conversational tone. They can work the way we really do speak in person.
Voice search is developing in the same way. You don't need to be so explicit with Siri or Cortana. A decade ago, if you wanted to eat sushi in Hammersmith, London, you would have had to be that specific in your voice instructions. Now you can just say 'find me a sushi restaurant'. You'll be hooked up with 3G, your GPS will track your location within a ten-mile radius so it will know you're in the area and that's all you need to say."
What have you learned since joining HubSpot and how would that affect how you approach digital strategy now?
"Undoubtedly the No.1 one thing I've learned since joining HubSpot, and the most exciting element so far, is being in the unparalleled position of having access to masses of data. Other than sitting in Google's search team itself, I don't think there's any other role that would give me as much access to such tranches of data.
I have a ton of theories and now I'm able to run practical tests on them – this is one of the big parts of my role. On a weekly basis I'm running many large scale tests. I'm also learning a lot from the broad array of different companies we work with – I get an insight into every marketing campaign that our clients do and the importance of having a robust strategy in place is clear. At an Enterprise level, being able to see what even a 1% increase in conversation can do to a company's bottom line is really significant."
The current obsession with content is here to stay but do you feel that many still get it wrong? If so, why?
"I do think many get it wrong, yes. I think many, if not most, companies, fall down on this. If you look at HubSpot, we publish around 250 blog posts a month; most businesses don't do that – don't do even half of that – in a year.
What I do see a lot is businesses thinking they need to create content in volume, and don't dive deeper into a strategy than that. People will say, 'we need to ramp it up, produce more content'. But if the content you're creating isn't working, is the right decision to do more of it? People are too quick to consider volume and base decisions on a gut feeling rather than taking an analytical, data-measured look at it. Too often, volume of content is seen as a KPI – companies are happy to have ten blog posts created a month. I've been in that position myself. But quantity doesn't mean the content is right."
The paid space is evolving more rapidly than ever. How would you leverage it now as part of a content marketing plan?
"It's important with paid to be able to scale campaigns. There's been a shift to focus on organic but paid still has a role to play – you just need to ensure campaigns don't run too long, and you lose control of cost.
There's a big focus on paid ads on social media. Facebook excites me every day with what you can do, and it's relatively cheap to include video – so much so the cost is almost laughable. I'd say organic and social are both part of the puzzle; you just need to make sure the right pieces all for together."
What three things are you focusing on this year? And what about over the next three?
"My main three things are as follows. No.1 is building out the growth plan for the Sales Products here at HubSpot. No.2 is creating an advanced online SEO course. Finally, the third thing is focusing on what's next. I want to try and understand what the next big thing is going to be, and being prepared for that. What if search doesn't exist tomorrow? What do we do? I want to be in that place where I know. And as for the next three years after that… difficult to predict. I guess most of that will be dictated by my last answer – absorbed with whatever the next big thing is!"
You provide mentoring services – do you have any mentors of your own? Who has had the biggest influence on your career?
"I tend to do a bit of mentoring, yes – mostly advising start-ups and taking workshops. From my side, what I've found so far in a relatively young career is that I've been lucky enough to work with lots of very talented and knowledgeable people. I haven't had a single mentor, as such.
I think my biggest learning curve has been understanding how to manage people and teams. In my previous role at Wyatt International that was one of the most exciting parts of my job. The MD there was a very good manager of people; he knew how to enable people to not just come up with ideas but follow them through. Really, much of it comes down to knowing what makes people tick. That's the key."
When I've interviewed writers for roles at Zazzle before, most are always concerned at what they consider a lack of 'technical' knowledge. What advice would you have for young writers who feel intimidated by SEO/digital marketing?
"People might disagree with what I'm about to say, but I don't care. My advice? Just forget it. Don't worry about it…."
That's what I usually say…
"It's right. If I'm looking for someone who is a top writer, who can create content aligned with what the reader wants, that's my priority. You don't need to learn complex architectural issues from an SEO point of view.
It's a bonus if a writer knows that, but honestly, sit them down for an hour and explain what's needed and they've got it. If you worry too much about content from an SEO perspective, you can spoil them as a writer – and good writers are rare. There's so much content out there that's not very good. It's really about writing what the end user wants to read – if you do that, search engines will pick up the content. If you want to look at it another way, you wouldn't recruit a top SEO but then also expect them to write, would you?"
No. So, then – do you or would you write just for enjoyment? If so, what are your favourite subjects and areas of interest?
"Yes, I do enjoy writing. I tend to be a bit different to some of the other blogs out there. I made it my goal to take one topic that people seem interested in, and write perhaps one long article – 7,000 words is an average word count. My aim is that I write it with so much depth that people won't need to go anywhere else to read any other articles on that particular subject. These days I don't have a lot of spare time, unfortunately, so I tend to write a lot when travelling – on planes, for example."
Finally, what are your own favourite websites/content sources?
"My main source, in terms of staying up to date with the industry, is GrowthHackers and any SaaS focused content. I don't really tend to read a lot of blogs. I get to read mainly during my commute into Dublin for work – that's when I catch up with the Economist, Tech Industry and Start Up. Those are my three main favourites."
Published 8 months ago by Kevin Hughes, .
.