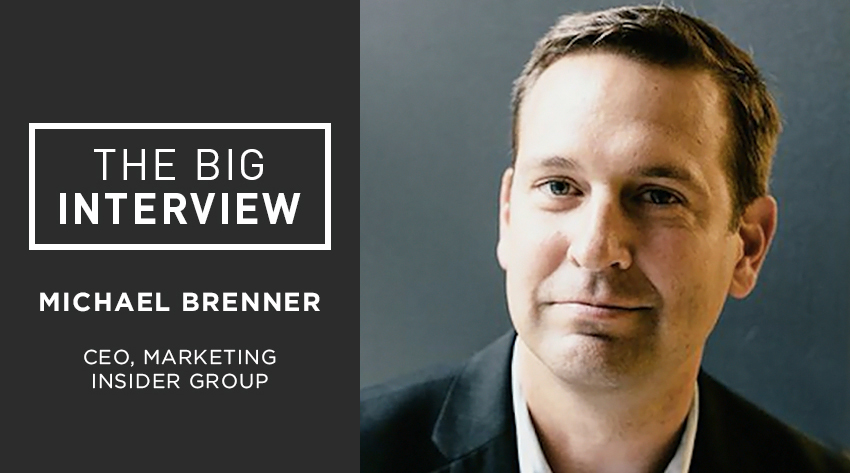 The Big Interview > Michael Brenner
Michael Brenner is on a self-confessed mission to change the world – or more specifically, the world of marketing. As the CEO and founder of Marketing Insider Group and the author of The Content Formula, his focus is on helping brands create better content – by making their customers the centre of the story.
His CV is extensive. Starting at the Nielsen Company, Michael then moved to SAP, where he was their first Head of Digital Marketing for North America and subsequently their first Global VP of Content Marketing Strategy. He later joined NewsCred.
He speaks at conferences and workshops all over the world, presenting with authority and experience on a range of topics – from Content Marketing Strategy and Roadmaps, to Visual Content Strategy, Business Case Development and more. He lives in the Philadelphia area, with his wife and four children.
The perfect subject, we thought, for the latest in the Zazzle Media Big Interview series…
Sum up your role/job in one sentence for someone that knows nothing about marketing…
"I help companies reach, engage, and convert new customers to their business by helping them share their expertise in a strategic, measurable, and consistent way."
What are the big mistakes that people are still making in content marketing?
"The biggest mistake in content marketing is the natural desire of the business to want to talk about itself, promote, and sell. As my content marketing mentor Ann Handley famously quoted, 'brand need to take themselves out of the story, and make their customers the hero.'"
Which three people, dead or alive, would you most like to have dinner with?
"I'd like to have dinner with Ghandi, Martin Luther King, and Donald Trump. Just kidding. I have no desire to have dinner with Donald Trump, so maybe we can add someone equally ruthless – like Genghis Khan or Napoleon Bonaparte – just to round it out a bit."
Are there any technological creations or innovations on the horizon that you are particularly excited about, from a marketing point of view?
"Yes – I'm really excited about what happens when screens disappear. I am writing this from my laptop, I check my mail and social media every five seconds on my phone. I watch TV on a wide screen and an iPad. I cannot wait to see what happens to marketing when screens disappear and everything displays content. The impact this will have on marketers will be profound as they try to determine how to reach their target customers."
Are good public speakers born or made, or is it a bit of both? Have you always been a good speaker?
"Like many people, I was terrified of public speaking for most of my life. When I committed to sharing my ideas on my blog and through social, that slowly led to panels, webinars, and ultimately keynote speaking events. I now absolutely love the rush of speaking in front of hundreds of people. Now, I gain comfort from my mission to help my audience to avoid marketing that stinks, and to shift their approaches to marketing that works. But I think anyone can become a good public speaker if they focus on the right goals and put enough time and energy into telling a great story well."
How difficult is it convincing people to reject brand marketing in favour of content marketing? Or is that too simple a distinction?
As renowned author Seth Godin once said, 'content marketing is all the marketing that works.' I think promotion is the natural instinct of the business. So I try to explain to more traditional brand marketers that promotion is the stuff we tune out and avoid, every chance we get. Only by focusing on delivering customer value can any brand break through that noise. It's not always an easy sell, but when the information is presented logically, most executives get it right away. It's the momentum inside, particularly large companies, that gets in the way. Marketers needs to be change agents today, armed with data and ROI figures."
Can you tell us about one piece of work you're really proud of, and why?
"One way to show reluctant executives the power of content marketing is to use examples from the many brands who are doing it right. So I really enjoyed putting together 99+ Amazing Examples of Content Marketing. Nothing gets those competitive juices flowing better than the proof that others are doing a better job, and seeing results, from content marketing."
Who are your inspirations in life?
"My wife and kids are my inspiration. They keep everything in perspective and keep me grounded. I spend all day helping clients, measuring social presence, counting content page views and blog subscribers. And then I come home and my four-year-old wipes his nose on my shirt as he wraps his arms around me for a big hug. Those kind of moments make it all worthwhile."
If you had one piece of advice for someone who wants to become a marketing content creator/writer, what would it be?
"Everyone can write. And every business can be successful at content marketing. Those are the subjects of Ann Handley's latest book "Everybody Writes and Joe Pulizzi's latest book Content Inc. Read those two books and anyone can see the playbook for effective writing and content marketing."
What are your passions/hobbies outside marketing?
"Again, my family. My hobbies are their hobbies for the moment. When I have time, I like to do yoga to keep me focused and fit."
What are your predictions for content marketing in the next five years?
"My content marketing prediction is this: The leading marketing trend of 2016 will be the maturing of the age of ad blocking. I think we'll see a massive correction in the advertising market. As more and more consumers download ad blockers on their computers and cell phones, opt-out of telemarketing lists, and cut their cable subscription cords, marketers will start to see the futility of spending so much of their budgets on ads that no one wants.
This will drive an increase in content marketing budgets and it will require content marketers to get pretty damn good at showing ROI. I also think we're going to see brand spending more time and money on personalization, visual content, and being entertaining, even in B2B marketing."
What are your ambitions?
"I'm trying to change the world. Or at least the world of marketing. I think marketing has a marketing problem. Ask most people what marketing is and they will describe some form of advertising or selling. Marketing is a conversation that starts by asking your potential customers, 'how are you?' And then seeks to deliver customer value that defines and drives the business. Oh, and I want to lose 20 pounds…"
Michael Brenner is CEO of Marketing Insider Group and co-author of the best-selling book The Content Formula. Follow Michael on Twitter @BrennerMichael.