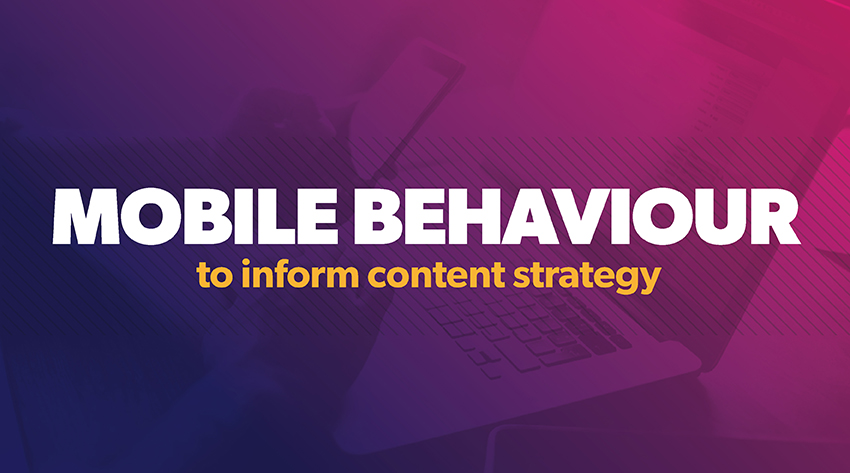 Using Mobile Behaviour Understanding to Shape Content Strategy
The rise of mobile has been nothing short of a phenomena, blowing away the speed at which any technology has taken hold before it and maintaining the theory of the Law of Accelerating Returns.
It is a theory penned by Ray Kurzweil, Google's Head of Engineering, in an attempt to explain how, in the 21st century, we won't experience 100 years of progress but rather 20,000 years.
And mobile is the real Trojan Horse here. The technology that, quite literally, puts technology in the hands of every person on earth.
The rise of mobile devices
The rise of mobile device usage is unquestionably meteoric. In late 2014, Search Engine Watch reported that users searching Google on mobile devices surpassed those on a desktop computer for the first time. And, according to an article on e-marketer, in 2015 more than 1 billion people across the world owned a tablet and by 2016, the number of smartphone users will surpass 2 billion.
It is fair to say that smartphones are at the centre of our daily lives and are now in the pockets of two thirds of all UK adults – up from 39% in 2012. The vast majority (90%) of 16-24 year olds own one; but 55-64 year olds are also joining the smartphone revolution, with ownership in this age group more than doubling since 2012, from 19% to 50%.
Research by mobile web design agency MobiForge has revealed that the time people spend on their smartphone now exceeds time spent watching TV and the average UK adult now spends nearly 3 hours a day using a mobile device. 65% of all US smartphone users check their phones within 15 minutes of getting up in the morning and 15 minutes before going to bed.
The surge in popularity is being driven by the increasing take-up of 4G mobile broadband, providing faster online access. During 2014, 4G subscriptions leapt from 2.7 million to 23.6 million.
Content on the go
So, what does this mean for businesses and brands?
Well, in short, it means the content on your site needs to be simple, quick and easy to digest.
We live in a world of instant gratification, where people want everything at the click of a button. You will lose customers if your website is clunky, slow and difficult to navigate.
Mobile users do not want to have to pinch and resize in order to find what they are looking for and, according to KISSmetrics, 40 percent of people abandon a website that takes more than three seconds to load.
In order to make your site accessible on mobile, it is imperative you use a responsive design, where web pages automatically adjust to fit the users' screen.
Many businesses make the mistake of creating mobile sites which are basically miniature versions of their PC desktops. It's vital to understand that mobile users behave differently from PC users, and mobile content needs to match mobile behaviour.
For example, mobile users are not confined to a single location. They could be in a shop where they want immediate information or waiting somewhere bored, simply looking for something to occupy their time.
Mobile sites should use larger fonts and graphics that are easy to navigate and read in a smaller format. Key features that set mobile website designs apart from desktop websites include:
Quick, up-front menu navigation buttons with easy-to-read print
A click-to-call feature (so customers can just touch the number with their thumb to dial without having to press in all the numbers) GPS/direction features that enable users to quickly and easily find your premises without having to type anything
One-touch contact information so customers can just click to add your contact information right into their contacts.
All other menus, graphics, coupons, etc streamlined for fast, easy loading
With mobility comes a sense of urgency not typical of the PC experience. A mobile strategy needs to organise content in a way that accommodates a mobile users' need for information NOW! This means editing your content to essential facts and calls to action.
Two great examples of this can be seen by Adidas and Virgin Atlantic – which as you can see, below, give the user everything they need at their fingertips.
The future is video
We've all heard the expression, a picture can tell a thousand words. Well, one way to achieve this, today, is by replacing swathes of text on your website with video.
According to global networking company Cisco, by 2017 video will account for 69% of all consumer internet traffic. An article in The Guardian revealed that one in three Britons view at least one online video a week and YouTube receives more than one billion unique visitors every month.
Video is a great way to engage with your audience; as the BBC news site has proven (see below). However, as a tenth of all video is played on mobile and tablets, the video content needs to be short and succinct – preferably no longer than 90 seconds – and easy to download and share.
Some of the most popular video formats that generate user engagement or increase brand visibility are:
Video testimonials
Product demos
About us videos
Instructional videos
Video tutorials
Interviews
Animated videos
Creative videos with elements of humor
Celebrities endorsing the brand
It is fair to say the attention span of the internet user is diminishing every year and loading time is a major contributing factor to high bounce rates.
The average user has no patience. Mobile internet users expect a web-browsing experience that is comparable to what they get on their desktop. Most say they would wait between 6-10 seconds before they abandon a search. Put simply, a second delay in page response can result in a seven percent reduction in conversion. If an e-commerce site was making £100,000 a day, a 1 second delay could cost it £2.5million in lost sales a year.
One way to keep mobile users on your site for longer is to ensure the content leads people to the information they want quickly. You should therefore:
Make sure landing pages are clean, clear and concise
Provide click-through buttons for anyone wishing to to access more information
Use checkable boxes and scrolling menu bars to simplify form filling
Keep the font size large and legible
Ensure text is short, catchy and to the point
Make sure the page scales to fit all devices
Use universal symbols for icons and action buttons, so visitors can easily understand what to do
The importance of Apps
Desktop users might want to explore your website, but mobile users tend to be in a hurry and want immediate access.
To ensure the best mobile experience possible, more and more companies are developing their own apps. In particular retailers who have found that, generally speaking, people tend to research a product on their smartphone, but make a purchase on a desktop computer.
Content strategy is all about matching visitor intent with the right message to meet a user's need as well as achieving business goals.
Mobile apps can do things websites can't including:
Giving GPS directions to a specific location
Taking a picture and emailing it
Scanning Quick Responsive (QR) codes
They are also always accessible and run faster, even if there is no internet connection.
Mobile apps are not just for big brands; more and more SMEs are following the mobile trend, understanding that an effective mobile strategy involves more than just having a mobile-friendly website.
They are also a great way to share and play videos. In 2012 and 2013 the average time spent watching videos doubled on mobile phones and tripled on tablets.
Mobile phone chat apps, such as Facebook Messenger and WhatsApp continue to captivate people. Fifty billion messages were sent in 2014 through these apps and most of these messages were in a video format.
It's all about sharing
It's also worth noting that most people share content via a mobile device. So, it is a good idea to make sure that they can do just that with a social button that requires just one click to share.
Whilst you can't predict what will make content go viral, you can do your best to increase its shareability and engagement factor. Useful content including user guides, tutorials, how-to guides are extremely effective; as are easy-to-scan lists.
A great example of this is Wistia's Learning Center's short, educational videos that teach viewers how to be better video marketers.


Any content which has an emotional hook is a sure-fire way to gain shares – people love to find out information from other people; the human-interest angle should never be far from your thoughts.
A 2010 study of the New York Times' most emailed stories fell into four distinct categories: awe-inspiring, emotional, positive and surprising.
So, if you want the content on your site to be shared, it is imperative that you make sure it is speaking to your audience and is visually appealing, broken up into digestible pieces with headings, sub headings and short paragraphs.
Tools such as Buzzsumo, help you analyse what content performs best for certain topics and networks and will help inspire new ideas. It recently added a feature which allows you to look even deeper into the data by investigating the average shares of different content types including video.
In conclusion
The world of technology may be moving at an incredibly fast rate and the way we absorb content may no longer be in paper form, but there is one thing that still holds true: informative content that educates and/or entertains will attract readers/customers, build brand awareness and make your business successful.
The rise in popularity of mobile devices just means we have to grab their attention much more quickly and give them all the information they need at a glance.