Incorporating New Media into Content Strategies
The majority of first impressions are made based on how something or someone looks. We see a person and all we see are their aesthetics; how they're dressed, what they look like, maybe their hair colour, and from this we make an almost instantaneous judgement. The same is true about the content we read, both on and offline.
You need to think about your content as a high street store. When you walk down the street you can see into the shop windows, see the products inside and you're tempted to go in, have a look around and maybe make a purchase. Your content is essentially your shop window and people will like what they see or hear and want more, either subscribing to your blog, investing in your services or buying your products.
The difference between a good piece of content and an amazing piece of content is often as simple as how it is presented. If you read one of the many blogs that are circulating about how to write great content then you'll spot a common theme – they're all guides full of bullet points, examples of some quotes from authoritative figures and extracts from books.
You soon find, almost without knowing it, that you lose your interest in an article that is nothing more than a block of text, but you're captivated by a different piece on the same subject that includes images, videos and sound clips
Many of us absorb information and apply it more successfully from actually seeing examples, not just reading them. When you were at school you used to learn by seeing things written down on the blackboard or printed out in the diagrams handed out by the teacher, and your content campaign should be no different. It doesn't matter if you're working on a guest post for one of the leading sites in the industry, producing something as part of a social strategy or just writing a blog for your own website; images and presentation are essential.
Great content, put simply, is NOT just about a really in-depth piece of writing that gives instructions, advice or direction on a topic. Great content shows people how to improve, develop and use the latest innovations to deliver the highest quality of work they can produce. Let's face it, in the digital age that we find ourselves in today, we're beyond screen shots and copy and paste, we now have the opportunity to incorporate videos, photographs and sound bites into our articles.
In the past, the phrase "writing an article" meant 300-500 words of copy on your given subject. Now, it should be all about incorporating the latest technology to show just how well informed you and your company are and what you can produce or provide for your audience. It could be the difference between winning a contract, landing a job interview, being offered a speaking opportunity and so much more. If you can use social media and digital technology to the best of your ability, as well as showing off your creative written flair, then you're onto a winner.
It's Not What You've Got, It's How You Use It
What I'm essentially saying is that this recurring tip that "content is King" is a load of rubbish and sends out the wrong message – it's the content of your content that is actually important, and the resources you have at your disposal.
Anyone with a pen and paper, (or keyboard), can write a brilliant article. With a lot of research, talent and knowledge of the subject you can produce something outstanding. The thing that will separate your article from all the rest is what form the content you create actually takes. That isn't to say that you just fill your content with pictures of this, videos of that or audio clips of people you've interviewed, but it shows your talent and what can be achieved with a bit of effort. Sure, the article you've written might have taken you weeks to get right, but it could be taken to the next level with a little bit creativity.
Incorporating what is being called 'new media' into content strategies is just one way of taking your content to the next level. Adding in features such as video, creative images and audio clips don't just help to give your content extra emphasis and creativity, but they encourage social sharing – something that is becoming a key part of any content campaign whether it's a personal blog, press release or an outreach campaign. Here are a few examples of just how you can do it and all of which are relevant to both content and social strategies:
Social Media
This has become one of the most powerful formats for reaching new audiences, expanding our reach and interacting with all kinds of businesses and individuals. In the olden days of around ten years ago, we relied on RSS feeds and emails to get our content seen, with the random luck that someone might stumble across the blog during a search. Today, however, we come across the majority of our news through content shared on social networking sites.
Carrie Morgan wrote in her article What is Digital PR back in April that the industry of digital PR is now about "combining traditional PR with content marketing, social media and search transforming static news into conversations and bypassing media to speak directly to your target audience. News can be spread further, faster and more directly to a specific audience than ever before in history and allows us to maximise news like never before. Instead of being satisfied with a single placement, your news can be spread exponentially."
The same concept applies to any content, it doesn't have to be just a piece of news, it could be a blog post, image or video. Whatever you're creating, social media has allowed us to reach further and more effectively than we could have imagined a decade ago.
Twitter has opened doors in the past few years to a world whereby we can update our followers using 140 characters. The chance to briefly summarise a great article you've read, share the breaking news with the world and throw some friendly banter around has most of us reaching for our phones, tablets and laptops at every opportunity, but so many of us just use words, we don't portray anything.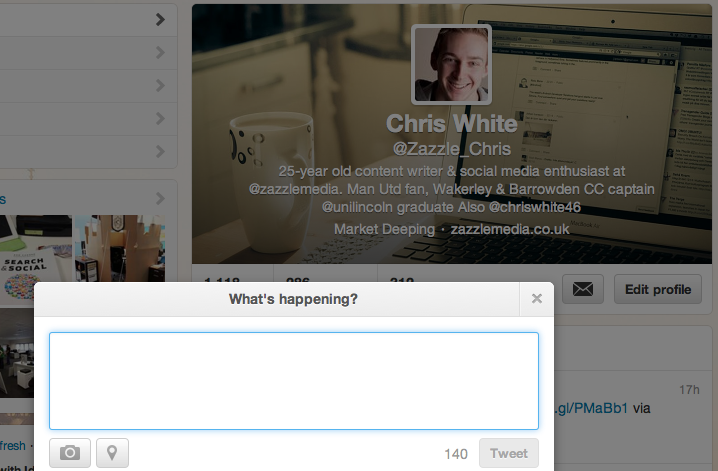 Facebook started the whole social media craze by letting us have a 'status' that originally started out with "Chris is" and we would tell the world. Originally designed for University students it spread around the world like a viral video, (see the tenuous link!) Today, it's one of the most important marketing tools as well as a chance for us to share videos of footballers missing open goals, posting pictures of our holiday and laughing at our drunken friends.
When used in the right way, social networks are an amazing platform for the creation and sharing of content. Think about it, if you have one hundred followers on Twitter and each of those have around 50, (for example), and each one retweets your latest article, video or photo, you are suddenly reaching 5,000 people. The same is true on Facebook, which allows you to write what are essentially introductions to your content as well as sharing the link. The more people who share or like it, the more people that are likely to see it appear on their news feed and before you know it the four likes from your parents and siblings have become four hundred.
The people who visit your social profile are doing so because they have a genuine interest in you or your business. You have to physically click like or follow so they are evidently interested in what you have to say or show, so make sure that you continue to utilise the power of social networks, but don't just rely on Facebook and Twitter – you have the likes of LinkedIn, Instagram, Pinterest and Vine that offer social connections too.
Get out there and connect with the people you want to interact with – it is called SOCIAL media after all. These could be people who share your views or are interested in your subject; they might be people interested in buying your product. Whichever way, interaction through social networking boosts your social presence and helps you to reach a new audience. Make sure you've got social sharing buttons on each page, making it as easy as possible for visitors to share your content, in turn creating social signals that will help your content to rank more highly.
A recent Forrester report revealed that 32% of online discoveries now come from social media with 54% coming from search engines, a staggering increase of 25% compared to the same study in 2011 that shows just how important social media has become. You can only expect that its influence will continue to rise. Who knows, social media optimisation could become the future and search engine optimisation could be a thing of the past… only time will tell.
In the past week, Facebook have added an embed feature that allows users to copy 'public' posts into their own content. Currently available from just a selection of five websites including the Huffington Post and Mashable, users will soon see an option in the drop-down menu on their Timeline to 'embed' so that they can copy the post into their own blogs or website using HTML. Facebook recently incorporated the ability to embed Instagram posts into content, and must have been using this as a test to see how the feature would work.
Videos
It's a well known fact that blog posts with videos in them get shared three times more than blocks of content. You don't have to take my word for it, have a look at this infographic from LookBookHQ titled "How to Help Your Content Rise Above the Noise."
Both Twitter and Facebook soon realized that just telling people what you were doing, where you were or how you were feeling weren't enough and they needed to go to the next level. So what did they both do? Well, Facebook went and spent a billion on Instagram, and subsequently Instagram Video, and Twitter developed Vine.
For those who aren't aware, Instagram is a photo sharing platform that allows users to take pictures of anything they like and apply one of a variety of filters to that image to turn it into a piece of art. Vine is a six-second video platform that runs on a constant loop and was developed by Twitter. Just as it was starting to explode, Facebook jumped in with Instagram Video to cool that explosion, with their offering presenting users with the chance to run a 15-second video clip that can be shared across a variety of social networks, (Vine only offers sharing on Twitter and Facebook), as well as the chance to use the filters and embed the clips into blog posts or websites.
You can read my blog about the unveiling of Instagram Video here.
Take a look around your Facebook or Twitter feed, you'll probably find that the majority of shared content are 'likes' or 'retweets' of videos that people have found somewhere on the web. This proves just how valuable video can be when done the right way.
When used the right way, videos can have huge benefits in terms of SEO. In Rob Garner's book Search and Social: the Definitive Guide to Real-Time Content Marketing, he describes the various benefits of sharing videos on the web:
"Videos can be optimized just like any other web page or text article. Social signals for video help to increase visibility in search results and within the search results and discovery streams of a social network. Communities and social networks are built strictly around video assets, and these networks have internal search capabilities. YouTube (owned by Google) takes a very algorithmic approach to social distribution of assets and how it makes videos more visible within a network. Videos can be shared and embedded in social networks, which create additional social signals for search engines."
Video Diaries and Time Lapse
If you're running a daily, weekly or monthly campaign whereby you're updating your followers, customers and friends on progress on your current strategy or your latest development, maybe your office build or your new fitness plan, then consider running a form of video diary. This is much more effective, (and moreover great fun), than simply bullet-pointing your progress, especially where people are sitting at their screen thinking "come on then, show me your progress."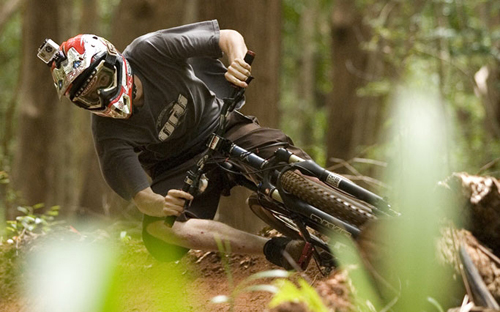 Go-Pro cameras are great for this. We used a time-lapse video for our office move and set it to take pictures every five seconds so that we could see the transformation from an empty shell into a fully operational office and it was a great watch – take a look for yourself here.
There's even a brand new form of wearable camera that has just been released onto the market from a brand called Autographer, which allows for spontaneous, hands-free photography. You can wear it around your neck or clip it onto your belt or bag strap so you can capture some truly amazing shots that you might not normally be able to take, utilising five built-in sensors, a GPS unit and a 136-degree lens. You can also tag and share the images using the various social networking sites.
Images
The natural instinct when writing a blog post is to do an image search for anything related to your topic. Using the same kind of photos everyone else has used can get very tedious and can actually put people off reading on. So don't just replicate, be creative and innovative. You're trying to show the world just how talented you are, not just to place a bit of content somewhere on the web.
Get out with a camera and take some amazing photos that will not only help your article make sense, but to enforce your message. One great way of doing this is through Instagram. Yes, you might be realizing that I'm a bit of a fan, but photography isn't just great fun, it's a great resource. Using Instagram you can turn a routine picture into a work of art and before you know it you're getting new followers and likes on there too. It is, after all, another social sharing platform not just a photography app for smartphones.
If you're putting an image into any piece of content, it needs to stand out and actually be effective, not just a picture on the page. That is why I love Instagram so much because you can play around with and personalise the photo you've taken. It's not like a normal camera app whereby you can just take the picture, maybe reduce the brightness and then insert it into the content.
You can actually change the whole meaning of the picture. If your focus, for example, is the sign your subject is posing underneath, then you can switch the emphasis by changing the filter and editing the focus turning it from a picture of your friend on holiday, to a picture of your friend standing underneath a sign for Stupid Street!
Another real bonus to Instagram is the ability to use hashtags. Topics can be seen from around the world using hashtags on Twitter, and the ability to do the same with your images will help you to promote either your latest product, blog or thought with people who don't necessarily follow you, but they're talking about the same thing. Using the hashtags, users can search for content they want to see, and brands can utilise them to see who is talking about their product or something from their range to interact with people who might not have heard of the company before, or reach out to a new audience.
User-generated content, such as the images shared on Instagram, have opened up new avenues for people to communicate with each other. There are more than 40 million photos shared on a daily basis using Instagram, (98% of which are also shared on Facebook), obtaining more than 8,500 likes and 1,000 comments per second . This shows that visual marketing and the use of quality images in content is now not just a gimmick, but essential.
One really good example of how to use Instagram is through Victoria's Secret, the most followed brand on the platform. Rather than using software such as Photoshop to transform your images, use authentic images tweaked using the filters to provide the maximum effect. If your company or brand doesn't have the access to catwalks and fancy studios to show off your product range, then you need to maximise what you do have to hand. You could, for example, show off the bubble bath you make by placing a bottle in a bath full of bubbles and take a photo of it and applying the most suitable filter. Alternatively you could show off how hard-wearing and waterproof your hiking boots are by taking a picture of someone walking through a muddy puddle, it's all about achieving the maximum effect from what you have to work with.
Images can provide a substantial amount of traffic to your site and are one of the most popular forms of search. If you can use images that can produce a large number of social shares, then visibility in results will certainly improve. All of the elements that help videos to rank highly apply to static images, too. Comments, likes, retweets and shares all create signals that the search engines and networks use when deciding on relevancy and, therefore, visibility.
Audio Clips and Podcasts
When writing for the web, you have to remember that many people are reading when they're short of time. They just want to be entertained for a few minutes, to get the information they need quickly and easily and to move on. Many are reading or watching on their lunch breaks or on the daily commute. If they wanted to spend all day reading then they would buy a broadsheet newspaper or a textbook.
For years journalists have been using Dictaphones to record what people say in interviews, and online copywriters should consider something similar with the content they produce. It seems as though everyone you see has a pair of headphones in and many listen to podcasts. These are a great way of catching up on what we've missed, such as radio shows or sports commentary, and could be utilised into "how to" guides very easily. If you can turn a 3,000-word blog post into a five-minute podcast, listeners might find it much easier to digest and they can listen whenever they get a spare few minutes, not just whenever they're in front of their computer or tablet.
We've been embedding videos into our content for quite a while, mostly through YouTube and many question just what they've achieved by using the videos. The truth is, as mentioned earlier, if you can see or hear something you're more likely to take it in than if you read it. This has been evident in numerous advertising, marketing and PR campaigns where 'new media' formats, as they've been dubbed, have proven to be a million times more successful than the traditional written article. So, rather than just writing "Chris said…" try utilizing the power of your subject's voice and hearing everything in the right context with the intonation and personality with which it was said.
Having utilised the audio in your content, transcribing it into written form can also be key, helping the listeners to go back when they think "oh what was that bit I missed it." Doing this also has a positive for you as the site owner or content writer as you can use the keywords form the pod or audio cast for optimisation purposes. They are also so easy to share through the various forms of social media that your interview, audiobook or just audible content could be going viral with the help of a few authoritative shares helping you to expand your reach and your number of followers and likes.
Embracing the New Media Platforms
The ability to use the various forms of 'new media' in your content can help you to add that extra element to your whole campaign. Sitting down and doing a brainstorm before you start writing is all well and good, but you often only think about the various aspects of the article you're going to write about. You might find that using a photograph can give you plenty to write about, and not just in a case of 'padding' the article. A picture tells a thousand words and often means that a simple paragraph beneath a really effective image is all you need. Why use hundreds of words when an image and a paragraph are all you need? You're much more likely to keep the attention of your audience by keeping your content brief, informative and entertaining.
When you create any piece of content, whether it's an article, an infographic, a Tweet or a podcast, it always helps to remember "the three e's" that you use when creating anything for social media. Keeping your content educational, engaging and entertaining will allow the reader or viewer to go away from your content feeling as though they've used their time wisely, learning something new and being entertained in the process.
Before you just fly into your next piece of content and apply any of the various forms of new media, however, you need to consider whether it is appropriate and which is the best format for you, your business or your client. After all, there is no point trying to produce an effective piece of audio on something that doesn't need it.
You need to consider the right strategy and the right audience. Work out whether you're going with a blog post, an infographic or producing a video tutorial and also think about the right audience. Are you targeting an age-bracket whereby video is not appropriate and you might be better off using static images.