The New PR > How to Target Digital influencers
We all know that in order to successfully build trust around your brand you need positive recommendation; the right people saying the right things in the right places about your products or services.
PR has traditionally played a major part in influencing that conversation, but increasingly the structural change that the digital age has enforced has rendered the existing PR model dead in the water at worst, and ineffectual at best.
The question then is how do we find the real movers and shakers now and get them engaged? As many will know that process begins and ends with high authority site outreach.
As any seasoned content marketer will know The Task of placing content is incredibly tricky and we have worked hard over the past three years to improve our hit rate in the face of increasing competition for pixel space.
It is through creative content that you are able to outreach to like-minded site owners who are likely to have an open interest in your brand, and who will also network within circles of your target market. There is a battle going on, so make sure you are ahead of your competition.
Outreach outreach outreach
Outreaching as a stand-alone discipline is often overlooked, but it is of greater importance than you think. Creating a blogger outreach strategy is a long-term process that will help to build your brand in to a trustworthy source of knowledge.
Once you know the genre, niche, and metrics of the blogs you wish to contact, it is important to begin relationships as soon as possible… You need to get there before your competition does.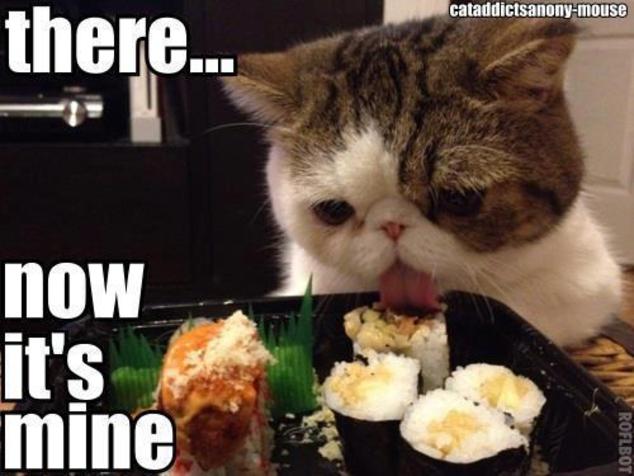 (Chime.in)
It can be a time consuming and frustrating process outreaching to blogs and high profile sites, but building these relationships will benefit you in the long run. We all know that Google is cracking down and content helps secure your brand's future. Outreach will play a major role in every brands quest for success. So jump on it now rather than later!
Selecting sites
When selecting a site to outreach to you must filter through those that are going to be of most benefit to you. Check the page rank, domain authority, amount of posts per week, average comments per post, followed by the amount of social followers they have.
Now…This is where it gets exciting, but also where the hard work truly begins. The goal clearly is to get the content you have created seen by a large audience. In order to do this the content must be interesting… That's easy right? Wrong!
You have to know what people want. Your content must be worth sharing. It must elicit an emotional response, and should always ask a question, or answer one, in order to grab the attention of the reader.
The win though is potentially huge if you get it right. High-profile syndication can increase the value of manual outreach efforts and even secure additional placements of your content. Having just one extremely trusted site host your content can add just the right amount of credibility to your next pitch. Take Huffington Post for example, it gets an average of 54,000,000 unique visitors a month… A MONTH! So think big first and don't just take the easy option.

To maximise the conversion here we have come up with a five-part process that should help you in your own efforts:
1. Build a luscious list
There are so many ways to create a list of the websites that you want to contact, but you must collate all of these in to one orderly database. Services like those from BuzzStream are perfect for keeping all of these lists together, especially when you have multiple projects on the go.
Through BuzzStream, you can set out your projects, along with organising them under their specific genre and niche. Once this has been decided, you can start creating a prospecting list. This is where BuzzStream truly shines. Use search queries, just like those you would use in Google, such as:
("content marketing" OR "link building" OR "seo blog" OR "seo advice") inurl:.ac.uk
inpostauthor:guest
(content marketing or seo) (inurl:links or inurl:resources)
You can find more search queries here: googleguide.com
From this you will be able to find those sites that have guest writers, and are likely to accept guest content. You can use these queries within BuzzStream, or within a Google search. All it takes is an hour, and then you will have a list of sites that are relevant to your end goal, whether it is for link building or for marketing your content.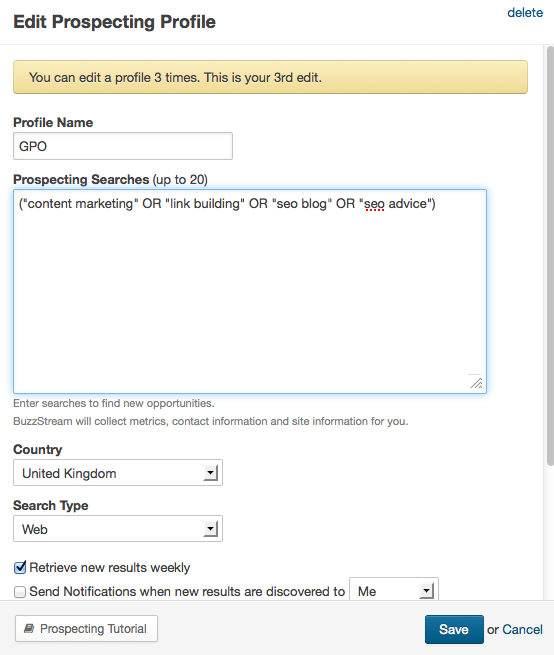 Once you have your list you can filter through these to find sites that have a higher page rank, domain authority etc. It is important to note that sites with a page rank of 2-4 are possibly going to be more willing to accept content for their sites, but again this is not always the case, and as a rule of thumb I recommend always targeting the higher-ranking sites first.
Buzzstream image
Other top ways to help build your list are:
Google search queries
Majestic SEO
FollowerWonk
Duckduckgo.com
On page URL finder
2. Research and befriend
The site owners you are about to contact will be inundated with content marketers, writers, journalists, and countless spammers, so you need to make sure you stand out from the crowd by doing the following:
Be human! Have a voice, and don't be scared to use it.
Read the blog, or at least a section of it. This will enable you to refer back to it in your email.
Always compliment the site owner on something you actually believe is good, you must be sincere, and ask questions, start a conversation.
Find the name of the person you need to contact, so that you can address them directly, and not appear as a robot or computer generated spammer. For example: Hi Helen…
Find the voice of the website in order to tailor your writing style. Decide whether you should be formal, informal etc.
Comment on their blog, follow and connect with them through their social networks.
Remember they are human too. Don't forget to say thank you!
Use the phone and aim to meet key people. This is perhaps the piece that the majority of digital marketers forget, being used to living in a world where physical contact has not been necessary.
Never fear The Unknown. What's the worst that can happen? They say no. The fact they have replied is a foot in the door! From their reply, you have gained a direct contact email address and a name. BOOM! They took the Bait, and that's what we wanted. From here on in you can keep in regular contact with them and sell yourself. After all they are human and getting in to a conversation with them may be all it takes for them to "review" your content, to then accept it and post it. DOUBLE BOOM!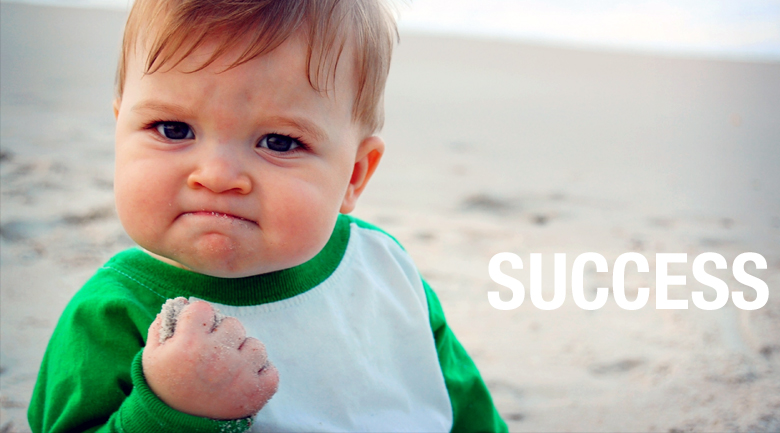 3. Quantity and quality
Email is the best initial course of action, alongside social channels, and responses should come in thick and fast with the right message. Even if you've sent out 100 emails and only ten email you back, that is still a success. This is not the game to be in if you fear failure. Always brush yourself off, learn lessons from the emails you sent out by monitoring the success rate of different email campaigns. And ALWAYS follow up with a phone call wherever possible. Often key influencers are on this stuff full time and there will be a way of talking to them as a result.
Sales techniques
In sales training you are often told to take three no's and then go. Yes you are still essentially selling your content, but this is a different game entirely. You will be constantly developing the content you outreach, and a reply is a reply after all… You have a name… Now nurture!
Even though it is important to understand each blogger as an individual, it is still a numbers game, but the aim is still quality. It is your job to find those sites most relevant with the highest authority that will accept your work. Set a goal to have at least 100 websites or blogs within each niche to outreach to on a regular basis. In order to do this you need to tailor and personalise you emails.
A lot of time and effort is about to go in to your outreach strategy, so you need to ensure you receive a return on it. Once you know the name of the site owner, and he's called John, for example, refrain from calling him Jon, it won't go down well! Get the right name, and get the right spelling, and you will notice that a little bit of attention to details goes a long way!
Email creation
When creating an email, make sure you keep it short sharp and to the point, whilst keeping the intended reader intrigued enough to reply and ask for more information. Highlight the opportunity you are giving them, with the benefit they receive, along with the experience you have which enables you to offer this service to them.
Don't just take advantage of the quick wins though with a low PR, they are only for the short term, you need to be building for the future. Just as Marcela De Vivo recently stated in his post for the Search Engine Journal: '[We] hope you understand that publishing lots of low or medium quality articles won't help and that buying links or joining blog networks will only result in grief in the short or long term.'
4. Respond and repeat
Once you have sent out a substantial amount of emails, it's not time to sit back and wait, oh no… The devil finds work for Idle Hands. Carry on building on the relationships you already have and engage with site owners in as many ways as is possible to show that you really do have an interest in what they do and what they stand for. Don't think that it stops at emailing and socially networking, pick up the phone… These people won't bite…
And that is really the critical piece to all of this. So many stop at the technical outreach stage, are great at crafting emails and finding the right people to communicate with. But are bloody awful at building the relationship, and this is where traditional PR skills come in.
We work hard to nurture relationships, calling regularly and meeting where appropriate. Occasional 'surprise and delight' gifts can also work incredibly well to solidify the relationship. Who doesn't like receiving unexpected freebies!
Don't get disheartened
Things are not always rosy though. If you don't hear back, don't worry. It's easy to get disheartened when contacting bloggers who don't respond or who stop responding, however, it's important to remember that they are busy people too. Don't be defeatist. Check their twitter feeds, comment on their site, and try again. Around 50% of bloggers will get back in touch with a little patience and persistence.
For those that don't respond try to send at least one follow up email a month, work on the subject headers and the way you address them. It's all about trial an error. Within the content marketing industry, the average email click through rate is around 2.4%. HubSpot recently increased their CTR to 16.4%, which is 583% higher than average. This was done by simply tailoring the email and being selective to who the email was sent out to. 'People who want to receive your email are much more likely to love it and click on it than people who have never heard of you.'
5. Concise and creative
As a content creator, the world is your oyster. There are many success stories of those who have grown their sites by publishing content daily. The key to this is being creative.
In order to make shareable content, we need to research the topic we are writing about thoroughly. You need to enjoy writing an article and this will shine through. It must also elicit an emotional response in others. Make sure you use a variety of sources and create a folder of over matter. You don't want to waste time researching for one article when you could create a string of influential pieces. This saves time and helps you to build up knowledge in a particular niche. You will then be able to easily pitch new ideas to bloggers already interested in your work.
In order to find ideas for an article you are about to create, I recommend using the following tools at the start of a month in order to compile a list of interesting articles:
ubersuggest.org
www.icerocket.com
www.alltop.com
Zazzle's well publicised Creative Process
Want content that gets shares?
In order to create good content you must read good content. For some great ideas for checking what is getting peoples tongues wagging, check news sites! The following sites are great for getting ideas around trending topics of interest to lifestyle influencers:
www.tmz.com
lifehacker.com
www.funnyordie.com
www.huffingtonpost.co.uk
www.cracked.com

In order to succeed in outreach you must have your finger on the Pulse. When you contact someone, always think… What's the worst that can happen!