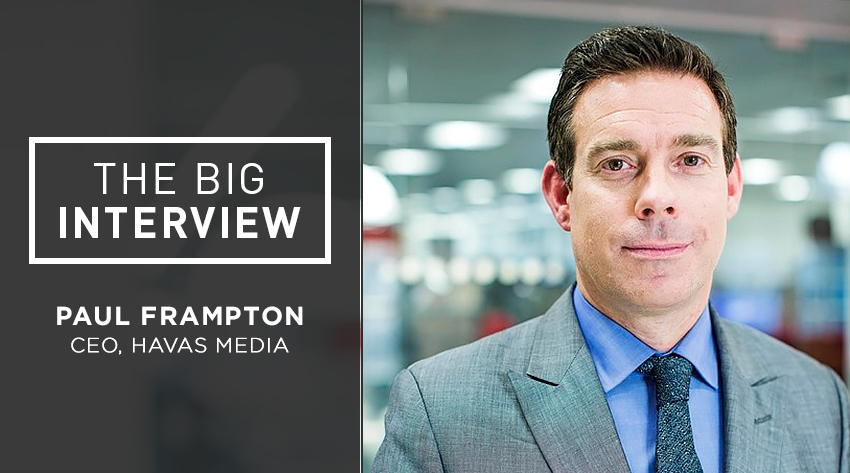 The Future of Digital > An Interview With Havas CEO Paul Frampton
Havas Media CEO Paul Frampton is in a bullish mood. As the energetic leader of the 'smallest of the big six' media agencies (his words not ours) he sees a very bright future for those able to keep up with the rapidly changing digital landscape.
It's something the 17-year Havas veteran has been working on incessantly since he took the helm 16 months ago and hot off the heals of two exciting data company acquisitions the company is now on a mission to transform its culture to empower its people and prove to the world that even the largest businesses can no longer take the 'we're bigger so better' approach.
It's Meaningful Brands concept is something that now oozes throughout the entire organisation and as Zazzle sat with the 39-year-old in a side office complete with red 'front door' we wanted to find out what's next in digital…
Running a multi-faceted media business like Havas gives you a real 'whole of market' view. In your opinion what are the three key areas of growth within digital right now?
For me, this is a very simple answer. All things data and content led are evolving at a furious pace and the evolution of how buyers and sellers are trading through programmatic and using other marketing technology to automate underpins both. So data, content and technology.
What are your clients asking you for most?
How they transform from a broadcast first model to one that is centred around engagement and balances the importance of both fame (brand) and fortune (response).
What does an 'average day' look like for you?
There is no such thing which is why I love my job. I thrive on variety and change.
What motivates you to get out of bed every day and find the energy for such a demanding job?
We work in the most exciting industry that is constantly developing and we are fortunate enough to get access to some of the best experiences as a result of this.
Give us a little background on how you came to take the hot seat at Havas…
I have, rather unusually, spent my entire career at Havas. I have never been one to conform and early on I spotted that there is so much movement between agencies, so I would try to push against the tide.
I am a huge advocate for taking initiative and showing loyalty and when I tell my staff this story, I point to the fact that I wrote the job spec for my three last roles, namely Head of Digital, MD and then CEO. The majority of people hit a ceiling in the agency they work for and then look externally for something new.
My advice is to look inside yourself for how you can adapt plus what you can do to change either the blockages or people around you to succeed. We work in a people business so it's all about people selling to people by better understanding people. Period.
You invest a lot of your precious time on social and have made it a key focus internally for the group. Why?
Four reasons:
1) I have a huge appetite for shiny new things and every time I spend time on Twitter, I learn.
2) I feel that as a modern leader, it is imperative that I am active and accessible on social media. Leadership is changing and authenticity and a voice in a place where most of my talent spend their time daily is critical to the success of my business.
3) While Twitter is populated largely by the marketing community, it is a superb targeting tool for sharing the Havas story with the people we care about. It still amazes me that others miss this opportunity.
4) I am a frustrated journalist. I started an NUJ course and then jacked it in for media. A smart decision but I love the power of language, words and storytelling and social media and micro blogging satisfies my inner muse.
Which is more important, data or content to the future of marketing?
Funnily enough, I think I may have already answered that above…both are equally critical and it is the agencies and brands that can join the two and bring medium and message back together to deliver meaningful experiences that will win.
Which area of the business do you see the most growth coming from in the next 3-5 years?
The data part of our business is the fastest growing. We acquired an incredible business called Elisa Dbi and they are experts in marketing technology and a more consulting based sell. I want my agency to evolve in to a marketing services organisation that solves any marketing conundrum that a CMO or Marketing Director has. For me, the future is about providing marketing solutions across owned, earned and paid channels, not just piling media high and selling it at the lowest price.
Which areas excite you most when you look into the future?
The opportunity to re-boot the advertising model to make it more meaningful and useful to people's lives.
How do you see the convergence of digital and TV playing out?
My firm belief is that much of the UK TV industry is in denial about the shift coming. TV is today in rude health for sure and people are watching a lot of live TV but amongst millennials who will be the core audience of the future the shift to video and device based viewing is huge. The long term shift is in my mind inevitable, it's just how long certain organisations choose to fight against it.
What was the last book you read? And your favourite…
Hatching Twitter was the last book I read and is highly recommended.
My favourite though still has to be To Kill a Mockingbird. A brilliant example of writing and storytelling.
This was the first in our new series of digital thought leader interviews. Watch this space for the next one and sign up to our newsletter to ensure you don't miss the next instalment!