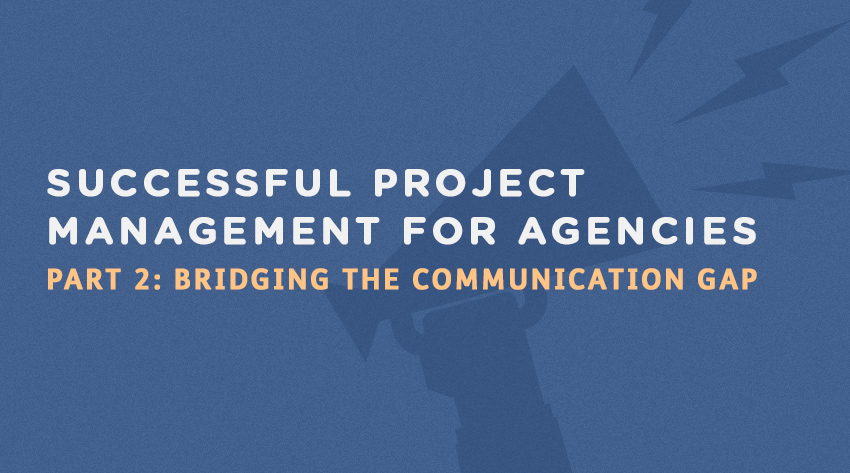 Project Management for Agencies (Part 2)
I've worked with, and learned from, several great agencies in my career – also a few bad, but we won't talk about them! When I think about what made those agencies great, I can honestly say one of the main reasons were the amazing account managers I dealt with and the world-class manner with which they approached their work.
To read part one first click here!
This often natural ability meant they were able to communicate the value of their team's efforts effectively and in a clear and succinct fashion that their clients could understand. They could build relationships with clients quickly, establish trust straight out of the gate and regular, clear communications made working with them feel effortless. That's what made them memorable and highly recommendable.
If you are currently in a client-facing role, aside from your day-to-day duties, your priority is to:
Speak to clients in a manner that evokes confidence in your abilities.
Reinforce their belief that they are making a solid investment by working with your agency.
Demonstrate through words and actions that you value your client's trust.
Establish that your goals and your client's goals are one and the same.
Without this, your clients are probably going to start feeling a bit miffed. And then what happens? According to Clientheartbeat.com:
68% leave because they are unhappy with the service they receive.
14% are unhappy with the product or service.
9% decide to use a competitor.
Look at the first figure – 68%! That's high, but probably not surprising if you think about all the reasons you no longer buy from a particular shop or eat in a certain restaurant. Maybe that waitress was just having a bad day and your request for extra mayonnaise was one request too far, but the fact she stomped off to get it for you probably means you haven't been back, despite the fact the food was great and it's right on your doorstep.
So how can you, as account manager, project manager, receptionist or other, make sure you do you bit in keeping your clients happy and committed for years to come?
1. Start with being grateful
In the agency world, without clients, we have nothing. Every employee, client facing or not, needs to keep that in mind when dealing with, and producing work for, their clients. Clients won't always appreciate the fact that you were up until midnight finishing their 3-month strategy but regardless, you must appreciate the investment they are making with your agency. Never forget how much they are spending on just a 30-minute weekly call.
2. Realise there are three sets of KPIs for any account
Client-Agency KPIs:
These are the official targets agreed upon at the start of the contract between the agency and the client. It's the basis for all of your reporting. As a digital agency, we usually use a variation of traffic, rankings and conversions as standard KPIs but whatever you choose ensure they are realistic and achievable. Do not promise what you cannot deliver.
Client Company KPIs:
These are the metrics you don't report and likely don't have access to, but the client will likely care about them the most  – i.e. churn rate, profit margin, revenue by channel tracked outside of analytics, etc. Don't be afraid to ask about these KPIs. They can give you insights ahead of time and create a bigger picture view of the great work you're delivering and its effect.
Point of Contact KPIs:
Just like you, your contact is probably trying to grow professionally, is working towards that promotion and wants to be the blue eyed boy/girl at the next board meeting. If you can help them hit their short-term goals and present yourself and your agency as an asset that can make their life easier and make them look good in front of the boss, they will be your biggest advocate at the next procurement meeting and retain you to help them hit their long-term goals.
3. Be The One Who Makes Their Life Easier
Whenever you communicate with a client, remember that you might be speaking with two audiences – your individual point of contact and everyone they forward important information to. It is vital that all communication you send to a client is clear and concise to avoid your client needing to explain everything they forward along. We always aim to communicate with our clients in a way our parents could understand. Your point of contact might know everything there is to know about SEO but that doesn't mean the MD does. Keep it simple! If your emails and reporting can be passed on to other parties effortlessly, your point of contact will have a bigger incentive to keep you around.
4. Ask Questions – Often
Goals change for companies over time, and that isn't always communicated to an agency. Great account managers ask questions about a client's business often and formulate strategies around that information. It adds the 'Why' to the 'What'.
Ask about lead quality, conversions, phone calls – get a feel for how your efforts are impacting their business. No matter how much traffic you drive to their website or how many links you build, if your client doesn't 'feel' like you're adding value they aren't going to retain your services.
5. Always Be Prepared
Always go to a meeting, whether in person or on a call, prepared for any eventuality. Clients want and need you to be ready the second the meeting starts. Leaving your meeting with a bunch of questions and no answers is a quick way to lose a client.
6. You have two ears and one mouth – so LISTEN!
Us digital marketers are a smart bunch. We can create amazing content, get clients out of penalty and work wonders with code but sometimes we get wrapped up in what we do and forget to listen to the people who are actually paying us.
Clients will have difficult questions and legitimate concerns over the course of an account, sometimes because they're unfamiliar with the subject and just need some reassurance. Skipping over those tough topics, not listening to their concerns, and avoiding awkward and difficult discussions is the mark of a weak account manager.
A great account manager is one who identifies potential issues before they become problems and addresses the situation directly. Sometimes it can be frustrating, especially if they're questioning the way you do things but as I've mentioned before, not only is the client always right, they're also paying your mortgage! Their spend is keeping you in the latest trends. Respect that and respect them.
7. The Little Stuff That Show Clients You Care
This is a list of all the little stuff we like to do here at Zazzle. We think it's just as important as the big stuff, if not more so.
– Updates, updates, updates! OK, there is such a thing as overkill but do let your contact know when things are going well, or not so well, as the case may be. Trust me, they want updates, good and bad.
– You've noticed they're online, why not check in and say, 'Hi, good weekend?' Become more than a contact, get to know who they are, not just what they do.
– Going on holiday? Let them know when you are going to be out of the office in advance, arrange for a stand in contact or get ahead with work to ensure they don't lose out because you're sunning yourself in Ibiza!
– Avoid rescheduling meetings where possible.
– Christmas is a time for giving, right? Why not send them a card or small token to say thanks for their business that year and express your excitement to be working with them in the year ahead. Who doesn't love to receive a parcel at the office, especially now in the age of email and digital comms? A good old pen & paper note can be a real pleasure to receive.
Learn the names of new team members who join the weekly call, they may become your new point of contact.
8. WIIFM?
It's not just the client who wants to know, 'What's In It For Me?' You want to get somewhere too. So, when the going gets tough and you just want to skip this week's report or miss that weekly call, remember that great account managers who retain and grow accounts are the ones who move up the corporate ladder quickly, often into leadership roles. Mainly because impeccable social skills, solid strategy and empathy are the marks of not just a great account manager, but a great leader who people respect and listen to.
To read my first post on Project Management for Agencies 'Putting Your People First' please click here.