Maximising the Social Impact of Content
We write content for a manner of reasons; to discuss the topics of the day, to share thoughts and feelings, information, entertainment and everything in between.
More commonly than ever sharing is being utilized for business. Whatever your purpose for writing and sharing, you should always have the thoughts in the back of your mind – "who is going to read this" and "what is it's purpose?"
In a time where content has become one of the most valuable marketing tools a company can have it is worth remembering that it's the consumer, or end user that should define what is created, not what the writer, or creator, wants to create. My theory is that if you're putting your name to something it should be your finest work but just as importantly it should add value and make the 'reader's' life better in some small way.
Creating online content creates huge value in many ways for business as a medium with which to create audiences of value over the long term. That means aggregating targeted, relevant visits from every channel possible, whether that be from search, social, brand or referral 'traffic'.
Some companies are being more ambitious than others of course, using content as part of a wider plan to increase social engagement and reach out to audiences all over the world, not just the people who already visit the site.
Even if your aim is simply to get a link on a high quality site, the first place you should start to promote your work is across social platforms. You have friends and followers who will help you to spread the word of your amazing work, and from tiny acorns grow mighty oaks – you'll soon be the talk of the web… if you get it right of course.
Let's now look at how you can maximise the opportunity via social by creating the right kind of content consistently…
Social Media
Marketing your content – or whole brand – across social is a lot more complicated than you might think. For instance, you might have a client requiring help to grow their audience from 400 likes to 40,000 likes or it may be much more about getting key engagement from a pre-existing audience. You must start with clearly defining those key KPIs so all effort can be channeled into the right area.
The problem is, most businesses don't do the above and believe the answer to everything is simply to post as many things as possible, as regularly as possible. However, as Ben Harper, Zazzle's head of social wrote in recent post: "Likes and other engagement metrics are only half of the story."
While it's key to a social campaign that the content you create gets shared, you need to ensure that it is worthy of the viewer's time and that you keep a close eye on what does and does not work.
Without being able to monitor the successful posts and the flops, you could be wasting some serious time, effort and money so learn to pay attention to your audience. After all, it's them reading and watching, and them you need to target.
So, what content do you share, and how do you go about getting other people to re-share it? After all, if it were as simple as "creating material and watching the people come", we'd all be doing it.
Visual Content
We all know the value of a truly great video or image. Within a matter of minutes a video of something like a child falling off a swing into a puddle could be viewed by millions, and social networks have played a huge part in our ability to reach new audiences in this way.
If used in the right way, as we recently wrote about, videos can prove to be the difference between your average, routine content marketing campaign and getting that order from a huge brand willing to give you the big bucks because they're so impressed by your offerings.
Zazzle content marketing exec Steph Grove explains "Video within a content marketing strategy is still a unique and brave decision to make, but one that should definitely be considered, before you get left behind."
This sums it up perfectly. Businesses are getting left behind all the time because they've found one method that works, and stuck with it. However, that method might have worked for them for five, even ten years, and now it's time to move with the times and attract the sort of people looking for vibrant, innovative services – especially in digital, with its rapid change of pace..
Video has a number of SEO benefits as well of course. Imagine if Gangnam Style had been created by a business as a content marketing campaign. The official Youtube Channel alone has earned more than 1,000 links and a hugely valuable backlink profile, which was created simply as a result of it 'going viral'.
Having access to the likes of Vine and Vimeo has made video even more cost effective and accessible as a medium and already the uptake as a content type in the general mix is on an upward trend.
This video is just one example of how businesses and other groups are using Vine to keep their customers, fans and followers updated with the latest events.
Lancashire County Cricket Club have been renovating their ground in recent years, and used Vine to show the players coming out of the refurbished changing rooms and out onto the field for their pre-season picture. It's a great way of showing the latest news, rather than just putting a news article on the site, and it's much more likely to get seen around the world by those who might have no interest in the team, but the ground developments.
Written content, such as blog posts or news articles are great but they tend to focus on people who know what they're reading. There is normally a reason that people are on a specific site, and more often than not you tend to have an interest in that particular brand or product so your news and blogs needs to be tailored to those people. However, that doesn't mean you have to stick to cold, hard facts and industry news.
You can still show your vibrant, personable traits even in a news article. If you stick with a uniform tone or style, you're running the risk of losing your audience's interest.
For example, 600 words of standard, industry-specific text with no images or useful links and references might work for a few posts, but not twenty. Mix it up a bit and keep your style looking new and moving with the times. If nothing else it shows your audience that you're cutting edge and up to speed with topical, current innovations.
Leo Widrich from Buffer App recently wrote a piece titled "What makes content spread: The anatomy of a post that got over 500,000 likes" in which he mentions that we only skim read 20% of web pages.
This proves that the words we do use are very important. If you've got the reader for 20% of the time, you need to do something that encourages them to spend longer and read more.
In the same article, Leo includes a graph showing the correlation between word count, and shares. The graph, from Carson Ward of SEOmoz shows that it's harder to keep the attention of the reader and to get them to share, the more you write. More from Leo later in the piece.
So What Now?
So, now you know how to use social media and both written and visual content types to get maximum effect, here are a few tips and examples of how to make that content as shareable as possible.
The headline is one of the most important parts of any content. As with most things, you only get one chance to make a first impression, so make it count. Really consider the title of your piece, as that's often what will be marketed.
If your content is shared on Twitter, for instance, it's most likely that only the title will be shared because of the 140-character limit, so make every single one of those characters count!
If you know that there's a hot topic of the moment, get involved! If you can give it your own spin, putting a sense of humour into a "dull" but popular conversation, then you'll get plenty of views for being unique and not simply regurgitating the same thing.
Share your opinion on the topic, that's a great way of getting shares and likes, but be prepared for people also challenging your thoughts. If people reading or watching your content take a look and laugh at what you're saying, or maybe want to get involved in the conversation, then you're doing your job!
A lot of top journalists and musicians sell papers, magazines or albums based on what they write and say, and you can treat your content the same way. Just remember to draw the line somewhere – you don't want shares for the wrong reason!
"I don't even know what that means." "No one knows what it means but its provocative." "No it's not…" "It gets the people GOING"
Have you ever seen the full Tweet or comment that goes with a shared link? Quite often, as mentioned earlier, it's just the headline that gets shared, but many times the person sharing might add a comment, or if they don't do it with the 'share', they might add something to the bottom of the article, like "Really great piece Chris, thanks!" (Hint hint), or "I've found that this one works better, but I agree with a lot of what you said."
Encouraging people to get involved in a conversation will expand your reach, because they'll either keep coming back to see your latest installment, or they might follow you or like your page because they value the personal interaction they get when you discuss the article or video.
"Sharing will get more and more specialized per social network"
Digital is becoming increasingly social, with increasing numbers of sites looking to get in on the act. The more people and businesses discover social media and the advantages it offers, the more saturated the market is likely to become.
Many sites attract an increasing amount of their audience through their Tweets and status updates, and also their videos and online competitions. But once a rival sees your efforts the more likely they are to replicate them in some way.
This obviously means they take away some of your potential market, putting you not necessarily back to the drawing board, but making you re-evaluate your social strategy.
Buffer App's Leo Widrich confirms this theory, predicting that social campaigns will need much more planning and a greater strategy in the near future. "I believe sharing will get more and more specialized per social network," he speculates.
"For Facebook, your sharing has to be uniquely different. There will need to be more photos, and it has to be more visual than it already is. For Twitter, high quality will be more and more important as they also implement an edge rank-like posting algorithm. If you pick any network, you will find something similar. You can't just throw the same message on each social network, I think that'll be the key."
It's been proven already that positive content is the most viral. If you can get something that makes people smile, feel good, or laugh, they're much more likely to share it with their friends, family and colleagues than something that makes them feel nothing or depressed.
That isn't to say that content – in any form – that doesn't make people laugh won't get shared, however, as often videos, images and articles that are serious and aimed to "hit home" get just as many shares.
You only have to look at Tweets about topics like war or a death to see how many are retweeted, or tribute images to Baroness Thatcher this week – a topic that divides a nation, yet people are still sharing and discussing like crazy. For example, American President Barack Obama tweeted the following message about the late Mrs Thatcher, and at the time of writing this article, it had received 11,661 retweets.

Where Does This Go?
So, you have a rough idea of what does and doesn't go viral, but where is the best place to put your content? Sometimes what works for one campaign might not for another and it's all based around the platform.
For example, you might not know that sharing the same piece of content on Facebook will have different results to the same piece being posted on Twitter.
A lot of these results are based around the landscape of social media users, something Pew Internet recently researched.
They studied the demographics of social media users on sites like Facebook, Twitter and Pinterest and worked out exactly who each platform appealed to.
Instinctively, these people are going to go to their favourite social networking site with their content rather than looking at what is perceived to be the best platform for that format.
This is a rough outline documenting the best platforms to share your content (H/T Blueglass), and is something that we stick to here when promoting our own content socially as well as that of our clients.
Unsurprisingly, the likes of Twitter and Facebook scored well with articles and infographics, but rather surprisingly they didn't do too well with video.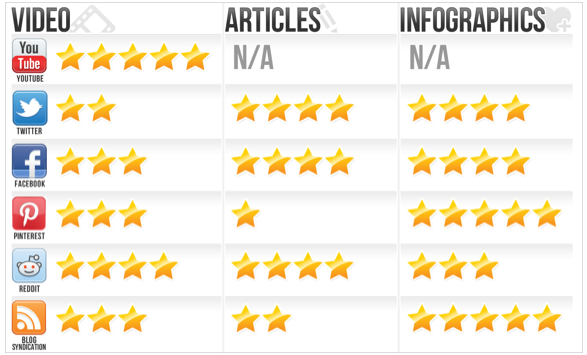 The best pieces of advice I could give anyone looking to get into content marketing, , is to be a storyteller – giving your audience a unique take on a topic, even if the topic itself isn't unique; and to take calculated but intelligent risks in an attempt to get your work "out there."
You have to be prepared to fail sometimes, you're not always going to break the office Tweet record for your latest article, just like you're not always going to make a platinum selling album, and like Manchester City aren't going to win the league this season, (had to get that one in!).
If you always strive to produce your best work, and distribute it in what you perceive to be the best place, then (1) monitor what you've done, (2) work out how you've done it, and (3) let this inform your future decisions about what and where to post. Don't just think because you've done something well once that it's a surefire success going forwards. As the social network trends change, so will your success rates. The digital age is evolving, and we must adapt with it.
How do you think social campaigns will need to change in the future as the market becomes overcrowded? I'd love to hear your thoughts and predictions as well as what has and hasn't worked for you. Feel free to get involved below.