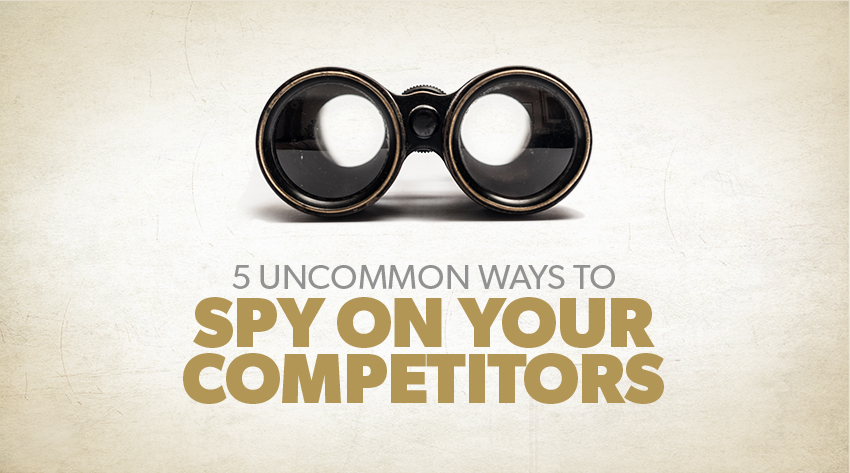 5 Uncommon Ways to Spy on your Competitors
There's nothing wrong with being very curious about your competitors – ultimately, their strategies determine yours, in one way or another. In this post I'm going to share some hands-on strategies you should use to monitor your challengers online.
Keep in mind that all the rules of ethical competing should apply on the web as much as they do offline. This is the only way if you're aiming for success and customer loyalty on the long run.
Before any tips, a term that we often use to describe this type of applied marketing research is competitive intelligence. The spying you can do online is legal and gives you a concrete insight into what's working in your niche.
There is nothing immoral about it either – I see it as an integrated part of professional research. Once you gain valuable perspective on lucrative strategies, you can use the information applied for your own business – and while it's a little sneaky, there is nothing wrong with being knowledgeable in your industry.
Track Your Competitors' Targeted Keywords
Survival of the fittest is perhaps the most essential marketing pursuit, but content evolution is roughly about textual performance. There's almost no limit to the amount of information you can legally find on a web page, especially if you know where to look for it.
With all the semantic search and philosophy of Google, keywords are still indispensable in making yourself heard online. Fortunately, if you use Google Chrome, analyzing meta-textual content is easier than ever.
Go to Menu -> More tools -> Developer tools (or Ctrl + Shift + i if you're shortcut friendly, to go directly to Inspect Element) and search with Ctrl + F for keywords. In case you want to see the meta-keywords of the page you're analyzing, instead of simply searching the words use meta name = 'keywords'.
The screenshot below was taken while inspecting one of Moz's blog articles. I used Inspect Element to search for the meta content descriptions. These usually help us in rankings as part of the on-page optimization of a site. It doesn't hurt to see what an influencer in the niche is doing to keep the site on top of our Google search results.

If you're looking for a dynamic tool for usable content inventories, my best suggestion is Competitive Analysis Tool. It is a paid service, but the free trial will help you decide if you're interested in turning it into a long term commitment. The integrated analytics give you insightful reports that are easy to interpret and come in pretty shapes as well.
Another powerful way of testing the content of your competitors is to virtually test the customer experience: subscribe to their newsletters, visit their site more often, see how their web design emphasizes content. Read their blogs and see what seems to stir their interest, then ask yourself what you're doing differently and who's performing better.
A tool that can be used for content analysis is SimilarWeb. The stats it provides are about organic keywords versus paid keywords. You can use them to have an idea of what your competitors' competitive advantage is. Knowing what they are willing to pay for in order to be seen better is the same as seeing right into their communication strategy.
Reputation is hardly a matter of luck. It is the consequence of solid strategic planning instead of getting viral for no trackable reason. BrandMentions is a tool that alerts you for the brands, keywords or topics you're interested in. Some like to engage in public discussions. Others just quietly keep an eye on them from the comfort of their office chairs. This tool saves the day for both, giving you the advantage of constant web monitoring.
Knowing your web mentions allows you to reframe your link building strategy. This way, you can reach out to people who are already interested in your brand.
Skittles and M&M have disputed every percentage of the market share they currently have.
I can't stress enough how relevant it is in a tight competition to always be informed of what the other one is planning.
Web mentions are a very effective way of tracking your competitors' strategies. They can give you great insight. For the sake of this argument, imagine for a minute that I'm the brand manager of M&M. From this position, I would very much like to be up to date with what my competitor is doing and what people are saying about it.
And as much as Social Media is relevant when you want to keep the game going, blogs and forums are where people actually express their thoughts freely – what they have experimented and how it went, what they liked and disliked, etc. The reason is that they feel less exposed out of social media – blogging feels intimate, while social media has a public vibe. Blog posts are more reliable too. But enough with this.
I'm the M&M brand manager and I'm curious. It is the first line of my job description to be so. So I monitor the web daily for new mentions about Skittles. While doing so I come across this article.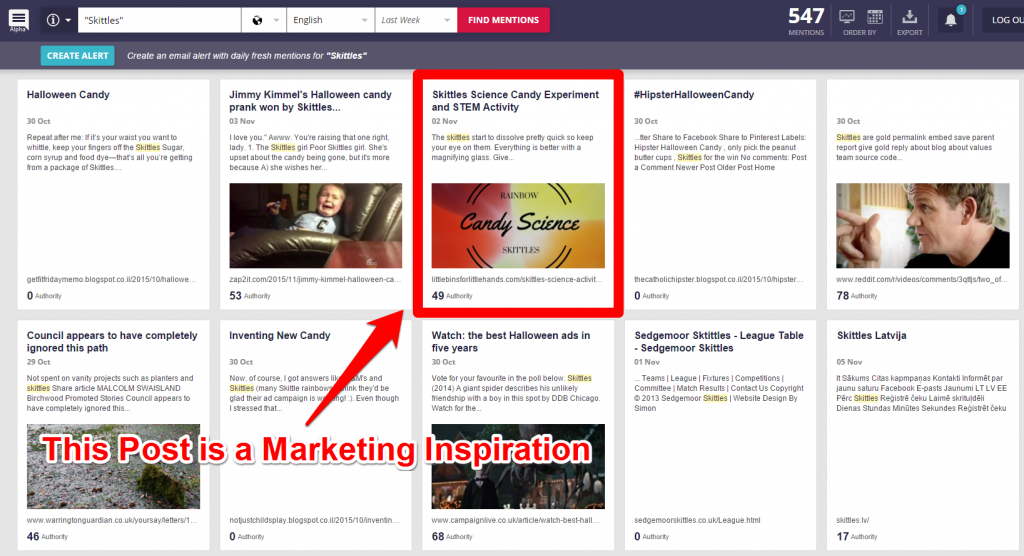 It is about my competitors' customers, trying a little 'science experiment' for kids, showing the desolvation process of the candy colors, in water.
Besides giving me insight on how my competitor's product is used, this web post also gives me an idea. I couldn't possibly try desolvation examples – after all, all my candies are covered in chocolate and this would be no fun.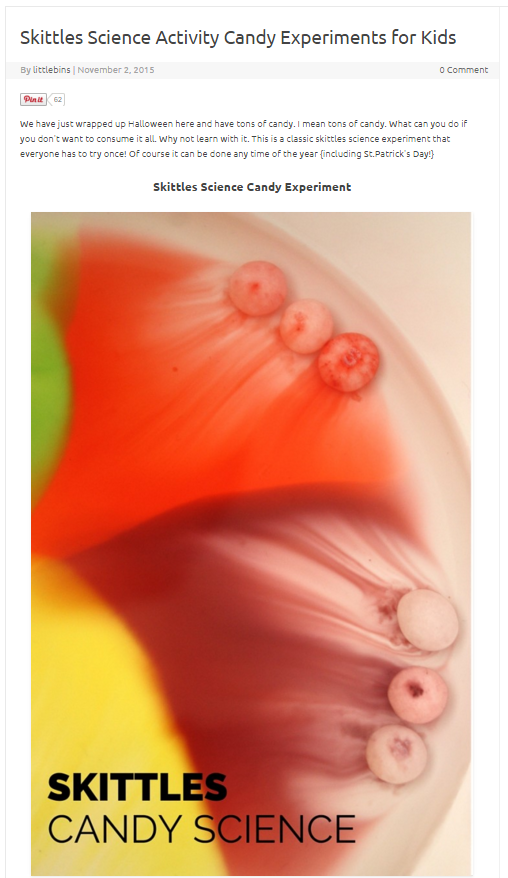 Instead, I could make a video series explaining different reactions in the human body and their factors, starting from children's facts. For instance, a first idea could start from 'Why Mommy won't let me eat chocolate after dark', and explain the effects of caffeine, in a playful cartoonish way. This should bring as much engagement as the home-made science experiment of my competitor.
While they're equally good ideas, mine will benefit of exponentially larger popularity than a blog article. And it all started following my competitor's moves.
Being popular is not going to last unless you scan the exact reasons for why and when it happens, knowing what is done right and where you should improve your strategy based on the results of both you and your competitors.
Being notorious is not just a question of who says what, but of 'why do they?' as well. And since traditional quantitative research leaves us with many unanswered questions, it's time to listen to the crowds.
It would be a pity not to find strategies that have already been implemented and work. And while no success has ever started from being a copycat, a little inspiration is always part of the research.
 3. End of the Advertising Struggle
Many times the idea of a bold marketing mix revolves around the best practices in your industry. Track them down. Monitor what's new on the web and find out what competitive advantage helped your competitors outrun you. Although it's best to go for the marathon instead of the sprint, most of the people use paid ads on the web to gain awareness.
According to a study published in 2013, 41% of the people don't even know that Google Ads are a form of advertisement; updated in 2014, the number changed to 36% – which is still a lot.
Use special tools to detect who does what in your niche in terms of online advertising. Two very proficient alternatives are moat.com and mixrank.com. Without having to register or login, you will just find simple answers.
Supposing I'm an average-sized shoes company. I'd like to know what the giants are doing.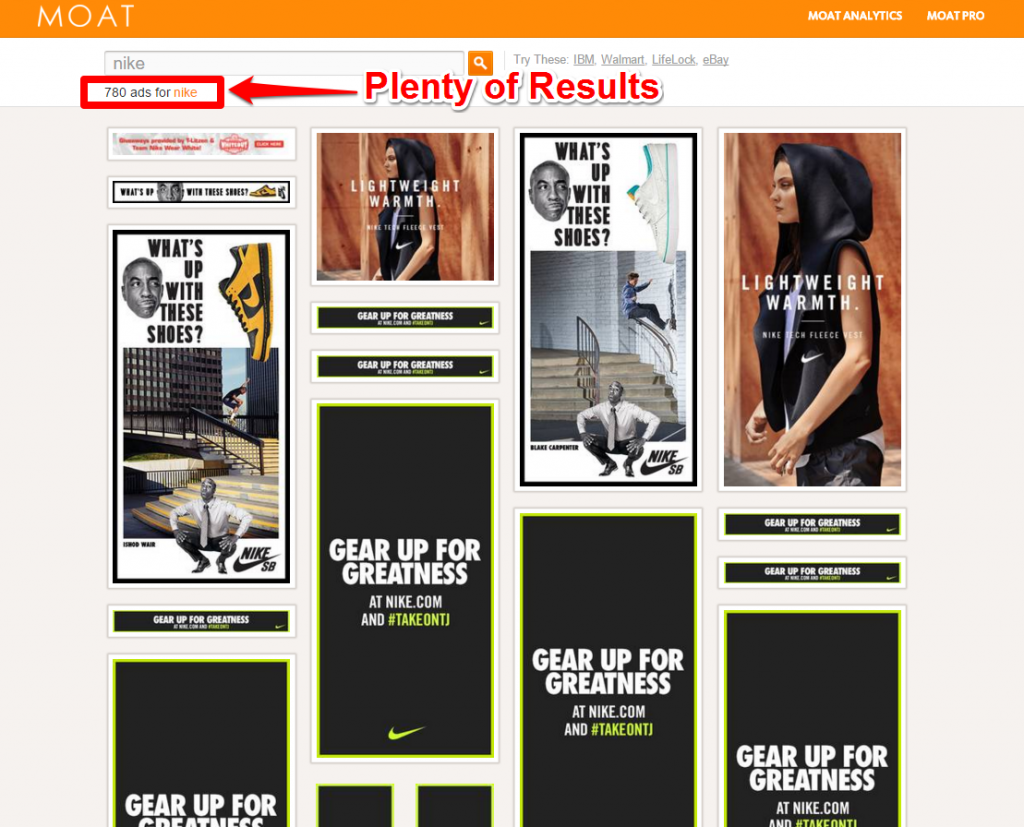 Not all the campaigns resulting from your search are new. As you can see from the screenshot above, scrolling gives you access to older posts. This is great news because it gives you insight into the overall image of your competitor's marketing efforts and what they head towards.
If the product/brand you're searching is too broad, you can dig deeper – the more specific the search, the more relevant the results.
For instance, I've narrowed my search to nikegolf.com, to get more specific results. The additional consequence is that there will be less returned prints, as the advertising campaigns for this sub-niche are more specific and confined. The obvious advantage is that I've got a clear-cut point of view on a tinier target – which is, therefore, more precise and accurate for the needs I will have to address in my campaign.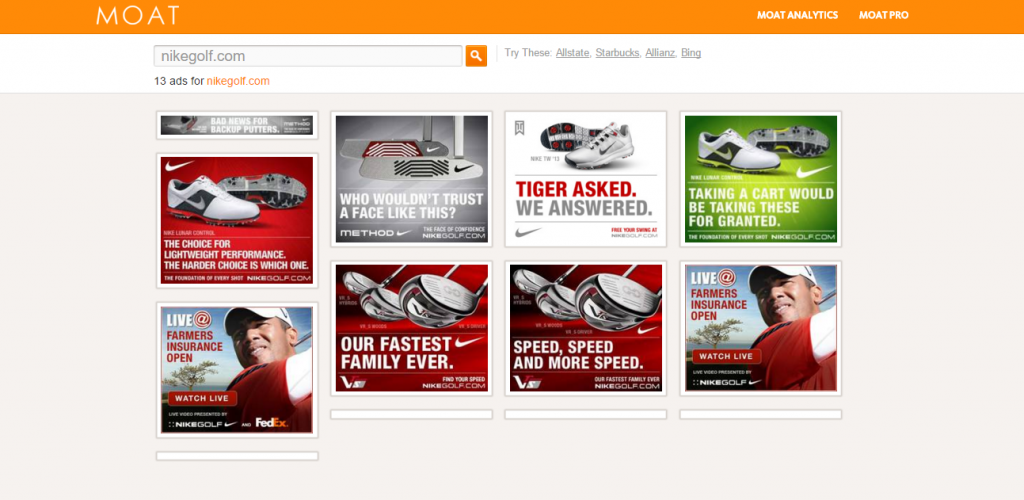 4. Monitor Competitors' Sites Web Performance
Unlike in 1995, performance online is about an entire mix of features – and they all have to work like a Swiss watch. The problem is, when you're trying to track down the good results in your competitors' rankings, abstractions can be your enemy. Here's a series of things you should always take into consideration when thinking of web performance (your competitors' as well as yours):
Code accuracy – there's nothing worse online than thinking of great content that people won't get to read because of technical errors. Now you can constantly monitor the errors in your competitor's' code as well as your own with the W3C validation page.

Code results – mistakes in the code can contribute to low rankings by search engines, which may alter your online performance in various ways – just like a rotten apple that still looks appealing, but not for long. It's best for you to stay updated using Google Developers on a regular basis. Monitor the page speed and user experience for both mobile and desktop instantly, along with suggestions of what you should fix.
These are the results from nike.com. Another way you can use Google Developers is to see the loading time of a site. Being a reliable source today implies working on expected parameters.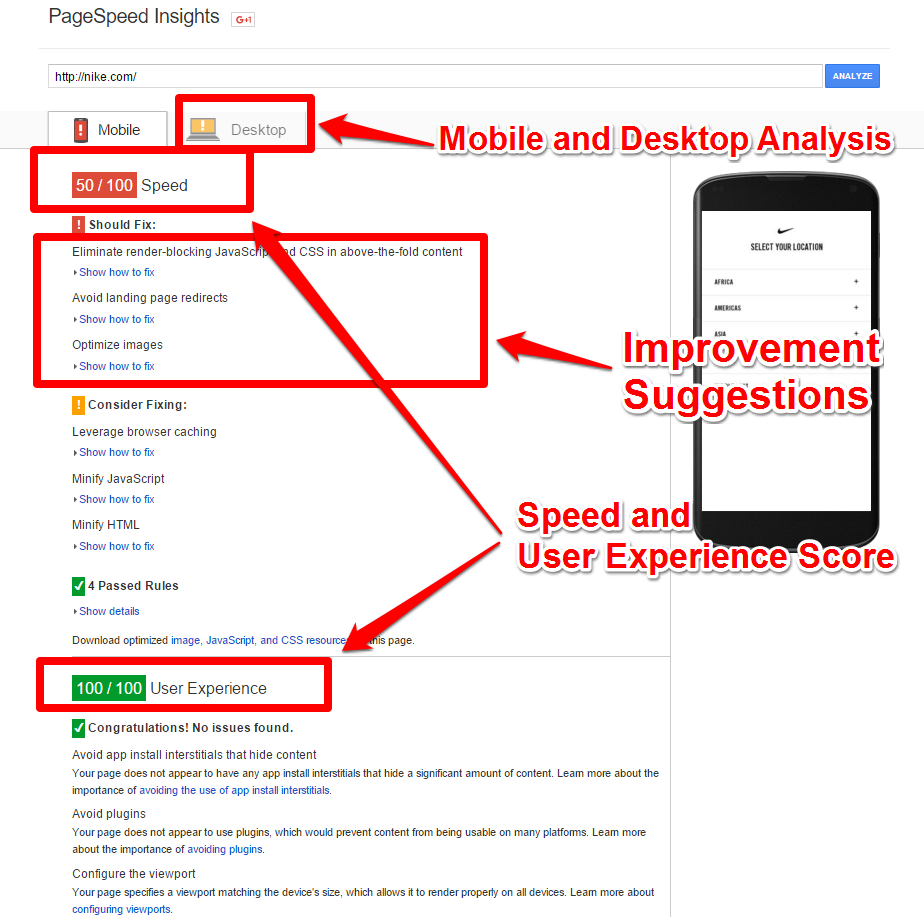 Another option you have especially for the mobile version of your site and your competitors' is the mobile friendly test, also part of the Google Developers project.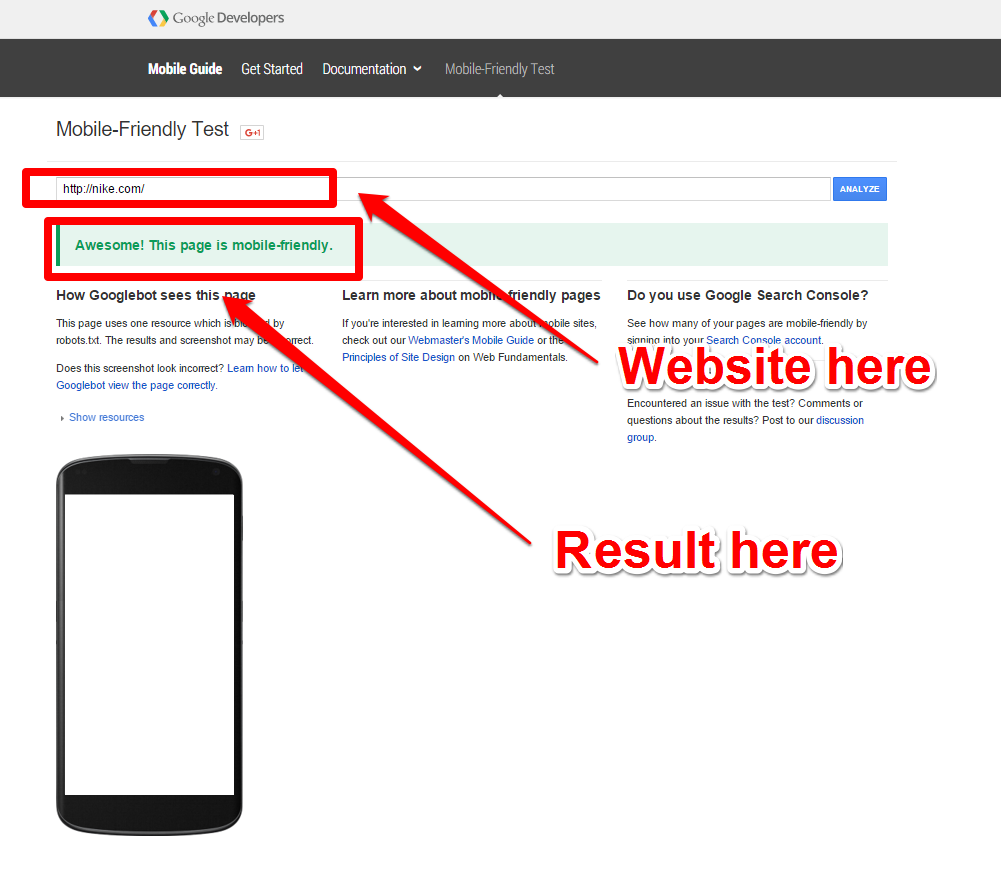 Indexed pages – the easiest way to monitor indexed pages is through Google search. Write "site:" followed by the name of your site and the displayed results will also show the number of indexed pages, allowing you to see how your competitors are performing compared to your own results. For sites that are yours, Google Webmaster Tools are going to give you a better, more accurate perspective on how you're ranking – but otherwise a simple search tells us more than we're used to seeing.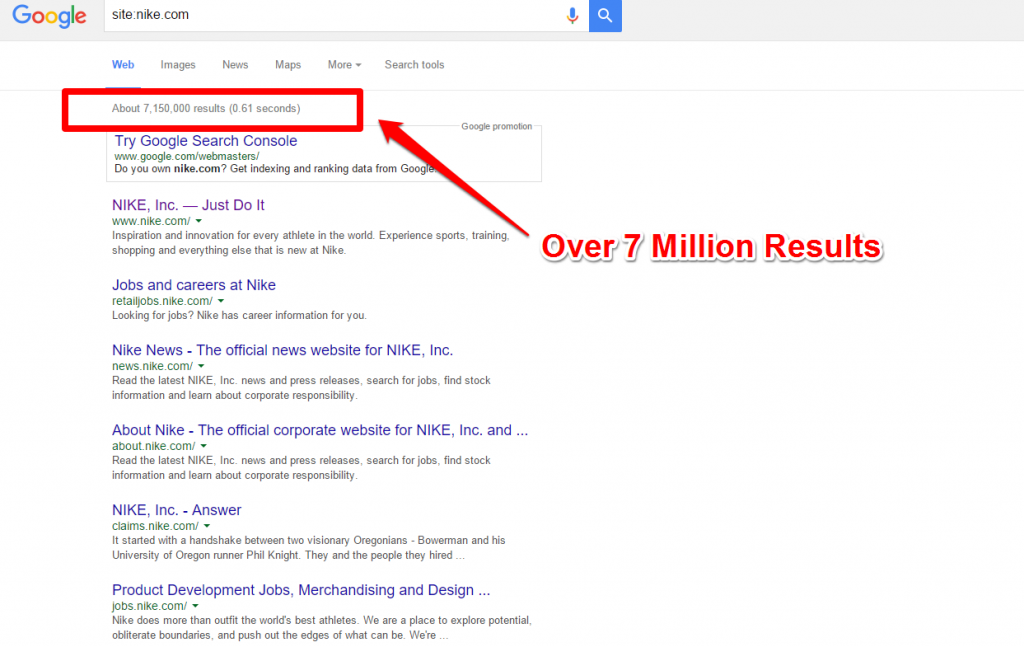 And yet the best part of these tools is that you can double check your own online performance as well, and in case your web domain and pages aren't properly crawled, you can ask Google for a Force Recrawl.
Keep track of changes – differences in ranking can sometimes occur as a result of web design improvement, and a friendlier user interface. Count on The Wayback Machine to always keep you in touch with the appearance history of a domain online.
5. Check Your Competitors' Social Footprints
Ultimately, the key to taking a company's pulse is looking at their shareability: is it visible? Does it generate buzz and engagement in the social media? What do people genuinely think of their services? Although it's been a long discussion whether social media is a place where people are honest or not, and it is all just a matter of brand image, its influence is unquestionable.
Trackur is a tool for social media sentiment analysis. You'll find that using it gives you instant insight into how a specific brand is doing on social media – why not analyze what it's doing right and apply it to your own business?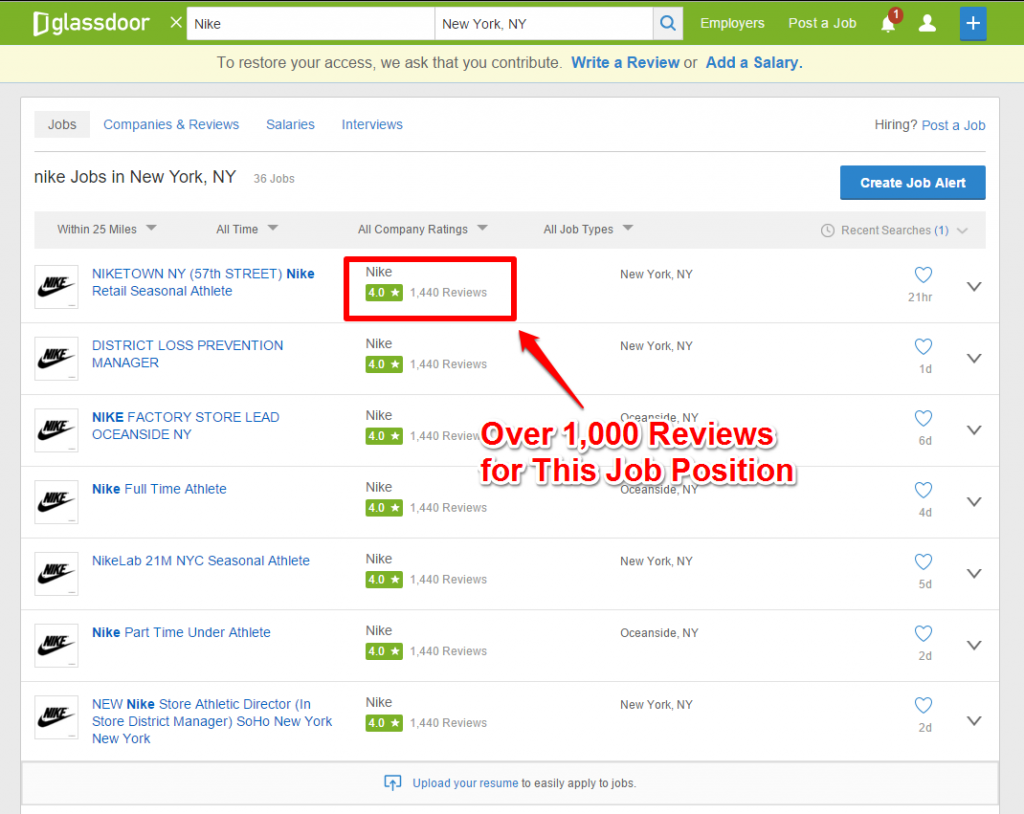 While a decade ago information was either distant from the viewer via traditional press and advertising or very personal through friends and acquaintances, this boundary rarely applies today.
Information per se is still reliable, but we've got to know where to look for it. For instance, if you're going to scan for a general image that a company has from the inside, you can always look on Glassdoor, where former and current employees leave their feedback as a trustworthy reference for people interested in the industry.
Knowing your platforms makes the difference between a good marketer and a data hoarder. And, whenever in doubt, don't be afraid to look for the specifics – while Facebook and Twitter do say a lot about a perceived image of a certain brand, niche social media completes the marketing scenery.
While on the popular social media platforms you can see what your competitors' strategies are towards their customers, Glassdoor gives you the opportunity to take a look on the internal management and see how pleased the employees and former employees are.
Conclusion
Competitive advantages are meant to make our lives better – both as providers as well as consumers. We've started using them to suit our very complex needs and they come in distinct combinations. It's in our best interest, therefore, to build a credible difference in the industry.
I would even dare to say that it's more than a fad, it's a must. It's essential, then, to know the exact shade of green of the grass on the other side – not because it's greener, but because it's distinct from ours.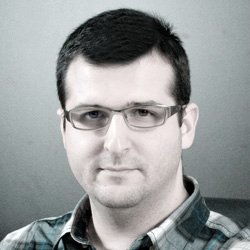 Published 1 year ago by Razvan Gavrilas, Founder, Cognitive SEO.
Razvan Gavrilas is the Founder & Chief Architect of cognitiveSEO & BrandMentions, tools to help you monitor, research and improve your digital marketing. Razvan has over 15 years of internet marketing experience and has improved the digital marketing strategy for both small businesses and large enterprises.
.