The End Of An Era: What Social Can Tell Us About The Next Manchester United Manager
Sir Alex Ferguson has announced his retirement as manager of Manchester United today after 26 years & 38 trophies.  He has undoubtedly been the most successful manager in recent British history.  The announcement of his departure has been very 21st century with the Manchester United press office announcing his decision to step down on Twitter and introducing a simple hashtag #thankyousiralex which is flying right now.
However, for all football fans (especially if you love or hate United) the question now is who will take the reigns at the countries most successful club?
We've done a little social data mining across a variety of tools to come up with our index and have compared this to online bookmakers to show the audience sentiment vs the odds for the next manager.
On the social side, this table is sorted by social preference – judged by like and Tweet data, whereas the Paddy Power column is sorted by their latest odds (as of 10am, UK):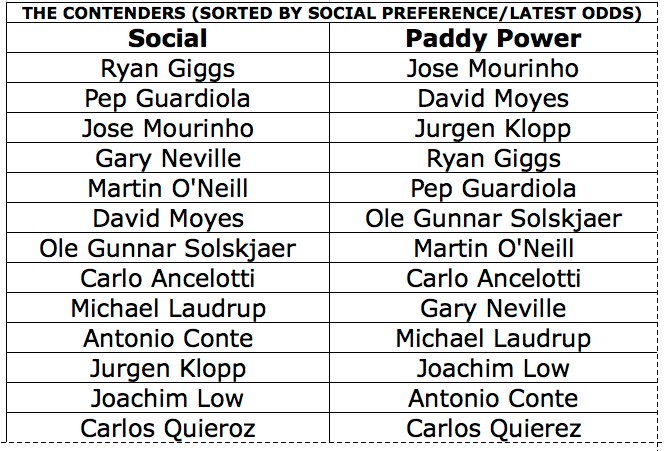 This shows some interesting differences.  Ryan Giggs and Gary Neville are preferred on social, however this is largely down to the like profiling scewing the data as they are Manchester United heroes already so have a lot of likes and sentiment from Manchester United fans already.  Pep Guardiola is a much more interesting one.  He's by no means the favourite with the bookmakers as he is contracted to join Bayern Munich this summer, however Manchester United fans are obviously admirers.  His record at Barcelona explains this, but considering Barcelona twice beat Manchester United in Champions League finals this level of admiration is impressive.
The bookmakers are largely suggesting that this is now a two horse race between Jose Mourinho (the Real Madrid manager) and David Moyes of Everton.  Social data certainly backs up the Jose Mourinho claims.  His popularity amongst Manchester United fans is curious.  Manager of big rivals Chelsea for a number of years, before eventually reaching Real Madrid where he now manages an old United favourite in Cristiano Ronaldo, you would think he wouldn't be liked by United fans.  However, nearly 85,000 United fans in the UK follow Jose Mourinho related pages and profiles on Facebook & Twitter, and when combined with the audience's sentiment today places him as the social media favourite of the two big contenders.
Whilst this is all for fun and largely conjecture (with a little science behind it), this shows some of the great data that is available within social media platforms that can be leveraged for the benefit of your brand for online and offline activity.
Image courtesy of the BBC