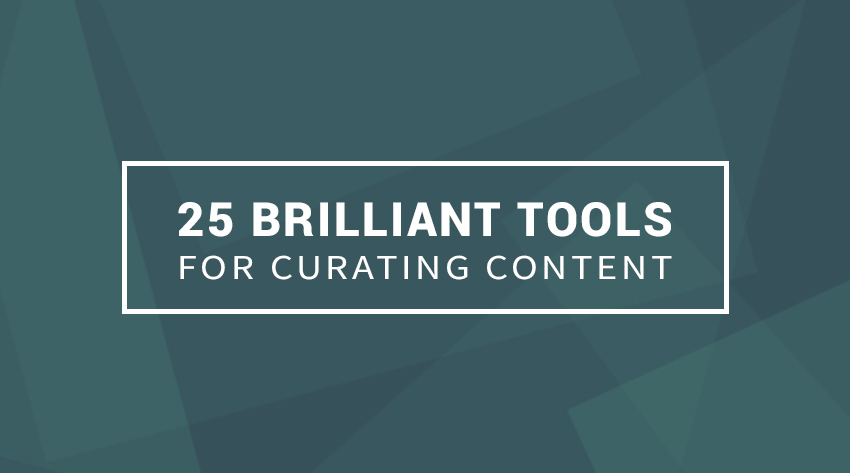 25 Brilliant Tools for Content Curation
Content curation can be one of the most tortuous parts of the content strategy creation process. However, it is a key factor in any strategy's success.
It s importance means you have to get it right, but where to start? Unless you're an experience marketer it can be difficult to pull these processes out of the air.
Luckily, there are hundreds of handy tools to assist you through this stage – but choosing the right one can be hard. So, to make life easier for you, I have complied a list of 25 brilliant tools for content curation.
The Tools
PostPlanner – An effective way of finding viral photos and articles as well as those that are trending. It also provides different ideas depending on post type and content, or influencers based on specific keywords.
MassRelevance – MassRelevance sieves through countless pieces of social content per second so you can bring all your fans together to amplify and create more conversations around things that really matter to them.
RockTheDeadline – Lets you keep up with the latest news and trends in your industry and find great content. It encourages discussions by letting you pin ideas and notes to topic boards and share them with your team. It allows you to add your expert commentary to this content for you to create original articles and social media posts. Moreover, you can easily embed these posts to your WordPress blog and Facebook page.
LinkedIn Pulse – An award-winning tool that makes it easier to read news snippets of the professional content and insights that matter to you. Furthermore, this tool lets you personalise your feed so you can read information from the sources and influencers you want to hear about.
Addictomatic – Addictomatic is a simple but brilliant tool that searches the best live sites for blog posts, latest news, images and videos so you can track trending content across multiple content types. All of this is determined by specific keywords you choose, so the content is around the topic you want to read about.
CurationSoft – A tool that let's you discover, review and curate content from all over the web for Google-friendly posts, thought leadership, authority posts and publications.
Feedly – This app is handy for curating mobile content. It does have a desktop presence but it comes into its own on mobile because all the content it gathers from news sires, feeds, blogs, social sites and YouTube channels are mobile optimised.
Storyful – Is a tool that monitors the entire social web in real-time. Handily, their team of specialist journalists review and verify the most valuable content it sources. For content such as video Storyful acquires the rights for their partners to use and then they deliver this content to newsrooms and brands.
List.ly – A really useful tool for bloggers to collect and keep short, well-curated and organised lists of resources for their audience. Many brands also use this tool, such as Content Marketing Institute.
Bundlr – Lets you create "bundles" of photos, videos, tweets and documents that will be useful to you from around the web, whilst also letting you share them with everyone.
Newsle – A handy tool that lets you track articles about influencers or people that matter to you by shifting through the social noise. It does this by analysing your Facebook friends, LinkedIn connections and email content.
Kuratur – A really easy way of having relevant, trending and fresh content made available to you, your website and your audience.
Scoop.it – This curates content through its smart searches and community to present relevant and topical content to you. After it provides this information it encourages you to add your own perspective to keep their community fresh and updated.
Pocket – This tool is great if you haven't got time to read or consume the content straight away. You can put articles, videos and all other type of content into "Pockets", whether you've sourced them from desktop or mobile.
EverPost – There's nothing particularly ground breaking about EverPost's curation system, but it really comes into is own with its dashboard. It lets you sync your social profiles meaning that you can easily post, or schedule to post, your collated content directly.
Triberr – An influencer marketing campaign platform that allows brands to connect with bloggers, and vice versa, to promote their campaigns. However, the real benefit of Triberr is that it hosts a plethora of good quality, topical content.
Bundlepost – A system to efficiently find, schedule, hashtag and manage social media and marketing content in one place. This content is automatically aggregated from RSS and Alerts four times daily and is automatically saved as a social media post. You can then review, edit and merge with saved schedules.
Storify – A content collection site, which lets you scour the web for appropriate content for you to publish on Storify as 'stories' and embed everywhere, whether on your own site or your social platforms.
TumbleCloud – Is an online collection of ebooks, enhanced novels, graphic novels, videos and audio books, which offers students and adults of all reading levels access to an extensive range of content.
Paper.li – Paper.li's premise is for users to create their own online newspaper quickly and efficiently. It automatically finds, publishes and promotes engaging articles, photos and videos from across the web.
Clipzine – A content curation platform that is able to create a RSS page in a magazine style. The dashboard means you can organise all your content into handy groups that suit you.
Trap!t – Trap!t makes relevant information easy to find. They empower the digital voices of brands, publishers and teams to tell their stories using thoughtfully curated content from the best sources on the web.
Curata – Curata's self learning engine lets users discover some of the web's most powerful and interesting content. Its system lets you easily organise and handily annotate and contextualise. What's more once you are happy with the content you have discovered and organised, you can share or promote your content directly from their system.
The Tweeted Times – TTT is another system that allows users to create their own personal newspaper. It searches the web for  interesting articles personal to you and your interests and collates them into a handy thematic newspaper for you to share with your friends or audience.
Pearltrees – A visual platform that lets you organise, explore and share all the types of content that are important to you – including web pages, files, photos and notes. The dashboard allows you to organise your collections and allows your team to collaborate with you.