The Ultimate Penguin Link Removal Guide
It's been a couple of months now since that pesky penguin waddled on in and changed the SEO game YET AGAIN and it seems the dust is beginning to settle as SEO Agencies and other web professionals begin to adapt to the new update, as well as accepting that it's here to stay.
The point of this article isn't to rehash what was said in April as, let's be honest; most of it has been done to death. Instead, the point of this article is to give one successful method on how to analyse a website to find out exactly why it was hit by penguin and how to deal with that data. We've tried and tested this method on our clients and proved that it does work; obviously each client is different and may have varying levels of impact. So, take what you can from this as you plan your road map to recovery.
Before we start. "Penguin is an Algorithm Update"
Before we go into detail on how to recover from Penguin, let's get a few things straight about the update. The Internet has seen an influx of facts and myths regarding the update, but the points listed below are tested and true.
Penguin is an algorithm update; this means instantaneous recovery is possible.
You don't have to wait until the next Penguin update to have your penalty removed like you did with Panda.
If you were hit by penguin, you will have seen a drop in traffic around April 24th.
You can ONLY submit your site for reconsideration if you think it has been wrongly hit.
You will NOT receive an unnatural links warning in Webmaster Tools if you have been hit by Penguin.
So when it comes to Penguin, forget all the rules for Panda, forget about fixing your links and re-submitting to Google. The only way to break free from the wrath of Penguin is consistent link removal, link building, and above all, patience.
Is it definitely Penguin causing all the fuss?
This might sound a bit obvious, but before you start analysing your links and removing them, make sure it's definitely penguin causing your loss of traffic. We've seen a few clients reporting a Penguin hit when in reality it's a simple alteration to their site that has caused the loss in traffic. Trust me, it is worth the time as you'll be feeling a lot worse when you're half way through your link alterations only to discover your traffic is back because your web hosting company has resolved recent issues with their servers. It happens.
The key to finding out when you were hit is to take a detailed look at your analytics data to find the day that the traffic was lost. If your website was hit by penguin, you would have lost traffic instantly around April 24th.
This method is a simplified version of John Doherty's method posted on Distilled. It's a great, sure-fire way of finding out exactly when traffic was lost and to determine whether Penguin, Panda or another update caused the drop. John's article is a great guide on finding out exactly what keywords were hit by penguin, and is well worth a read. You can check it out here.
Now, onto finding out if Penguin is the culprit.
In Google Analytics, to find out if a website was hit we need to compare traffic data just before and just after Penguin 1.0.
Start by looking at data between 11th April 2012 and 11th May 2012. We've said it before, and we'll say it again, if you were hit by Penguin you should be able to see a clear drop in traffic, as below.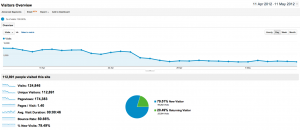 This is a good indicator that Penguin was the cause of the loss of traffic but to gain a more accurate and definite answer, compare traffic data a week before Penguin and a week after.
In Analytics, put the date range from 27th April 2012 to 4th May 2012.
Then check the "Compare to past" box and select 14th April 2012 to 21st April 2012. Click Apply
This will provide you with a direct comparison of just before Penguin hit and just after, giving you a very clear indication of the difference in traffic before and after the date Penguin hit. As you can see from the image below, our client is a clear Penguin case.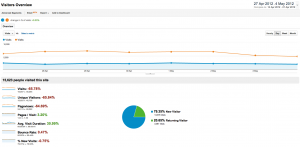 This method can be used for any Penguin or Panda update. Just look up the date of whatever update you suspect on SEO Moz's Google Algorithm Change History and apply them accordingly. Once you know you are definitely dealing with a Penguin here and not any other kind of vicious animal, you can move on into analysing you link profile.
Check your Backlink Data
Penguin has changed the way Google adds value to your website, some of the old school backlinking methods will no longer work and it has become more important than ever to have a balanced, "natural" link profile.
Use all of the tools at your disposal to gather backlink data, such as the tools below:
?      AHrefs
?      Blekko
?      Open Site Explorer
?      Majestic SEO
?      Cognitive SEO
For the sake of this article we will use Cognitive SEO. This is simply because it combines Open Site Explorer, Blekko and AHrefs data and it has a free 14 day trial. This allows anybody to try out the methods listed here.
Of course, you can use any backlink software, you just need to be able to pull out the anchor texts, link types and a link value metric from the software. So tailor this guide using whichever backlink software you prefer.
Too much of anything is bad
As a general rule when dealing with Penguin, too much of anything is bad. This may be in reference to link types, link positions, anchor text or .edu links. It's all about having a balanced profile.
Using Cognitive SEO, enter the details of your website into a new campaign and hit the "inbound Link analysis button". This will give you all the data you could ever possibly want about your backlinks.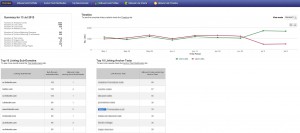 The 2 areas we are interested in are the "Inbound Link Profiles" and "Inbound Link Charts". We'll come back to the other parts later.
Remove all Sitewides
The first area to look at is sitewide links. These links are over optimised in every way and practically scream at Google when they are looking for indicators of spammy, paid links. When it comes to site wide links, they pretty much all need to go. There are very few genuine reasons to have a sitewide link. Only leave them if the sitewide is definitely 100% natural.
In your "Inbound Links Analysis" section, click on "Inbound Link Charts" and then click "Site-Wide Links" to reveal a beautiful graph and list of site-wide links point to your site (great software, isn't it?).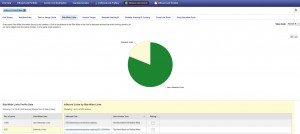 For now just click the "Export to CSV" and save the spreadsheet somewhere for later. Make sure you click on Site-Wide Links before you export so that you do not end up exporting the "non Site-Wide links".
Check your Link Types
After the sitewide link data, we need to start looking at the rest of the links and pick out which are triggering flags in Google's new algorithm. We can do this easily in Cognitive by clicking on "Inbound Link Profiles" and looking at the data shown there.

This first set of data shows us exactly what types of links are coming from which sites. In this case, there are way too many links coming from web directories, in this case, click on the "Web Directories" tab in the table and click "Export to CSV". Save this spreadsheet for later.
Obviously this section requires some thought as to what appears as spammy. Have a good look at the data if you're not sure about an area, click on it and have a look at some of the links to see what they are. You will soon see whether a past link building company has gone over the top with blog posts or forum posts etc.
Check the Link Positions
The same process can be used to find out if you've got too many spammy links, such as blog comments or footer links. In the "Inbound Link Profiles" section of Cognitive SEO, click on the "Link Positioning" tab to reveal all links and where they are located on the pages.

From here it's just the same as before, if any link positions stand out as over optimised or spammy, check them out and export them. Looking at the data of our client, we can see there are quite a few blog posts. This will need further investigation as it could indicate a nasty blog network.
The same goes as before, have a good look at the data, check a few links if need be and use common sense to find out if anything has been over optimised. You can then select that area, "export to csv" and save that spreadsheet for later.
Check your Anchor Text
Over optimised anchor texts, as well as sitewides are the biggest triggers for the penguin penalty. So, with this is mind, make sure you take a good look at the sites anchor text profile and see what is causing issues.
In Cognitive, you can click on the "Anchor Text Distribution" button and this will display all of your link's anchor texts, as well as which are over optimised. For an easy life, just use the "Backlink Reports" section.
At the top of the page, click "Backlink Reports" and enter the URL of the site you are analysing to get a full report of your backlinks, alongside a tag cloud of your anchor texts. You can then click "Order by Strength" to see what anchor texts are used the most.

This gives you a great view of all the anchor texts used, and any that are over optimised.
The main thing to remember here is that there shouldn't be any anchor texts higher than your branded terms or url. If an anchor text of your product service has more links than your branded keyword you've got an issue. You can double check the anchor texts by doing a quick Google search and see if they are ranking for that term. Again, select any anchor texts that are over optimised and "export to CSV" and save the spreadsheet.
Analyse any other Link Risks
From the data above you'll have the majority of your bad links but there could be more (!!) It's worth playing around in Cognitive SEO and looking at your entire link profile.
Look for irrelevant domain extensions e.g. edu domain should not be pointing to a .co.uk domain.
Look for spammy domains e.g. most .co domains are spam at the moment.
Look for completely irrelevant pages pointing to the site
Export all of these into a spreadsheet with your other link data.
Bring all your data together
By now you've probably got a lot of spreadsheets, and a good set of links to have a real crack at seeing which ones are causing an issue.
We'll warn you, this is where the process gets slightly more painful. You must go through all of the links found with a fine toothcomb and see ones are causing you problems. Get all the spreadsheets you have saved, grab a coffee, sit down and really look for the bad links.
Remove the sitewides
Most of these links need to go. There may be the odd one or two sitewides that have a genuine reason to stay but most of the time it's best to get these removed, but leave the homepage link if the domain authority is quite good.
Check the Anchor Text Spreadsheet and list GOOD links to change.
With the spreadsheet full of over optimised anchor texts, it's definitely worth going through this list and selecting all of the GOOD links to keep but change the anchor text to a branded term or url. This will help greatly as it will balance out your anchor text profile.
Look for good domain authority, low page rank pages
We have found that a lot of sites that have been hit will still show a high domain authority in Open Site Explorer but will show a low Page Rank in Google. This is one of the most critical indicators of a link to be removed.
Look at all low domain authorities
This is a good indicator of a poor quality page. Some of these will be OK to keep but doing this you will quickly find any poorly made blog or directory networks.
Put your links through SEO Gadget's Data Gathering Tool
This is a relatively new tool but is fantastic for analysing your bad links. It will even attempt to gather contact information for you so you can easily find the web master to remove the link. This tool only lets you check 200 backlinks at a time but it will run the links through another set of metrics to determine if the links are safe or not. The safe link section is still in its basic form but is continually under development and will be improved as new updates are released. With SEOMoz developing a spam detection algorithm that will be available as part of the Linkscape API, we are expecting this tool to become extremely useful.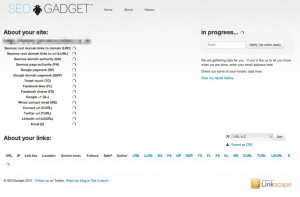 From following all of the steps above you will finally have a list of links that are ready to be analysed. Before we move on we need to do one quick check for duplicates. Since we pulled in a lot of data from different angles of the link profile. There's a good chance that some of the links would have been duplicated.
Carefully go through your bad links and good anchor text change link list and remove any duplicate links so you don't end up sending the same email twice to a web master.
Now comes the hardest part of the process, requesting the links to be changed or removed.
Removing and Altering the Links
I'm sorry to say there is no easy or automated way to do this. Each website will need to be contacted and kindly asked to remove or change your link manually. This may end up being the longest process but is essential to get the penguin slap removed.
Finding the Contacts
When looking for the contact information for your links, hopefully SEO Gadget's tool found quite a few of them so you do not have many more to go. To speed up the process we enter this simple query into Google. 9 times out of 10, this brings up the contact page.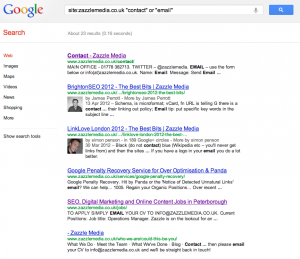 site:[put url here] "contact" or "email"
It's a very simple query but it works and speeds up the process of finding the contact page.
For any other links that are left just navigate through the site to find the contact info. As a last resort it is always worth putting the domain name into http://whois.domaintools.com/ to see if that pulls up any contact details.
Which Links To Remove
When looking at your link data, always remember that Penguin is mainly about anchor text balance so if some of your links are worth keeping, make sure you at least change the anchor text to a branded term. This was mentioned above in the "Bring your Data Together" section but it is always worth keeping this in mind so if you find a link that is OK but could benefit from changing the anchor text. Note it in the good link list.
Changing some of your links' anchor text will be a massive help and make your recovery much quicker as it shifts the profile to a more natural appearance.
Removing the Links
Unfortunately, we haven't really found an automated way of requesting removal of links (Sorry!) We stuck to sending out personalised emails that that we could include links in to point to what we wanted removing. We could be wrong with this, of course, so, if anyone knows of any good automated link removal software then please leave a comment and I'll add them to this post.
With the anchor text alterations of the good links however, we were able to use an automated solution, We found the quickest way to change links is to create a template email in the free email marketing software Mail Chimp and add all of your found contacts to the marketing list. You can then make a template email kindly asking for the change.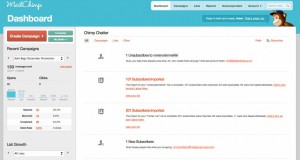 Mail Chimp will also tell you who has opened your email and who hasn't. This is a good way of finding out if some of the older websites still have a web master actively looking after the site.
When it comes to emailing out to remove or alter links, we recommend the following rules.
Be polite. You are asking a web master to spend their time removing your links.
If the link cannot be removed for whatever reason, ask if it can be nofollowed or changed to a branded anchor text.
Keep a budget in mind for link removal. Some webmasters may ask for a removal fee.
Links you can't remove
If it gets to a point where some links simply cannot be removed, there are a few options you can consider.
404 the page: If your bad links are pointing to a deep page (not the homepage). It may be possible for you to delete that page and recreate it under a new URL. This will make the links 404 and will not be considered.
Move Home: If there are too many bad links pointing to your website it may be quicker and easier to move your site to a new domain. This is detailed a little more towards the end of this article as a plan B option.
Build New Links
Now that your link removal requests are well underway, It's time to focus on building links to your site to balance the link profile out further.
We all know that great content is the king of gaining natural links but in this section I want to explain what is technically required from the links.
Link Position: Try to stay away from having too many links in footers and sidebars. Stay clear away from any site wide links.
Website Types: Stay away from any web directories and keep in mind what your link profile looks like to build links accordingly and balance it out.
Stick to natural anchor texts: Think about what people will use to naturally link to you and replicate this.
?      brand name
?      website name
?      url
?      visit website
?      click here
Sticking to these anchor texts is a good way of staying safe and out of Google's wrath. With Google announcing they have altered the way they deal with anchor texts. This is a good indication they are heading in this direction.
Be Patient
Now that your bad links are removed from your profile and you've built new links to your site to balance the profile out, all that is left to do is be patient and wait for Google to index all the changes.
Google are being incredibly stubborn this time around – they are stating that if you have been hit by Penguin, there is no way to reconsider your site, only to remove your spammy links and wait from them to be indexed.
Have a Plan B Ready
With some sites, there may just be too much work to remove all of the links required. In a lot of cases it could just be a few links triggering the penalty so by all means give plan A the best shot you can.
If it is too much to fix your link profile, it is possible to clone the website on a new domain, 301 your penalised site to it and this will temporarily remove the penalty. This gives you a short while to benefit from your old positioning and at the same time build news link to your new site. As soon as enough links have been established for it to stand on its own two feet, kill the redirect before the penguin penalty catches it and continue on the new domain.
So if you prefer the sound of losing the brand name and starting your link building venture again over trying to remove and fix your old link profile. Definitely consider this as your plan B.
Summary
The 'market' is saturated with a considerable amount of documentation on how to recover from Penguin right now and sometimes it's difficult to distinguish which article to follow, especially as a lot of them differ as to how to proceed. There have also been some recent articles stating that Penguin can be solved by building a mass of links with branded anchor texts to balance out the anchor text profile.
These may work now, but I am pretty sure that we have only seen the mere beginning of Penguin and with it having gained such a bad name with some SERPS (Payday Loans etc) Google will be very keen to iron the issues out and make it very good at detecting spammy links. It's only a matter of time before we need to start taking care of our bad links, this guide will fix the Penguin update hitting us now and it will also help you future proof the website from further updates.
Even with using one backlinks tool and one analytics tool to explain the method, there is still a lot in this article that is left for the reader to work out. This is simply because, when it comes to Penguin, each client's link profile can be very different and battling out of the penalty can be altered due to this. Take this article as a step by step guide but bear in mind that at some points you will have to put it down and do your own discovery work. All we can say is, we've used this method on all our Penguin clients now, and it works.