What Do The Facebook News Feed Changes Mean For Page Owners?
Today, Facebook announced changes to News Feed that should delight page owners and users alike.
The key elements have been outlined in dozens of other articles already (such as these on CNET, TechCrunch & Mashable) but the main changes are that there are now multiple versions of News Feed (music, pages, photos, friends for example), and that there is a new focus on imagery (and therefore ads) which appear more prominently.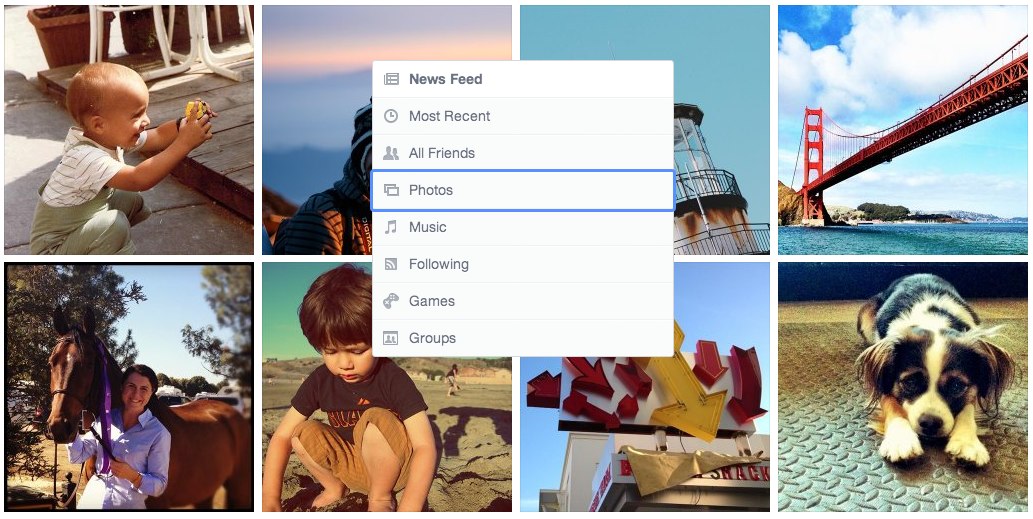 What Does This Mean For Page Owners?
When Facebook pages post content, be it about their brand or products or anything else they are talking about, almost all of the impressions that content receives will come from the News Feed.  Users rarely actually visit a Facebook business page post-Like, relying instead on the feed to deliver them the content they care about and interacting with it in situ.
The change to News Feed doesn't necessarily alter the core approach for businesses on Facebook, but does emphasize the current best practice for content further.  On average, image based content from a page will have 39% higher engagement than text based posts, meaning that pages should already be focussing their resources on visual content, however many aren't.  The News Feed changes announced today should increase the engagement with image led posts and allow those in the know to further increase their engagement at the cost of their competitors.
The same can be said for video – although videos generally don't receive the same engagement as images, the action of a video play is highly important, particularly for brands.  The new News Feed should increase the video play rate, simple due to their size and the new modern look of video based posts.
Nothing has been officially released on the advertising front yet, but it is reasonable to assume that News Feed ads will follow the same format as image led posts.  This is great news for advertisers and will make promoting content and growing audiences more effective. Placing sponsored newsfeed ads and content amplification in the News Feed already achieves a far higher clickthrough rate than average placements, and have traditionally been more effective on mobile devices due to their prominence, however they should now be equally compelling on the full version of Facebook
Traditional sidebar ads should also change as a result of todays announcement.  By the look of Facebook's screenshots the top right of the screen (where you will normally see ads) has this feature for filtering News Feed type: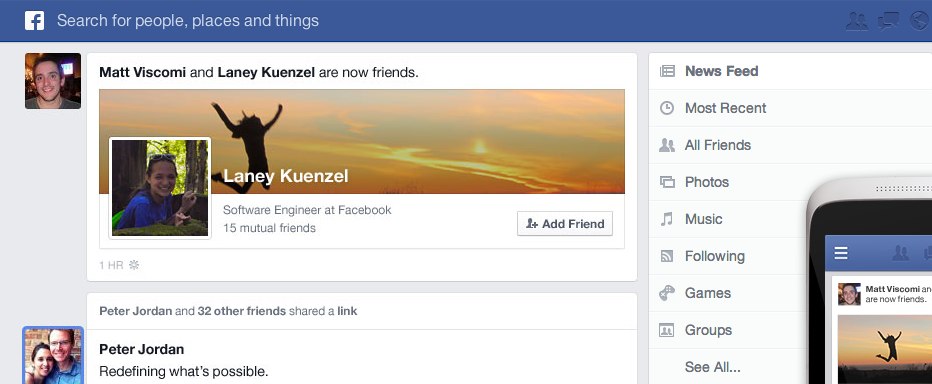 This gives sidebar ads less prominence and makes them increasingly less important as an advertising tool on the platform.  Hopefully though, where they do appear they will be crisper and more modern in design to fit in with the rest of the new look.
Aside from these clear benefits, it is hoped that the new design will increase engagement across the board as users feel a surge of interest in a product they love to use, but have become slightly disgruntled with over the last year.  Freshening things up should improve the time users spend on site even further and give brands even more opportunity to spread their values.
Key Takeouts
Image led content has always been important, but now it must be at the absolute heart of your content strategy
Nothing ad related has been announced yet, but assuming News Feed based ads will follow the same format as image posts then amplifying your page or content in the News Feed will become even more effective
Expect to see your cost per acquisition drop if you use News Feed advertising effectively
Sidebar ads will need to change, and as a result of the placement changes, will become less relevant
Facebook is beautiful again – pages may see an engagement boost as users spend more time on site and explore further with the new features as they roll out
Update 21:00: First screenshots of ads are coming out and are below, showing the prominence and clean design described above:
Right hand placement ads: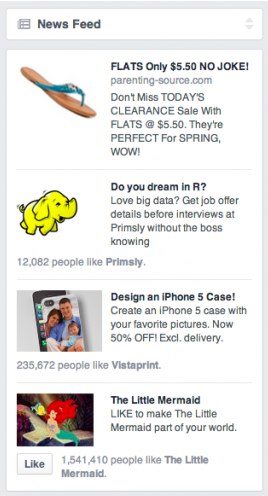 Page like ad:

Page post ad: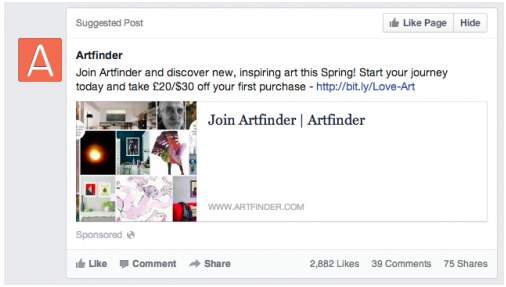 Image Credit: Facebook & Inside Facebook