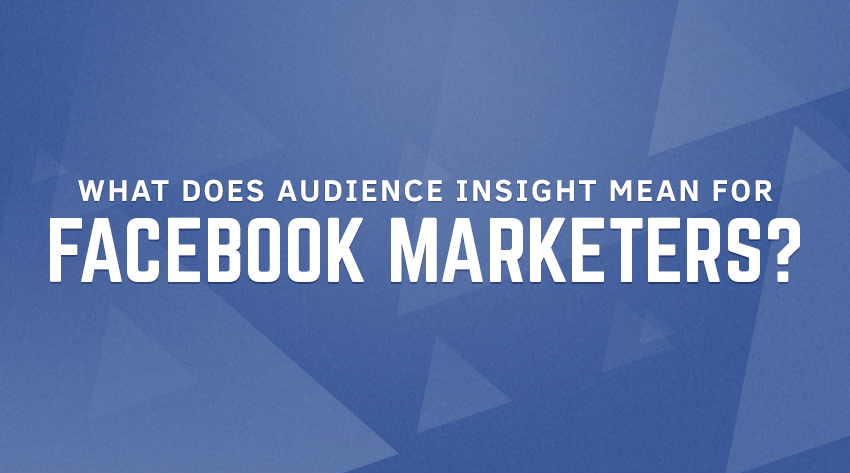 What Does Audience Insight Mean for Facebook Marketers?
Facebook Audiences is now well into its second week of existence but how much do you actually know about Facebook's new development for advertisers? Well, Facebook have dubbed it a "new tool designed to help marketers learn more about their target audiences, including aggregate information about geography, demographics, purchase behaviour and more". So theoretically, if it does what it says on the tin, data mining could become a thing of the past.
Firstly, Facebook has broken down the information that you can get through this new tool into these categories: Demographics, Page likes, Location and language, Facebook usage and Purchase activity. All this information will be available from three different groups: people on Facebook, people connected to your page or event or people in custom audiences. They used this example:
"Say you want to raise awareness for your women's luxury fashion brand, and you sell your products in-store. You'd want to know how many people on Facebook live near your stores, as well as their interests, their past purchase behaviour and how they tend to shop (online vs. in-store)"
When Facebook Audience Insight was released, our first reaction was: "We can get all this information through page insights, so how does this help?" Well, while Page Insights stores information from interactions with your page, Facebook Audience Insights offers information about current and trending information meaning that your advertising strategy can be more current and on point.
The first look at Audience Insights: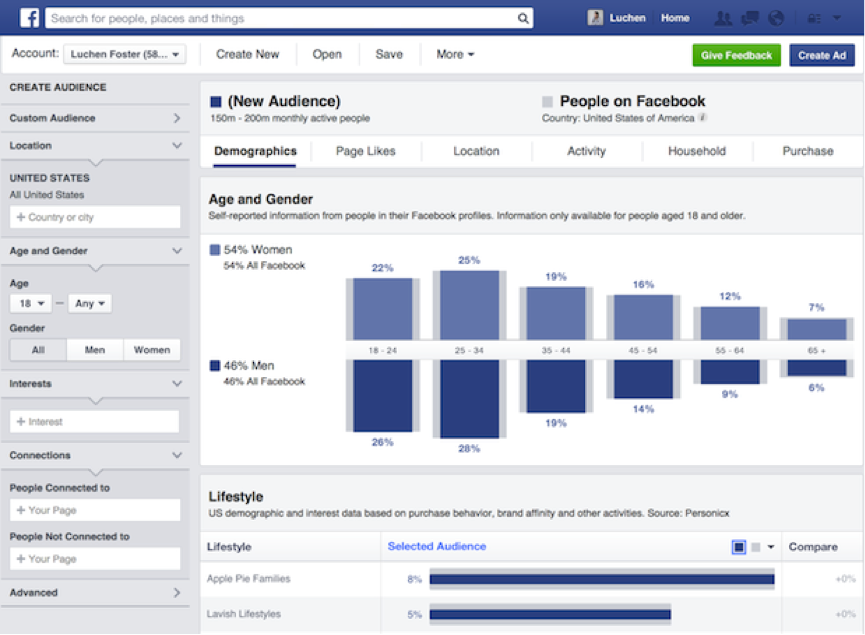 Now the information available through Facebook Audience Insights like demographics, page likes and demographics may not offer much more insight to what you already know through Page Insights. While we agree it would be useful to see what type of brands are trending in your audience set, if you use Facebook's example of sports/apparel the chances are juggernauts such as adidas and Nike will appear on the strength of their brand alone.
The way this tool offers the most useful information to marketers is the insight that has previously been unable to attain using Facebook alone. By being able to see how frequently people in your target audience are active, it will be able to inform you if your campaign is even viable in the first place. For example if your target audience are hardly ever on Facebook then your ad will be seen infrequently and lose some of its clout.
The other information that Facebook Audience Insights offers is the purchase activity of the people in your targeted audience set. The data that it provides about purchase behaviour could be invaluable to your campaign strategy because you will know what to advertise and when to advertise. Not only could this inform your Facebook ad campaigns but all your digital advertising campaigns too. Proving that once again, information available through social can truly inform all aspects of your digital strategy.
This is another move from Facebook that suggests advertisers are their key priority and, with reported profits of $1.5bn in 2013, who can blame them? But unfortunately this looks like the final nail in the coffin for the organic page manager. After being hit with Facebook's Edgerank update towards the back end of last year, organic marketers would have been hoping the next big Facebook release would have been something to help them, but alas. However, if you are an organic marketer check out my earlier blog on how to increase your organic reach because if Facebook's not going to help you someone might as well!
It all sounds great but what if you don't live in the US? Well, Facebook have said that they will be rolling out Facebook Audience Insights globally "within months". If you want this kind of information then you're going to have to use the traditional methods of Facebook data mining. Currently, data mining is an integral part of how we structure our advertising campaigns.
We firstly prepare an audience profile based on the information available through the Ads Manager, and we are then able to see what kind of interests and brands our current audience are interested in. Then we can tailor our ads based on this information. This enables us to run efficient and targeted ad campaigns. To obtain this information please use the show equation.

In conclusion, it looks like Facebook are trying to bring them closer to the advertiser. They are opening up their vast plethora of audience knowledge to keep marketers using their system and on their side. From a marketers perspective this can only help, this information will lead to smarter, more efficient campaigns meaning your Facebook adverts are being seen by the right people.
A smart move from Zuckerberg and Co. because with Pinterest and Reddit finding their feet with advertising systems and Twitter still leagues behind thanks to their information void, maybe this is a move from Facebook to keep one step ahead of the competition and keep those ten figure revenues rolling in.