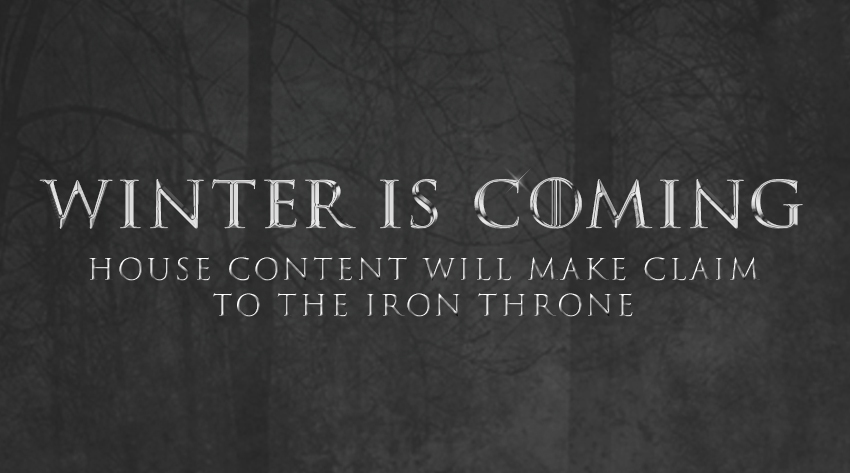 How to Win with Content – Game of Thrones Style
This blog post serves two purposes; to provide real actionable insight into how to ensure the quality of your content led marketing work but also as a reminder that creativity is key when it comes to creating standout assets….and there are no limits!
If you are not a Game of Thrones fan then some of the below may go over your head but you can get the basics of the story here (after all one of the first rules of journalism is to never assume knowledge!)

In an agency world, we are able to predict and foresee the future… to a certain extent that is. We are somewhat Oracles in this digital realm. In ancient times, no king would go to war without consulting the Oracle, so, heed our words. Within this here blog post, I shall not read you your fortune, nor shall I predict what may come to pass, instead I will explain to you quite simply to stop what you're doing. Think about your target audience and ask yourself, is what you are doing right? Is it natural? Does it bring honour? Are you adding any benefit to this Kingdom?
I could end the post here, if it were that simple of course. Winter is coming. We need to prepare ourselves as an important battle is upon us, and in order to win the war, battles must be fought.
The changing face of authority
In times long ago we built links, anywhere… Everywhere. Until House Google made its claim to the Iron Throne, fighting back those who disobeyed their laws. With Matt Cutts stating that, "…the objective is not to 'make your links appear natural', the objective is that your links are natural." Since this time, House Links has hidden in the dark shadows, but they have not surrendered, instead they observed and have endured.
In more recent years, House Content has made its claim to the Iron Throne. The King of House Content thought that random acts of content kindness were the way forward. Go forth and flourish they said, but this strategy mirrored that of House Links, and rumours began to spread about where the true heart of House Content lie.
It was almost two years ago that cracks began to show and in January this year, House Google continued to show their strength, with Matt Cutts laying down the law. Yet within their battle plan, it soon became obvious that 'Fear cuts deeper than swords.' Were these true warnings to everyone within the Kingdom, will these changes and laws effect the other Houses? One thing House Content believes is that content along with guest blogging is not of the past, but will evolve, with a more prominent future to come.
In a recent interview conducted by Didit.com, Rand Fishkin commented on the harsh winter that may be upon us:
"I don't think we've yet hit peak content, but I surmise it's around the corner – perhaps in the next 2-4 years."
He went on to say:
"The value of free content is still tremendous – it can help individuals and companies alike build thought leadership, build audiences, earn attention, and drive traffic. The "icy landscape" won't be particularly icy. I see it more as being red-hot, and content producers all trying to start fires big enough to get noticed."
Less is more
You simply need to share less content that is well thought out, researched and that actually benefits the relevant readers within this realm. House Content has reacted positively, and since begun to change its strategy.
I beg you to ask yourself, what's the true reason you write content? To get a link? That is where you're battle strategy is going wrong! Write content to get noticed. Use reliable sources to back up your article, and reach out to relevant people within the realm, create alliances! If you are looking for quick fixes, you are in the wrong game, as there are none. Not sure where to go from here? Noah Kagan gives some great ideas in his blog post here in order for you to get traction from your work. Don't just let it sit there, stand proud and shout about it! He mentions some other great tools, which help you find article ideas that have worked well in the past, such as Flippa.com and Searchreddit.com, which can be used alongside Google Blog Search and Google Trends.
Since this battle begun we have seen many fall, including Myblogguest.com, in which many believe to be a tactical casualty of the war, but it would still be wise to heed their warning.
How many more will fall before they think about link risk. Whether you're going to be part of House Links or House Content, everything comes down to risk and of course benefit to those within the realm. You need to create a natural link profile, and less is more.
Risk mitigation
Sometimes it can be good to copy your competition, but seeing in to their past, also gives us the guidance required to be better. The following are great tools for finding the path to righteousness as well as weighing up the risks involved:
Ahrefs: A great tool for finding backlinks of your competitor's websites, but also a way of filtering these for your target TLD.
MajesticSEO: Once you have checked the PR and DA you can use this tool to look at the Trust and Citation Flow of a site. If it has an equal ratio, and branded anchor text you can move on to the next stage of your battle plan.
Search Metrics: Perfect for checking whether the site is receiving any traffic and if there has been a drop and possible penalty.
WayBack Machine: Worried that the site you want to contact has been bought by House Spam? This site can take you back in to the depths of the past, showing you what this site once was.
Other than this, you must trust your own judgment. Look at the site. Check the social buttons. Do they actually work? If they're broken, this could be a sign that the site has been set up in a rush. Does their social have interactions? Does their content have interactions? If the answer is no, alarm bells should be ringing. Approach every site with caution. In this world, it is every man for himself. Do not be deceived by House Spam. Tread carefully.
Once your content is published, do not think that is the end. After taking the time to create a great piece of work, do not just tick it off the to-do list, or else your efforts will be forgotten and pointless. The age old tactic of random acts of content kindness need to become a continuous process, and evolve in to content continuation. Tell people throughout the realm about your content, ask for their thoughts, if you included them within your work, tell them and they may share this with their avid followers.
House Content will fight for its claim to the Iron Throne, and it will win. Winter is coming, and there will be battles all over the realm including that which involves House Social. This awesome infographic will shed light on this. In order for us all to conquer, and rule each part of the realm as we wish, we must defeat our common enemy… House Spam.
And remember, 'When you play a game of thrones you win or you die.'