Why You're Doing Your Social Content Wrong
The below is a transcript from Ben Harper's talk at On The Edge Birmingham.  The subject matter revolved around why many brands are not making the most of their social media presence….
"First up, a slight disclaimer – not all of you will be doing your social content wrong, but as content marketers we like to go for punchy headlines!  We're going to go through why social matters, where you should be focusing your attentions, how to create and optimize a social content strategy, some best practice starter tips, and briefly touch on measuring ROI on social.
For those of you who are doing your social content wrong, it can feel a little like your social presences are a wasteland.  We're all promised great things from social, about buzz, engagement, ROI, but the days of "build it and they will come" are over.  Since Facebook's IPO in May 2012, the network has made it increasingly difficult to grow your presence organically and Twitter are now on the same route after their announcement this week.
A lot of companies ask questions about whether they should do social at all, or whether they should focus on it or not – especially as things have now got a little harder.  However, my argument would be that as marketers we need to be spreading our risk and expanding our traffic sources.  Can we trust Matt Cutts at Google?  We simply don't know when Google might make further changes to their algorithm, potentially devaluing guest posts on infographics or rolling out new stricter ranking penalties.
Focusing solely on Google rankings & traffic makes your business slightly vulnerable.  By at least giving social some attention you give yourself the opportunity to manage that risk and grow out new audiences on new platforms.  Until maybe a year ago, social platforms weren't ready for this shift – but I'd argue that they now are.  Facebook, in particular, is in a great position in terms of having a huge audience, having great advertising products, and being able to provide data on your activity so that you can optimize and improve.
Once you've taken the decision to focus some attention on social, one of the biggest mistakes I see is the choice as to where to focus.
The market is massively fragmented, particularly amongst the younger demographics, with the likes of Snapchat, Ask.fm and more trying to challenge Facebook.  Outside of this demographic there are well over 50 core social media offerings, from Reddit to LinkedIn, Pinterest to Twitter.   The key debate is where to focus.  Lacking focus means that you will struggle to shine and that your efforts will be watered down.
Social management should never be the job of the intern, it's the most public facing element of your marketing, and it's got to be understood that everything has a cost – whether that be in terms of someone's time or using an agency to manage the content.  Once you appreciate this, you can see how critical it is to focus your attention and to get the best efficiencies from your social media marketing.
One place to look for answers is in the global user numbers of the platforms.  This shows that Facebook is a long way in the lead with 1.15bn users, and this is likely to keep growing as Mark Zuckerberg gets behind the internet.org movement to bring the world online.  This also shows the relatively small audience size of some players such as Pinterest.  The key to choosing where to focus though needs to be based on your target audience.
If your audience is a very B2B segment, that perhaps you should look at LinkedIn and Twitter.  If you're a B2C fashion company then maybe Pinterest and Facebook will be the best options.  It all depends on who your audience are, and your plans to reach them.
Ultimately Facebook is the strongest platform as if you are clever you can find any audience on there (even B2B audiences).  They may not be in work mode, but this can make the ads even more effective, as properly targeted ads at the right moment are a rarity!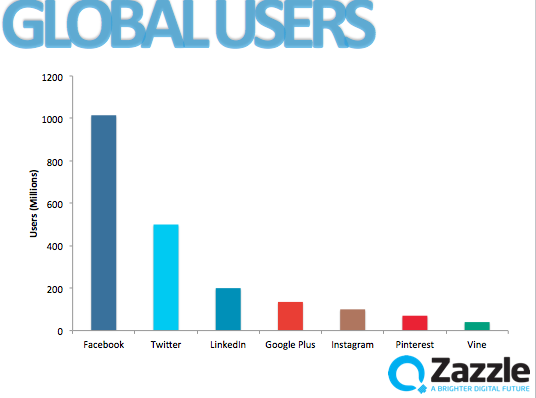 Once you've chosen your platforms, the next step is to move into the content strategy creation phase.  The first thing to note is that your social content can be included in your main overarching multi-channel calendar, or that it can stand alone – it's down to you.  We tend to try to blend the two where we can to allow for better consistency.
We start our process by looking at data, lots of it.  We look at who the target audience are in terms of demographics, and see what else they engage with on social.  If you're on Facebook, a lot of this can be done by looking into Facebook Insights which we'll touch on later.  Other tools like Topsy and Keyhole are great for this too and can be a real help.
When you have an understanding of your audience we then move on to creating personas.  We normally go to the level of splitting it down to 3 or 4 main personas, but this will vary depending on how varied your services/products are.  Try to name your personas, describe their family and work situation and what their concerns and desires are.  This helps you to really work content around their fears and needs to get the best response from them.
Now that we know who your audience is and we've profiled them into personas we start to throw around some ideas.  There are a lot of crazy ideas out there on how best to brainstorm – from everyone being on treadmills to sitting on the floor – we tend to find the best way for us is to get all of the key stakeholders and anyone with an interest in the topic (no matter what team they're on) into a room and throw our ideas around.
Experiment and find what works for you, but don't be too restrictive by team and discipline – anyone can have a good idea.  Once our ideas are signed off by the client we create a calendar.  We normally use a collaborative workspace for the calendar so that everyone can be involved.  This calendar (for social) should involve the platform, the copy, image link, URL pointed to, as well as which campaign or content topic we're talking about.
This will sound strange, but this calendar will never be right.  No matter how much data and preparation you do and how well you understand your audience, you can never predict with 100% accuracy that numerous pieces of content will work fantastically all of the time, you will have some flops and there will always be room to improve as long as you keep continually learning.
Weekly, bi-weekly or monthly dependent upon your audience size and your capacity, you should be studying your social content to find out what is working ready to optimize your calendar.  We look at the number of posts put out by campaign/content type vs the engagement rate of those posts, as well as day by day analysis.  This allows us to see what is working and what is not.
For example, this graph shows that our "Team Update" and "Joke Post" part of our strategy are providing strong engagement, but that we are not posting many of them and therefore we can use this to up the levels of these posts in our next calendar iteration, or that we can take learnings from their successes to be applied to other parts of the strategy.
We'll also check out the competition regularly.  Track a few key competitors that you really want to beat and see what they're doing.  We track their engagement rates over time to see where we are winning and where we are losing in terms of engaging our audiences.  Where we're below our competitors we are constantly looking to see what they've been doing that we can learn from and improve upon.
Facebook are starting to make this easier with their "Pages To Watch" functionality that should expand into showing engagement, but for now there's plenty of good tools out there like Scoreboard Social and SocialBakers that can help.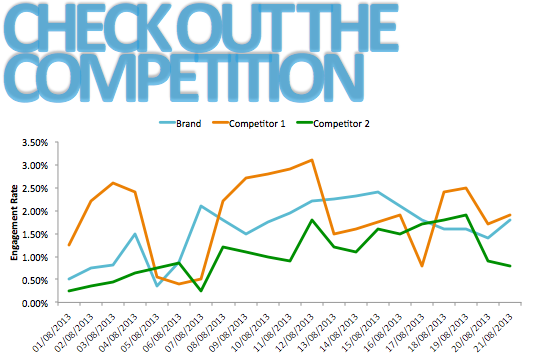 All of this feeds into regularly optimizing the calendar.  It still won't be right – but it will be a better iteration.  You should aim to always positively improve your calendar, preferably every month to keep upping your engagement rates and improving your content.
Now, some of you will be thinking that this all sounds great, but even when writing a content strategy for social there must be some sure-fire tips. There are some basics that everyone can follow to get them started which we'll run through now:
Strong imagery is key: we tend to see 40% or so higher engagement from using images – other report as high as 120% gains in engagement, particularly on Facebook.  This tip applies mainly to your hybrid platforms – obviously strong imagery isn't going to help you massively on something text based like Twitter.  On Facebook though a strong image cuts through the NewsFeed noise and makes you stand out.  Don't worry too much about creating bespoke, custom imagery – 'borrowing' is fine as long as you are crediting the source
Use shortlinks: Bit.ly and other shortlink providers are a lifesaver.  Not only do they tidy up your posts and make them shorter and more clickable, they also allow you to track the clicks on your links and measure success
Curate and create:  our rule is that approximately 75% of your content should be curated rather than created.  With billions of pieces of content being created online each day, the chances of yours being the best, most engaging piece is pretty slim.  Share the best bits and reap the engagement benefits for your brand.
Focus on Facebook: if in doubt focus on Facebook first.  Facebook is the most advanced platform, and with a bit of thought can be utilized for just about every purpose.
Don't be pushy: even when your social accounts are flourishing, this is not the place to be overtly sales led.  Don't post more than 2 commercial posts in a row, and keep things as engaging as possible.  It's fine to talk about your products and services but keep the tone engaging and friendly and don't go too overboard on volume.
Incorporating these 5 key tips into your initial content strategy will see you on the right path to be able to get some great results and to optimize your strategy as you go forward.
Now, the key question many people in my world get asked is "Can you measure ROI from social media activity?".  The answer is yes, although it can be tricky for some businesses with a more offline driven approach.  Ultimately in this age you can track anything – there are services such as Response Tap call tracking for instance which can see which source has made your phone ring.
If you are creative and segmented in your promotions you can also track things offline – use voucher codes and other special offers to see the effect your activity is bringing.
For those of us exclusively in the online world things are a lot easier.  If you navigate to traffic sources and switch to your ecommerce view in Google Analytics (or goals if you're not a ecommerce business) you can quickly see the revenue driven by your social networks.  There's also plenty of other options in there to see multi-channel funnels and other key metrics.
It can be hard to get your head around the ROI, but it can be done – feel free to ask any questions on this or get in contact after the presentation to discuss how we can help with measuring your ROI.
Finally, I just wanted to touch on the new Facebook insights.  This tool has improved massively over the last 3 months.  You can now see when your users are using Facebook, which of your posts they're seeing and engaging with, what % of your audience your reaching by demographic and which of those you're engaging and much more.  This is great for picking out the softer metrics of the ROI side – brand awareness and 'buzz'.  Not to mention, it's great for helping to optimize that all important social content strategy.
That's all from me – hopefully this has helped you get started or to get back on the right track with your social content.  Remember, focus on your target audience and what they want and where, and look at data as much as you can to ensure you continually improve your efforts."
See the full presentation below >