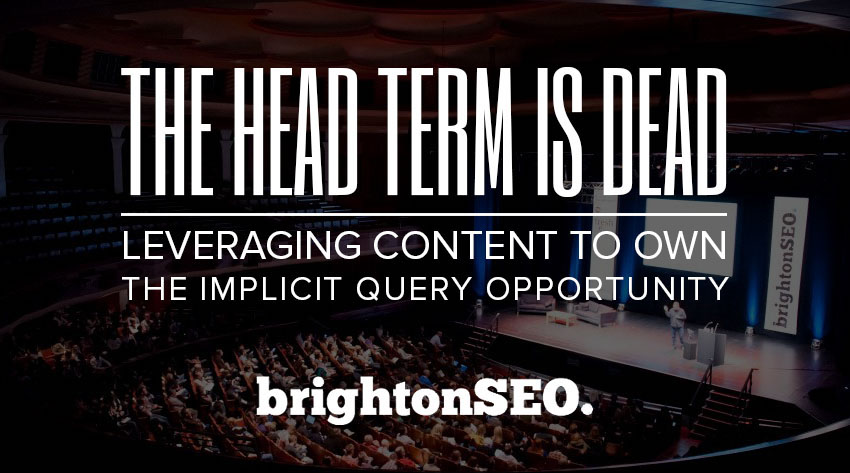 BrightonSEO 2015 – The Head Term is Dead Presentation
BrightonSEO is one of the biggest events in the digital marketing calendar and is frequented by Zazzlers. The 2015 event saw Zazzle MD Simon Penson take to the stage to share a successful process our agency has been using to great effect over the last 18 months that takes advantage of the changing ways in which Google presents results.
Below you can find the deck and full transcript and we've even created a supporting, in-depth blog post on the subject over at Moz. You can read all about how to leverage the implicit and long tail query opportunity by following the link.
Scroll down now for the actual presentation and transcript…
The Presentation Slides
The BrightonSEO 2015 Transcript
Good afternoon. Great to see so many people here for this session. Context and audience understanding is a subject that is close to my heart and today I want to walk through a process we've been using at Zazzle to great effect. Controversial title you may say but the data we have seen over the last year really supports this statement. Let me explain why…
Google has always been good at matching query to documents. Keyword matching is what made the behemoth what it is today and Google used to work on the simple basis of searching the index and matching it to keywords and then organising those relevant documents using its well-publicized ranking algorithm.
But the world moves on. Simple is no longer enough. We want better and best.
Marketing you see has never been about keywords and Google knows it. The focus needs to be on people and what they are searching for.
It's no surprise as we have seen this basic process many times before in mass media.
If we look at how TV, radio and print have evolved. They all began with an obsession with fairly simplistic technology. As that tech became more user friendly the focus moved away from 'staring at the radio' to the content coming from it.
Without that no value is created as the only value media creates is by amassing targeted audiences of value.
Enter Hummingbird, Google new 'engine' to power its search algorithms. It replaced Caffeine as the core algorithm, allowing Google to better personalise search and understand the intent behind a query in much more detail.
It has been designed to allow the search giant to scale that across the entire index quickly in the same way that Caffeine gave them the power to quickly roll out new features (such as Penguin and Panda) across every geography.
The question, of course, is how, as marketers, do we react and take advantage of this? To do that let's have a look how it is beginning to affect search.
Until recently if you typed in hotels (a little personalization aside) you would get a simple list of the ten most 'authoritative' hotel sites and it would be your job to sort through it to get to the specific result you wanted to find. Not effective or efficient.
The result was that those 'head terms' got all of the volume and that, in turn created a 'race to the top' in organic terms and, with it, a lot of the spammy tactics Google has had to jump on recently.
The reality, however is that was not helping the user and so Google got to work understanding context. In this example we can see how this works. Take a search for 'hotels'. While it obviously I'm looking for somewhere to stay there is a whole heap of data behind this that refines my query. What I'm actually looking for is a hotel in London. I'm also a company CEO and I have an important meeting tomorrow so need to get some sleep.
A better result for me would be this. A list of quality hotels that are quiet and also those that has meeting space for that meeting. BIG difference.
In this world everything we know changes. The traditional long tail curve dies and we see search volume spread much more evenly across millions of 'terms' (or results).
And the smart way of claiming that is to create specific content to service that growing search traffic opportunity. Specific article-level content is much more likely to surface here as it answers a specific question.
How do we do that? Let's look quickly at the process we use to do this.
It all starts with insight and understanding your audience, as we need to understand the various questions being asked by our target audience.
To do that we use a lengthy and well-honed process, which gels existing data from the client brand.
We then add in social insight and here we can see a couple of slices of this and how it can really help with that understanding piece.
Here we can see data taken from Facebook – the process for this I have spoken about previously here – it's powerful as it allows you to dig into a huge data set of people who already like your brand and you can benchmark against the UK as a whole to understand the nuances of your customer base.Here we can see, for instance that for this hotel brand looking to tap into that search opportunity we talked about earlier can understand what else their audience is into. Understanding this helps us paint a vivid picture of the person we want to help.
We can even see how that may vary by geography –something which is particularly powerful when designing content strategy to resonate with your entire audience.
We then look at other data sets such as YouGov here to get as full a picture as possible.
Ultimately these feed into a persona creation process and in the examples you see here it is clear to see how each of these has very different content needs and, critically, ask very different questions.
This is what it is all about. Painting human shaped pictures that allow you to really get inside their heads. Creating a list of their key questions can be really helpful here in creating a framework from which keyword research can then hang.
Once you have a clear view on which it is you are talking to and what questions they are asking you can use this to inform the keyword process.
Step one of that process is to jump into your favourite keyword tool. For us that is SEMRush. And while you are looking for the obvious the really useful section of this particular tool is that it allows you to explore 'related keywords' in massive depth. It's precisely this wider view we are looking for here, as we want that long tail.
Another tool we will use is KeywordTool.io, a fantastic long tail research option as it pulls data from the Google Suggest API, amongst others to give you a view into the extremities of that long tail.
Google itself also helps as it presents lots of relevant queries while you are typing. Don't hit enter, instead make note of these.
Forums are also a mine of information and you can use advance search operators such as this one to find those forums and the relevant threads within them.Typing these queries in will present you with thousands of questions being asked on your topics.
Soovle is also a nice little tool as it takes out a lot of the hard slog by combining search data from everything from the key search engines to eBay, Netflix and even YouTube.
Competitors can also teach you lots and we steal the best of their ideas to ensure we leave no stone unturned.
One of the best ways of understanding this is to dive into SEMrush again and use its Domain v Domain tool. Here we can see Marriott V Hilton and how their keyword profiles shape up against each other. We can see which keywords they share and what they don't have.
We can drill down into those we don't have and sort through for relevant opportunities. Store these alongside the other keyword ideas you have.
All of this should then feed into an editorial calendar alongside your other key content to ensure you work through it in a logical order, prioritized by opportunity size.
And of course you should ensure that is delivered in a way that promotes what we call Content Flow. Here we can see an output from it showing how you should deliver content with variation to ensure your audience stays engaged. You can test if for yourself here.
And our free toolkit can help you ensure it all comes together. Grab it here.
Oh and you want to know the point of this. Why bother?
Here's a great example of a brand doing it well. Currys is brilliant at it and this detailed guide to 4k TVs shows. As you can see it's really in-depth on an in depth subject areas as it goes on.
And on.
And on.
The site is full of brilliant niche buying guides that answer key questions being asked by their audience.
We can see here just how well that works by looking at rankings for 4k TVs…
And the effect this approach has had on their search vis…
Thanks for listening. The full transcript can be found on our site and a supporting post is live now on the Moz blog.