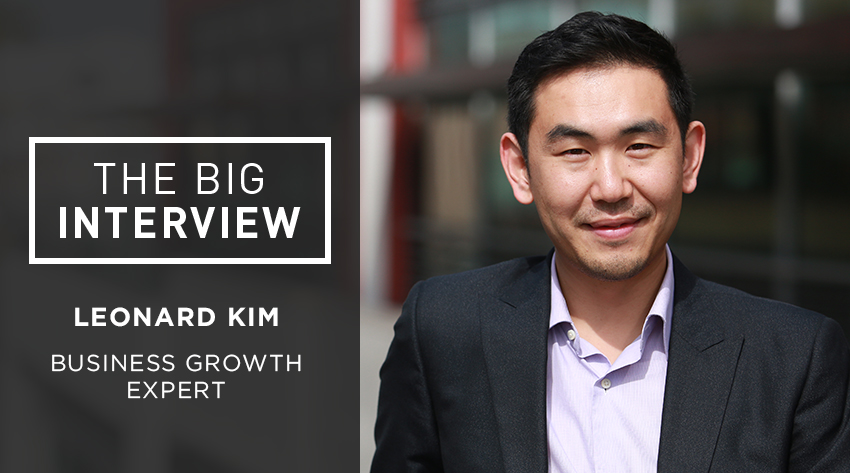 The Big Interview > Leonard Kim, The Business Growth Expert
If there's one thing Leonard Kim knows about, it's helping businesses to grow. Within just three years he has become a renowned speaker, personal branding expert and influencer – as managing partner of InfluenceTree, he and his team teach entrepreneurs how to build their personal brands, growth-hack social media, and create their own empires. He advises businesses on branding, marketing, strategy and retention.
His story is an inspiring one. Leaving his day job in 2013, he set out to build his personal brand. He was soon named as a Top Writer on Quora, and then a Thought Leader in Business Strategy, Marketing, Startup Strategy and Advice and Business. His content has been read over 10 million times, his social media followers have passed the 100,000 mark, and he's been profiled by a range of respected publications – including Forbes, Entrepreneur, Inc. and Fortune.
So, who better to ask about branding and visibility online, and make the next subject of our Big Interview series?
You've been open about the fact that you've struggled to find satisfaction in your career in the past. How are things for you right now?
"Things are great! The most fascinating part of it all is that for the last three years, people have constantly turned to me as a trusted resource. I can't think of anything more honourable than that.
What are you currently working on?
"Last year, I came to the realization that a lot of people wanted my help in writing, growing their personal brand, or just duplicating the success that I've built over the last three years.
I don't know why it took me two years to realise something so simple, but I'm a slow learner.
After all the mentorship requests, I realised I needed to build a course that showcased everything I learned over the course of the last three years and share it with the world. Thus, I created InfluenceTree, which is a personal branding accelerator that teaches entrepreneurs and career driven individuals how to grow their personal brand, much like how I have."
Can you give us an example of a client that you've enjoyed working with recently?
"I won't name names, but one of my most recent clients – we signed him up for a Quora account. We edited, reshaped and strategically placed some of his content onto the site. Within 30 days, we generated over 400,000 views on those two pieces of content alone!
In the daytime, I also work at the University of Southern California's medical enterprise, Keck Medicine of USC. From October to December, I put together a pretty in depth strategy for their social media channels. We were able to grow the Twitter following from 5,000 to 34,000 followers from January to the end of May this year. Plus, the engagement across all platforms is through the roof. Quite frankly, I had my doubts when it came to getting people to get excited about healthcare!
Do brands and individuals typically contact you for your skills and expertise, or do you reach out to brands you'd like to work with?
"I don't like networking. When I go to a mixer, I hide in the corner and eat my chicken wings. When a friend introduces me to someone else and tells them what I do for work, I just shrug and go back to the bar or to the conversation I was having. I don't want to talk about work outside of the Internet in a predetermined business setting.
But that doesn't mean I don't get any business. Thousands of people have gone to my personal or work website. Hundreds of people have either sent us their contact information or emailed me in regards to working together. So, typically, people reach out to me."
You've shared some fantastic advice on developing a brand and strengthening influence… what's the single most useful tip you could give someone hoping to increase their digital presence?
"Be authentic. You know, back in 2008, (I think this is the first place I've ever said this, and I'm never going to repeat it again) but I used to work at this company. I'd tell everyone about how successful I was, how great my life was. How I was doing all these fun things… but the truth of the matter was that as each day was going by, I was getting broker and broker. I was feeling more and more miserable. I felt like if I kept this facade up, people would buy into what I was doing.
As time progressed, it became harder and harder to keep up with the Jones' and I eventually had nothing. But I was still putting up a front. People began to hate me, resent me, think of me in so many different ways… I thought I would never recover. The only reason I was able to get out of that stump was by going out there and being 100% authentic with all my content. I showed all my weaknesses, all my flaws, everything. Even mentioned all my failures. Then people finally began to regain trust in me. But boy, did I lose a lot of friends and business contacts in the process."
How can someone make their voice heard above the masses of people online?
"The only way to be heard above the masses is to find a niche. Stick out. But you can't do it on your own blog. Let's say it's some lame website like IamLeonardKim.com. Would anyone know it existed? No. Would anyone ever find their way to my website? Probably not.
So we're all aware. You need to have content. But your content does nothing for you if you don't have traffic.
Post your content onto media syndication networks that already have a preexisting audience. Two of the most popular ones are Quora and Medium. If you utilise these platforms correctly, you can send tens of thousands of people back to your website."
You initially gained a large following by providing and sharing incisive content on Quora; which other platforms would you suggest that people engage with and interact on?
Medium (read the Big Interview with Kate Lee, Head of Content Development at Medium, here) is another great platform. If you're accepted into a publication with 50,000 followers, you could get hundreds, if not thousands of readers just based on one piece of content that you put up! Talk about a great way to hyper accelerate your results.
You had to go through some tough times to get to where you are today. What made you decide to start by writing candidly about your failures rather than just initially portraying yourself as the 'hero'?
"There was no hero to showcase. Sure, I took a startup from $0 in revenue to $50,000 a month within three months, but that fell apart. I helped another startup go from 100 vendors to 1,100 in six or nine months, but that went bankrupt. When push came to shove, I had no resume. I had to work with what I had.
What I had was nothing, and definitely not a hero story. Quite frankly, I see hero stories all the time. Aren't you bored of them? I am. I feel that most the population is as well. They aren't authentic and as far as I know, people are tired of seeing people put their best foot forward. You need to find a creative way to stick out, or else you blend in with the rest of the crowd."
When times were tough for you, were there any pieces of advice or inspiration that really resonated and helped you to persevere?
"Ha! I spent most of those days just laying in bed, hiding under the covers. I didn't want to get up and try again. I failed, then failed, then failed again. Each time I failed, it became harder and harder for me to find the motivation to really do anything. The only reason I was able to get up and do something was because I was scared of my grandma yelling at me to get a job. Asian grandmas are scary. Especially when they yell.
Eventually, I broke my ankle in a drunken stupor. I tried hopping a fence and landed the wrong way. I guess that was a good thing because I was kind of immobilised, so I had a lot of time to think about all the mistakes I made in my life. And boy, were there plenty! More than any pieces of advice or inspiration, that helped me move forward was piecing together my life from beginning to where I was at that point, then figuring out how and why I lost my way. Why I was chasing the money as opposed to creating value. Why I was out to help myself as opposed to helping others. Why I was only concerned with my own good fortune as opposed to that of my peers.
So it wasn't really advice or inspiration, it was just the realisation that I needed to stop taking shortcuts, because when it comes to business, there is no such thing as a quick way to achieve success."
Sharing a story where things didn't go to plan can be quite intimidating. Is there anything you can recommend to help someone who feels apprehensive about laying everything bare?
"I didn't share my story on my first post. If you shared your story on your first post, I'd be surprised. I personally don't know anyone with that much courage. I started to share my story on my eighth piece of content. That was over a month from the first article I wrote. And when I wrote it, I sat there, trembling for two hours, before I could click publish.
Funny thing is, no one picked on me. No one made fun of me. Instead, they started calling me an inspiration. I received private messages from successful people saying how brave I was. People started to open up to me and share their secrets with me. It was weird. But it definitely was not the type of response I was expecting.
So, what would I recommend? Just pretend you're writing somewhere where no one is ever going to see it anyway. Like a brand new blog with zero followers. But instead of posting it to that empty blog, post it somewhere that it will be seen."
Finally, what would you still like to achieve in your career?
"I'm only three years into this newfound career and I've been offered so many things from C level positions at startups to speaking internationally in places like Portugal, India and Singapore. I've spoken in front of hundreds and been in magazines, on podcasts, webinars and the radio… There's still a lot I could potentially achieve. Being on TV. Speaking in front of thousands, maybe doing a TED talk."
Follow Leonard on Twitter @MrLeonardKim
Profile image credit: Evan Duning