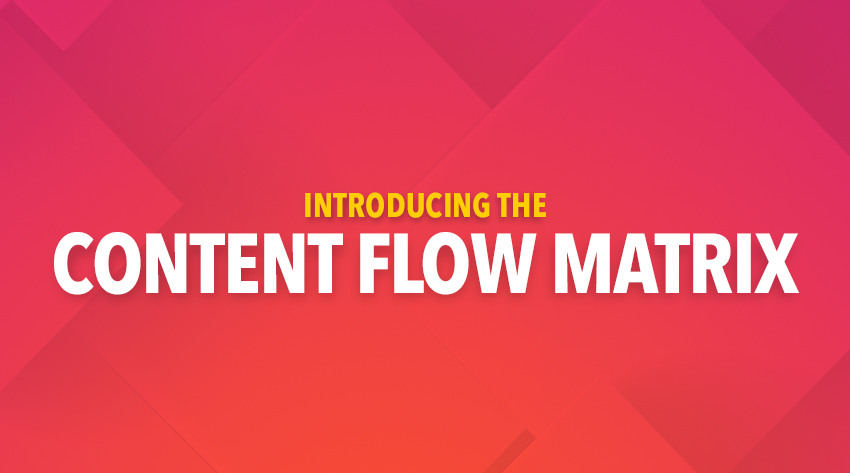 Introducing The Content Flow Matrix – A Framework for Creating the Perfect Content Strategy
Organising content ideas into a seamless calendar of publishing activity is hard.
It's also one of the most misunderstood and underestimated pieces of the marketing puzzle. Get it wrong and you will create content that earns little engagement and has to work doubly hard to maintain a sizeable audience.
Delivering content well in a way that keeps your reader, or audience, engaged and coming back for more requires an understanding of media consumption habits and age old content strategy rules.
We call this content flow, and it's a subject we have written about a lot in the past both on this site and also for others like Moz – but today we can unveil the next step in our quest for better understanding – The Content Flow Matrix.
To make it as easy as possible to design a content calendar that works we have created this free and simple chart to visualise how different types of content serves different purposes and 'fit together'.

The concept is simple. A world-class content strategy should include a handful of elements:
1. A varied mix of different types of content
2. Content designed to serve every stage of the traditional buying cycle
3. Both 'big bang' and smaller, regular content
Understanding how that mix should best sit together has always been a challenge; until now.
The Content Matrix was borne out of this tussle and is the culmination of months of visualisation efforts to make the job of arranging content ideas into a cohesive plan easier.
How can The Content Matrix help?
The Matrix fits neatly into our content strategy process and here's how we use it:
1. Our content strategy team works with the client to understand the content audience, building personas from existing data and using output from our own social insight toolset Pinpoint.
This pulls interest data from social platforms to help us understand what makes our audience tick, and what they are into. We have written about how you can extract similar data manually for Moz in the past.
2. From this we then use our persona template to build two to four personas to target with content.
3. We then pull together lots of competitor and market research to prep for our lengthy ideation meet. That session is split into several distinct sections, each of which is captured by the linked-to ideation process. We do it this way to ensure we leave no stone unturned in the quest for consistent delivery of great content ideas.
4. The result of the above process is a list of content ideas covering a mix of content types and media. The next challenge is placing these in a content calendar to create variation. The concept, as explained in the Content Flow post cited earlier, is to mimic the way magazines are designed; with small, regular, short-form content interspersed with larger campaign content.
The idea is to map your content ideas against the Matrix and then pick and choose the ideas, so there is variation within the publishing schedule.
An example of this can be seen below for a fictional client in the travel space: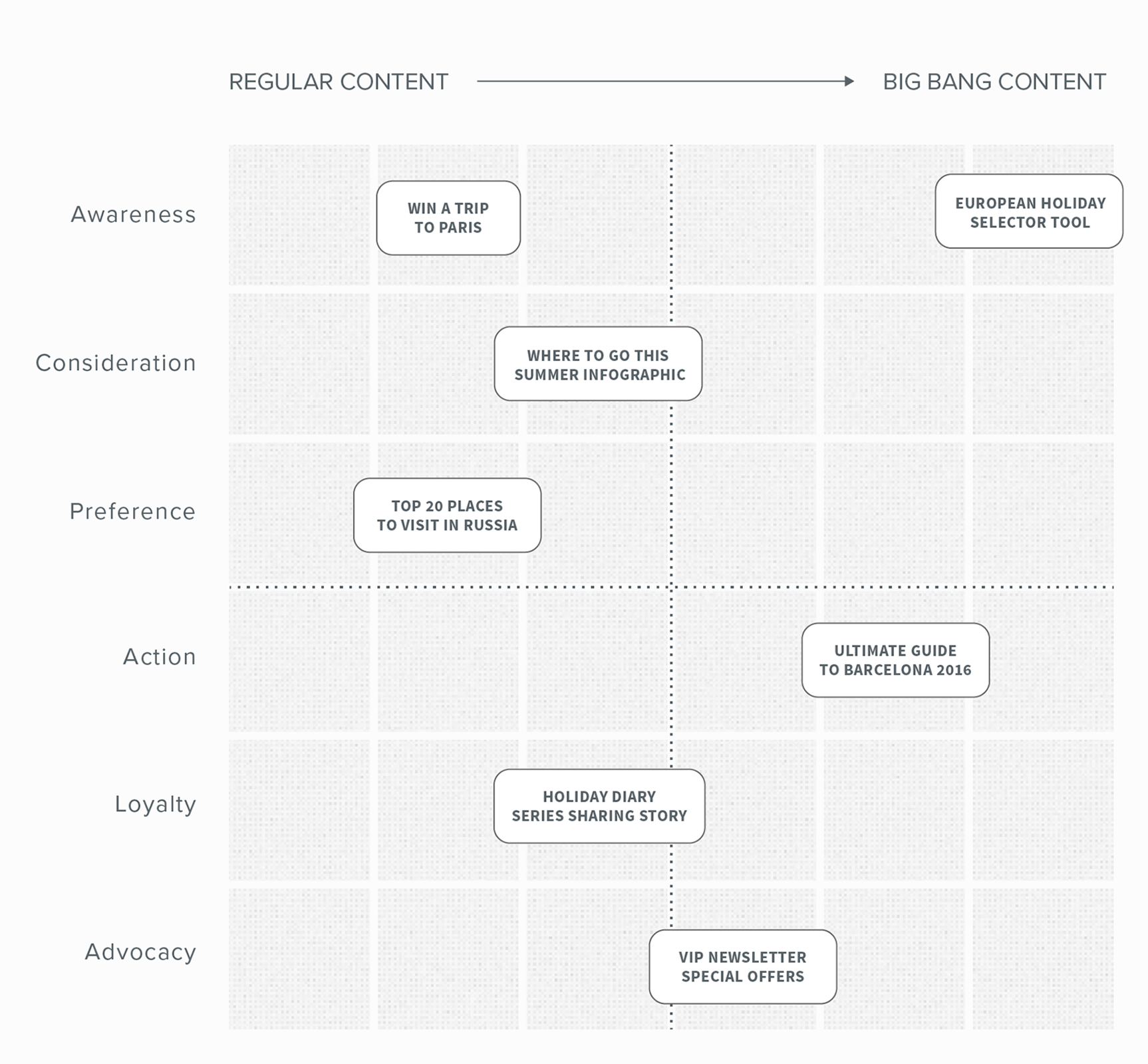 You can see here a few example ideas plotted within the matrix, using the full version as a guide.
From here it is then a much simpler process to space ideas that cover both the 'size' of the content and its function from a funnel perspective.
These can then be plotted into an editorial calendar and the version we use can be downloaded as part of our content strategy toolkit.
The result? A well paced, well thought out and structured content strategy that will elicit much greater audience retention and engagement.
Below is a preview of the Content Flow Matrix, now available to download- This comprehensive tool will enable you to plan your content and predict the outcomes of how your content will perform too. To download, click the call to action below.