The Content Marketing Show 2012 Roundup
We had the pleasure of attending, and sponsoring, the first ever Content Marketing Show. Hosted by Kelvin Newman, the brains behind Brighton SEO, this one-day conference was absolutely free and completely dedicated to content marketing.
If you didn't get a chance to attend, fear not! Read on to find out exactly what was presented. If you did attend, we hope you nabbed one of our awesome cupcakes!
Influence Flows: Philip Sheldrake
Philip took to the stage with an interesting point that we are all guilty of forgetting; content has been around for hundreds of years and what we are creating is nothing new.
By scrambling to rapidly fill our now HUGE empty 'vessel' with content that is compelling to both humans and machines we are making said content difficult to consume.
We must develop our content to:
–       Communicate
–       Influence
–       AND be influenced
Content should be a dialogue, not a monologue.
 "If society is ready to embrace a trend, almost anyone can start one. And if it isn't, then almost no one can."
Scott Adams

The content marketing world seems to be intent on finding a universal metric to measure the success of content, but there is no scalable facility to learn when influence takes place. Philip encouraged us to find our own unique way of measuring metrics, but warned that the age old paid, owned, earned taxonomy content does nothing but reinforce dated models. We were urged to pay close attention to our outcome metrics, all the way through a campaign, starting at the beginning. We were left to ponder Philip's point on machined data and it's potential growing influence.
Agile Content Strategy: Lauren Pope
Lauren showcased a very structured way of creating content that allows you to constantly improve the content you produce as well as create it quickly, using a cycle of iteration and analysis:
– Ask why: Lauren utilises user stories to create content, and encourages us to ask why for example:
As an ___, I want to ___, in order to ___.
This allows us to keep the user at the heart of everything we do and focus on an end result.
– Don't wait, iterate: Just what it says on the tin, content should be constantly updated to prevent stagnation. Lauren warned us not to add too much, too soon, to our content strategy.
– Analyse: In order to analyse your content, split it into three groups:
–       What didn't work
–       What did work
–       Actions
By separating your content like this you can base your updates on feedback.
Click here for Lauren's slides. It'll be just like you were there!
Content Marketing + Narrative: Ian Humphreys
Create Great Content + Content Marketing to Drive = AMAZING CAMPAIGNS
Ian uses narrative to tie disparate events into a logical, comfortable order, but what makes a great narrative?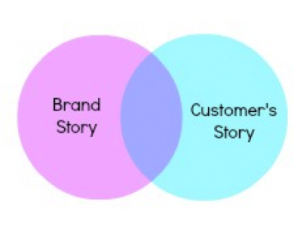 By linking your brand's story with your customer's story you can find the space between, and that is what makes a great narrative. Tell a powerful story about a product, based on your audience, and give it a personal element.
Using Burberry as an example, Ian left us with the following model:
–       Set a narrative
–       Populate content
–       Engage customers to share
By telling your story but allowing your customer to also tell theirs you are encouraging them to engage.
How to Win at Pooh Sticks: Tom Ewing
Tom told us that the dominant metaphor of content has become 'the stream' and likened an involvement in social media to playing a computer game in which objects fly at you!
Ask yourself; do you remember what you discussed on social media last week?
So, exactly what kind of culture thrives in the stream? Nano Culture.
This is fast-paced, fluid, collaborative, and shapeless, so how do we adapt to this? By using the stock and flow theory, of course!
To explain, flow is the feed, content that flows into the stream, and stock is content that is durable and stands out, for us, as content marketers, our 'stock' is our customer's 'flow.'
The very best type of content doesn't divert or interrupt the stream; it shapes to the day, just like a horoscope.
Using one of his own case studies, Tom explained that his research has shown the type of content that is more likely to be shared is that which surprises us, and makes us a little happy too.
To summarise, Tom's key points were:
Your stock is your customer's flow
Culture beats feature
Think like a horoscope
Empower, not just entertain
Surprise, intense emotion, and happiness.
Stories that Scale: Antony Mayfield
BIG data plus BIG stories are Antony's bag! He told us that storytelling can scale if we steer clear of dehumanising stories, telling stories as well as listening to them.
Antony told us that we must combine big data with content, using the 2012 elections as a case study he explained that during this time data ended up creating stories. The data collected gave great insight which in turn was turned into stories that were shared amongst US citizens.
Big Data + Content + Customer Experience
Antony told us that we must combine big data with content, this allows us to tell our users a story.
Here are Antony's slides from the show.
Tales from a Content Marketing Rookie: Mila McLean Homburg
Mila gave her own refreshing view on content marketing as a rookie:
–       Traditional marketing matters
–       Know your client! What are their goals?
–       Know your audience
–       Do it properly! Do your research.
–       Good content is NOT cheap
–       Use your team's skillsets
–       Be proactive. Keep learning.
–       Think big!
–       Understand your strategy
–       Have standards.
5 Things You Always Wanted to Know About Journalists but Were Afraid to Ask: Désiré Athow
Using his journalist background, Désiré gave us a little insight into a journalist's mind. Explaining that journalists have been groomed to be wary of people who work in PR and marketing and we should bear this in mind in our outreach approaches.
Journalists are humans, and they have targets to hit. When approaching them we should bear in mind that 3 things determine what they produce:
–       Affinities: what they'd like to write
–       Priorities: what they choose to write
–       Projects: what they have to write
Journalists are driven by passion and when you want to get the best out of them, interact with them! Attend networking events, talk to them via social media, RT them, and never, ever give them content littered with spelling mistakes and grammatical errors.
Using Content to Get Press Coverage: Stephen Palovich
At Wish.co.uk they are all about using content to get attention and multiplying the impact of PR. Stephen told us just how to do that:
–       Stories must be topical. Aim to be responsive.
–       Be sexual. Oooh saucy, we like this one! Leveraging sex gets you into the mainstream press.
–       Be controversial, or respond to something controversial.
–       Leverage a celebrity.
If you can get all 4 of these into your content then you're onto a winner!
When creating content start with the end in mind and ask yourself this; what would you do if you weren't afraid?
"Eight percent of success is showing up"
Seed. Leverage. Be everywhere.
Stephen made the whole process sound incredibly easy, using the following case studies:
A Valentine's Day Romantic Break for Three
Although this advert was ultimately pulled it quickly gained attention from The Metro, BBC Radio 5 Live and US Television.
£250, 000 Downing Street Experience
Piggy backing the cashes for honours scandal, Wish created this experience, emailed Stephen Fry (yeah, STEPHEN FRY!) and he tweeted about it!
Zombie Shopping Mall
Who would be the perfect person to help promote this experience? Simon Pegg of Shaun of the Dead fame, of course!! Wish emailed Simon's agent and low and behold, he tweeted about it!
Sounds simple, right? Plus, great PR organically goes on to create more attention as time passes.
Stephen's top tip? The simpler something is, the better!
Evergreen Content: The Art of Recycling Resources: Chelsea Blacker
Chelsea discussed a challenge we all face daily; working on a boring client that no one wants to hear about/cares about. The solution? Recycle resources.
Here are Chelsea's points on how to do this:
–       Employees: Use employees as the public face of a brand.
–       History: Use history to share interesting stories with interested people.
–       Proposals: Don't throw away unused proposals, turn them into blog posts/white papers
–       Case studies: Collate your case studies to stretch your content further.
–       Calendars: Review the events you attend and let people know where you'll be.
–       Presentations: If you're presenting, record yourself practicing for an instant podcast. After your presentation, host it on a slideshare and if your presentation has been recorded at a conference, ask for a copy to host on your site. You can also have a follow up Q&A via Google Hangout.
–       The Facts: Use your big data!
–       Events: Get staff to live tweet from events as well create write-ups.
Fancy taking a look at Chelsea's slides? Click here.
How to Sell Cups of Coffee Online: Stephen Leighton
Stephen attended the content marketing show to give us a story of pure inspiration! He told us the story of how his love for coffee, a spotty 16-year-old 'website' creator, a coffee roaster, and very little budget has become a flourishing business. How does this relate to content marketing, you say? Because throughout their journey they have kept their goal and their love for coffee in mind, they provide exactly what it says on the tin.
Author Briefing – The Key to Good Content: Jochen Mebus
Jochen was speaking for Textbroker, an SEO content creation service and took us through the briefing process and how we can get it right!
Work out overall goal of your text, as the following questions:
–       Is its purpose to entertain or inform?
–       Is it intended to optimise a site?
–       Is it to drive people to buy a product?
–       Name your target audience
–       Describe the preferred style of writing
–       List specific questions the text should answer
–       Specify your SEO requirements
–       Ask the author to contact you with questions
–       Write a concise briefing
–       Be friendly
–       Ask your content provider for support
It's SMM not S&M – Taking the Pain out of Social Media Monitoring: Andy Keetch
Size isn't the only thing that matters

When it comes to monitoring social media we need to understand exactly what is successful and why. This can be done by tracking conversations over time and flagging spikes to learn the best times to release different types of content. Tracking the competition is also a great way of gaining insight.
Plan your reporting by doing the following:
–       Defining clear objectives
–       Reviewing traditional reporting
–       What do execs want to see? The headlines
–       Focus on results and what drives them
–       Get your hands on data
–       Be flexible and responsive
Andy told us that in order to 'make sense of the noise' we must get content out, gain feedback, and then refine it.
The Great Content Robbery: Simon Penson
Next up, it was the turn of Zazzle's MD, Simon Penson. At Zazzle, we often use principles from Simon's print background, we steal print insight and turn it into a great web content strategy.
At the beginning of heist we use the following:
–       Front covers: this relates to the structure of our text and images
–       Editorial pillars: we spend time defining our pillars, the foundations of our content, brainstorming ideas and capturing a plan.
–       Theming: What are your themes? Power? Sex? Gadgets?
–       Theme your year: do this by working a themed timeline into your plans and calendars.
–       Personas: establish marketing personas and give them DETAIL!
Next up, we think about conversion:
–       Incentivised purchase: take the 'bagging' technique and turn it into online competitions.
–       Typography & hotspots: create a brand feel
–       Typography as design: be creative
Finally, think about your content flow and types and how your content has delivered over time:
–       Peaks and flow
–       Regular templates: Use lists, Q&A, product focus, news and opinion
–       Match your ideas with their content type for structure
–       Opinion sells: Find your opinionated persona.
–       Reverse engineer your plan
Great content should flow like a piece of music, with peaks and troughs.
Writing Content that Resonates with Influencers: Matt Roberts
Matt's favourite words are 'resonate' and 'influence' and he believes that these two things should go hand-in-hand.  So, what exactly does success look like? Likes, shares, and plenty of other metrics!
He questions whether influencing a few will reach a larger audience and thinks the key to success is to be human and influence those around us, the people closest to us.
Matt points out that the only way to resonate or influence is to create quality content and do the following:
–       Maintain relationships & be human. It's impossible to maintain lots of relationships so you need to resonate in the right place, identify the people you want to become close to.
–       Give content to people to spread and let them take the credit for it, be responsible for other people's success.
–       Monitor the news agenda and have an opinion.
At Linkdex, Matt does just this, they use their relationships with industry insiders to resonate and influence.
We'd like to say a massive thanks to Kelvin for organising this awesome event and we'll leave you with our Tweet Me cakes.