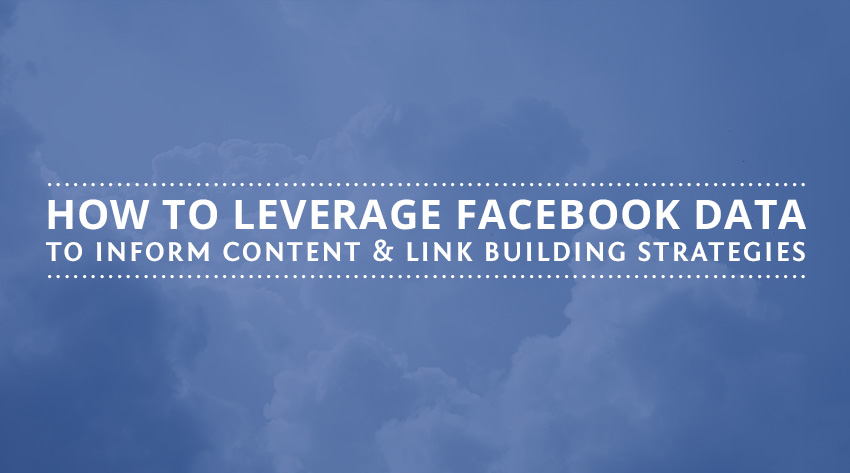 How to Leverage Facebook Data to Create Informed Strategies
As Google continues to evolve its algorithms, it's making it harder to manipulate rankings through the old methods of link acquisition. We're being made to think of different ways to acquire links that will have an impact on search results.
Links are having the most impact on a websites rankings, yet evidence is starting to appear that quantity is no longer the key, quality and 'natural acquisition' is.
Using different methods to acquire high quality links is leading to new methods being used to create content strategies that we know a website's audience will want to read.
'Natural acquisition' was mentioned as unless the content is outstanding, or content is interactive and goes viral, this content is still seeded with a website owner – this is not natural. However, it's far more natural than buying 100 directory links for $5.
We're a long way from 100% out-and-out natural link acquisition being the only way that a link will have an impact on a website's search rankings, but we had better prepare ourselves.
What data can we use?

There's a large variety of data sources that we can use to create natural content strategies that will in turn acquire links. There are many articles about creating content strategies through a variety of data mining tools such as; SEMrush, Social Crawlytics, etc.
One used less than others is Facebook ads manager, insights and audience in comparison with Facebook's general audience profile. This data is invaluable, free and allows you to drill down into their most common interests.
Facebook Data
So what data can we mine from Facebook?
Ages
Audience Engagement
Facebook Engagement
Audience interests
Most successful posts – through shares and likes as this shows interest
Post frequency
Post frequency vs. daily engagement
Engagement by no. of posts per day
Firstly, all this data may not be necessary when running this evaluation as too much data is sometimes overwhelming when trying to create a defined strategy.
For example, the number of posts in a day is not something we need to factor in and neither is post frequency or post frequency vs. daily engagement.
However, that data will be invaluable to assess if looking at social performance.
To give you an example of how this data set can be effective when compiling link building strategies, let's look at the informative pieces of data that we can then turn into an effective link building campaign.
ASOS are a large brand with an exhaustive Facebook audience that has recently reached 3,391,861 likes. When analysing this insight data, a large brand on Facebook will get much more from their data as it'll be a more telling story.
It's hard to trust small data sets due to reliability.
The first thing to assess when creating content, and as mentioned in the Zazzle ideation process, is establishing what age brackets are the most popular with ASOS. Without knowing the audience, you would be blindly creating content, wasting resource and acquiring zero links.
From looking at the data set that we extracted from Facebook insights, it's clear that ASOS' defined market age bracket lies between the ages of 18-34, with the majority between 18-24. That's just over 40% of their entire Facebook audience.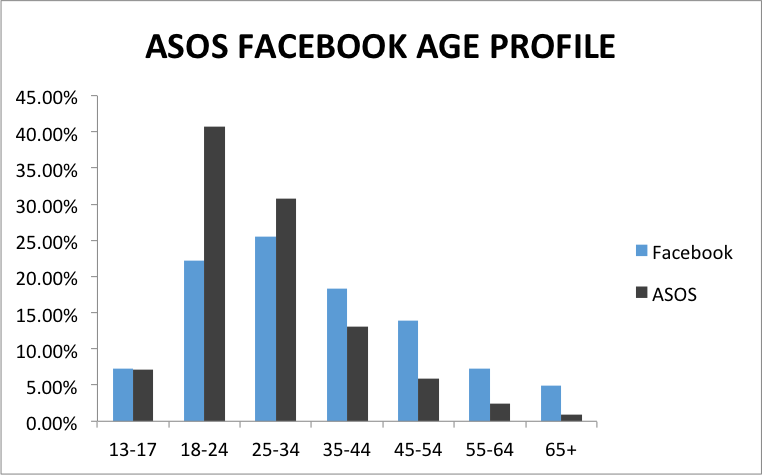 We now know that the majority of ASOS' Facebook audience lies between the ages of 18-34 and this will be more than likely transfer through to their sales data.
Aligning this with most common interests really allows us to establish personas that ASOS should be targeting with their content, which will in turn attract links.
The data below shows the top 5 interests of ASOS' Facebook audience.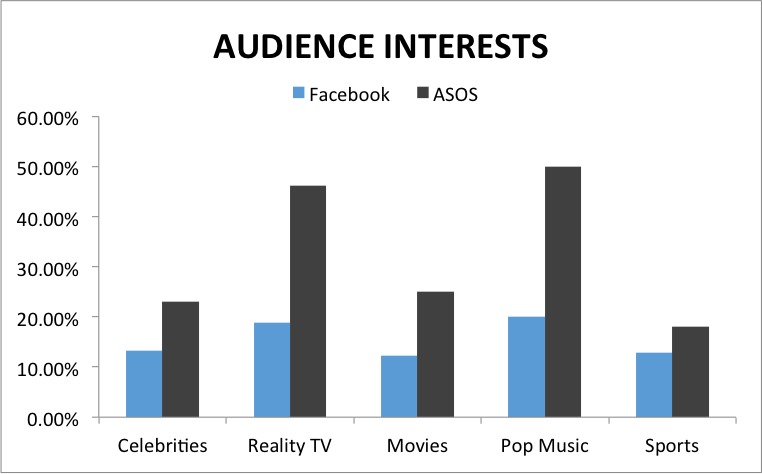 These data extracts took less than 10 minutes to compile. Comparing against Facebook's general audience trend is important as it gives you a clear indicator of where your audience's interest lies.
We now know if we were to ever create a content strategy, for on or off site, that content based on topics to do with Celebrities, Reality TV, Movies, Pop Music or Sports will naturally bring their age demographic of between 18-24 years old.
Brainstorming content topics that transect that data – age/interests
A study from Forrester Research (mentioned on the Social Media Exmainer) shows the importance of interacting with influencers on social media.
This study showed that 13.4% of US adults online create 80% of content that influences people, meaning the remaining 86.6% of US adults online create just 20% of content that influences people – identify your influencers, it's important!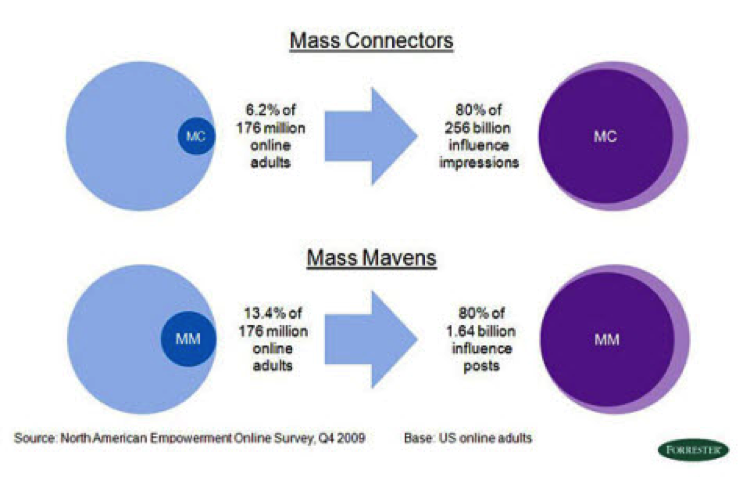 Finding these influencers is the easy part as there are so many tools readily available to use. Below are a few to kick start your hunt for finding influential people to connect with and start schmoozing!
A recent favourite trick of mine is to find influential people through tools such as Kred, Peer Index, Klout, Traackr and Followerwonk then searching for them within Quora.
For example, an influential person within my space is Rand Fishkin. If I search for him within Quora (after finding him through Twitter/LinkedIn), I will then see all the questions that he's asking or getting involved with by answering questions for other people.
This is a great space to get involved with discussions that they're actively participating in. Impress and connect via LinkedIn and they should remember your name and that is the door open to an influencer.
Bringing it back to ASOS, a recommended step would be to find an influential editor at a magazine such as Heat Magazine, as their interest demographic is into Celebrities, Reality TV and Pop Music – all of which is covered in Heat Magazine.
A simple search on LinkedIn brought up an interesting result of someone who is the 'Acting Digital Editor' at Heat Magazine/Heatworld – exactly who we need to get in touch with.
A search on Quora brings his profile up – although he hasn't interacted with any questions – a follow on there, and LinkedIn, will bring a number of emails into his inbox that you're following him and again, opens that door.
Following people on Twitter allows you to establish their personal interests through the content they share, the retweets they do and content that they tweet. It's invaluable, free data for you to study and then use to target your influencer with an appropriate content idea subject to their own and industry interests.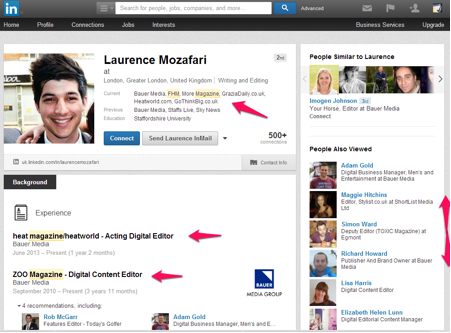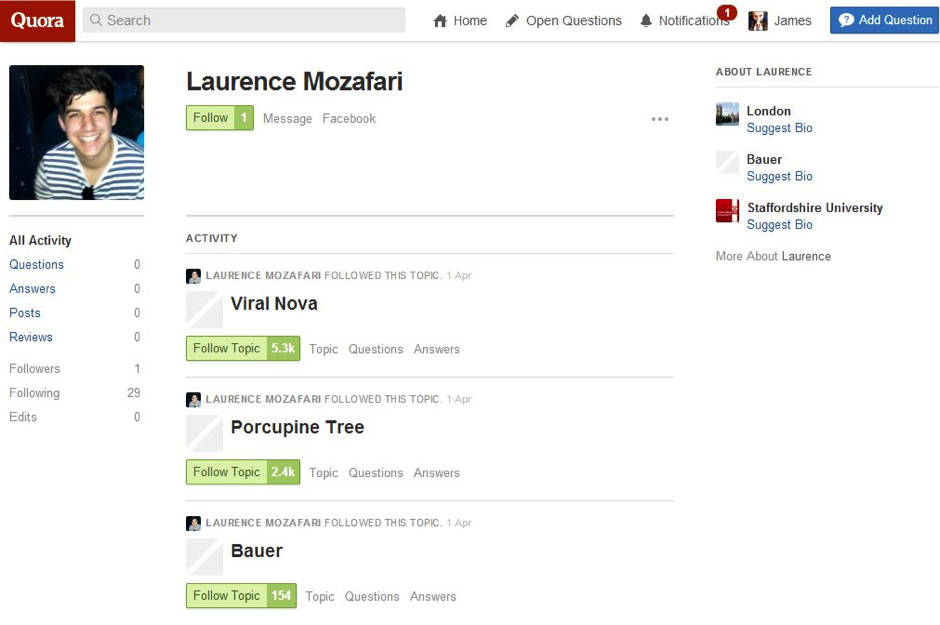 The next thing you have to do is pitch a relevant and exciting topic to Laurence as you don't want to waste his time.
A great way to begin brainstorming topics that will take his interest is through topical and highly relevant content topics that are trending. Using software such as Alltop allows you to do this.
There appears to be a bizarre story doing the rounds about Kid Rock and a glass dildo – I'm sure someone with a creative mind would be able to come up with a piece of content on this.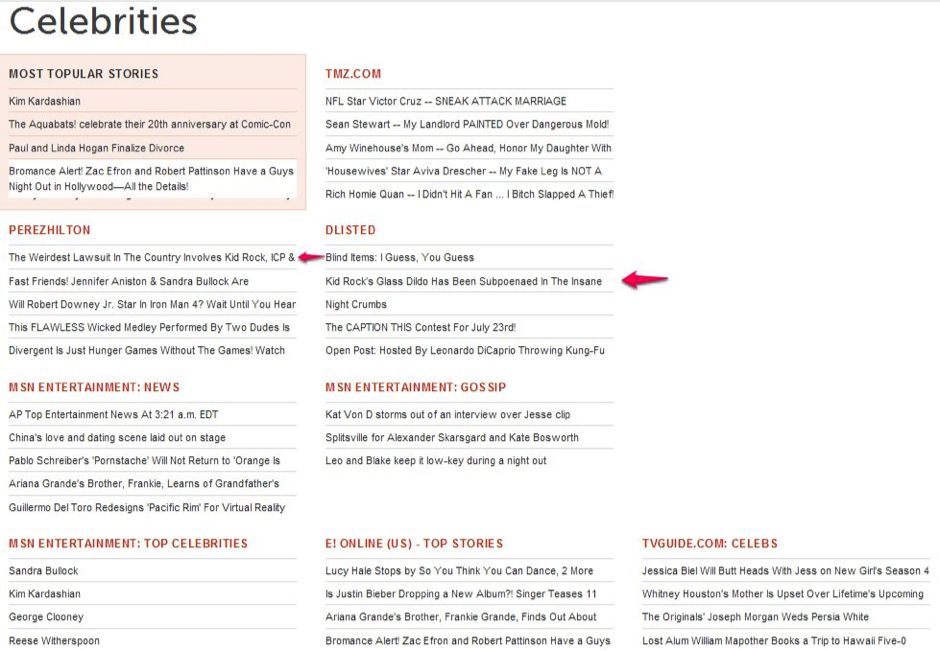 Put a spin on one of these and your hands will be bitten off…
Alltop has a variety of areas for trending content, such as http://celebrities.alltop.com/ which is relevant for this search.
This can become part of a bigger process which will result in daily content ideas on trending topics that busy content editors will want to snap up!
As part of this process, continuously refining your influencers list is important as you need to have your fingers in all the pies, so to speak.
Promote influencers content.
Comment on their content.
Become an active contributor to their Tweets, Facebook Pages and LinkedIn groups.
Message them with suggestions, in-depth answers to questions and content ideas where appropriate.
Create content for them when ideas are approved.
Attend any events they go to enhance relationship.
Do they offer freelance? Is there a small project they can work on for you to establish relationship?
This shows that using social data, such as Facebook insights and ads, can lead to creating content and link building strategies around relevant content that your audience is interested in.
If your audience is interested in this type of content, finding the influencers is the next part and once they have been identified and analysed, providing them with content that both they and your audience want should be the easiest part.
Try not to treat social, content and link building as separate campaigns, make it a holistic digital marketing strategy and each channel CAN influence each other.
Twitter is starting to provide much more insightful analysis on profiles now which could be used in a similar approach.
You are able to export individual tweet data to see the ones which received most impressions, engagements, engagement rate, retweets, replies, favourites and user profile clicks. An export of this data is shown below.

This is another blog post entirely, but a snapshot of the dashboard is also below to show you how this area has been improved significantly for us to start dissecting and using as part of an entire strategic approach to content.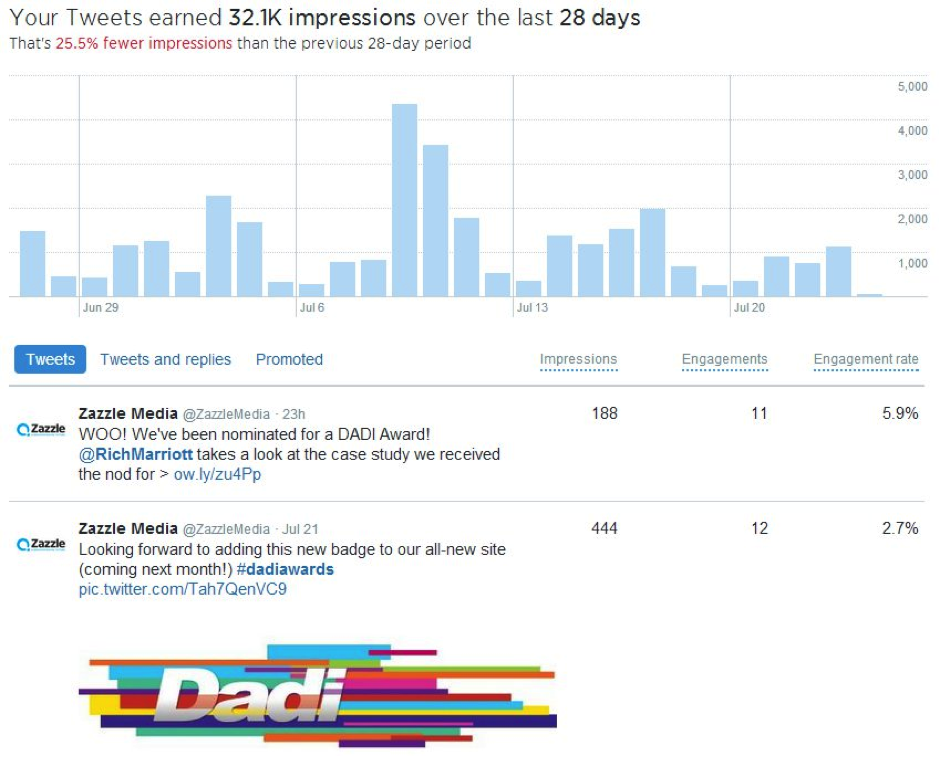 Overall, Facebook data can influence more than just social strategy, but what websites to target, get links from, content ideas/strategy and influencers.
Don't isolate your channels, use the great data provided by Facebook and many other platforms to create an overarching strategy that can influence an entire digital campaign.