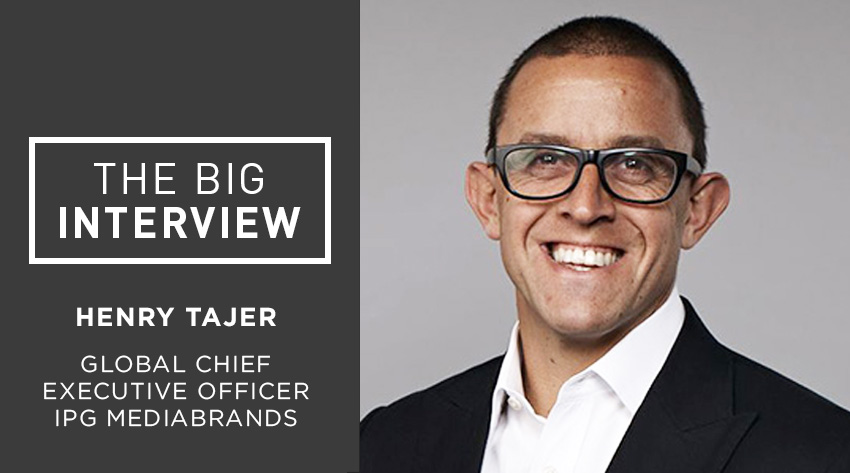 The Big Interview > Henry Tajer, Global CEO, IPG Mediabrands
Australians like to win.
But some like winning more than others. Henry Tajer, leader of IPG Mediabrands, and a wear-your-heart-on-your-sleeve Aussie sits firmly in the latter camp.
As boss of IPG Mediabrands, one of the world's most powerful marketing and advertising businesses (and the new owner of Zazzle Media!) he is on a mission to reinvent how our industry operates.
His career has been nothing short of stratospheric, having joined the group from fierce rivals WPP in 2005 to reinvigorate Mediabrands' ailing Australian business unit.
The transformation was swift and dramatic, resulting in a promotion to the biggest job the network could offer.
A year into the role and plans are already rolling out to transform the 8,500-person strong company into an agile, audience first and content-focused media behemoth.
We spoke to him from Mediabrands' New York HQ to find out what is next for the company and Henry himself; man on a mission to create an agency network for the next decade and beyond…
Firstly, hello Henry! We should start with digging into the rationale behind our acquisition – so, why us?
The answer is a simple one. If you think about the importance of content now it was obvious that we needed further capabilities in this area. To be quite honest with you we don't have enough of this kind of [digital content] skill-set within the network and Zazzle Media and Stickyeyes bring us some serious firepower in this arena.
As with all large agency networks the challenge is always one of scale. If we were able to up-service all of our existing retained business and consulting opportunities within our client base we would be a lot bigger in business than we are. We just don't have enough of the resource to deliver it.
There is a shortage of capability around this part of marketing and it is growing in importance.
I am thrilled and excited to have the group onboard.
What do you see as the biggest areas for disruption or opportunity over the next couple of years in the industry? And Why?
The biggest area for disruption is really how brands rethink content. In the last 5 years if you think about how media has changed and overlay how content has changed over the same period then content and creativity has lagged.
There are some leading brands that are now starting to see the benefits of that. In 6-18 months we should start to see a real increase in this from all brands.
The future is brands acting like media owners.
What are your three big areas of focus for IPG Mediabrands in the next 12 months?
Good question. We have one key focus which is a constant and that is our talent base and that will never change. We become a stronger business when our people grow, develop and become more proficient, more capable and more confident.
Another key area is how we manage our own evolution. A really big part of it is how we as a media and comms network really bring content to our core. Historically content has not been part of our core – this is relatively new for us. I am grateful that it has turned up in such a powerful and meaningful way.
We are really focused on mapping out the pathway for it to become part of our core. It feels like the acquisition [of Zazzle and Stickyeyes] and our creativity is how we are managing this shift culturally, in particularly with the media agencies who deal with the clients. We need to constantly remind our teams that we have every right to have a point of view with creativity and content. This is why we are partnering with agencies like the Stickyeyes Group and upscaling a number of other businesses around the network so we can offer our clients supplementary services.
We are also really focused on being more dynamic. Dynamism is part of our proposition and DNA and what that really means from an internal perspective is how fast and agile we are. This comes with our ability to make decisions and to execute those decisions and take on new risks that we haven't taken in the past.
So the company culturally becoming a faster organisation is a big focus, and we are doing that because we fundamentally believe that to help our clients to become more agile to market their products and services and their brand is also a way for us to provide meaningful support and value to our offering to clients.
Favourite moment as CEO so far?
I'll tell you what – every morning I jump out of my bed. I am really privileged to have the opportunity to be part of a team of fantastic human beings who are really brilliant every day.
When my eyes open, my feet are itching to get out and get to work.
What does an average day look like?
I try and ensure I operate in a really open way and remove as many non value-adding distractions as possible. It's imperative that happens in a role like mine as I travel a lot and need to be connected to a lot of businesses.
If I'm in New York [where he lives] then I generally wake at around 5am and go to the gym for an hour. I am then in the office for around 7.30am and from that moment on I am generally rarely alone. I'm always with people as that's so important in a business like ours. Those meetings can be anything from strategic group conversations to one-on-one personal support sessions.
I rarely go out for lunch, preferring instead to use that time for email and calls. I need to be productive. I also try and keep a level of work-life balance however and leave the office as much as possible by 6.30pm. I switch off when I'm at home. There I am a husband and a dad. I am a normal guy living in New York and that's really important to me.
With so many agencies underneath the IPG umbrella, how do you keep on top of them all? And how do you decide what to pursue in terms of opportunity?
The only way to manage this is by having an ongoing and regular connection with as many businesses as I can. There are areas with less regularity but we do have a cadence with our operational process that we stick to with quarterly catch ups. The CEOS I speak to daily or weekly.
The other really important element is ensuring you have a strong leadership team around you and we lock arms and surround the business. One of the things I try to do is make myself available to provide help or support at any time.
How has the IPG Mediabrands strategy changed since becoming Global COO in 2010?
I would hope that people would feel that we now have a very clear plan and vision for what we are trying to do as we have communicated to the network at large.
We want everyone in the organisation to know what we are trying to achieve. It gives people a very clear picture of the aspirations of the company. It keeps us accountable.
The plan for the next five years has been widely shared and those decisions make us accountable to the rest of the network to make sure it all lines up.
Externally the strategy and approach we are working towards is anchored in being a humble organisation. Humble is really sexy in our eyes. Being the best at what we do and letting our work do the talking. Humble yet at the same time serve up really exciting market leading products.
Are you more of a hunter or a gatherer?
I'm a Hunter. I'm definitely better one on one and would back myself in that scenario. But I like gathering too.
What are you most proud of?
My family give me the biggest source of pride and joy. Like anyone I'm immensely proud of what those closest to me achieve.
If you can pinpoint the single most significant decision of your career – what would it be?
I was with my last company [WPP] and I was contacted by IPG in 2003 about a role to head up UM. In Australia, UM was not in a good place and they wanted me to head up a turnaround. I slept on it as there were no guarantees of success but it was the best decision I ever made. It opened up so much for me in terms of opportunities and connections and the people that I was fortunate to meet and work with.
I'll always remember 24th October 2003 as a pivotal day in my life.
Any career advice for those looking to make a name for themselves in advertising and marketing space?
The only advice I would really give people, marketing or otherwise is that if you really want to achieve a certain thing then the only person who is going to stop you is yourself.
There is a way to get whatever you want and I strongly believe that and sometimes that's patience, sometimes working hard, sometimes its just communicating it. Nothing is impossible if you put your mind to it.
What was the last book you read – and your favourite?
The shoe dog by Phil Knight. I didn't put it down and read it in two days, which is something of a record for me.
It reminded me of the need to be tenacious, determined, focused and never give up. I would highly recommend it.
If you could be any animal in the world, what animal would you be and why?
That's a good question! I have in my mind a bird, I like the idea of flying. It is convenient.
Based on that I think I would be a Sydney seagull. They can fly and their diet is hot chips. I am a big fan of hot chips!
What do you do in your free time?
Obviously I am surrounded by family. I am a mad shopper and I like to stay healthy. I really enjoy spending time with my close friends. I don't have too many as I believe that less is more. Deep and meaningful friendships is one of the most valuable things you can have. We also do a lot of travelling with the family; we like to be on holiday.
And finally…would you rather be attacked by one elephant sized duck or 100 duck-sized elephants.
I think I am much better one on one when it comes to being attacked so would go for an elephant sized duck, I can imagine it would be one big quack.