The Dark Knight Rises: How Being Bruce Wayne is Not Enough to Save Gotham
Patrick Hathaway, a renowned Digital Marketing Manager working in-house for Ideasbynet, gives us a personal view of how Google penalties such as Penguin and Panda are affecting SMEs in the real world and highlights how the human effects of penalisation are often overlooked. Many Google penalty reports and analyses are written from a technical standpoint but here Patrick uncovers just how hard these penalties are hitting businesses day-to-day.

Please feel free to share your own Google penalty experiences and opinions with us in the comments below.
________________
During the last few months, several earthquakes have rocked the search landscape, as 'Bigfoot' and various iterations of Panda and Penguin have left many SERPs in an unpredictable mess. With Google cracking down on unnatural links and the syndicated blog networks, they inadvertently gave spammers the keys to Gotham by effectively enabling negative SEO.
Fortunately the hysteria surrounding negative SEO seems to have died down, and the large majority of SEOs would have to agree that most of these changes are for the greater good. The frustration right now is that the good SEO companies, the ones that have been delivering content strategies for years, have ended up having to fix problems caused by others – wading through decayed and corrupted backlink profiles and trying their best to clean up the streets.


I work in-house for a company called Ideasbynet and on April 7th this year we received a message through Google Webmaster Tools that we had 'artificial or unnatural links' pointing to our site. And I don't mean the ones that may or may not have been bad, I mean the ones that were definitely bad. Sure enough, we appeared to suffer a penalty as rankings for some of our major terms plummeted from page 1 to page 5 or 6 and traffic took a significant hit.


We Probably Deserve It
I only got properly involved in SEO around September last year and up to that point the majority of our SEO had been handled by external agencies. We paid them, they went off and got us links, and we had good rankings. When we analyse these links now, it is easy to see we had directory links, article submissions, link exchanges, blog commenting and probably a fair number of paid links.
So it would certainly be inaccurate to say that we did not profit from the 'unnatural' links that were developed on our behalf. Does that make it our fault? I don't really know, we were only really doing the same as everybody else, just perhaps a little more aggressively. But I guess we probably do deserve it.

We Tried To Clean Up Our Act
Either way, we accepted that at some point down the line agencies contracted by us had developed unnatural links and that we'd have to try and fix it. For anyone that has done this, they will know it is a thankless task. Since we no longer had contracts with the external agencies, we didn't have any source or contact information. We were literally starting from scratch.
For a start you are completely guessing as to which links are bad, you then spend ages finding contact details for the site, only for the majority of your emails to be completely ignored. We found loads of sites that had been abandoned, and plenty of others with literally no contact details available whatsoever.

On the advice of Pierre Far, we compiled a comprehensive list of all the hundreds of website owners we had contacted, along with details of the links that had been removed. For all the people we couldn't get through to, we took screen shots of contact forms and bounce back emails. We wrote a very sincere, honest and thorough reconsideration request that detailed exactly who we had worked with previously and what link building efforts we had been doing since.
It took around 6 weeks to get a response. It was not good: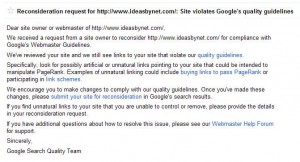 A Manual Penalty, Yet an Automated Check?
Shortly after this, Matt Cutts did a You & A session at SMX Advanced, where he answered the following questions: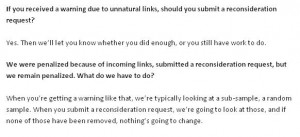 So, despite all the time and care we had taken to compile lists and screenshots, and writing a very detailed response, no one has looked at our request, they had simply checked a few links automatically then sent that response out.

We've Been Working Towards The Greater Good
One of the points we raised in the reconsideration request was that any agencies we'd contracted had not built any unnatural links for us in over 2 years. Then, last September, we stopped outsourcing our SEO and tried to take control of it ourselves. We started following the advice of companies like Zazzle Media – the new breed of 'content-led marketers' – and begun creating content that our users would appreciate. We started blogging, we built resources, we redesigned our whole website, we added loads of videos to the site, we encouraged customer reviews, we made infographics, we embraced social – anything that might improve the user experience on our website.
After putting all this work in to do things properly, we couldn't give up, so we went back to the drawing board and tried to remove as many 'manipulative' links as we could. We dragged up old article site logins and deleted almost 20,000 articles. We removed site-wide links from other web properties we owned. We contacted another 400 or so webmasters manually, yet suffered the same issues as previously.
I don't understand how Google expects you to deal with this issue – you can't force people to take links down. I guess you can pay them to, as one response indicated:
Hi,
We are receiving too many requests like yours on a daily basis and simply can't manage the volumes so we came up with a simple idea to charge a modest $1 fee per listing change.
So, if it works for you, please:
1) pay $1/listing amount (if you have 10 listings to change in 1 directory that would be $10, if you have 10 listings to change in 10 directories, that's $100, and so on) to shk@*****site.com.
We are sorry we have to charge for the requests but at least we can guarantee the removals/changes across our entire network of directories, so for many of you it's a win-win.
If it doesn't work for you, we'll still do our best to work on your request but it would take quite some time since we'll first process urgent/paid ones.
Thanks.
The world has turned on its head! We are now having to pay people to remove links from their websites and malicious site owners can harm their competitors through linkbuilding, whilst others are questioning if they are legally 'allowed' to link to someone. As Ian Laurie points out, Google has somehow given spammers all the power.

We can't get every bad link down. It is impossible.
Despite this, we submitted another reconsideration request. We were clear once again about the number of links we had removed, and how many people we had failed to elicit a response from.
Last Friday, just as I was leaving the office, an email popped up from Google. And it was exactly the same message as last time.
So Much For The Greater Good…
Once again, we have to go back through our link profile, hoping we can identify the culprits, and hoping we can contact them to remove the links. Our days of producing good content are on hold, as we don our capes and return to the murky underworld.
The main problem I have with this situation is that it flies in the face of 'what Google wants'. Since we received the first warning, most of our efforts have been redirected to link removals, which is an incredibly time consuming job. We are also worried that if we do produce content for our site, any links we get will have no impact (or the negligible traffic improvement of a rise from 65 to 47 in the listings). What this basically means is:
Google is preventing us from producing quality content.
Our time is no longer taken up in content creation or website enhancements to improve user experience, it is instead taken up fruitlessly trying to undo other people's linkbuilding.
We have reformed, we have rebuilt, but we are still being shunned by Google.

We Are Not Alone
There must be thousands of other small businesses like ours, trapped in this information vacuum and begging for guidance. There must be thousands of SEO agencies who have been producing great work for years, yet are now being distracted by these frustrating link-unbuilding processes.
But why did this happen in the first place?
I guess the problem is that unnatural links worked:
Business owner wants more business through the internet
They contract an SEO firm, who recommend an aggressive link-building campaign to achieve rankings and traffic
Links are built, rankings are achieved
Business owner can see results, and doesn't ask any further questions. Re-invest.

The problem is that most business owners have no idea about the right or wrong ways to do Internet marketing. What they can see is a clear correlation between budget, links, and rankings.
Business owners weren't aware they should create a 'natural profile' and in most cases were simply not aware of the risks. SEO companies had a provable way of showing ROI to their clients and it is easier to stick with easy, proven methods than it is to start over with a totally new strategy. And both companies are happy that the money is continuing to roll in.
Is the Business Owner Ultimately Responsible?
I have heard the argument many times that the ultimate responsibility lies with the business owner as they should investigate the company they are dealing with and find out if they use dodgy tactics or not. To some extent I agree with this, but how does this attitude relate to the wider business world?

If an electrician or a plumber comes to fix something, you don't question their techniques or examine their work. When you get into an aeroplane, you don't interrogate the pilot to ask him what route he'll be flying or how fast he's going to go. You have to trust them. At least in these cases it is made easier because they are registered, have a license or have passed examinations.
There is no authority body or Google accreditation an agency could get to say 'we are Google approved', so how could a business owner really have any clue what kind of links a company might develop on their behalf?
I am now aware of dozens of companies that I know do the job right, as I've seen their case studies, read their blogs, or watched their presentations. Wil Reynolds wrote a lovely piece on how he'd pick an SEO company, but that is Wil Reynolds – most business owners simply wouldn't know where to start.

Trapped in a Pit of Darkness
So how are we expected to proceed? Our content creation is on-hold until we get out of this mess, so effectively our users end up suffering, which is surely not Google's intention. Of course we are not the only ones, there must be thousands of small business owners thinking 'what now?' and thousands of agency staff thinking 'not another one' as their link building budget is replaced with one for link removals.

I would like to think that it's not just scaremongering, but after our latest response I'm not so sure.
So what could they do to make people like me a little less suicidal? A few ideas:
An actual manual check. If they are going to hand out a manual penalty the least they could do is manually check what removal work you've done.
The much vaunted link disavow tool– there would still be issues with identification of bad links but at least the nightmare of contacting webmasters would be over.
Give an indication of progress – Maybe a percentage of links they consider unnatural, particular anchor text issues, or some sample links.
A separate tool that allows us to declare which webmasters we have been unable to contact and for that to be taken into account along with the reconsideration request.
Simply devaluing the unnatural links – if a site only has these types of links, when they all get devalued then it would have the affect of a penalty anyway.
Google is, apparently, all about transparency. It is their 'transparency' that has led SEOs of late to run around chasing their tails and website owners confused and worried. I hope at some point they will start to give us more information than simply 'you have not done enough', even if it is an indication that there is simply no point proceeding with a site that is beyond reprieve.

Image courtesy of olgabas.com