Infographics Are Dead – What's the Next Killer Content Type?
For a long time infographics have been the forefront of large scale pieces of big bang content and data visualisation. Done well they can still deliver great reach. However, this time is coming to an end. In fact there are multiple reasons why infographics are no longer the 'in' thing in content marketing. Let's go through them quickly.
Firstly, they're becoming spammy. Quickly scraped together by some overseas designers or interns who have little design experience such 'misuse' has devalued them as content to deliver 'wow' factor.
This spammy behaviour is causing there to be more and more infographics out in the wild which leads us onto our next point…
They're no longer unique!
There are so many infographics out in the wild now. Sadly that means that the majority of site visitors and owners treat them with a kind of contempt usually reserved for discarded chewing gum – and that's a great shame. Over supply has created a situation where even the great ones are being overlooked.
If evidence were needed then a quick check on Visual.ly, a popular infographic sharing platform, is needed at the time of writing it has 35,370 infographics live.
So infographics are being forced out by over abundance. The question, therefore, is what's coming next? For me the answer has to lie in interactive content, or essentially data driven websites and widgets that make use of HTML5, Javascript and CSS to create compelling visual assets.
Why am I predicting that such content will win longer term? Simply because the amount of resource and skill such pieces take to create can become a barrier to entry for many. Higher cost means less supply and with it higher demand as any economist will tell you!
Interactive infographics unleash a world of new possibilities that can benefit companies looking to improve presence and visibility across search, social and content marketing. So wide reaching are the possibilities that it's simply not going to be possible to touch all of them in this blog post. In fact some could even be considered an entire topic on there own so watch out for that. For now I'm going to focus on three key generic points.
Interactive Storytelling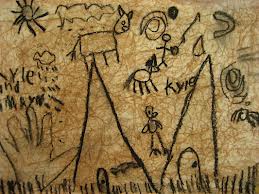 Interactive infographics improve the ability to tell a story which is huge in content marketing and usually anything.
People love stories and they are attracted to them which helps drive offline presentations all the way to digital interactive infographics. It's all about the story. We've been telling stories since the beginning of human history all the way back to drawings on caves.
Making the experience interactive makes it much easier to hook and grab peoples attention. and allowing the user to take the story in the direction they choose means that they have a stronger connection with the piece which, is ultimately good for when you want to try and convert or convince them to complete a call to action.
Increased Traffic and Social Reach
Because of their scarcity interactive infographics and other content types have a higher propensity for sharing. This builds upon the previous point as someone who has a stronger connection with something is more likely to share it with their friends.
Interactive infographics allow the embedding of social content directly into the piece and therefore massively increase the chances of being found. Additionally as search engines increase the amount social feedback affect rankings we can see our interactive infographics bringing in more traffic over search.
Increased Return on Investment
Interactive infographics may cost more up front in terms of investment but over the long term they have a much higher return on investment. The chart below is based on data from the last three outreach projects based on three key content types:
1. Article
2. Infographic
3. Interactive content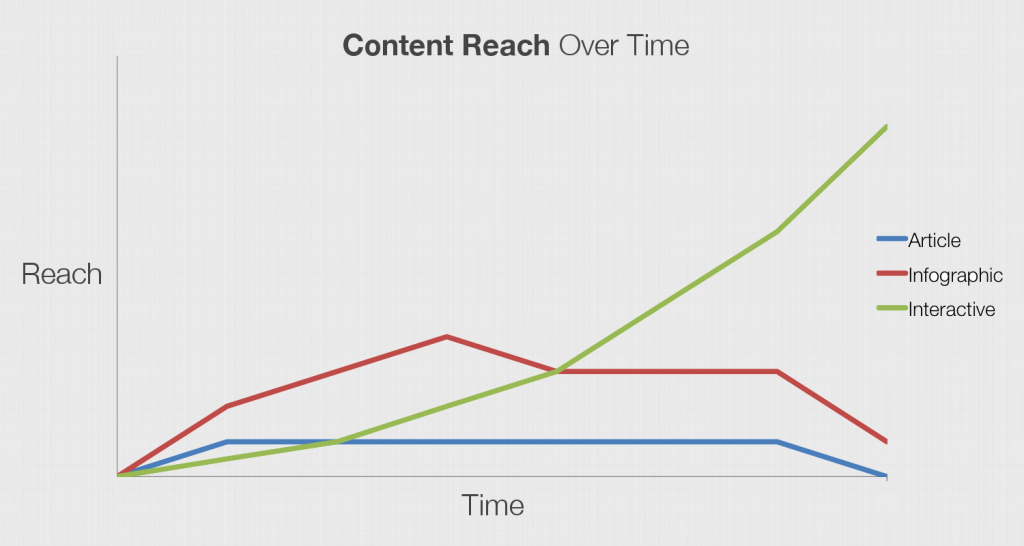 As you can clearly see articles very quickly peak and 'die', while interactive content can take longer to grow legs, but can then really take off, winning a huge amount of reach thanks to Network Effect kicking in.
Such content can also convert better as call to actions such as  contact forms etc. can easily be added in at key points.
So What Can I Do Now?
So infographics are phasing out, but lets remember it's the novelty that is running out, not the value. They definitely still have their place but they shouldn't be the first thing you think of to improve reach.
Interactive infographics bring a whole wealth of new opportunities and possibilities and we definitely need to be taking them more seriously as large pieces of big bang content! Lets take a look at some things you can do to get started in the right direction to improving your big bang content.
A few Examples

Clearly the options are as wide as they are long when it comes to interactive content but below I wanted to share a few examples to help your own idea creation process.
Start Storyboarding
People love stories, this has been proven many, many times by many different people. It's important that infographics and interactive ones alike all share a story.
Story gives the piece flow that people can follow and become attached too. There is a massive difference in just showing some data and telling a story based upon the data as it allows people to relate to the story.
There are some great free storyboarding tools out there that you can use such as www.storyboardthat.com/. You could also choose to use a more powerful wireframe creator such as Balsamiq.
Simple programs you already have such as Keynote or Powerpoint could help create a simple storyboard and progression. There are even add-ons to improve their wireframing capabilities http://keynotopia.com/wireframe-templates/. Lastly, don't forget the simple pen and paper it can be much easier to get creative ideas down.
Learn Some Code
Coding is a massively useful skill to have and can help you do many things, even if you aren't directly in control of coding and developing an interactive content you should definitely take some time to learn some simple code.
Companies and websites such as http://www.teamtreehouse.com/ and http://www.codeacademy.com/ provide simple quick easy ways to learn code through video tutorials, activities and quizes. Even if you just spend a day or two to take a look at what's possible it will allow you to be more informed next time you go into producing your next big piece of  content.
Do Some Research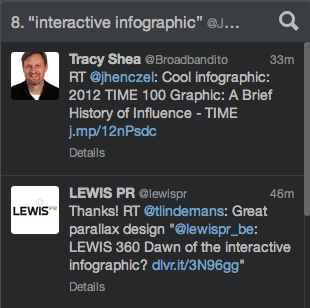 Make sure you do your research, find out what else is out there, what is possible? Search Twitter for "interactive infographics", find out what's been done already and come up with some ideas for what could be next!
I use a column in TweetDeck in order to keep an eye on what's being shared and produced. If you find something you like then work out how it was built, see how you could utilise it in your next big project.
It's very important to keep up to date with what's going on in order to keep things fresh and up to date else you'll find yourself falling behind your competition.
Conclusion
So to conclude, interactive story-driven content is taking over the leading role in big bang digital content. Powered by fresh technologies such as HTML 5, CSS and JavaScript utilising the latest browsers and capabilities. It's becoming increasingly important to learn some degree of code, storytelling is as important as it always has been and it's important to keep up to date with the latest and greatest creations of other people.