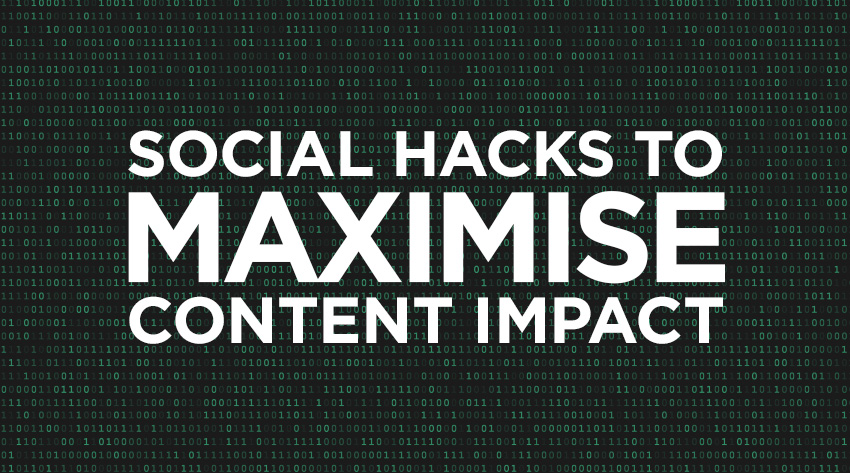 Social Analytics Hacks to Maximise Content Impact
As marketers we are living in unprecedented times. While historically those living, or specializing, in the creative areas of the marketing world have had little need to cozy up to the left-brained 'data geeks' those that don't are now missing out on the opportunity to help shape the future of the industry.
Such a statement may seem a little exaggerated but we now live in a world of data and we're producing it at unprecedented velocity.
According to the latest stats we have created more than 90% of the world's total data in the last two years alone. That's nine tenths of the information output since the beginning of time.
What does this mean for marketers?
The ability for marketers to extract that information from the 'ether' is improving and nowhere more than from within social media, an industry at the forefront of the big data revolution.
At the most accessible end of this is the recent launch of Analytics for the top social platforms – Twitter, Pinterest and the constantly improving offering from Facebook.
Because we share so much information across social it is a goldmine for audience insight as their loves, hates, interests and emotions are shared consistently for all to see.
How do we access the right data?
It wasn't so long ago that social analytics only gave you top level data, such as fans numbers, followers and Likes, but things move quickly in social and we are now entering the third generation and an era when we can not only understand who is engaging but what they are engaging with, when and how.
The news that Twitter opened up its analytics platform to all is a welcome one for all marketers that value data validation within their decision making process.
The announcement also came hot on the heels of the news from Pinterest that it has, for the first time, also opened up its vast treasure trove of data to businesses via its new interface.
Access to this kind of information is invaluable for brands and marketers in particular as the key starting point in the creation of truly engaging social content is an understanding of who it is you are trying to target.
Understanding good content strategy
Great content has never focused on what to write, but rather whom you are writing it for and it is in this critical area that Social Analytics can change the world for content and social executives.
Being able to craft content and strategies that engage or influence customer purchases is the difference between success and failure in a social marketing world.
Twitter
The introduction of Twitter Analytics is only the first step in the process of making Twitter more effective for brands. The current dashboard however is still very useful for those understanding the effectiveness of their content.
The interface itself is very user friendly and while the data isn't parsed as much as a data analyst may like it certainly provide enough insight for an individual or brand to positively affect how their content strategy is pieced together.
The main part of the interface gives you your latest tweets over the last 28 days and bases overall performance on a 'month-on-month' basis and as you can see from my personal profile I am underperforming based on last month's engagement rate:

The breakdown of tweet impressions per day over the last 28 days
What is really interesting about this chart is that not only does it give you impression rates over time but, critically, gives you a view on days of the week also.
This can be really powerful for publication velocity decision making as looking for trends in publication rate V day-of-the-week can help you refine when you publish and what kind of content it may be.
It's this data that really helps settle the 'when to post' argument once and for all as from it you can easily plot key engagement points in the day, week or month and segment that into content types.
To do that you must first download the data in Excel format.
Once downloaded you can then play with this insight, sorting it by either Impressions, Engagement or by individual interactions such as Favorites or Retweets.
But where it gets really interesting is when you start grouping the data into useable insight pots.
For instance, you can splice this data fairly easily to give you a 24hr breakdown to show you when most engagements/interactions take place:
To do that you'll need to separate the data in the 'time' column you can see below:

Downloaded Twitter data looks like this
To do that use the Text to Column function in excel so you end up with something that looks like this:

You can separate out date and time using the Text to Column function
By then sorting your time column you can chart impressions, or engagements by time of the day and work out when your potential audience is largest.
To make this data as user friendly as possible however we need to group time and impressions into 30-minute slots, otherwise the data view is extremely complex.
To do that export the Time and Impressions and simply add the number of impressions that sit within every 30 minute slot.
For the 5.30am – 6am group we add the following together: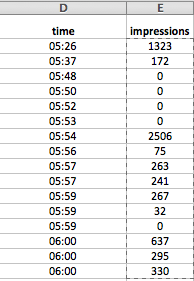 Add these impression numbers together and place them into time segments
You can use the following excel formula to do that more easily: =ROUND(A1/(1/24),0)
What you end up with is a chart that looks something like this and as we can see for my personal Twitter account I have three 'peak' times of the day when my reach is best.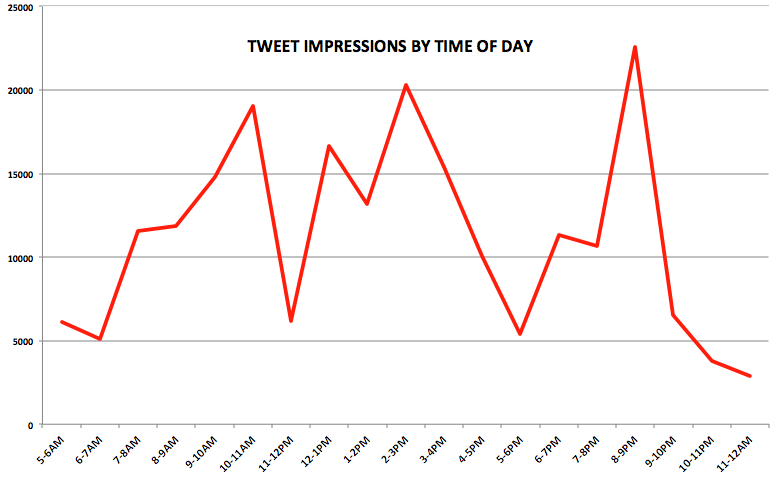 You can chart the data to show you the key peaks more easily
You can then look at segmenting content 'types' also, either by topic or types (e.g. – image, blog post, video). You can easily do that manually within excel or look to use Conditional Formatting to highlight certain words or phrases, from which you can then sort into color-coded segments.
In the example below I have highlighted all tweets that mentioned 'content' in red and used the 'Sort' option to pull these to the top of the spreadsheet. On the right hand side you can then also see that I have separated out the date and time so I can then separately analyze when is the best time to tweet specifically about content.

Sort your tweets using key words and conditional formatting. This is for tweets that contain 'content'
It is then simply a case of repeating this process for any other key topics, or content types, as needed to paint a full picture of your content strategy performance.
Most engaging content
With the data in spreadsheet format it is then really easy to sort by most engaging content. To do that you simply sort by the engagement column but you want to ensure that data is not skewed by tweets that have been as part of a conversation you must firstly remove those manually.
As engagement as a metric is defined as the relationship between the number of impressions a tweet gets and the number of interactions (favorites, retweets etc.) then conversational tweets can score highly and will need to be removed to ensure you see a truer picture.
Pinterest
For brands with a strong image-led strategy Pinterest analytics can also be powerful and it gives you the same ability to download the data. It is possible to use the same techniques then to answer those critical What, Where, How, Why questions.
The new data platform has huge potential on first viewing but before you can access any data you must first ensure your account is a business account. Converting it is easy, as you'll be asked to do so as part of the signing up process.
One additional interesting area is the 'Interests' tab within 'Your Audience'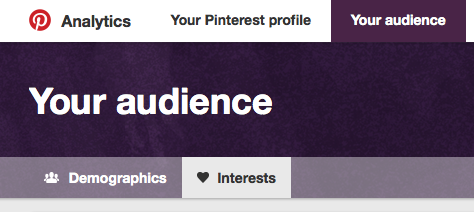 Your audience Interests is one of the most useful segments of Pinterest Analytics.
Within the section you can find lots of inspiration around 'other interests' and this can be extremely powerful as part of the content ideation process that should flow out of the initial audience research and understanding process. An example of the ideas process I use can be found here.
And you can even filter by device type to add extra detail to your content strategy, ensuring that it is fit for a multi-device world. 
Facebook
Third and finally we come to Facebook, the biggest opportunity of them all from a data insight perspective.
As the largest of all the platforms from an audience perspective it offers huge opportunity for those willing to dig into it.
For those looking for easy-to-access data the platform does a good job of providing both good demographic insight and also engagement information through the Page Insights dashboard.
The recently improved section gives you all kinds of information now, including:
How your audience is growing over time.
How you reach is over time
How engaging your content is
A post-by-post breakdown of performance
How well certain types of post are performing
Top posts from competitor Pages you track
A demographic breakdown of those you reach and those you engage with (useful to understand the difference between these two things to improve engagement)
Again, you can easily download post performance data to Excel and use the same process as explained earlier in the post to better understand content trends.
By clicking the Export button within Insights you can then choose Post Data and the date range you wish to analyze and export.
Extra insight
Where things get really interesting, however is in understanding interest sets in a much wider context.
The key to any audience insight work is to paint an accurate picture of those people you want to interact with and, ultimately, convert.
And while the information you will have extracted thus far gives you some great detail around what content works for your audience and when they want to consume there is still a critical component missing – real information on the loves and hates of your customers.
The good news is you can get this kind of information directly from Facebook itself with a little manual hack I have written about previously.
Pulling it together
So by now you should have a host of data to work from. The next step it to turn that into actionable insight from which you can build out your content calendar.
To pull it together I ultimately look to use this content calendar but there is a stage before population that helps you schematically structure your insight to ensure you brainstorm enough of the the right ideas to fit.
This is the matrix I use for recording the initial insight from the data collection exercises discussed in this post and the idea from this point is to take this into your ideation process to ensure you have as many ideas as possible for each area.

Arranging your data like this makes it easier to create a data-led strategy
If you've worked hard at the insight piece you'll have a much longer list than this and the perfect structure for the start of your audience-centric social content strategy!