The Great Content Robbery > How to Steal Strategy and Ideas from Print
The post below is based on a conference talk I gave at The Content Marketing Show in London this November. It's objective was to educate digital marketers on the wealth of content ideas and strategic lessons that are hiding right beneath our noses. The full deck can be found at the end.
The focus of that presentation centred on magazines and newspapers and attempted to extract the decades of experience that have gone into such titles and the ability of those that put them together to create audiences of long term value around content.
Here's the transcript….
Steal Strategy
The first point of focus when looking to learn from print, and more specifically, magazines, as they are the zenith of content creation and packaging, is to learn from their covers.
Covers capture decades of audience understanding and content strategy expertise into an A4 sized crystal ball of content strategy.
Editors and their design teams spend hours agonising over every detail and will ensure the proposition is very clear and that those key cover lines talk to each key persona within their audience.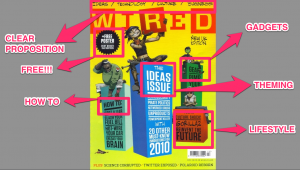 A few of the key takeaways from a copy of Wired can be seen below:All of the highlights mentioned are critical to converting the Wired target audience to convert and buy the mag and the foundation of it all is what I call the "Editorial Pillars'.
These are the key content types that are needed to satisfy each persona. For Mens Health, for example they will have a cover line every month to appeal to:
1. The guy that wants to build a better body
2. The guy that wants to improve his business brain.
3. The guy that wants to perform better in the 'sack'!
These are their Pillars and they will brainstorm ideas specifically around these areas each month to ensure they can deliver ideas consistently that press their buttons.
Theming
Another key takeaway is the concept of Theming. You'll see it every time you go to the news stand because it works. The idea is to create in depth compelling content around a specific 'them', such as 'The Future of..' 'The Power Issue' and so on. By packaging it together readers feel they get more value and you can do a lot in digital around this.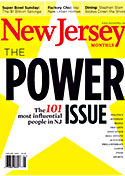 Personas
Lots has also been written about personas in relation to digital marketing and for a good reason. Pinning them down is critical to making any content strategy work.
The point of this post is not to explain what they are, this link does that, but instead to share how magazines use them. In my previous career as a mag editor we had those personas written all over our walls; so important was the understanding of them. And we captured every detail. Not just age and name etc, but what beer they would drink, brand of clothes they would wear.
The other really key takeaway is the fact that the persona idea was also used to paint a picture of our own character as this then shaped our editorial tone across the board. By sharing a vision and description of who we 'are' and then aligning that to a celebrity character it made it very easy to ensure that every member of the team understood not just what to write, but how to write it.
Loot Conversion Ideas
There are many ways in which magazines have developed ways of improving sales and much of that is obviously captured in the cover.
Talk to any magazine expert and they will tell you that the one colour that does not convert well is green. Online that is often a different story but the point is to consider colour carefully when creating call to actions within your content.
Another key area are Hotspots. These are the areas of the cover top left where the eye is automatically drawn. This is where designers and editors will focus their key messages (and 'mastheads' or brand logos also to capture 'brand purchasers').
On average you have three seconds to capture the newsstand browser's attention and so clear, concise messages using good typography in the right place on the page is key.
The same is true online and a key takeaway here is to ensure you consider F pattern when designing content and pages to improve retention and capture interest faster.
Incentivised Purchase
Looking at a news stand today it is almost impossible not to notice 'bagged and gifted' issues. They are everywhere for a good reason. Because they massively improve conversion if the gift aligns to audience persona interests.
Online we obviously can't wrap a bag around a website but we can do the nearest thing better. That nearest thing is a competition and we should be brave in the way we push them. Homepage takeovers and design led major promotions would extract every last drop of ROI out of any investment. And as people can win something comps have the added benefit of engendering positive brand association.
Rob Content Flow and Type Ideas
Content flow is one of THE key takeaways from the print world. Magazines are particularly good at creating a content strategy that flows beautifully.
Why is flow important? Because without variation content can become boring. By creating a strategy with lots of 'regular' content broken up by a small number of major pieces you ensure the audience is kept entertained and engaged.
The key to getting this right is explained more in a recent piece I wrote for SEOmoz and I explained how to measure it here but the key is having a structure within your idea brainstorms to deliver this content consistently.
The best way of doing this is to create a list of content types for regulars; so things like top ten lists, Q&As, Big Image and so on, so that you can then match ideas to them easily like this: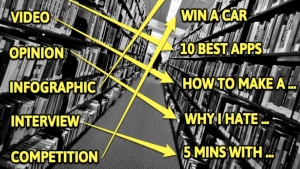 Opinion
And one area we are really pushing hard with our own clients at present is opinion. For some reason very few do this well online and yet in print opinion columns are hugely popular and sell a lot of copies for those that get them right.
There are two ways of getting this right. Either find a 'name' in your niche. Someone respected for their views and that person that rarely tows the line.
Or, if you cannot find them then the other way to o is to simply create a persona and own it. If you do go down this route make sure you fully map the columnists' persona and agree tone etc so you can deliver consistently.
Flatplans
Our final heist target is the magazine strategy itself. While few realise it, the very best content strategy you imagine is staring you in the face each and every time you read. Decades of refinement and experience goes into the magazines you read and every editor plans what goes onto those pages using a schematic flatplan that can easily be reverse engineered.
By working page by page through a title you can capture a schematic framework of content types, such as can be seen below. You can then simply transplant your own ideas into this and you have a ready made, expertly crafted content plan with perfect balance and flow!
For even more tips check out the full presentation below: