Universal Search > How to Stand Out from the Crowd
We are all aware that SEO is changing before our eyes… the dawn of the penalty, semantic relevance and social impact all point to what now has to be the backbone of any digital marketing strategy – quality content.
Here at Zazzle we wax lyrical about the content creation process, from idea generation to content distribution, but what do we do with that content once it is created to a high level and is ready for the content-hungry web to see and engage with?
Methods aside, the answer here is to get it seen by the right audience, at the right time, and to ensure those people are inspired to like, share, retweet, pin etc.
We in the content marketing and search industry will all admit, I'm sure, that we don't create our content and get it seen JUST for the kudos of  virality or high engagement rates, we do it because we know if we do it well we will reap the benefits in SEO.
In this post I would like to address one of the more overlooked aspects of organic search, yet one that can add real value to your search presence and your fight against your competitors – universal search.
Universal search has been around for a few years now, indeed in 2008 Bill Slawski analysed how Google decides which terms get universal search elements, and the basis of this theory evidently still applies today, as some searches get universal results and some don't.
Also known as blended search, universal search encompasses all of the 'extra' features we see when we search on the Big G (other search engines are available…):
–       Images
–       Video
–       Local results
–       Shopping
–       News
–       Maps
Additionally, in-result enhancements such as:
–       Search Plus Your World
–       Site links
–       Schema markup
All of the above help achieve what we all strive to grow: visibility in search. Ensuring you have visibility on your brand and key generic terms really is the essence of SEO at its most rudimentary level.
Become the purple cow in a black-and-white bovine crowd!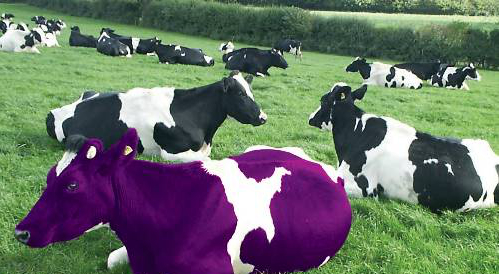 Universal search can help immensely with this by adding to your good organic search work. In P1 for a high competition search term? Great… but why not enhance this presence by also getting a video on page 1 and a branded picture at the top of the image results?
Here I will outline some steps to take to give yourself the best chance of supporting your normal organic results with universal search.
Video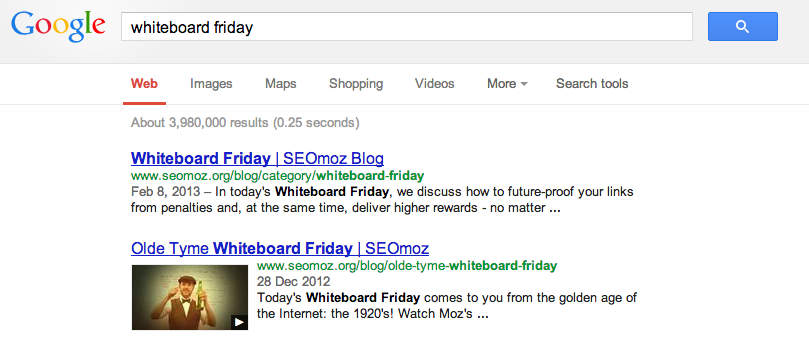 The Youtube algorithm for ranking within the site itself and the algorithm Google uses to rank videos in SERPs are believed to now be very similar. Think of this as SEO for video, with your tagging, description and title acting as your on-page optimisation, and your video/channel views acting as your social engagement.
Ensure you have identified the keywords you wish to target and reflect them naturally in your description, title and tags. Don't overstuff!
The next step is to maximise the views of your video and your channel. A well-viewed/subscribed channel will give a residual benefit to all videos within it.  Making the most of social platforms is essential here and targeted Facebook/Youtube ads can drive traffic and views. Video comments and shares also help, so engage in conversation in your video comments and encourage sharing.
Also ensure you're consistently adding fresh content to your channel… videos in a dead channel will always struggle to rank, unless your video happens to be Gangnam Style.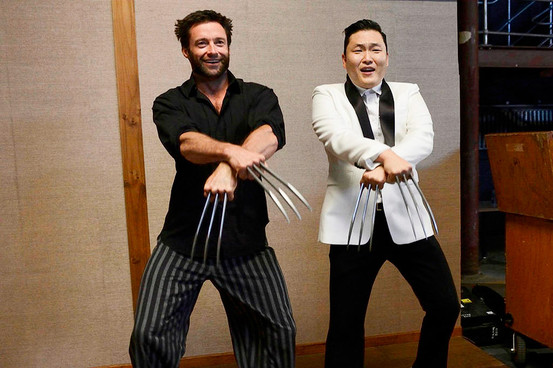 (Source: nme.com)
Other tricks for video SEO optimisation include:
–       Publish the video on other video platforms, as this adds authority
–       Embed the video on your site too (and optimize it – meta etc), this gives Google a clear link between your brand and the video
–       Include the video on your blog, as its inclusion in a high traffic area of your site will lead to more views
–       Build links to the video using targeted anchor texts, but be careful not to over-optimise as this could affect your domain anchor text profile
For loads more detail on video optimsation, the guys at ReelSEO have given some great advice on how to maximise the use of your video content for SEO.
Images

Image optimisation is a little more simple than its video counterpart, with some more fundamental factors being considered:
–       Ensure alt tags are optimised for your keywords
–       Ensure the image filename includes your main keyword you are optimising for
–       Stick to common formats, ideally .jpg
–       Ensure the image is of a reasonable size before you upload it to your site, Google will pull the source image, not the scaled version on the front end of your site
Local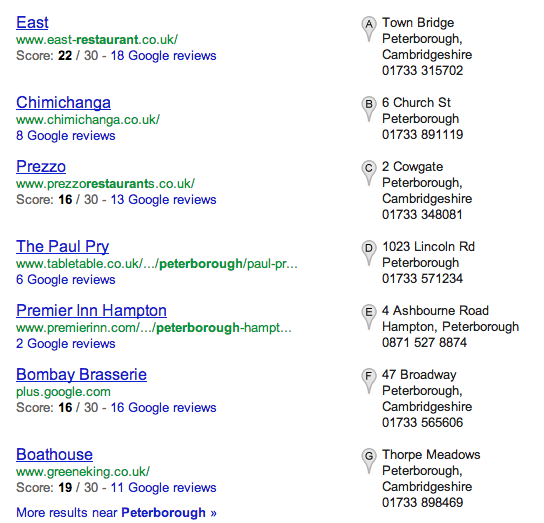 Any geographic term which includes a point of interest, e.g. Peterborough restaurant, will inevitably now show local results (usually 7) in the higher echelons of the SERP. Ensure any bricks and mortar assets you have are set up to be seen as local results by Google. This can be done by registering with Google Places via uploading your business information and defining which locations chriyour business services. Of course make it clear on your site where the locations of your stores/restaurants etc are.
Local results are becoming more and more prevalent, so this really is essential for all small and local businesses, especially those with low budgets to spend on more traditional organic search. Remember, these results push other results down, so can help you gain a competitive edge.
Importantly, these local results are also pulled into Maps, so ensure any Google Places includes all relevant information – contact details, imagery etc.
Local results are the most impactful universal search element as they have the biggest footprint, as referred to by Dr. Pete Myers in his piece on the 7-result SERP.
Shopping
Up until recently (this week, in fact!) Google Shopping was populated via feeds, with relevancy to search term being the key factor in ranking.  However, now Google has moved to a commercial model for shopping, the opportunity here has subsided. A cynical view would be to say that Google is pushing for revenue over organic here, but presence is presence and if your budgets allow, get into Google Shopping! This especially important when Shopping results are pulled into the main SERP: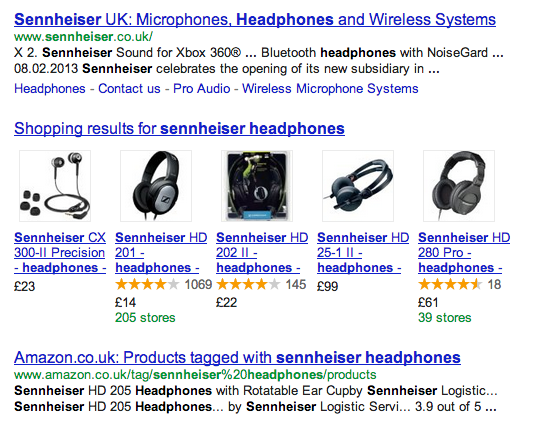 News
Probably the toughest universal search element to get visibility with, News pulls together authoritative news sources and displays any articles which are relevant to a search term. The trick here is to establish your site as a credible, authoritative, news-led site that features regular, fresh content discussing events outside of your business.  Competition is tough – BBC, Reuters, national newspapers – but fast publication can be the key to disrupting these usual suspects.

Use social monitoring and Twitter trends to hijack news stories, but be careful not to be insensitive around volatile subjects, a mistake made by several brands recently.
Other tricks…
From a wider angle, newer factors have been introduced which give further visibility in SERPs, creating standout from other results. These factors include:
–       Search Plus Your World (when searcher is signed in)
Adds number of Google Plus +1s to a result
Shows the searcher which of their connections have +1d or shared a result
–       Schema for content types
Onsite code which alerts Google to what type of content you are publishing
Can be used for events, locations, products, offers, reviews etc
Review schema example, shows star rating and number of reviews:

–       rel=author schema
Allowing you to assign authorship value to your content publishers
Gives benefit to the site and the author
Example of rel=author showing author's image and G+ presence:

–       rel=publisher schema
Assigns authorship to a brand rather than a person
Contributes to your knowledge graph
Wherever relevant, here at Zazzle we always recommend implementing schema to ensure visibility is maximised and you are future-proofed against competitors.
Site links
Usually reserved for brands and their branded terms, site links give visibility of extra links to a site. The key here is site structure and using WMT to define which links you want to appear. It's worth setting this up although there is no 'on-off' button for it.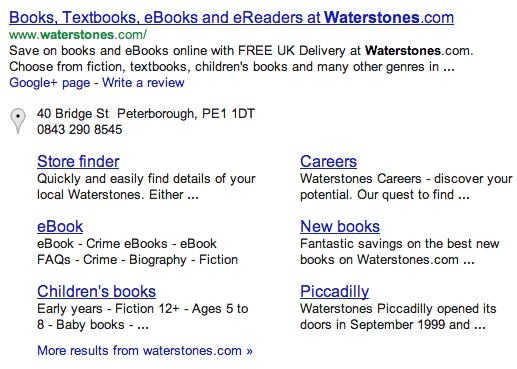 One of, some of, or even all of the factors mentioned here can help you support a balanced diet of content marketing, on-page optimisation and link building, to give your brand more visibility in search. But remember, the best way to exploit universal search is to simply be a great brand!