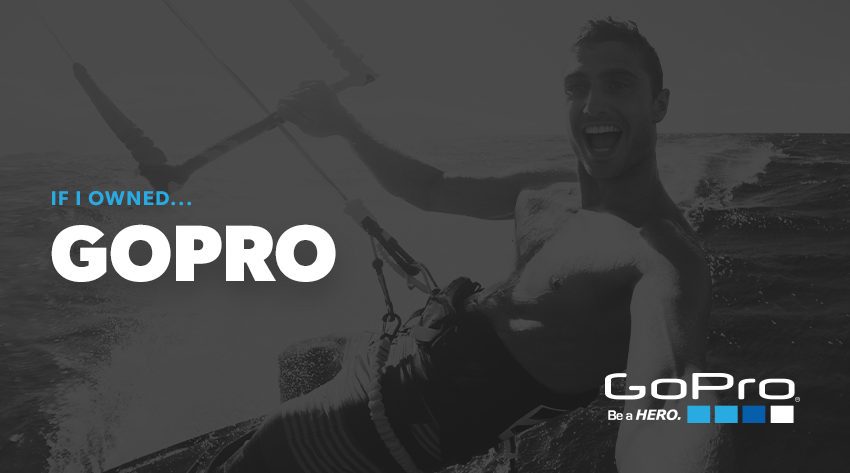 'If I Owned GoPro: Content Would Take Centre Stage'
2016 was a difficult year for GoPro. Despite their domination of the action camera market, new competition and a more aggressively priced marketplace meant they experienced a downturn financially, as investors expected a lot but forecasts showed under-delivery during the critical Christmas period.
Shares fell as much as 21% in November 2016 following heavy reliance on the new Hero 5 and Karma product launches, which failed to have the desired sales impact. In addition, the Karma range shipped late and then suffered from recall issues. These factors led to a reported operating loss of $373m in the year.
In this post, I want to look into some key marketing insights that may show us how GoPro could have positioned themselves better to avoid such dramatic financial issues.
From a consumer content perspective, there are two brands in the world right now that I believe are country miles ahead of the rest – GoPro and Red Bull. As an extreme sports fan, they are the two brands I see side-by-side the most throughout the sporting world.
Many top athletes in sports like mountain biking are sponsored by both brands. Rachel Atherton, the quadruple World Champion downhill mountain bike racer, is one such athlete. In the image below you can see her competing in her Red Bull helmet, with a GoPro mounted on top of it.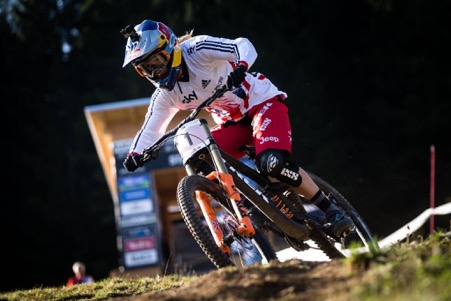 What lies at the centre of digital content success for these brands is twofold:
Complete understanding of audience
Video
GoPro v Red Bull
There is one big difference that I think defines slightly different approaches from the two brands. GoPro sells online, whereas Red Bull has more of a fast-moving consumer goods (FMCG) model and their website does not sell their product. This allows Red Bull to focus their online presence solely on using it to create brand reach and affinity by essentially being a media company. They even define themselves as a 'media/news' company on Facebook rather than a drinks company.
GoPro, as much as they would like to let great content rule their site, have to ensure that on-site conversion does not take a back seat, as ultimately they need to maintain and improve online conversions and revenue over time. Yes, they have lots of sales coming through third party retailers, but the best margin surely comes from direct sales on their own platform.
I mentioned above that audience understanding is a key part of the successes of both brands. The two audiences are similar – extreme sports athletes mainly, both pro and amateur. GoPro, of course, have the perfect product for this, giving everyone the ability to record their activities. So not only does GoPro have a community supplying content for them, they're receiving content recorded on their own product!
Red Bull, however, do not have this product-led opportunity. Instead they must focus on creating a connection between them and the audience, and their main tool for this is sponsorship.
Red Bull relies on connecting their brand and product to the notion that drinking Red Bull makes you awesome – or 'Gives You Wings'.
If you drink Red Bull you can be a Formula 1 driver
If you drink Red Bull you can be a pro mountain biker
If you drink Red Bull you can be an Americas Cup sailor
If you drink Red Bull you can be a signed musician
On their site, Red Bull list 60 separate sports/categories within which they sponsor specific teams or athletes; everything from aerobatic flying to curling to windsurfing. The constant brand exposure to their relevant audience creates such brand affinity that it almost becomes less about what they're selling and more about the kudos of being associated with Red Bull.
This allows Red Bull to focus almost solely on content on their site, mainly video and 'tips' articles (e.g. How to Ride Like Rachel Atherton in 5 Simple Steps). In fact, their homepage features zero mentions of the Red Bull drink or images of a can of Red Bull (conversely, the GoPro homepage features nothing but product). From a digital perspective this focus on content allows Red Bull to have a lot more visibility for search terms relevant to their audience (athlete name searches, sport searches), and also great reach via social.
Organic Visibility
Red Bull's US visibility has been in consistent growth, with no big spikes in visibility, indicating a natural increase in terms ranked for and their rankings. Interestingly, it does look like there was perhaps a Penguin issue in the 1st week of October, however some recovery has occurred since then.

In the UK it's a similar story, with consistent, natural growth over the last couple of years. However, any Penguin issues do not seem to have harmed UK visibility.

GoPro, however, struggle with visibility in comparison. Their visibility is currently quite flat at around the 11k mark in the US, but is around half of Red Bull's visibility in the same territory.

And a paltry 2k in the UK, around a third of Red Bull's visibility:

Both territories have been in relative growth overall since summer 2016. Interestingly, the three big increases in visibility in the UK since August 2016 have been driven by:
Late August 2016: 27 position increase for 'free music' – the ranking page is a library of free music for users to include in their video edits.
Late September 2016: Big ranking increases for the term 'Karma' following the launch of the Karma drone.
Late December 2016: Having already secured P1 and P2 for the term 'GoPro Hero 3' the site then successfully secured P3 too. However, this is not a commercial term for GoPro as this product is no longer available for purchase and all three rankings are simply for software updates.
So out of the three big visibility wins for GoPro in the UK this year, two of them are non-commercial and one is a product name.
In the US, there was one big increase in visibility in 2016, around late September. In line with the UK, this was again for the Karma drone launch. The site now ranks P1 for the term 'Karma', another brand term.
Key rankings
 As of this week (today is Jan 20th 2017), Red Bull's key rankings according to SEMrush are as follows. As you can see, there only two terms that are related to the Red Bull drink, with the rest focusing on media and sport.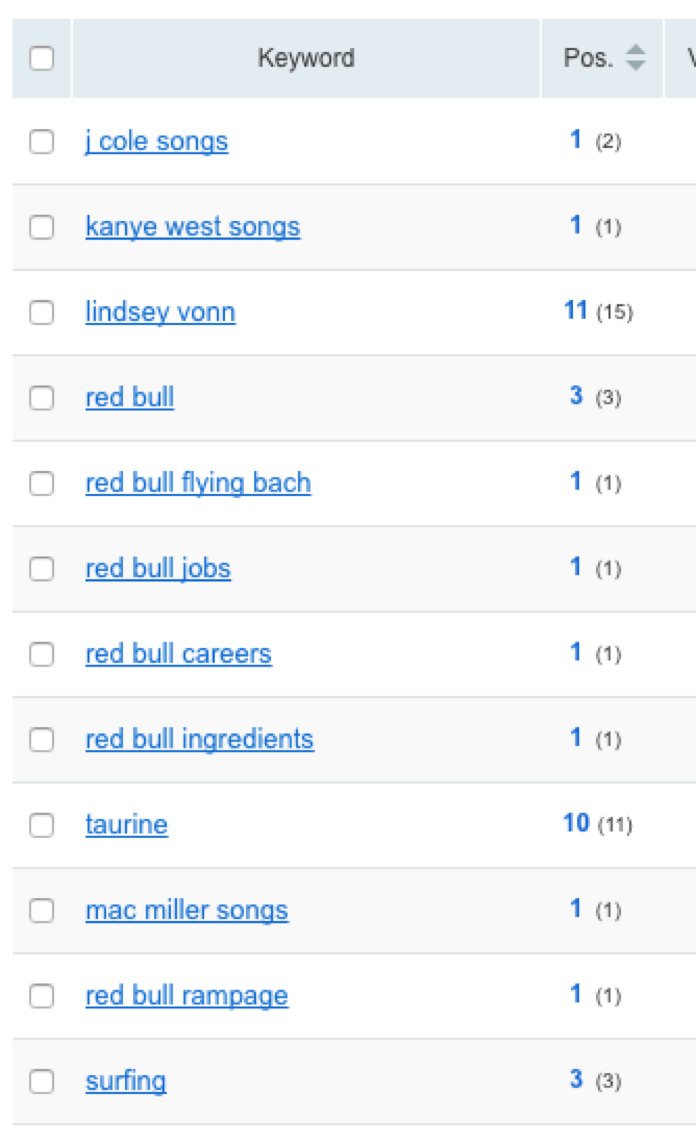 From a GoPro perspective, their key US terms taken from the same source are as below. Every single one of them is a brand or product related term. No significant traffic is being gained from anything other than commercial or product terms. Consider all the athletes they sponsor and all the content they create themselves and via their customers, and none of it ranks well enough to drive any engaged traffic to the site.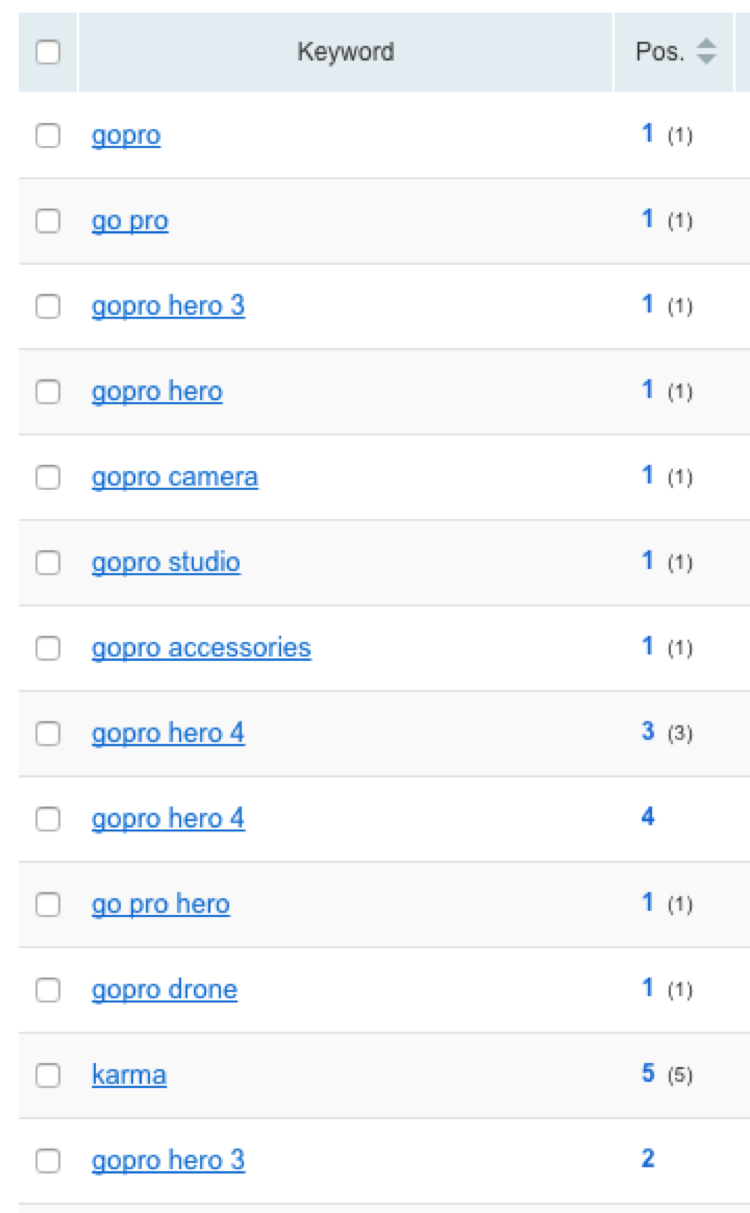 Social
Social is another platform where Red Bull once again outdo GoPro. Firstly, GoPro use a brand redirect system for their Facebook page, with a default main page that automatically redirects to a regional page dependant on the nationality of the user. This means that a UK user cannot see the main brand page. If I try to navigate to the main GoPro page, I am redirected to the below URL.

After a little bit of digging and avoiding redirects, I discovered that the content on each regional page is different. As a user, I want to see the best GoPro content, it's certainly not ideal to know that I might not be, simply due to where I happen to live.
GoPro have stuck to quite a generic approach to their social pages, with a wide range of content focusing on the camera products and the content created by using them. This content is targeted at fans and users of the products.
Red Bull, however take a different approach. As well as a top level brand page, Red Bull also has multiple other pages for events and sports they are involved with. Not only does this give Red Bull a much bigger footprint across Facebook, it also allows each page to focus on the specific content each audience wants to see. This will undoubtedly lead to more reach and engagement. Ironically, a lot of Red Bull's social video content is filmed on a GoPro!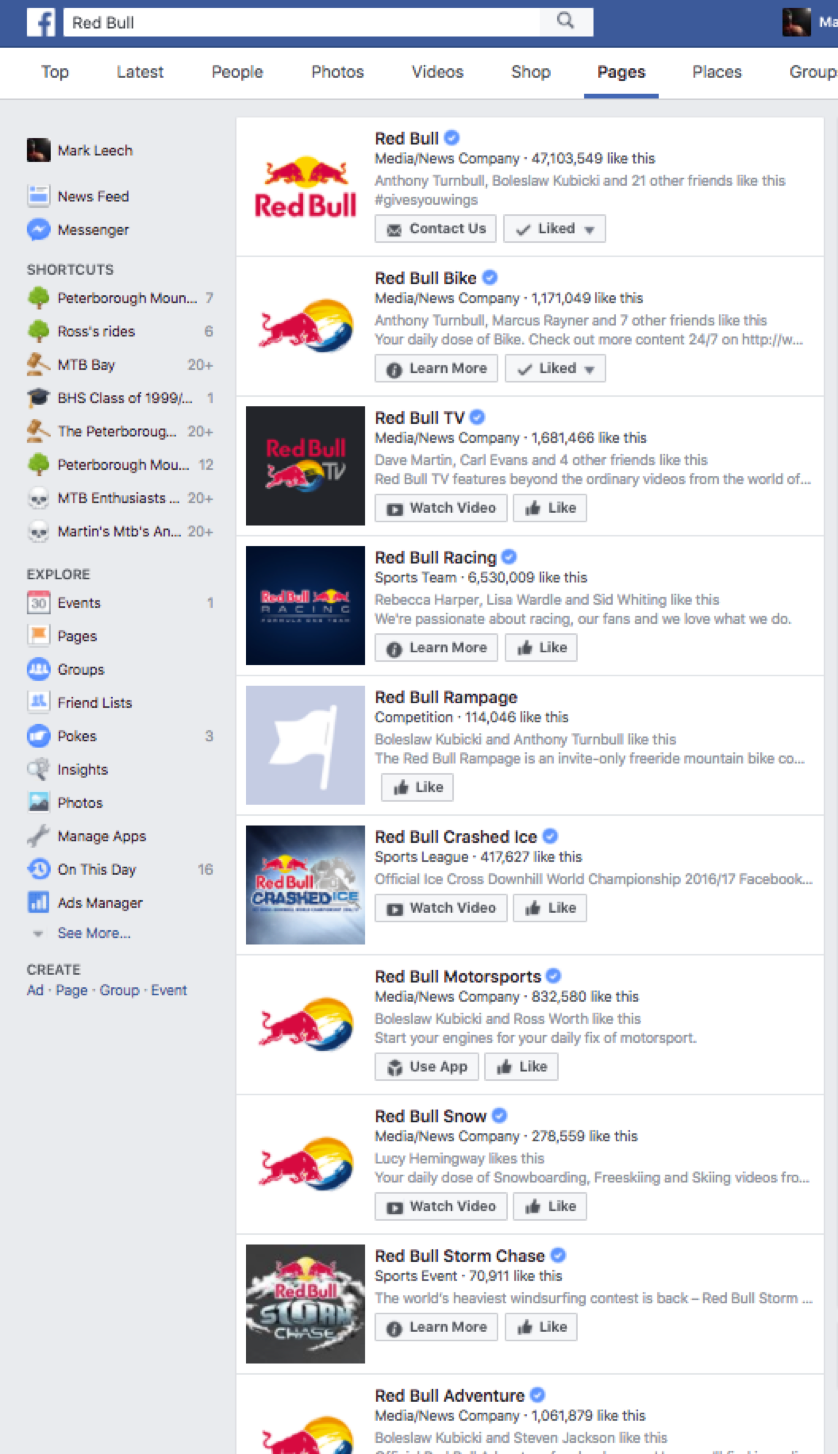 Red Bull's wider approach opens them up to a whole new audience, i.e. not just those who like the drink. However, GoPro's approach limits them to users and fans of their product.
Offline
From a brand perspective, one area in which GoPro has been more aggressive than Red Bull is above the line, especially TV. In the UK, GoPro had a significant TV presence around Christmas, promoting GoPro products as great presents. In addition, there have also been further TV adverts running to support the launch of the Karma range (something we saw the impact of earlier when we looked at visibility wins via Karma products).
In the past, Red Bull has been aggressive on TV, but this was before the days of their expansion into media, when they were still primarily a drinks brand. The famous animated 'Gives You Wings' adverts undoubtedly helped launch the brand to new heights. However, since the expansion, their TV presence has lessened. Their approach to TV advertising has changed over time from product-focused ads:
To more media/sports-led ads with their 'World of Red Bull' series:
Red Bull's approach to TV is mirroring GoPro's more and more over time.
So, If I owned Go Pro what would I do?
As a business we talk a lot about Brand as Publisher, where brands use content to not only show authority and expertise, but also create content that marries up to audience demand. Red Bull are doing this fantastically but, if I owned GoPro, I would be looking to apply a similar approach. Great content, and the audience it attracts, is not a trade-off for conversion, it's just a different way of getting it, arguably with more long term benefits.
I would also be looking to mirror this through social, not just onsite, with a better page setup plus more specific audience-focused pages, which are still 100% connected to the interests of the audience. The big opportunity, one shown by our analysis, is that GoPro are weak in the long tail and this is where I would be focusing from a content perspective.
For GoPro, they do this relatively well with video content (however, it is all buried in the watch.gopro.com sub-domain and is therefore not fully benefiting the main domain), but there is a lot of potential around written content focusing on their sponsored athletes and events. At present, they are relying on the titles of their video clips to target relevant search terms.
Red Bull are using a lot of written content now, something that I believe is helping them secure higher levels of visibility, and they have even entered a new channel with their redbulletin.com lifestyle site, expanding the brand beyond simply sports into areas like travel, further increasing the brand's relevance across multiple topics.
From an off-page perspective, GoPro clearly do a good job in social (11.3m Instagram followers with 26m uses of #gopro, 4.5m YouTube subscribers), pushing out mainly video content. A more concerted effort to source, collate, publish and promote User Generated Content (UGC) would be the next step, using their successful social platforms as the main facilitators. Critically, though, written content to support this video media is key to the next level of visibility.
Perhaps a submission mechanic would work well. They have dabbled with this before, with their GoPro Awards, but this has not been promoted nearly enough. Incentivising users to create content that GoPro can use is a huge opportunity, one which I feel is not being exploited to its fullest right now.
They need to create variance in the types of content they're creating, both on and off page, leveraging the huge amount of super-relevant influencers they have at their disposal.
In addition, GoPro do have some technical issues with their site, so if I owned them I'd also be looking to address these. They include many key parts of the site sitting on sub-domains, a confusing half-and-half approach to http/https and most pages (over 90%) having missing/duplicate page titles and missing/duplicate H1 tags.
To find out more about Brand as Publisher, download our eBook by clicking the button below!