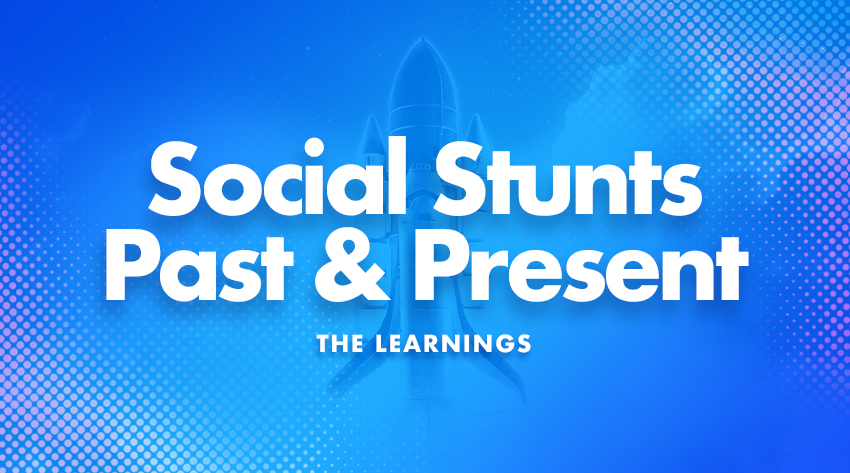 6 Social Marketing Campaigns to Inspire 2017 Activity
What a year 2016 was for PR and social stunts. We saw some awesome experiential pieces and viral stories that made the digital space an even more exciting place to work.
Equally, there were social marketing campaigns that didn't go to plan, but that showed the world of marketing that it doesn't always have to run perfectly to get a response from an audience. In fact, sometimes that works best but there is always the risk of putting your brand's integrity in danger of criticism.
It is safe to say that without social media, there is no way that information would be as far reaching as it is. A couple of years ago, we would have argued that it was still the 'next big thing,' but now it's an essential part to the way you form your content strategy to ensure a well-rounded campaign.
It's said that in the UK, 77% of the population now have a social media account, and 40% have highlighted the importance of retailers utilising their social media presence if they were to purchase anything from them.
In November 2016, Hootsuite reported that over 50 million businesses across the globe used Facebook Pages, and Twitter now has over 310 million monthly active users; every second, 6,000 tweets are sent. The numbers speak for themselves. Businesses all around the world are quickly cottoning on to the importance of a social presence, and using it for marketing purposes has been a milestone over the past year.
That said, including social within your marketing for 2017 – be it for yourself or a client – is an essential part, if not the most essential part when you're creating a strategy. This is where you could really make an impact in the traffic to your site or particular page that you've planned to promote, in whatever way you've strategically organised.
So here I have collated some of the most significant campaigns I'd like to highlight from the last 12 months, and there's certainly some lessons to be learnt for the year ahead…
KFC 'Finger Lickin' Good' Nail Polish
Back in May 2016, KFC launched a humorous, 'out of the box' campaign, claiming they had created two edible nail polishes with the tagline 'Finger Lickin' Good,' flavoured as 'ORIGINAL' and 'HOT & SPICY'. Appealing to the chic fashion market, KFC took things further by designing mock ups of the polishes, further convincing everyone online that it was actually true.
The great thing about it? It was true. Certainly not mass produced, but real enough to make audiences talk it.
In December, they took things further by creating a candle that gave off a fried chicken scent. Claiming that there is only one of its kind, the story took off on social media, with a lot of users expressing their confusion.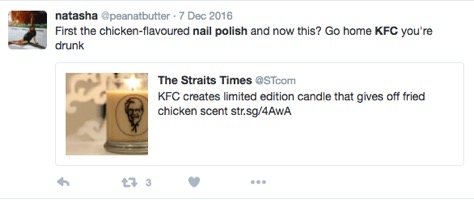 Majestic recorded an incredible 719 referring domains from the story, and articles from The Daily Mail, The Independent, The Mirror and even the New York Times.
What can we take away from this?
It's pretty obvious that this was a stunt created by KFC. As far as stunts go, this was certainly extreme and it's clear that unbelievable stunts do well; the kind that make you question and leaves you thinking for a while. Later, we'll be looking at another next level stunt that left the internet confused for a good few days. 
Westworld's Use of Instagram
When the hit US TV series started, the crew at Westworld decided that allowing users to be part of the show using social would be a great way of engaging their audience. Interestingly, the team opted for Instagram, creating a journey through various profiles that ultimately decided whether you were fit to enter the park.
Posing 'this or that' type questions, the first being 'Which hat?', nine photos (best viewed on a desktop or tablet) created one large image to which you clicked on with a tag, connecting the various accounts. It was ultimately a great piece of social PR that got audiences ready for what was expected to be an exciting series.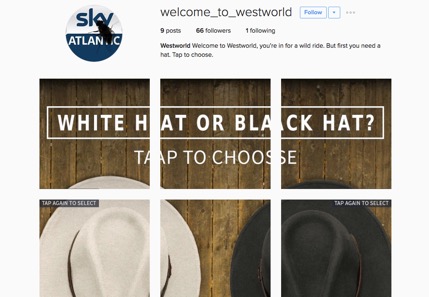 What can we take away from this?
Creatively utilising social platforms like this can transform the way audiences view your brand. You feel a bit silly for not thinking of this first, purely because of its simplicity. The simplest ideas often work the best, don't overthink it and assume it needs more for more engagement; it never works that way!
Vandalised Range Rover
Back in May, a white Range Rover parked up in Knightsbridge and subsequently hit the headlines after it was spotted with bright red graffiti spray painted all over it. The back was splattered with, 'I hope she was worth it' and 'cheater' was sprawled on the sides, leaving everyone wondering whether this was a heartbroken and angry ex, or if it was a stunt.
As it turns out, a car company called Revere had commissioned the stunt for the launch of the new Range Rover Vogue – talk about making an entrance! The stunt went viral, and was featured across social platforms, as well as major news publications such as The London Standard, The Mirror, The Independent, The Daily Mail, The Huffington Post and even the BBC. I spotted this story various times on my Twitter feed the day the car parked up in London, with most tweeting and questioning why it had been done.
Some thought it was hilarious, some thought the guy must have done something REALLY bad, others felt very sorry for the incredibly expensive car that had been caught up in the middle of the drama, and many also just assumed that it was a stunt. The audience reaction was of complete and utter confusion, but it worked. The stunt was splashed across the internet, and to finish it off, a couple of days after the initial buzz, Revere spray painted another Range Rover stating 'IT WAS REVERE, NOT REVENGE' to clear it all up – smart.
What can we take away from this?
When it's a stunt, you're only very limited. The craziest stunts that evoke a particular emotion, like confusion, means people will talk. If it's not necessarily affecting your brand or client negatively, then always consider it.
Lyst selling puppies campaign
May 2016 was the month of craziness, it seems, as online fashion retailer Lyst launched a new section on their site where you could purchase a puppy of your choice.
Animal rights activists and charities went wild, accusing the company of animal abuse.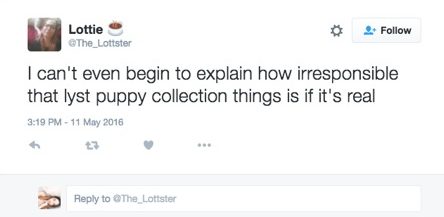 Many took to Twitter to express their upset at what Lyst were doing. And, with no one from the company replying to the numerous tweets, a lot of online users became incredibly confused at what was happening. The RSPCA were even replying with vague messages that angered people even more, which only further convinced people into thinking that this was potentially a stunt that they were also involved with.
A couple of days following the viral spreading of the story, social media agency The Social Chain revealed that they were behind the stunt, and created it to raise awareness of puppy farming. Many argued that it was poorly thought out and did nothing to get people talking about the subject.
Was it an error? Perhaps, in some ways. On the page, your first thought was certainly not 'puppy farming.' Neither was your second, or third for that matter. Just complete confusion as to whether it was true, because it was a completely realistic situation. But it certainly would have delivered in sales and traffic to the Lyst site. In which case, it did its job.
Rumour has it that if you went on to 'purchase' a puppy through the page however, an email would be sent over to you stating the true reasoning behind the campaign – although it could be argued that those who did so would be too ashamed of themselves to ever consider revealing the response they received!
After the Social Chain revelation, their audience took to Twitter to express their anger. And a lot of it at that. No one seemed to be impressed by what they had created and the negative backlash ensued. Many noticed that the story was spammed through the agency's myriad of social pages, meaning the Advertising Standards Agency (ASA) got involved.
What can we take from this?
A social stunt is all good and well, but would your brand get over it if it went wrong?
You will always receive negative comments, and in some ways, that's good for the traffic and general buzz around the campaign, but you do need to consider some of the ways your content will go down with an audience.
Particularly with social platforms, you're open to criticism from any type of person – so be clear with the aim of the campaign. And most importantly, don't spam various accounts. They have been created for a purpose, most likely to share various content, but be sure to share the content to right audience, in the right doses.
Prince and Cheerios
In April, Prince passed away. The world mourned as they lost a much-loved musician and artist, and many expressed their grief with respect. That was until cereal brand Cheerios released an image the day the news broke: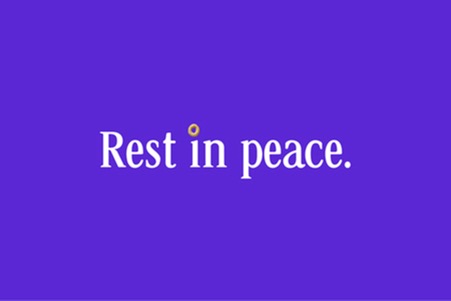 Was it sincere? Who knows, but the image irritated online audiences across the world, accusing the company of using the event as an opportunity to promote their also much loved cereal, with many describing the stunt as 'tasteless.'
Again, the tweet went viral, even after Cheerios deleted it. It appeared on Fox News, NBC, The Daily Mail and The Huffington Post. It might have been tasteless, and PR for the brand would have gone into overdrive, but the brand hit the headlines, and everyone saw their name.
It was most certainly an absolute error on the part of Cheerios – purely down to the fact that the tweet was deleted shortly after being uploaded. Of course, had it been kept up, we could have identified it as a stunt. It certainly didn't have a longstanding effect on the brand, as I'm sure millions went out to buy a box the very next day, but the audience reaction was certainly that of anger and upset.
What can we take away from this?
Avoid making it about you, especially when the world is mourning. There are plenty of ways brands have honoured certain situations with dignity. Chevrolet hit the nail right on the head with its image, paying tribute to one of Prince's greatest hits, Little Red Corvette: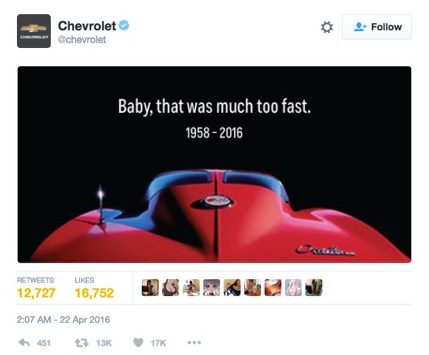 Ghostbusters in Waterloo station
Right before the release of the most recent Ghostbusters film in early July, London's Waterloo train station was transformed with a giant Stay Puft Marshmallow Man breaking free from the floor and slime dripping from the cameras across the station. There were also loads of actors walking around in Ghostbusters costumers, promoting the film. Passers-by were encouraged to take photos with the giant character and share on social platforms.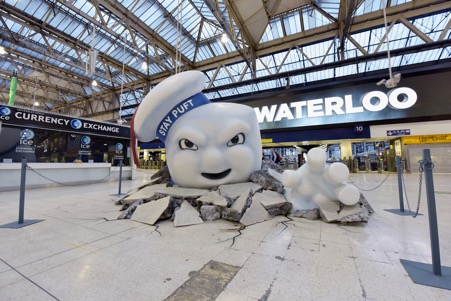 The story cropped up on my feed several times in the duration that the film was being promoted. The Metro and PR Week covered the story, and rightly so due to the insane magnitude of the stunt. It was impressive, and did its job in all areas.
Ghostbusters is a cult favourite – bringing the characters to life would have been so exciting for fans, and what better way to encourage the film than to share this creation in one of the busiest train stations in London?
If you search the 'GhostbustersWaterloo' hashtag on Twitter, you see the insane amount of shares this stunt got. The buzz around it was extremely positive and I've seen many articles online about how audiences can benefit from using this as a great example of PR.
This campaign didn't stop at just a giant Stay Puft Marshmallow Man emerging from the ground, but phone boxes across the country were plastered with posters stating 'WHO YOU GONNA CALL?' with a phone number to which Chris Hemsworth's character answered – pretty cool.
THE BEST EVER:
To round the post off, let's look at what I think is two of the cleverest campaigns that we've seen in a good few years.
Campaign 1.
In early 2013, during the third quarter of the Super Bowl between the San Francisco 49'ers and the Baltimore Ravens, a power outage in the stadium caused many of the lights to go out for over half an hour.
During the scramble, an ad popped up on Oreo's Twitter feed: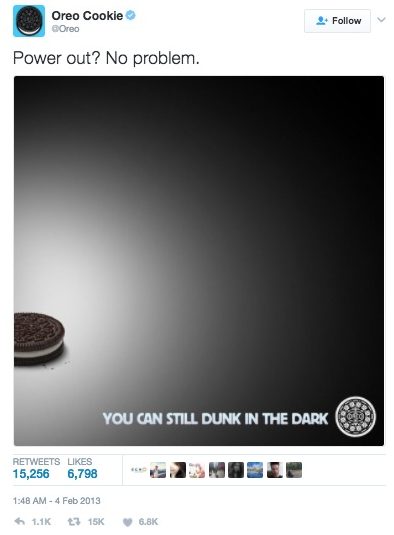 The message immediately got picked up, now with over 15,000 retweets on Twitter and 20,000 likes on Facebook. Not the biggest numbers in the world, but the quick reaction of the Oreo social media team was impressive. It turns out it was a 15-strong team, prepared for any eventuality; even prepped with two versions of victory tweets depending on who won.
Communication has changed drastically over the years, and the quick-witted nature of this tweet propelled Oreo right to the top for the speed in which they thought of this incredibly simple piece of content. During the 35 minutes of the black out, no one would have been distracted by the game; just their smartphones and tablets. In a world where advertisers are spending millions for an ad slot during this incredibly popular televised event, using social media was a very smart way of engaging their audience.
Since then, brands will certainly be utilising their social platforms a lot more frequently during globally televised events as well as fitting in ad slots for a well-rounded campaign.
Campaign 2. 
In 2012, build up started as Red Bull revealed that Felix Baumgartner would be the first man to ever break the sound barrier by free falling 23 miles from the Earth's atmosphere.
Shown live on YouTube, the event garnered over 8 million views at the time (something that still send shivers up and down our spines), and captured audiences across the world with its insane concept.
Of course, this was entirely down to Red Bull promoting their brand, but in the most creative way possible. Despite logos being shown here, there and everywhere, you almost forgot that they were behind the idea, and focused on Felix jumping. Their no product pushing stance was what won audiences over with this incredible stunt and if you watch the video now, it has over 41 million views. That equates to the population of Uganda and Algeria!
Now nearly five years on, it's clear that audiences still click over to watch the event, and for that we can safely say this puts Red Bull up there with the greats because this will not get old for quite some time.
What can we take from this?
This is a good old fashioned traditional PR stunt done well, that has been shared several times over, online and offline. Don't be afraid to try it, because when it works, it works. Have several branches to your PR campaign – you're not just appealing to one audience here.
All the stunts that were included were carefully thought out, and although they may not have always been as successful as their creators intended, there is still so much that we can take from them to ensure a campaign runs as smoothly as possible.
What can you do that is realistic but out of the box?
Be over the top creative with your social channels – there is so much more to your Instagram feed than sharing a photo or Instagram story.
What will make people think about what you've created?
Be clear on your message – cover all areas when you're thinking about an idea, make sure it's not just tenuous.
Don't try and PR yourself when people are mourning…
Combine digital PR with traditional, and create a well-rounded campaign that will generate a buzz with audiences across every platform.
These messages translate over blogger campaigns too, take a look at our post of the best of 2016, here, as well as social media experiments from 2016, here.